Daily Fantasy NASCAR Race Preview & Picks for DraftKings - Tales of the Turtles 400
DFSR is proud to bring you Chris Durell. He'll be bringing weekly NASCAR picks, analysis and a FREE cheatsheet and video to help you cash on DraftKings.

Playing other DFS sports? Now's your chance to get DFSR PRO, which will give you access to our MLB optimizer and Player Lab! Get started for free by clicking the button below.
Want to learn some about MLB? Be sure to read our free MLB Ebook on building lineups, general strategy and more. We've got you completely covered.
Tales of the Turtles 400
Chicagoland Speedway - Joliet, IL
Track - 1.5 Mile D Shaped Oval Intermediate Track
Laps - 267
Six months and 26 races later the Monster Energy Cup Series has reached the 10 race playoffs. There were 13 drivers who made it in with a win during the regular season and three more got in on points. While the playoff rounds and rules have no effect on our DFS scores, it is important to know what is going on as it can definitely play a large role in motivation when it comes to strategies so let's do a quick overview.  There will be four rounds with three races in each of the first three rounds with the final race at Homestead. Four drivers will be eliminated in each of the first three rounds and any driver who wins a race automatically advances to the next round. During the regular season, drivers earned additional playoff points from either winning a stage or winning a race. These points stay with a drivers total through the first three rounds and all points are reset for the four drivers in the final race.
Race number one on the playoff schedule is the Tales for Turtles 400 coming to you from Chicagoland Speedway. Looking over the last six races(on the cheatsheet), there have been only two winners who have started inside the Top 10 but don't be fooled as starting position is definitely important. Only 12 drivers over the last six races who have started outside of the Top 20 have finished with a Top 10(20%). Looking at place differential, the race has changed over the years as 2011 to 2013 saw 27 drivers record double digit PD points but from 2014 to 2016 there were only 13. Of course, it all depends on qualifying but I feel the trend could shift back with this being the first race here with stage racing. Another thing to watch closely is the final two practices and the 10 lap averages as there have been at least six drivers over those last six races to record double-digit fast laps and those are worth a half point each.
Let's now take a look at some of the trends going into this weeks race.
Last Six Winners at
2016 - Martin Truex Jr. (started 6th, led 32 laps)
2015 - Denny Hamlin (stated 29th, led 9 laps)
2014 - Brad Keselowski (started 25th, led 62 laps)
2013 - Matt Kenseth (started 10th, led 89 laps)
2012 - Brad Keselowski (started 13th, led 76 laps)
2011 - Tony Stewart (started 26th, led 35 laps)
Top 5 Current & Career Track History at Chicagoland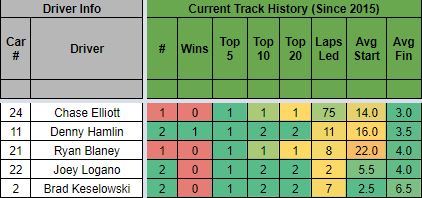 In his rookie 2016 season, Chase Elliott made the Playoffs and was impressive in his first career Cup race at Chicago starting 14th and finishing 3rd. It propelled him into the second round. Martin Truex Jr. is the defending champ of this race but sits just outside the Top 5 above as that win was his only Top 5 here at Chicago in 11 career races. Don't doubt the #78 as they will most definitely be a factor in this year's Playoffs, especially with an early point lead. Denny Hamlin won the 2015 race here and finished Top 10 last year but also sits outside the career track history list with a 16.1 average finish with just two Top 5's. Ryan Blaney was also impressive here in his rookie season starting 22nd and finishing 4th and was right in there competing with those in contention for a championship. Kevin Harvick and Brad Keselowski lead all active drivers with two wins each here at Chicago and both have finished To p5 in 50% of their career races.
Top 5 Current Track Type History
Looking at the Intermediate track history, Martin Truex Jr. has absolutely dominated with six wins since the start of the 2015 season. Looking at just this season, the gap is even larger as he has averaged 95.6 DraftKings points per Intermediate race which is 35 more than Kyle Larson in second. Kyle Busch sits third on that list with 54.6 DK points per race this season(intermediates) and has been awesome on the intermediates since the start of the 2015 season with four wins, 14 Top 5's and an 8.2 average finish. Kevin Harvick has also been known to be a bit of a ringer when it comes to the intermediate tracks and is the only other driver since the start of the 2015 season with a sub 10.0 average finish to go along with his four wins and series leading 26 Top 10 finishes.
Top 5 Current Form (last six races)
The first thing that stands out to me this week is the domination of Toyota down the stretch. Four of the six drivers above come from the Joe Gibbs Racing and Furniture Row Racing teams and Toyota has won six of the last nine races with Kyle Larson(2) and Kasey Kahne in Chevrolet's making up the other three wins. Erik Jones and Kyle Busch are the only two drivers to finish Top 10 in each of the last six races and Busch won twice and sits with Martin Truex Jr. with 69 DK points per race during the six races.
Pre Qualifying Picks
Kyle Busch/Martin Truex Jr./Kyle Larson
Salaries won't be out until tomorrow but I am pretty sure these three drivers will top the list. I also think you need two of the three of them in your lineups this weekend as they have dominated mile and half tracks in 2017. Like I mentioned above, Truex has dominated from a fantasy perspective with an average of 95.6 points per race and has won three of the seven intermediate races(Las Vegas, Kansas, Kentucky).
Ryan Newman
It will definitely depend on qualifying but I am pretty sure we will get Newman in the mid $7K range again, making him a safe bet in all formats. He won here back in 2003 and has finished inside the Top 20 in six straight with four Top 10's.
Erik Jones
He narrowly missed making it into the Playoffs in his rookie season but comes in red hot with Top 10 finishes in six straight and eight of his last 10 races overall. He will be stepping into the #20 JGR car next season but look for him to finish strong with Furniture Row and could very well grab that first win. Depending on price and qualifying, he is on my radar in all formats.
Below you will find a copy of my DFS NASCAR cheathsheet which includes Track History, Current Form, DraftKings points averages, Track Type History, Practice/Qualifying Ranks and much more. Get it HERE. I also have available my Race by Race Trends sheet you can view as well.

If you have any questions scroll down to the comment section and join the conversation.Good Luck everyone!
Chris Durell has been playing Daily Fantasy Sports for four years and fantasy in general for more than a decade. He is active player in NFL, MLB, NHL, PGA, and of course NASCAR. He lives in Saskatchewan, Canada with his wife and two daughters. You can follow him on Twitter at @jager_bombs9 for advice, strategy, answers to any NASCAR questions or how he copes with the winters up north.