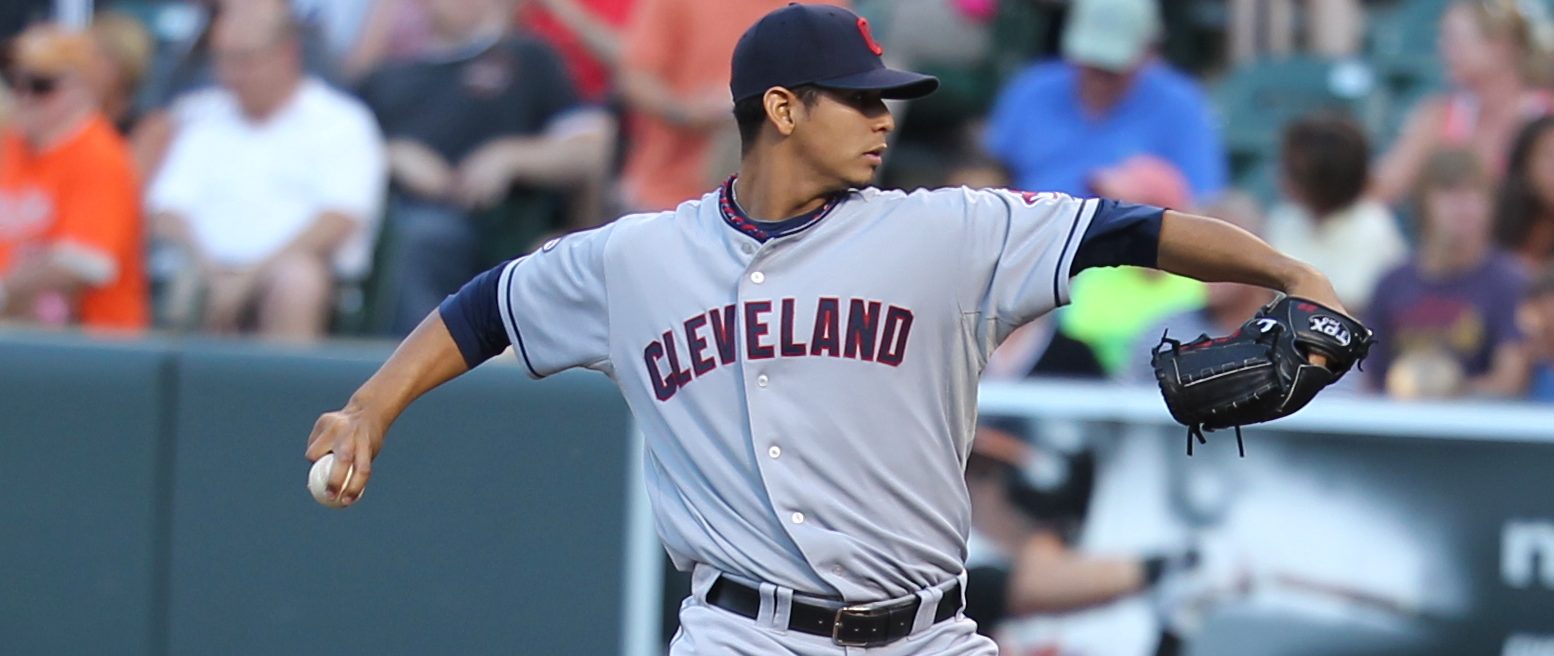 Daily Fantasy MLB Baseball Picks for FanDuel and DraftKings Playoffs - 10/8/17
Now's your chance to get DFSR PRO, which will give you access to our MLB optimizer, our NFL Optimizer, and our new player lab! Get started for free by clicking the button below.
First time with NFL or MLB? Be sure to read our free MLB and NFL Ebooks on building lineups, general strategy and more. We've got you completely covered.
 
Houston Astros @ Boston Red Sox
Pitchers
Brad Peacock FD 8600 DK 10200
Opponent - BOS (Fister) Park - @BOS
FD - 30.47 DK - 20.29
Welcome back to playoff baseball! Per the usual, we dealt with some extremely unpredictable things yesterday.Bryce Harper went off in an L-L match-up and was severely low owned across the industry. However, there were some others things that made sense. Goldy and Contreras hit one out against a lefty. Everyone pitched well, and each offense showed some capability. Today, we have just 2 games. We start off with the Red Sox and Astros in Fenway Park. We'll start things off with Brad Peacock. The 'Stros are road favorites, so there has to be a bit of interest. The Red Sox have not been good in this series and there's a good chance they just lay down and die. They could also wake up at home and put a beating on anyone. Peacock wasn't a guy many had slated to be this good, but he's been close to elite all season long. Through 120 innings, he's allowed a .259 wOBA while striking out nearly 11.5 batters per 9 innings. He's also been just as good on the road as at home, so no worries there. This Red Sox order is obviously lethal, but it's not over-the-top in playoff terms. Peacock is a solid play in all formats, but like anyone in the playoffs, it's not without risk.
Doug Fister FD 6600 DK 6900
Opponent - HOU (Peacock) Park - @BOS
FD - 20.38 DK - 13.76
Doug Fister is not as good as any other pitcher on this slate. He's in a clear tier by himself and I have no interest. While he had a very solid 2nd half, he still allowed a .356 wOBA to lefties on the season. He faces off with an elite Astros order that has ranked 2nd against righties in wOBA. They have punched around Chris Sale and Pomeranz in the last 2 and will see a far worse arm in Fister. Additional to the struggles against lefties, he has been a lot worse in Fenway (.327 wOBA). I see no reason to target Fister here outside of some crazy large-field, low-dollar GPP. This Astros lineup is just too dangerous to navigate with a mediocre sinker and slider.
Bats
With just 2 games on the slate, you are forced into bats here. On a regular season night, this is a game where you probably fade on both sides. That's obviously not an option here, though, so let's explore. Starting on the Red Sox side, you do have to reach a bit. Peacock has been solid against both sides of the plate and doesn't really struggle against any 1 profile. If you're looking for Red Sox exposure, look towards the stars. Andrew Benintendi and Mookie Betts have held .370+ wOBA's against righties on the year and we know the numbers they can put up in Fenway. Mitch Moreland and Xander Bogaerts are going to see the top of the order as well and should be pretty low-owned. On the Astros side, there is a bit more to like. Josh Reddick will jump back to the 2 hole against a righty and is a great cash game play. Your usual suspects in Jose Altuve and Carlos Correa are elite options as well. This entire lineup has upside and Vegas has them slated for over 4 runs. You can wait until the lineup comes out and play anyone that fits. They are probably the safest offense on the board and one that will be very popular. It's almost pointless to consider ownership in the playoffs, especially when you only have 2 or 3 games. All in all, the Astros offense is in a terrific spot and with just 4 lineups to choose from, everyone is in play. On the Red Sox side, you may want to be careful. Target the guys in the top of the order and leave the rest to the masses.
Cleveland Indians @ New York Yankees
Pitchers
Carlos Carrasco FD 10600 DK 11500
Opponent - NYY (Tanaka) Park - @NYY
FD - 34.72 DK - 22.99
The Yankees are down 2 games to none, so it's win or go home against Carlos Carrasco. Not good news. At least not for the Yankees. Carrasco is an elite right-hander that can go 7 innings with ease. He did struggle a few times throughout the season, but his prime form is top 10 MLB level. On the season, he posted a 3.24 xFIP. That's right between Chris Archer and Stephen Strasburg. He strikes out over 11 batters per 9 innings and has held a .286 combined wOBA. He moves into Yankee Stadium to face a team with their backs against the wall. They were demoralized last time out and could either lay down or put up a fight. They K more than any other team on this slate (23%) and are a very boom/bust lineup by nature. Carrasco is going to be a top option in all formats, though the risk is imminent. The problem is you only have 4 guys and the risk is there for everyone, so good luck. At least everyone is in the same boat. Peacock and Carrasco are both great cash game options and for me, I'll have exposure to both.
Masahiro Tanaka FD 9900 DK 8100
Opponent - CLE (Carrasco) Park - @NYY
FD - 30.96 DK - 20.61
Tanaka is a very good pitcher, but this isn't the spot where I want exposure. Sure, he can have a solid game. There's just a much higher chance the Indians nickel and dime him until he gets thrown out after 2 or 3 early runs. The Yankees will have absolutely no leash on Tanaka and I suspect the bullpen will be working as soon as someone gets into scoring position (past the 3rd or 4th). I know it sounds crazy, but the Yankees' biggest weapon is their bullpen and they can't save it for tomorrow if they lose. The Indians offense is just too dominant and I have no interest in a guy who basically has to pitch perfectly against an elite offense in Yankee Stadium. No Thanks.
Bats
My approach to this game is very similar to that of the last. In Carrasco, you have a guy you don't really want to target. If his pitches are working, nobody holds an advantage. If you're adamant about getting exposure to these guys, you know how to do it. Aaron Judge and Gary Sanchez are still 2 of the better bets for an HR against anyone. After them, you're taking a flier in hopes that Carrasco just throws a bad pitch. I'd rather look towards the Indians, who have proven themselves over and over. They face a solid arm in Tanaka and an even better set in the bullpen, so we have to temper the expectations. Still, this lineup is just LETHAL. It's the only word to describe. One after the other, they put up tough at-bats that often end positively for them. Lindor, Santana, Kipnis, Encarnacion, and Ramirez have posted .365+ wOBA's against righties and are all elite options in both cash games and tournaments. With just 2 games on this slate, everyone will see an inflated % owned. Relatively, these guys will be highly owned. I'm fine with it. Lower in the order, you have less popular guys like Yan Gomes and Lonnie Chisenhall, who are very solid cheaper options. You don't have a lot of options at all here, so make the most of the ones you are given. Good luck!!!
GRAB A FREE TRIAL OF OUR PROJECTION SYSTEM, AND CHECK OUT DFSR PRO!
image sources
Cleveland Indians starting pitcher Carlos Carrasco (59): By Keith Allison on Flickr [CC BY-SA 2.0 (http://creativecommons.org/licenses/by-sa/2.0)], via Wikimedia Commons