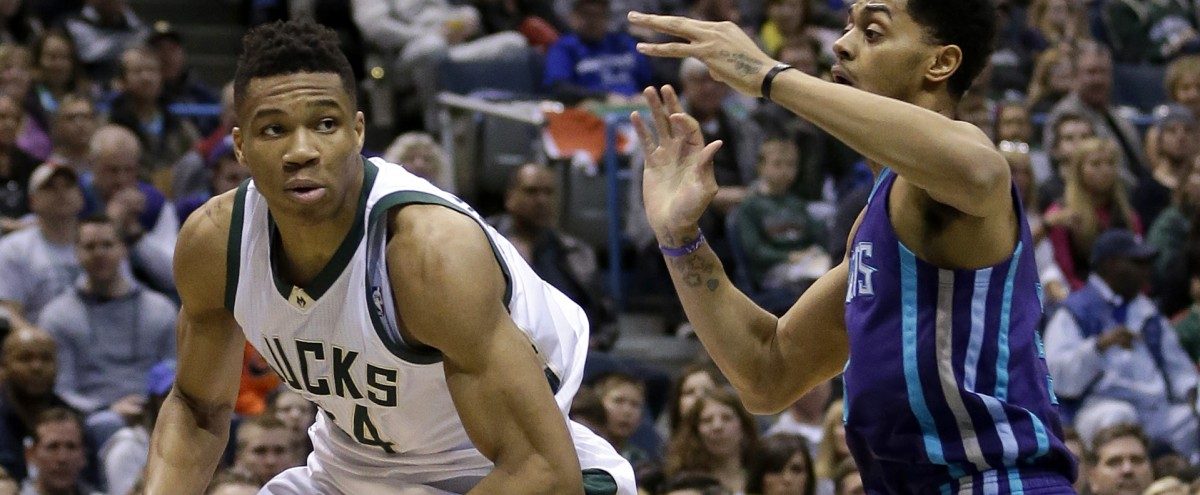 Daily Fantasy NBA Picks for FanDuel and DraftKings - 10/18/17
Well, the first night of NBA action was marred by a brutal injury to Gordon Hayward in the opening minutes of the first game of the year. It was brutal and quick reminder that these are still humans playing a game. That can be forgotten sometimes when playing DFS, rooting for the accrual of stats and sweating your lineups. It's a game first and foremost.
The second night of NBA kicks off with our first big slate of games. It was an off-season full of upheaval and we'll find out a great about teams after just one game.
Now's your chance to get DFSR PRO, which will give you access to our NBA optimizer, our NFL Optimizer, and our new player lab! Get started for free by clicking the button below.
First time with NBA or NFL? Be sure to read our free NBA and NFL Ebooks on building lineups, general strategy and more. We've got you completely covered.
Point guard

Damian Lillard FD - $8800 DK - $10400
Opponent - PHO
Proj Pts FD - 48.91 DK - 51.02
With C.J. McCollum serving a one-game suspension to start the season this could be the Lillard show against the Suns who ran at the second-fastest pace and third-worst defensive efficiency last season. This is a dream matchup for Lillard who sees his usage jump from 27 to 34 with CJ off the court last season (per NBAWowy). There is a lot of savings to be had at some of the other positions (there is at PG as well) but Lillard as a possible one-man-band looks great in this matchup. He's priced efficiently on both sites and could be a popular play as more DFS folks get sharp on implied usage bumps in situations just like this one. He's coming off his best scoring season (27 points per game) as he got to the line the most in his career (7.3 FTA per game) and stuck to his career average of 37% from behind the arc.

Dennis Smith Jr. FD - $4300 DK - $6800
Opponent - ATL
Proj Pts FD - 33.11 DK - 33.76
I know he hasn't played in an actual regular season NBA game yet, but it sure looks like the Mavs got a steal getting Smith with the 9th pick in the draft. Smith will take over the starting point guard duty for the Mavs who were desperate for any kind of playmaker last season. They were the kings of getting into half-court sets and waiting patiently for a Harrison Barnes post move. It was brutal. But Smith adds a new level of athleticism to the offense and with Rick Carlisle it's likely we see significant minutes out of the rookie early and often.

Dejounte Murray FD - $3800 DK - $4100
Opponent - MIN
Proj Pts FD - 25.11 DK - 26.22

Jerryd Bayless FD - $3000 DK - $3800
Opponent - WAS
Proj Pts FD - 22.47 DK - 25.09
These are some cheap considerations going into a full slate of Tuesday games.
The Spurs were already starting the season without Tony Parker at the point guard. Now it looks like Kawhi Leonard is going to sit the first game as well. The Spurs are starting behind the eight ball on the offensive end and will need guys like Murray to pick up the slack. He'll enter the regular season as the starting point guard and looked serviceable with the first unit in the preseason. He gets to the rim well and rebounds fantastically for the position. Even with Pop at the helm and Patty Mills in the wings, there should be plenty of minutes for Murray in this game and throughout the first half of the season.
Meanwhile, Bayless will draw the start for the Sixers with them wanting to bring Markelle Fultz off the bench. Bayless is in there to spread the court and work some ball-handling duties. This isn't going to be your traditional team with the way they are constructed but at $3K on FanDuel he doesn't have to do a ton to hit value. It's really the price there that has me the most intrigued.
Consider Eric Bledsoe
Shooting Guard
Rodney Hood FD - $4500 DK - $5800
Opponent - DEN
Proj Pts FD - 29.57 DK - 30.51
The Jazz lost Gordon Hayward in the off-season (in rather crushing fashion considering how they were putting together their team) and now deal with the fallout. They got Ricky Rubio to run the offense and will need the rest of the offense to pick up the slack left in the wake of losing Hayward's team-leading 16 shots and 22 points per game. The should fall some on Hood who last season saw a 13% increase in usage with Gordo off the court (per NBAWowy). Hood dealt with injury issues last season but has the ability to score (13 PPG) and could see an uptick in three-point looks in this offense. The Jazz, even with Rubio, will likely still play at a slower pace but they face Denver who played a top 10 pace last season with about the worst defensive efficiency in the league (29 out of 30 though basically tied with the Lakers. I like the matchup a lot for Hood who again, should see low 30's minutes and increased looks from the field.

Victor Oladipo FD - $6100 DK - $6800
Opponent - BKN
Proj Pts FD - 37.35 DK - 37.22
He's on his third team in three years after coming to the Pacers in the Paul George trade. Oladipo will start at the two alongside Collison and it wouldn't shock me to see him boost the shot attempts back to his '14-'15 levels of 15 per game. The season spent with Westbrook (and the dude's insane usage) isn't a fantastic comp for what could happen with Oladipo here. The Pacers aren't going to be a good team and lack much in the way of significant scoring threats. They'll need his three-point shooting which improved last season to 36% (still not great) and he'll be greatly aided on FanDuel where blocks and steals are now worth 3 points each. Indiana did sign Cory Joseph so I don't think you see Dipo move back into much of a PG role he saw at times in Orlando (though he did at times in the preseason), but the minutes and usage should be there at lower pricing.
D'Angelo Russell FD - $6600 DK - $6600
Opponent - IND
Proj Pts FD - 31.15 DK - 32.16
The Lakers never seemed to really seem to figure out how they wanted to use Russell in the offense and cut bait on him in a trade to Brooklyn in the offseason that brought over Brook Lopez and helped clear the way for Lonzo Ball to take over PG duties. Russell will now share the backcourt with Jeremy Lin and by all early accounts, it appears he'll lead the way for the offense. Brooklyn played at a breakneck pace last season, should do the same again and though Russell's listed as a SG on FD he'll almost assuredly rotate between the guard spots. The only thing I'm concerned with here is the Nets propensity to run less than optimal minutes for their starters in favor of a deeper rotation. That could the case again which would cap Russell's upside. But the shot volume and time on ball look great for the shooting guard position on FanDuel.
Consider Jrue Holiday with Rondo missing the beginning of the season
Update: This article was written early yesterday. In light of the Gordon Hayward injury, Jaylen Brown and Jayson Tatum make for excellent punt plays going forward.
Small forward
Rudy Gay FD - $5500 DK - $5500
Opponent - MIN
Proj Pts FD - 32.91 DK - 32.83


Kyle Anderson FD - $3000 DK - $4700
Opponent - MIN
Proj Pts FD - 23.24 DK - 21.96
This is a little more speculative than I like to get to start the season seeing as how this is a completely new team for Gay and he's coming off an injury-shortened 2016-2017 campaign. That being said, he has a lot going for him here. The Spurs are going to be without Kawhi Leonard to start the season and Rudy should rotate between the three and four with minutes pushing up to 30 even if he's coming off the bench (which he did in the preseason). He'll have opportunities to score and if the preseason is any indication, he's going to be shooting more threes than at any other time in his career.
Meanwhile, Anderson looks like he'll start in place of Kawhi and could also push up towards 30 minutes (or more) coming at minimum prices on both sites. That could be a lot of minutes, even for a guy who really needs all of the run, at a relatively weak position.
Jeremy Lamb FD - $3500 DK - $5700
Opponent - DET
Proj Pts FD - 25.72 DK - 25.82
He's likely going to be a chalk play on both sites considering the situation in Charlotte. The Hornets are starting the season without Nic Batum and Michael Kidd-Gilchrist (personal reasons) meaning Lamb could play a ton of minutes right out of the gate. Unlike the Spurs' situation above, Lamb makes for just the right kind of punt play. He's back with the same (basically unchanged) team and he drew starts for them last year. In those starts he averaged 30 minutes and a 15/8/3 line. He's the minimum on FanDuel and will likely be the chalk considering how much runway we have with the Hornets' news.

Jimmy Butler FD - $8700 DK - $8100
Opponent - SA
Proj Pts FD - 44.65 DK - 44.13
Jimmy Buckets should go all the way back to Jimmy Minutes with his off-season trade to the Timberwolves and more importantly, back under the eye of Tom Thibodeau. Thibs, as we well know, loves to pick his starters and run them into the ground. It's what kept Karl-Anthony Towns and Andrew Wiggins as two of the most consistent fantasy performers over the course of last year (1st and 10th respectively inconsistency - coefficient of variation). Expect the same from Butler. He's not cheap, and he's definitely going to need to share the love in the offense (this ain't your 2016 Bulls) but Butler is able to contribute in so many ways that the minutes alone should drive him toward value. It also helps that he won't have to face Kawhi in this matchup, alleviating some of the pressure on both ends of the court.
Consider Wilson Chandler
Power forward

Giannis Antetokounmpo FD - $10200 DK - $10300
Opponent - BOS
Proj Pts FD - 52.56 DK - 50.95
Power forward was a near-daily issue last season as teams moved to smaller lineups and the "traditional" guy at the position was often buzzed off of minutes and usage. Some of that changes this year with Giannis now qualifying along with a couple of other interesting "hybrid" types as well. Eight players averaged a FanDuel salary over $10K for the season last year and from a consistency standpoint (calculated here as the coefficient of variation) only Russell Westbrook and James Harden ranked better than Giannis. Frankly, I found this surprising considering some of my own ownership on ABC seemed to fluctuate wildly but it speaks to why running the numbers is critical in evaluating these kinds of decision. Antetokounmpo was a fantasy beast averaging a 23/9/5/2/1.5 and will get a little more of a boost with FD's new defensive scoring. Considering the position, the matchup with a new-look Boston squad and the Bucks returning much of the same team I see Giannis as the clear upper tier salary play on the slate.

Ben Simmons FD - $5600 DK - $7100
Opponent - WAS
Proj Pts FD - 30.79 DK - 30.99
Speaking of "hybrid" guys now qualifying at power forward, we are going to get our first full look at regular season Ben Simmons. I'm pumped. He could very well be a matchup nightmare for teams considering his ball-handling skills, size, ability to post play as well push the pace. He can't shoot from three, but the Sixers won't ask him to. That's okay because it looks like he'll be able to do just about everything else. He rebounded well in the preseason, doled out plenty of assists and adds a bunch on the defensive end as well. Philly's always funny with minutes but I'm fine playing Simmons at these prices even with high 20's run. Expect some turnovers as he gets used to the full speed of the NBA game, but Simmons at PF could be the chalk on this slate.

LaMarcus Aldridge FD - $7000 DK - $7300
Opponent - MIN
Proj Pts FD - 36.33 DK - 35.95
The key with Aldridge is Kawhi not playing. Last season he saw a significant usage bump with Leonard off the floor (25% to 30% per NBAWowy) and that should again be the case again tonight. Aldridge was something of a forgotten man last season considering the gains Kawhi made on the offensive end, but there's still a place for him in DFS when Leonard is off the court. He should get shots up against a weaker Minny interior defense though Taj is an upgrade over Dieng. I like the guys above a bit more for cash games, but the Spurs do lose a ton of usage with Kawhi off the court and LMA's been a fantasy beneficiary of that in the past.
Thaddeus Young FD - $5300 DK - $5700
Opponent - BKN
Proj Pts FD - 30.93 DK - 30.15
He's a solid mid-level option at power forward considering the matchup and the minutes he's likely to see. Young struggled with a wrist injury to end the year last night and didn't see a ton of shots in a slower-paced Pacer squad. I don't see Sabonis cutting into a lot of his playing time though they are somewhat similar in approach. It's mostly the matchup that I like here with Young and his scoring will be needed on the interior after losing George.
Center

Myles Turner FD - $7200 DK - $7700
Opponent - BKN
Proj Pts FD - 38.8 DK - 37.45
Speaking of nearly every other Pacer on this slate: we have another one with Turner. I'm expecting him to make something of a "leap" this season in both minutes and usage with Paul George off the team and some possibly improved guard play (assuming the Collison/ Dipo combo is an upgrade over Teague/ Ellis). Turner should see his minutes climb into the mid 30's and if the preseason is any indication he'll see more shots in this offense. The usage was better for Turner with George off the court last year (12% better per NBAWowy) and I like that his three-point shooting was a huge improvement over his rookie season. The mid-tier pricing could keep people away on a bigger slate, but I see him as a solid play at a thinner position.
Rudy Gobert FD - $8100 DK - $8800
Opponent - DEN
Proj Pts FD - 43.11 DK - 42.29
Gobert actually saw a usage decrease without Hayword on the court last season, but that's not a huge concern for me going into this year. I like that he'll get a more pass-happy point guard in Rubio and the former was already super-efficient around the rim. The Jazz have been fine playing him big minutes in the past (34 per game last year) and Denver still doesn't have much in the way of interior defense with Jokic patrolling down low. Gobert is another beneficiary of the new FanDuel scoring that rewards defensive stats. Paying these mid-tier prices could be the way to go tonight with Gobert and Turner both coming in at great values.
Consider Thon Maker if you think his off-season conditioning and bulk up will mean a boost in minutes.
GRAB A FREE TRIAL OF OUR PROJECTION SYSTEM, AND CHECK OUT DFSR PRO!