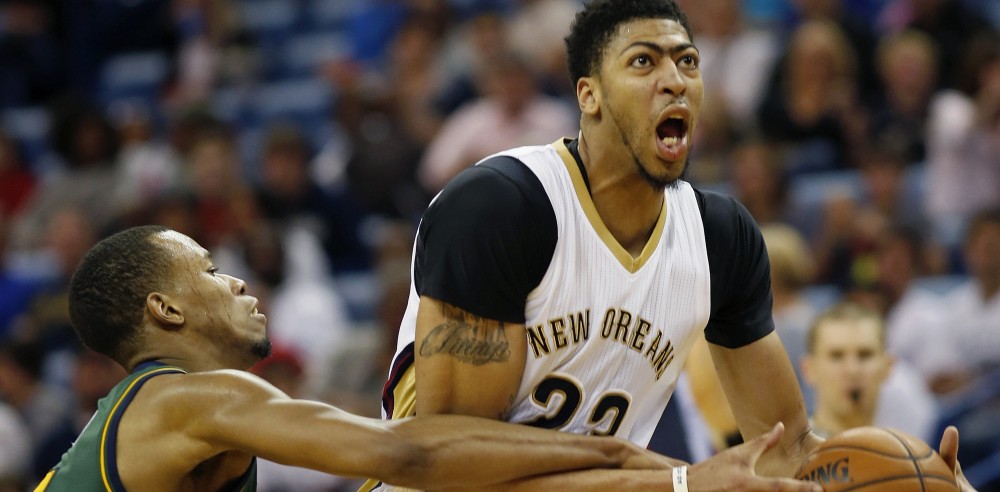 Daily Fantasy NBA Picks for FanDuel and DraftKings - 10/20/17
Now's your chance to get DFSR PRO, which will give you access to our NBA optimizer, our NFL Optimizer, and our new player lab! Get started for free by clicking the button below.
First time with NBA or NFL? Be sure to read our free NBA and NFL Ebooks on building lineups, general strategy and more. We've got you completely covered.
Point guard

Eric Bledsoe FD - $7500 DK - $7400
Opponent - LAL
Proj Pts FD - 41.21 DK - 42.21
We're going to see the price of Bledsoe go up before it's too long. Seeing just 29 minutes in the blowout against the Blazers, he looked phenomenal. Outside of his typical turnover issue, he was a force throughout his 29 minutes of court time, filling up the stat sheet. Assuming this game with the Lakers stays close and Bledsoe gets to 35 minutes, he will be knocking on value's door early. With the Suns having 2 primary ball-handlers, I assume Lonzo Ball and Jordan Clarkson will share responsibilities. We don't know a ton about how Lonzo will be as an NBA defender, but neither are considered lock-down and it's a big reason why the Suns backcourt is in a prime position. This late night affair with the Lakers currently holds a 220 over/under with just a 3 spread, so Vegas is expecting a wire to wire shootout. Bledsoe thrives in the open floor and should have no problem getting into transition early and often. You probably want some exposure to this game in one way or another, and Bledsoe is your safest option of all.

Jrue Holiday FD - $6800 DK - $6100
Opponent - GS
Proj Pts FD - 37.48 DK - 37.87
The Pelicans host the Warriors tonight in what should be a very interesting game. With Draymond Green presumably out, it should stay close. I know the Warriors are great, but if you can explain to me how they plan to stop AD + Boogie without Draymond, I'm all ears. Holiday will benefit in a huge way if this game stays close, matching up with the Warriors weak link on defense in Stephen Curry. With Rondo out for at least 4 weeks, Holiday will hold the PG position down and figures to be a very valuable DFS asset. This up-tempo game with the Warriors will work into his style of play perfectly and I can't see a way he avoids value in 34+ minutes of work against this defense. He will defer to AD and Boogie, but shooting won't be a problem for Holiday. He's a well-respected member of this team and will see games where he takes charge and shoots 20 times. His price is a bit depressed from his SG stint last season and it'll likely be up quickly as he sees time at PG. Holiday is one of the safest options on the board at any position. The upside goes unmentioned against an explosive team like the Warriors.
Yogi Ferrell FD - $4100 DK - $4200
Opponent - SAC
Proj Pts FD - 24.09 DK - 24.64
Seth Curry is definitely out for at least two more games, so Yogi Ferrell is locked in for his 30 minutes. They might not be as productive as last year, as it looks like Dennis Smith Jr. is controlling the ball a bit more. With that being said, Ferrell still played 16 minutes at point guard in game 1 and figures to get some more production here against the Kings. Buddy Hield and Fox will be on Ferrell, who are both in the game to score. Not play defense. Ferrell was well over 1 FP/min in 2016 and was priced around $7k towards the end of the year. He doesn't have nearly the same role right now, but it's nice to know that the ability is there to take over a game and win you a tournament. The same can't be said for a lot of these value plays that sit in the corner all game and rely on purely minutes. The Mavs played slow last year and the Kings played pretty fast, so it should be an uptick in pace as well. The price is low and with the need to pay down in a couple spots, Ferrell is as good of a candidate as any.
Shooting Guard

Devin Booker FD - $6700 DK - $7000
Opponent - LAL
Proj Pts FD - 34.29 DK - 35.7
We started PG off with Eric Bledsoe and now look at his partner in crime, Devin Booker. Booker isn't as safe as Bledsoe, simply due to his reliance on scoring the basketball. The good news is that he's one of the best in the league at doing it. He's a guy who is very match-up dependent, unlike Bledsoe, who can scrap in a low-scoring affair and end up with a stuffed stat sheet. We don't have to worry about that tonight, however, as the points will be in abundance (220 O/U). The Suns' starters didn't play much against the Blazers as the game was over after the 1st quarter, but Booker still ended with 30 fantasy points in just 27 meaningless minutes. He is a streaky shooter and it's nice to see him start the season on a high note. Nobody on this Lakers squad is going to shut him down, so it' up to Booker whether he has a big night or not. You'll know after 3 jumpers.

Jaylen Brown FD - $6200 DK - $5500
Opponent - PHI
Proj Pts FD - 28.48 DK - 29.22
Jaylen Brown is going to be popular for a while and it'll either be a price spike or a production drop that brings things back to earth. His price is definitely up to a degree, but there's still value to be had. He looks to be the number 2 option on offense with Gordon Hayward out, shooting 34 times over first 2 games. This game with the 76ers will be up and down and if you have watched Jaylen Brown play, you know what that means. He may be a bit more polished in a few years, but he relies on his speed/agility and athleticism to make things happen right now. Luckily for him, he is at the top of the world in both. He'll be covered by a combo of Redick and Luwawu-Cabbarot, neither of which having much of a chance. TLC is fast, but he isn't nearly as athletic is Jaylen Brown.
Small forward

LeBron James FD - $10900 DK - $10500
Opponent - MIL
Proj Pts FD - 53.55 DK - 54.75
There's some talk about LeBron's ankle and it's soreness. With it being the first week of the season and him confirming himself in a day ago, I think it's safe to assume he's very close to 100%. If he had anything that could get worse, I'm confident he wouldn't be playing in a meaningless October game. He played 41 minutes against the Celtics and looked phenomenal. He now sees a terrific match-up with the Bucks, who like to run and have no problem giving up boatloads of peripherals. I'm not expecting another 41 minutes out of LeBron, but he averaged about 36-38 a game last year.He performed well against the Bucks and I don't think much changed in the scope of defense. Giannis did his best on LeBron down the stretch, but it was Snell and Middleton who took responsibility early. All 3 of them struggled and I don't see why that'll change this year. Expect a typical LeBron game that could turn into an explosion if it stays close down the stretch.

Harrison Barnes FD - $6300 DK - $5700
Opponent - SAC
Proj Pts FD - 29.99 DK - 30.37
Harrison Barnes was one of the more consistent players in 2016 and he was usually around &7k, so this price is appealing, to say the least. He faces a Kings team this is replacing Rudy Gay with a string of inexperienced rookies. Barnes is a polished offensive player at this point and one that deserves and calls on legitimate defense. He will take advantage of bad defense and had no problem putting up 30 real-life points a few times in 2016. He's still growing into his potential as a scorer after being capped in GS, so it may take a year or two for him to blossom into what we should expect as his prime. He's going to be consistently leaned on by the Mavs with Seth Curry out and I doubt he sees less than 15 shots at any point in the next week. He doesn't have much of an upside, but a 25-30 ceiling is all you can ask for at his price.

Evan Fournier FD - $5600 DK - $5400
Opponent - BKN
Proj Pts FD - 31.15 DK - 31.89
If you're looking for some upside at cheap, Evan Fournier gives you just that. He's the only guy you can find at this price that is a key scorer on their team. Fournier is relied heavily upon by the Magic for perimeter scoring, with Elfrid Payton being rather inept at putting it in the basket. The Nets will give him every chance possible, playing at the fastest pace in basketball and matching him up with some lackluster guards. With Russell moving over to PG, it'll be Caris LeVert and Allen Crabbe who will see most of Fournier. They are both fine and lengthy, but Fournier is a legitimate NFL scorer. He will be in there for at least 30 minutes and when in there, the ball will be running through him. I like Barnes and LeBron a hell of a lot more in terms of cash game safety, but Fournier could very well be 5% owned and bring you in a 40 burger.
Power forward

Anthony Davis FD - $10900 DK - $10600
Opponent - GS
Proj Pts FD - 54.61 DK - 55.18
With Draymond Green currently doubtful, Anthony Davis could end up being the most popular superstar on this slate.  Zaza Pachulia will be on DeMarcus Cousins (LOL), so it looks like Jordan Bell or David West will garner the start. Neither will have ANY CHANCE at slowing down Davis, so the Warriors will throw plenty of different looks at both of these guys. The only one that has a chance to be effective is the outscoring method. The Warriors are certainly capable, so I think this one just turns into a shootout. Davis is going to score at will and with him seeing 40 minutes in the first game, I have a ton of confidence in where he's at health-wise. Nobody is going to cover this frontcourt on the Warriors, so it's just whether or not the Pelicans can keep it close or not. This game is going to be up and down and a game stack could be in the works.

Ben Simmons FD - $7700 DK - $7500
Opponent - BOS
Proj Pts FD - 33.9 DK - 33.81
I'm as excited as anyone to see how Ben Simmons pans out. What we've seen so far has been exciting, but I'm thinking it's just the beginning. This is a guy who is going to have some huge games this season and he isn't yet priced like it. He'll be over $8K pretty soon and will be a guy we play a ton in a game like this. What do I mean by games "like this"? Without Gordon Hayward, the Celtics are a fast-paced team that is going to try and outscore you. They play sloppy and they have no 1 guy that is a shutdown defender. Marcus Smart shuts down little guys, but he can't dream of covering Simmons. I assume it'll be Jayson Tatum, who does match his speed. He's just not skilled or quick enough to stay with Simmons outside of the paint. Simmons showed his ability to do everything in game 1 and he's safe because of it. Even if his shot isn't falling, you can depend on rebounds, assists, and in a match-up like this, some steals and blocks. Simmons isn't a must by any means, but he's a great option at his price and should be pretty low-owned with the expensive options drawing a ton of attention.

Jae Crowder FD - $5300 DK - $4700
Opponent - MIL
Proj Pts FD - 29.68 DK - 30.17
I think Crowder is one of the few guys who is just priced wrong. It's not the sites fault. I just think he will consistently play big minutes and complements LeBron extremely well. They can play him comfortably at the 4 against the small Bucks, which lets LeBron spread the offense like he wants to. You can expect a ton of open 3's for Crowder, like you've seen Battier, Miller, Allen, Love, Frye, Jefferson, etc. get in similar roles with LBJ. He only needs to get you around 28-30 in cash games, which will come easily if he plays over 30 minutes. He doesn't do 1 thing better than the rest, but he can stuff the stat sheet and will never let you down in terms of effort. We don't really know who will be covering Crowder, but it's safe to assume that it will be the worst defender. Sandwiched between LeBron and Love, Crowder won't and shouldn't warrant much consideration from Jason Kidd. If you need a PF at his price, he's an easy choice for me. I see him at around 6.5-7k throughout the season.
Center

Kevin Love FD - $6800 DK - $7500
Opponent - MIL
Proj Pts FD - 39.25 DK - 42.18
It feels like we're touching on a lot of these Cavs, but you have to be interested in the rebounding potential for Love against the Bucks here. That's after you consider him being the number 2 this year and seeming to mesh very well with LeBron in game 1. The numbers weren't crazy, but he finished with a double/double and looked smooth in conjunction with LBJ. He will be able to play the 5 against the Bucks with Greg Monroe and Thon Maker offering little resistance in the paint. Love should also have no problem stretching the floor, considering Milwaukee gave up the 4th most 3's to big men in 2016. Love is still a bit priced down on both sites and it'll be tough to stay away from him in cash games on FanDuel. There are a few other options at center, however, and there is a good shot Love ends up as chalk. If he isn't being talked about much, I'll have him everywhere. I'm expecting Love to have a huge and consistent season, barring injury.

Marcin Gortat FD - $6100 DK - $5600
Opponent - DET
Proj Pts FD - 27.74 DK - 29.4
If cash games are where you make your money, Marcin Gortat is going to be on your radar tonight. He has to be. He's a guy who may get some short minutes later in the year, but he is locked into 32+ right now. He will be needed to be deal with the size of Drummond, who isn't a very good defender either. He's too slow to contend with Wall on the PnR and Gortat should be able to score/rebound at will. A double/double is an absolute lock and at just $6K, that's not easy to find. He doesn't have the type of upside, however, that you might need in a tournament. His ceiling is around 40-45 and it'll happen once or twice every 10 games. He will typically sit around 25-30 and this match-up with Drummond is one that sets up perfectly. As long as Gortat doesn't get into any unforeseen foul trouble, he's the safest cheap center to choose from and is never more than 15 or 20% owned. Gortat isn't exciting to roster, but it's comforting to lock in 25 FP for $6k.
GRAB A FREE TRIAL OF OUR PROJECTION SYSTEM, AND CHECK OUT DFSR PRO!
image sources
Rodney Hood, Anthony Davis: (AP Photo/Max Becherer)