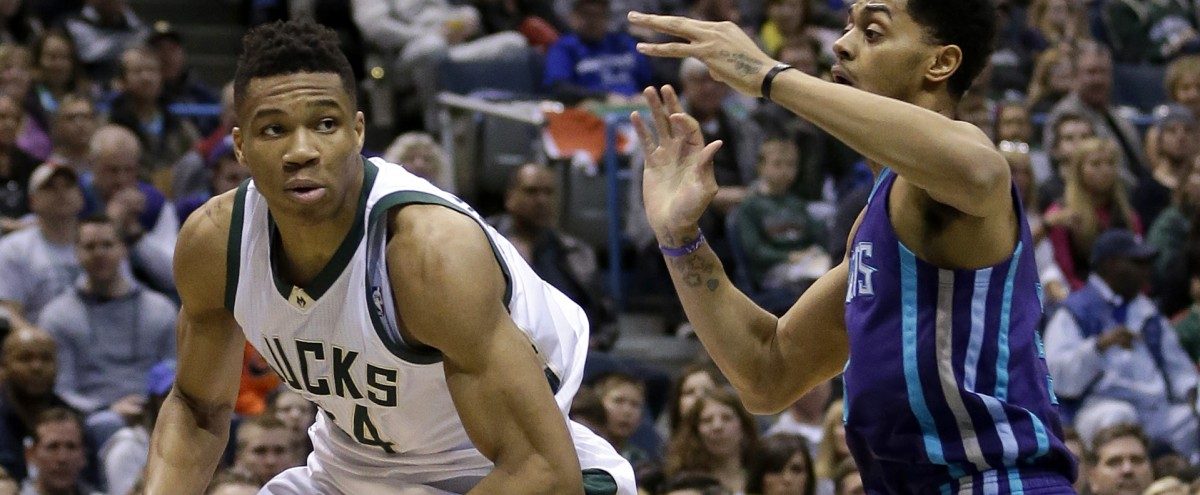 Daily Fantasy NBA Basketball Picks for FanDuel and DraftKings - 10/31/17
Now's your chance to get DFSR PRO, which will give you access to our NBA optimizer, our NFL Optimizer, and our new player lab! Get started for free by clicking the button below.
First time with NBA or NFL? Be sure to read our free NBA and NFL Ebooks on building lineups, general strategy and more. We've got you completely covered.
Point guard

Russell Westbrook FD - $11100 DK - $11200
Opponent - MIL
Proj Pts FD - 49.98 DK - 53.79
Happy Halloween DFSRNation!! We've got a spine tingling four game slate this evening with a monster over/under and some scary fast paced action. We don't want to be batty so we start things off tonight with the obvious choice, Russell Westbrook. He's been doing Westbrook things, which is basically everything, and though the scoring has taken a slight dip with the additions of Paul George and Carmelo Anthony, Russ has already managed to post three triple doubles in six games so far this season, twice in the last three outings. The price is at an ever so appealing season low on FanDuel, and though the matchup with the Bucks isn't ideal, on such a short slate, it's going to be hard to get away from Westy. The wonderful thing about tonight is no game projects to get out of hand and this one in particular sits at just a 1.5 spread. There's not a lot of upside at the point tonight, so Westbrook is a play in all formats.

Darren Collison FD - $6500 DK - $6000
Opponent - SAC
Proj Pts FD - 33.57 DK - 34.01
The night tips off in Indiana as the Pacers play host to the Kings. Darren Collison has gotten off to quite an impressive start to the season, and the sites have taken notice. The price on DraftKings is $700 higher than where it was on opening night while the FanDuel price has jumped $1600. Most night's I might be hesitant to play Collison at this price, but with the Kings in town it raises his floor to a comfortable level while lifting the ceiling even higher. Collison has not only been putting up ridiculous assist numbers (8 per game), but his shooting has been on point as well. He's shooting .508% from the field with double digit scoring performances in all but his most recent contest. The minutes are secure, the shot is landing, and the assists keep adding up. Collison is in consideration in all formats.
Shooting Guard

Devin Booker FD - $7200 DK - $7900
Opponent - BKN
Proj Pts FD - 37.62 DK - 38.58
What happens when you put two teams on the court that are pretty bad at defense and aren't afraid to run the boards? You get the Suns in Brooklyn with a 230.5 projected total. Eric Bledsoe has made it clear he doesn't want to be here (literally, those were his words) and Coach Watson is more than happy to oblige, which has put the burden of carrying the Suns offense on Devin Bookers back and he has done so like a champ, putting up his best scoring performance of the season so far against the Blazers in Portland on Saturday. He ended the night with 34 points including 4 threes, and mixed in six boards and assists for good measure. The Nets have actually played some solid defense this season at the two but if Booker is going to be the primary scorer for the Suns while also putting up solid periphs, I'm not overly concerned.

Victor Oladipo FD - $7900 DK - $7700
Opponent - SAC
Proj Pts FD - 39.48 DK - 40.05
Victor Oladipo took a change of venue this offseason, and found himself a great spot in the Pacers rotation. He has led Indiana in scoring through all six games so far this season. While the sites have been quick to correct the pricing on him, Oladipo is still paying off value at these prices and should have no trouble manhandling the Sacramento backcourt. He struggled with foul trouble last time out against the Spurs keeping him below the 30 minute mark for only the second time this season, and a lack of defensive stats paired with a season high seven turnovers certainly hurt his production, but he should be in line for a big bounceback performance tonight and is an excellent cash game play.

Buddy Hield FD - $4000 DK - $4400
Opponent - IND
Proj Pts FD - 24.08 DK - 25.3


Bogdan Bogdanovic FD - $4500 DK - $4300
Opponent - IND
Proj Pts FD - 24.63 DK - 24.94
The Kings are a mess, but someone has to see the minutes, and these two have seen just enough minutes and done just enough with them to justify the cost of admission. Bogdan Bogdanovic sprained his ankle in the preseason and missed the first three games of his NBA career, making his first appearance last Monday against the Suns. Through his first three games he has seen 23-25 minutes each game and looked decent shooting the ball including a 7-9 from the field 1-1 from beyond performance in Sundays blowout loss to the Wizards. Then there's Buddy Hield. With Hield you don't know quite what you're getting. Will it be the 32 minute 19/5/4 line he put up opening night against the Rockets, or the 19 minute 12/3/0 last week against Phoenix? If forced to choose, Im taking Bogdan in all formats if I need a shooting guard on the cheap, but for the discount on FanDuel, you could get lucky with Hield in a large tournament.

Small forward

Giannis Antetokounmpo FD - $12600 DK - $12500
Opponent - OKC
Proj Pts FD - 56.79 DK - 57.43
We have two solid plays at small forward, and the top play as has been the case each and every time out this season is the greek freak. Giannis Antetokounmpo has been a force to be reckoned with this season, scoring at will, snagging rebounds, and even dishing out assists at a respectable pace. It's a clash of the titans as Giannis and the Bucks host Russ and the Thunder tonight. The games 213 projection is the second highest on the night and as I noted earlier is expected to be a shootout. The Thunder rank among the toughest defenses in the league, particularly at the three, but with the way Alphabet has been playing I don't think there's a defense that can stop him from paying value even at these prices. The season high salary may be enough to start turning people off, but with only four games, I'm going to do all I can to make sure I have Westbrook and Alphabet in all of my lineups, and then just fill in the spaces around them.

Paul George FD - $7800 DK - $7500
Opponent - MIL
Proj Pts FD - 42.03 DK - 41.55
Paul George is one piece I definitely want to fit in the puzzle around my core two. George is not only among the top point per dollar plays at small forward tonight, he is among the top plays over all as the system loves him for over 5X tonight against Giannis and the Bucks. It took PG13 a little time to adjust to his new surroundings fitting in with Melo and Westbrook, but it seems he has finally found his sweet spot. He's shooting 50% from the field over the last two games, dropping three from beyond against the Bulls on Saturday, swiping four steals and picking up five rebounds. The minutes for George have been all over the place so far dipping as low as 19 while topping out at 39, with no blowout risk, I'd expect the minutes to be plentiful tonight in a favorable matchup.
T.J. Warren FD - $5100 DK - $5200
Opponent - BKN
Proj Pts FD - 23.92 DK - 23.25
After the two guys above the system likes several cheaper players who see mid-range minutes and all project for about 20 or so fantasy points. Brandon Ingram is a little risky for my blood at the price, as is Bojan Bogdanovic and Allen Crabbe. All are potential tournament plays that could boom as easily as they can bust, but for my money, I prefer T.J. Warren. Warren has had some rough outings early on this season but he also has shown the most upside, paying over 7X at these prices twice already this season while playing in the game with the highest projection by a mile and the top two teams in terms of pace. By all means, do what you have to to make the top two plays work, but in a pinch Warren presents the most safety at the middle tier with plenty of upside.
Power forward
Carmelo Anthony FD - $7400 DK - $7100
Opponent - MIL
Proj Pts FD - 35.94 DK - 36.27
Despite the pace of play, and the projected total of the PHO/BKN game, these are still two bad teams, which is why we keep finding our way back to this game. When looking for cash game plays this game just feels much safer. We start off the the four with a rejuvenated Carmelo Anthony. Melo has put up 20 point performances in every game this season and has been paying value on a consistent basis. Saturday was his worst fantasy performance of the season to date, but that can be attributed to the blowout, and the first time his minutes dipped below the thirty mark. The trio of Westbrook, George, and Anthony seems to be finally starting to gel, and are complimenting each other nicely in the stat sheets. Priced the cheapest of the bunch, Melo presents the easiest way to gain exposure to the OKC offense, and with the way they're starting to play you definitely want to get in on the action. He's a particularly attractive play on DraftKings, though I see no reason to shy away on FanDuel.

Tobias Harris FD - $6400 DK - $6700
Opponent - LAL
Proj Pts FD - 32.12 DK - 32.57
Next we make our first trip to Los Angeles where the Lakers host Tobias Harris and the Pistons. The last game of the evening has the lowest projected total of 209 but with three of the four games projected within four points that isn't necessarily a turn off. It's a particularly good spot for Tobias Harris, as the Lakers are among the easiest defenses to target at the power forward position. Harris has been all over the place to start the season, scoring anywhere from 11 to 34 points, though the minutes have been steady. Outside of a 19 minute showing here in the Staples Center on Saturday against the Clippers where he dealt with foul trouble, Harris has run in the mid to upper thirties each time out. If the shot starts falling again on his return trip through L.A. while picking up some peripherals, he could be looking at a 6X or better performance at these prices, though the floor is at least five and I love Harris in all formats.
Skal Labissiere FD - $4900 DK - $4600
Opponent - IND
Proj Pts FD - 32 DK - 31.82
Here's the "if" play of the night. Zach Randolph is questionable for tonight with a sore left foot. If he is unable go then once again Skal Labissiere becomes a solid value play. Labissiere made his second start of the season on Sunday when ZBo was given the night off for rest, and though he failed to duplicate the double double performance of his opening night start, he managed to do just enough to come in just under 5X and gets a much better matchup tonight against a Pacers team that just can't defend against the four. Keep an eye out for Austyn's update article later today to get the word on Randolph, but if he is out, then Skal is definitely in for consideration.
Center

Willie Cauley-Stein FD - $5300 DK - $5400
Opponent - IND
Proj Pts FD - 31.02 DK - 30.08
I'm going to do this backwards, as I prefer the guy we'll discuss in a moment more, but he's going to be a tough one to fit in with some of the other big money plays we've covered to this point. So, I'm leading off with Willie Cauley-Stein who tops the center position as the top PPD play of the night. He hasn't put up a 30+ fantasy performance since opening night when he put up 42 against the Rockets, but he has seen a steady string of 24-29 minutes per game while the price has continued to drop to a point where we can finally consider WCS as a value play. For a team as young as the Kings are they play at one of the leagues slower paces, but Indiana will force them to speed up their game a bit which will provide WCS with more opportunities. In a pinch I'm sure we can get away with WCS as a lower tiered play allowing us to spend up elsewhere, especially if Sabonis is unable to go for the Pacers.

Andre Drummond FD - $9200 DK - $8200
Opponent - LAL
Proj Pts FD - 44.18 DK - 43.5
If you have the salary to spend at this point, I feel much better about Andre Drummond. Mr. Drummond has been running hot for the Pistons, ending a string of four straight double doubles coming up just two points shy against the Warriors on Sunday. He still managed a solid fantasy performance, paying over 5X for the second straight game, courtesy of 18 rebounds and five steals. The Lakers present a league average match up and are allowing 14.5 points and 15.2 rebounds to opposing big men this season so a new streak of double doubles should most likely begin tonight, as Drummond continues to build on an impressive start to the season, particularly over the past four games where he has been the definition of consistent. If you can work him in, I love Drummond in all formats.
GRAB A FREE TRIAL OF OUR PROJECTION SYSTEM, AND CHECK OUT DFSR PRO!
image sources
Giannis Antetokounmpo, Jeremy Lamb: (AP Photo/Aaron Gash)