Daily Fantasy NASCAR Race Preview & Picks for DraftKings - Can-Am 500
DFSR is proud to bring you Chris Durell. He'll be bringing weekly NASCAR picks, analysis and a FREE cheatsheet and video to help you cash on DraftKings.

Playing other DFS sports? Now's your chance to get DFSR PRO, which will give you access to our MLB optimizer and Player Lab! Get started for free by clicking the button below.
Want to learn some about MLB? Be sure to read our free MLB Ebook on building lineups, general strategy and more. We've got you completely covered.

Can-Am 500
Phoenix International Raceway - Avondale, AZ
Track - 1 Mile Tri-Oval
Welcome back race fans. This week the Monster Energy Cup Series travels back to Phoenix International Raceway for the third elimination race of the 2017 Playoffs. With his win last weekend at Texas, Kevin Harvick joins Kyle Busch, who won at Martinsville, in the championship race at Homestead and also joining them is Martin Truex Jr. who has earned enough playoff points to also advance no matter what happens this weekend. That leaves five drivers who will be fighting for the final spot and a shot a series championship. Here is how those drivers sit when looking at the points standings:
Brad Keselowski(4111 points)
Denny Hamlin(19 points behind)
Ryan Blaney(22 points behind)
Chase Elliott(49 points behind)
Jimmie Johnson(51 points behind)
While it is not completely a  must win for Brad Keselowski, you can bet he won't be just out there points racing on Sunday as his lead is just 19 points which are not that hard to make up with the new stage racing and points structure. Seven-time series champion, Jimmie Johnson and his Hendrick teammate Chase Elliott have the most ground to make up this weekend and will surely need a win to move on to the finale at Homestead.
For fantasy, I will be weighing dominator points(laps led/fast laps) much higher than place differential for a couple reasons. Looking at the last six races here, there has not been more than five drivers to pick up double-digit place differential in five straight races. On the flip side, there have been three drivers to lead 50 or more laps in three straight races and at least seven drivers to pick up double-digit fast laps in four straight races. Having said that, qualifying can definitely change things so it will be, as always, important to pay close attention to qualifying and the final two practice sessions.
Let's now take a look at some of the trends going into this weeks race.
Last Six Winners at Phoenix
Ryan Newman(started 22nd, led 6 laps)
Joey Logano(started 4th, led 58 laps)
Kevin Harvick(started 18th, led 139 laps)
Dale Earnhardt Jr.(started 3rd, led 22 laps)
Kevin Harvick(started 1st, led 224 laps)
Kevin Harvick(started 3rd, led 264 laps)
Top 5 Current & Career Track History at Phoenix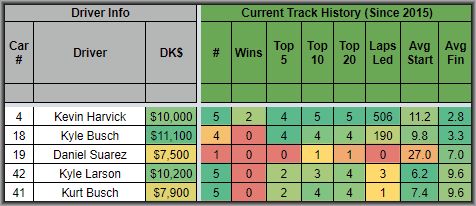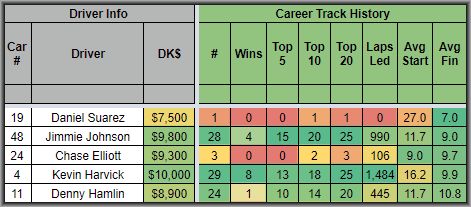 No one driver has dominated here in the desert quite like Kevin Harvick who has two wins, four Top 5's and a 2.8 average finish in five races since the start of the 2015 season with an amazing 506 laps led. Harvick also leads all active drivers with eight career wins here including a stretch where he won four straight and six of eight races. Next up in career wins here is Jimmie Johnson with four but he hasn't been in Victory Lane here since the fall race in 2009 and has just two Top 10 finishes in his last six races. Kyle Busch has just one career win here(November 2005) but has been extremely consistent since the start of the 2015 season finishing all four races inside the Top 5 and has finished inside the Top 10 in six of his last seven at Phoenix. Not on either of these lists and also not in the playoff race are Ryan Newman, Joey Logano, and Dale Earnhardt Jr. who have collectively won three of the last four races here at Phoenix.
Top 5 Current Track Type History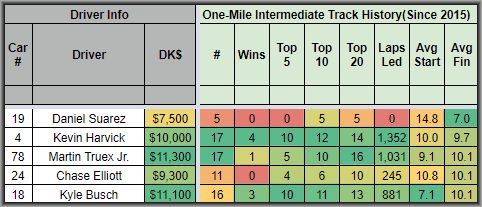 I won't be ranking track type too high in my overall model this week as the three tracks(Dover, New Hampshire, Phoenix) that make up this category are very different starting with Dover which is really only the similar in length with its 24° of banking. New Hampshire is the closest as it is also flat like Phoenix but is more like a large Martinsville while Phoenix is a Tri-Oval. One driver that has found success on all three tracks is rookie Daniel Suarez who has finished Top 10 in all five races this year. From a dominator perspective, it has been Kevin Harvick(1,352 laps led), Martin Truex Jr(1,031 laps led), and Kyle Busch(881 laps led) who have literally led the way on these three tracks since the start of the 2015 season. Knowing they are already locked into the championship race, I still don't see either of them letting up this weekend.
Top 5 Current Form (last six races)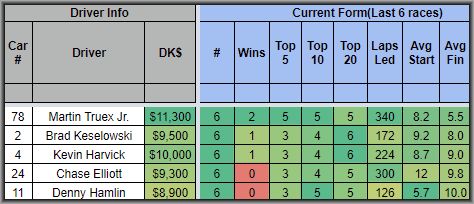 Of the drivers not already locked into the finale, Brad Keselowski has been the most consistent over the past six races with a win(last round), three Top 5's, four Top 10's, and an 8.0 average finish. Looking at the fantasy points rankings, he also ranks fourth overall in that span with an average of 57.8 DraftKings points per race. Chase Elliott, despite his 27th place finish at Martinsville, has also been very consistent in his last six races with a three Top 5's and 9.8 average finish to go along with an average of 60.6 DraftKings points per race.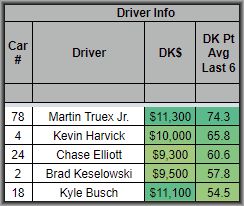 Pre-Qualifying Targets
Kyle Larson($10,200)
I think Larson has a great shot to pick up a win and make things really interesting for the playoff drivers. He has no wins here at Phoenix but has finished 3rd and 2nd in his last two trips and should be hungry after engine problems derailed his playoff run and very successful season.
Brad Keselowski($9,500)
Keselowski is another driver who has no career wins here at Phoenix but unlike Larson, still has a shot to make it to the championship race at Homestead and will be willing to do anything to reach Victory Lane on Sunday. One thing he does have here is consistency as he has finished Top 10 in eight of his last 11 trips with five Top 5's. Best of all, he has seen a $500 dip in his salary from last week.
Daniel Suarez($7,500)
For value, I am looking at Daniel Suarez in the mid $7K range. I mentioned above that he has been terrific on the one-mile intermediate tracks with five Top 10's in his rookie season including a strong 7th place finish here at Phoenix back in March after qualifying back in the 27th starting position.
Aric Almirola($6,100)
Digging even deeper, we have Aric Almirola who returns to one of his best tracks over the course of his career. While running second-tier equipment he has finished Top 20 here in 10 of his last 11 trips with five of those inside the Top 15. Look for him to finish the season strong in the iconic Richard Petty #43 car before stepping into the Stewart-Haas #10 next season.


Below you will find a copy of my DFS NASCAR cheathsheet which includes Track History, Current Form, DraftKings points averages, Track Type History, Practice/Qualifying Ranks and much more. Get it HERE. I also have available my Race by Race Trends sheet you can view as well.

If you have any questions scroll down to the comment section and join the conversation.Good Luck everyone!
Chris Durell has been playing Daily Fantasy Sports for four years and fantasy in general for more than a decade. He is active player in NFL, MLB, NHL, PGA, and of course NASCAR. He lives in Saskatchewan, Canada with his wife and two daughters. You can follow him on Twitter at @jager_bombs9 for advice, strategy, answers to any NASCAR questions or how he copes with the winters up north.