Basketball Picks Daily Fantasy
Expert Advice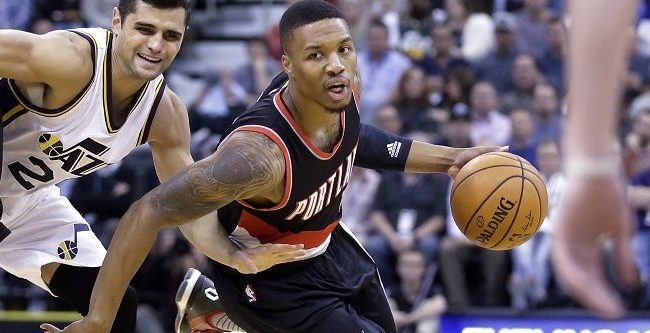 Daily Fantasy NBA Basketball Picks for FanDuel and DraftKings - 11/10/17
Now's your chance to get DFSR PRO, which will give you access to our NBA optimizer, our NFL Optimizer, and our new player lab! Get started for free by clicking the button below.
First time with NBA or NFL? Be sure to read our free NBA and NFL Ebooks on building lineups, general strategy and more. We've got you completely covered.
Point guard

Damian Lillard FD - $10000 DK - $9400
Opponent - BKN
Proj Pts FD - 45.74 DK - 47.46
We had a quality 5-game Thursday slate on our hands last night and it ended up working out pretty well. With that being said, it feels like we haven't had a normal slate in 4 or 5 days. Fortunately, we've made it to Friday and a nice 7-gamer. It's still not the 12-15  games that we see on a lot of Fridays, but it's better than 3 or 5 like we're getting used to. This is also 7 games that are packed full of intrigue. We start it off with Damian Lillard, who has the iconic Nets match-up. We know how abysmal the Nets are at every form of defense. Looking at the Nets schedule, they haven't played more than 1 or 2 good point guards, yet they're still ranked in the bottom 10 in terms of FPPG allowed.  They also play insanely fast. A 109 PACE is something that almost makes no sense. For comparative purposes, the Suns are 2nd with 105 and a normal "fast" team is around 102-103. Lillard is going to get and do whatever he wants, whenever he wants. Spencer Dinwiddie is an atrocious defender and the only real hope the Nets have is to put Rondae Hollis-Jefferson on him. It won't stop anything, but surely has a better chance than Spencer Dinwiddie or Joe Harris. Now with that being said, the only way Lillard sees a switch is if he's going crazy. In that case, it won't really matter. We're about to touch on Westbrook as well and there's definitely an argument to be made for both. I personally like Lillard a bit more and wouldn't be surprised to see him outscore every PG. At home against the Nets. It couldn't be better.

Russell Westbrook FD - $10800 DK - $10800
Opponent - LAC
Proj Pts FD - 49.5 DK - 53.08
Point guard is typically one of the deeper positions on the board, but it's not necessarily the case tonight. We have 4 or 5 guys to choose from, but they're all expensive. Outside of Jerian Grant, this is a position you'll want to pay up for. Westbrook disappointed last night against the Nuggets and will look to bounce back against a Clippers team that has nobody to guard him. I wouldn't have been all over Westbrook here, but Patrick Beverley is out. That leaves Austin Rivers and Lou Williams to cover Russell Westbrook. I have absolutely no idea how that will work, but I suspect not very good for the Clippers. I don't think Westbrook is going to be highly owned with his recent performances and we know the upside is over 70 FP at any point. He's still one of the best DFS players out there and will average over 45 FPPG. He's going through a bit of a rut and gets a perfect opportunity to breakout. There will be some who have a "stay away" mentality with Westbrook, which is the number 1 way to lose money in DFS. While I do prefer Lillard with the slight discount, Westbrook is still in play and I'll have plenty of exposure to both.
Jerian Grant FD - $5200 DK - $4800
Opponent - IND
Proj Pts FD - 26.16 DK - 26.15
Ideally, this would have been Pat Beverley, but he has a sore knee. Yay. With PG already a bit short-handed below $6k, now it's barren. Jerian Grant is a slight reach, but I wanted to give a value option after recommending Westbrook and Lillard. Of course, if you have the funds, go ahead and play Payton, Kemba, or Kyrie. They are all fine plays, but like I said, let's touch on a cheap guy. Jerian Grant has been grabbing 20-30 minutes a game and now sees an up-pace match-up against the Pacers. Guards against the Pacers is something we've been attacking all season long and it's because they've allowed the 8th most FPPG. This match-up sets up well for the style Grant likes to play, so it would only makes sense that the Bulls stretch him closer to the 30-minute mark. He comes with a bit of risk just because he could see 20 minutes, but if the minutes come, the production is safe. I prefer paying up at PG, but have no problem with this value play.
Shooting Guard

C.J. McCollum FD - $7300 DK - $7400
Opponent - BKN
Proj Pts FD - 35.64 DK - 36.42
When first glancing at the slate, the Blazers obviously stood out against a Nets team that doesn't know how to play defense. This is a major pace-up game for a Blazers squad that has played slightly slow to start the year. I do get that Lillard and McCollum eat into each other's numbers, but they go off together plenty. If you want to piece them out in tournaments, I get it. They probably won't both get 50+. In cash games, yes, please. Vegas has this game at just a -8 spread, so you have to think both of these guys are going to be in there all game long. That's 70 minutes of McCollum and Lillard for $17,500. They'll need to get you around 80 in cash games, which is feasible. We already looked at the PACE the Nets play at, but it's worth pointing out how crazy a number it is. They are playing faster than any team ever. EVER. and it's not close. These 2 superstar guards are going to have their way on the perimeter and we know nothing will happen if they go in the paint. Unless Timofey Mozgov does some speed or something before the game.

Marcus Smart FD - $5900 DK - $5700
Opponent - CHA
Proj Pts FD - 29.98 DK - 29.96
When on the floor, Marcus Smart is one of the most consistent guards in the game. While that can't be said in real-life because of his inconsistent jumper, he doesn't rely on that in DFS. He stuffs the stat sheet in every way possible and uses the points as a gravy on top. He's still a bit too cheap as he incorporates himself back into this offense. You can count on him for 30-35 minutes and 12-16 shots on most nights. This match-up against the Hornets isn't anything to freak out over, but it's certainly nice. They've allowed the 5th most FP per game to SG's at 52, which has everything to do with the Nicolas Batum injury. He also sees a bump with Al Horford out as there are 15 more shots to go around and 10 more rebounds to grab. Smart is a fantastic cash game play across the board under $6k.

Lou Williams FD - $5500 DK - $5200
Opponent - OKC
Proj Pts FD - 24.98 DK - 26.17
The Clippers could be coming into this bout against the Thunder very short-handed. With Milos Tedosic out long-term, these guards are already getting solid minutes. Now we have Patrick Beverley confirmed out and Austin Rivers questionable. Even if Rivers plays, Lou Williams will see a minimum of 28 minutes. If Rivers misses, I'm expecting around 35. They will need the scoring punch against the Thunder and Williams has played great early in the season. He's a trusted veteran that can play big minutes and will shoot as much as he can. The Thunder have plenty of solid perimeter defenders and it'll be a tough task no matter the name. Still, it's 30+ minutes of Lou Williams for $5k. Go ahead and plug him in there in cash games if Rivers is ruled out before lock. If not, take a shot in tourneys.

Small forward

Evan Fournier FD - $6800 DK - $7200
Opponent - PHO
Proj Pts FD - 35.3 DK - 36.09
We haven't touched on the Magic just yet, but certainly could have. Eflrid Payton at PG and Terrence Ross at SG are both options you can consider. The Suns are a bit like the Nets in the sense that they play fast and don't play defense. The only difference is they have an average defensive interior, so a lot of the fantasy production is pushed to the wings. They rank in the bottom 10 against SF's with 46 FFPG allowed, though T.J. Warren is a good defender. They play with a 105 PACE, which is 2nd in the league, but also 2nd in the last 10 years. It doesn't allow defenders to get set on defense, so Fournier will only match-up with Warren in about half the plays. Fournier is always a bit inconsistent, but if there's ever a match-up where he's safe, this is it. He's fine in all formats and a guy I'll be leaning heavily on everywhere.

DeMarre Carroll FD - $5300 DK - $5800
Opponent - POR
Proj Pts FD - 28.95 DK - 28.6
It looks like the Nets are finally giving Carroll the leash he has needed. Being on decent teams in the past, Carroll wasn't good enough to shoot very much. He relied on peripherals to hit his ceiling and would only pick up 5-10 real-life points consistently. Now, he's getting close to 15 shots in most games and playing 33+ minutes. He's also playing very free and loose, unlike the tight cannon that stood in the corner in Toronto. He is a very talented player and I wouldn't be surprised to see him solidify himself around the 30 FP mark on most nights, with the upside for 50 a few times a year. The match-up against Evan Turner and Maurice Harkless is nothing to worry about. Take the added opportunity for Carroll at a price that has yet to adjust. We're also all over the Blazers, so it's not a bad idea to get exposure on the other side if you think it's staying close and high scoring. Correlation. He's an elite play in all formats at this price and I'll have a ton of exposure. P.S. Don't play Quincy Acy.
Power forward

Aaron Gordon FD - $7800 DK - $7600
Opponent - PHO
Proj Pts FD - 39.65 DK - 39.42
Now for my top point per dollar play of the night. Aaron Gordon is a much better player than he was in 2016. He's not only added a legitimate 3-point shot, but he's a lot more consistent on the boards and with his minutes. He's likely going to be in the 8 0r 9 k range this season, so we may be actually getting a discount in the long run. He's matching up with the Phoenix Suns, which may be the best possible match-up. Marquese Chriss and Dragan Bender are very bad individual defenders and Gordon will be able to dominate either. Vegas hasn't dropped a line for this game, but I'd be shocked if it's below a 215 total. These 2 teams are willing to run and for the Magic, it's because of Gordon. He's one of the most athleti 4's in a long time and he will dominate in the open floor. He's a lock for 35 fantasy points with upside we have no clue of. This game is one you want exposure to and Gordon gives you the best version of it.

Blake Griffin FD - $8400 DK - $8600
Opponent - OKC
Proj Pts FD - 41.57 DK - 42.21
If you're looking to pay up at PF, Blake Griffin is very interesting. He doesn't come in with the same point per dollar projection as some cheaper, but his upside is higher than anyone at the position. He also sees an intriguing match-up against a Thunder squad that can struggle against PF's. Steven Adams is a great defender, but he'll have his hands full with DeAndre Jordan. That leaves Carmelo Anthony and Jerami Grant on Blake Griffin. Uhhh? Does anyone else see something wrong with that? I'm sure they will double Griffin, but he knows exactly how to handle that. He's the lone focal point of this offense and he touches the ball on almost every single possession. In a fast-paced game with the Thunder, he should excel. Nobody can match-up 1 on 1 and he's a menace in the open court. His price has considerably come down and he's fine in all formats. Gordon is slightly preferred, like I said, but don't switch around your lineup if Griffin fits. This is a game you can stack in tournaments and hope the upside hits.
Noah Vonleh FD - $4000 DK - $3600
Opponent - BKN
Proj Pts FD - 15.93 DK - 15.72

Ed Davis FD - $3900 DK - $3700
Opponent - BKN
Proj Pts FD - 22.8 DK - 22.33
We need some value on this slate and these 2 guys are going to get guaranteed minutes against one of the worst interiors of the decade. It's looking like Tyler Zeller and DeMarre Carroll have been playing the most minutes at the 4 and 5, so if he's out, this is ugly. Ed Davis and Noah Vonleh are somewhat similar, but very much different in how they play. Vonleh is a volatile, upside-driven youngster who can commit 5 fouls in 5 minutes. His upside is crazy at this price and could be a must in tournaments if he got stretched out past 25 minutes. Ed Davis, on the other hand, is a sultry veteran who is an amazing offensive rebounder. Against the Nets, he may very well have a field day. Both of these guys are firmly in play getting over 20 minutes close to minimum price. You're going to need to pay down in a few spots and getting exposure to this team is not a bad thing.
Center

Jusuf Nurkic FD - $8500 DK - $6800
Opponent - BKN
Proj Pts FD - 38.72 DK - 39.82
Paying down at Center is a way many will likely go tonight, but there are some options at the top with upside. Jusuf Nurkic was struggling to start the year, but he's a guy that puts up 45 FP on an average night. He was over 40 in 3 straight games before running into the brick wall that is Marc Gasol. We now get the best possible match-up for Nurkic, seeing a mockery of an interior from Brooklyn. Tyler Zeller and Timofey Mozgov are atrocious and Nurkic will be able to exploit them in the paint and from the outside. He is involved in just about every play with a screen or drag, whether they look his way or not. Believe it or not, this is a guy I think is just as good as McCollum. His price is about right on FD, but he's way too cheap on DK. Over there, it's a cash game lock for me. Everywhere else, he's a solid play in all formats that can be faded for solid value centers.

Robin Lopez FD - $5900 DK - $5400
Opponent - IND
Proj Pts FD - 30.2 DK - 29.95
Robin Lopez is not a fun guy to roster and he never will be. He doesn't have the same upside his brother does with a lethal offensive game, but he's an elite defender that can be counted on for 30 minutes and a ton of consistency. He's also gotten a lot more shots this year as there is nobody else demanding any. The Bulls see a fast-paced match-up with the Pacers where RoLo will need to be out there to contend with Myles Turner' size. Lopez is actually pretty good in fast-paced games, averaging 1.16 FP per min over his normal 0.84 in 2016. The price is still fairly low and I think a 25 FP point in this match-up is fair. He isn't exciting, but he's also not the guy you'll be sweating over.
Alex Len FD - $4400 DK - $4900
Opponent - ORL
Proj Pts FD - 31.22 DK - 31.85

Aron Baynes FD - $4800 DK - $4300
Opponent - CHA
Proj Pts FD - 20.03 DK - 19.98
Why in the world are these guys paired up? Well, they're the two value options at center that people are going to be on. Assuming Tyson Chandler sits, the optimizer prefers Alex Len. While he sucked about just as much as anyone can suck last game, it was because of foul trouble. He got his 3rd foul 35 seconds into his 2nd quarter rotation and never got it going. Expect him to bounce-back here with 26+ minutes against a porous Magic interior. Keep in mind that Hassan Whiteside and Nikola Vucevic are 2 VERY different centers to face off with. Vucevic has struggled with defense since the day he stepped on a court and he hasn't gotten better. Don;t be short-sighted because of last game. He's a good center who can be counted on when given the minutes. As for Baynes, I think I prefer him just slightly. He was damn good last game, but only got 22 minutes. Against a team with Dwight Howard, they will need his size. I wouldn't be surprised to see him get to 30 minutes, but think 25 is a better projection. As long as Tyson Chandler sits like expected, both of these guys are in play at center in 2 very different games.
GRAB A FREE TRIAL OF OUR PROJECTION SYSTEM, AND CHECK OUT DFSR PRO!
FREE EBOOK
SECRETS TO CRUSHING DAILY FANTASY FOOTBALL!
DON'T SET ANOTHER LINEUP BEFORE YOU READ THIS BOOK.