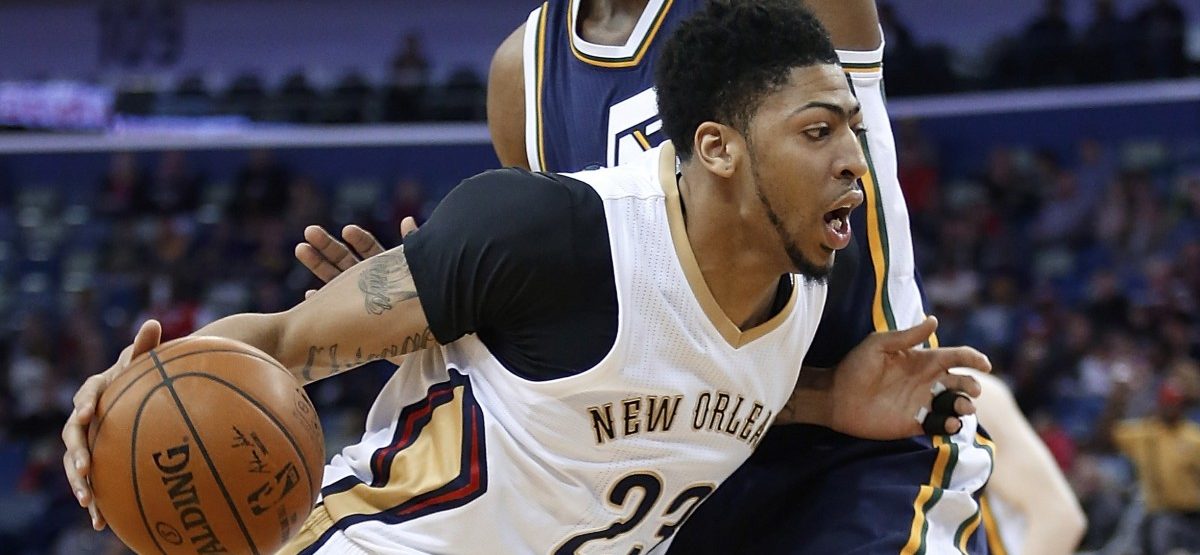 Daily Fantasy NBA Basketball Picks for FanDuel and DraftKings - 11/12/17
Now's your chance to get DFSR PRO, which will give you access to our NBA optimizer, our NFL Optimizer, and our new player lab! Get started for free by clicking the button below.
First time with NBA or NFL? Be sure to read our free NBA and NFL Ebooks on building lineups, general strategy and more. We've got you completely covered.
Point guard

Damian Lillard FD - $9600 DK - $9100
Opponent - DEN
Proj Pts FD - 46.82 DK - 48.49
We'll start it off in Portland, where we love to target Damian Lillard. While he's been great at both home and away this season, he's historically a much better play at home. He's been consistent on the year and sees a very solid match-up against a weak Nuggets perimeter that could be missing their best defender in Gary Harris. Jamal Murry and Will Barton are minor worries on defense and D-Lill should have his way on the outside and in the paint. His price is definitely getting up there, but it makes sense. He's putting up 40 FP+ on a consistent basis with a common ceiling around 65-70 on  good night. Nobody is a must at point guard when there's all these options, but Lillard is certainly our favorite way to pay up at the position.

Shelvin Mack FD - $4300 DK - $3700
Opponent - GS
Proj Pts FD - 23.83 DK - 24.27

Shaun Livingston FD - $3100 DK - $3500
Opponent - ORL
Proj Pts FD - 10.11 DK - 9.94
Both of these starting point guards are currently questionable, so we may have some value to take advantage of in the tri-state area. With the Magic, Elfrid Payton is dealing with a nagging hamstring that held him out of last game and limited him to 16 minutes against the Suns. With this game already over for the most part, I don't see a reason to play Payton, though he very well could. Shelvin Mack is the main man to benefit, seeing 24 and 31 minutes in the last 2 games. The Warriors play super fast and even if it does blowout, Mack will hit value at close to minimum price. On the Warriors side, I would argue Shaun Livingston is a bit more volatile, but if Steph Curry does miss, you can lock in at least 25 minutes with the upside for 35. The Magic have nobody to cover him and the production will flow when he's on the floor. We really don't know anything about these guys until we hear about the starters, so stay tuned and adjust accordingly.

Lonzo Ball FD - $7600 DK - $7300
Opponent - PHO
Proj Pts FD - 32.79 DK - 33.23
Lonzo went nuts last game out against the Bucks and finished with a triple-double on 19 points, 12 rebounds, and 10 assists. Never mind the 4 blocks and 3 steals. He has a long way to go in general, but we saw a glimpse into his upside for sure. It might seem like chasing points and some could be, but this match-up with the Suns is phenomenal. They've ranked 8th worst against PG's on the season, but haven't played many great ones. They also play at the 2nd fastest pace in the league this season and the 2nd fastest PACE in NBA history. Mike James is not a good defender at all and Ball has a huge size advantage over him. Ball as been pretty unpredictable this season, busting against teams like the Blazers and Nets. With that being, I'll personally have a lot of cash game and tournament exposure here. He's been over 35 minutes in 3 of the last 4 games and I don't see it changing in an optimal match-up.
Shooting Guard

Lou Williams FD - $5500 DK - $5600
Opponent - PHI
Proj Pts FD - 38.86 DK - 40.85
Sweet Lou has been on fire over the last couple games, and it has a lot to do with the injury to Danio Gallinari. Gallo is questionable for this one, so it's another piece of news you'll need to keep an eye on. Assuming Gallinari is out, you can bank on another 34+ minutes out of Lou Will in a friendly match-up. The 76'ers don't have the worst individual defenders ever, but they run into trouble when it comes to their pace. They play as fast as the Nets and Suns and have been faster over the last 5 games. Williams is a guy that thrives in the open floor, mostly due to his ability to create space and get open. His price is still $5.5K, so he'll only need you about 25-28 in cash games. If Gallinari plays, I would expect Williams to receive a generous decrease in minutes. I highly doubt they're looking to put a vet like Lou out there for 35 minutes every night.

Will Barton FD - $6100 DK - $6000
Opponent - POR
Proj Pts FD - 34.71 DK - 35.26
We have a ton of news up in the air tonight, and a lot of plays are dependant on the conclusion of that news. In this case, Gary Harris is questionable. He missed last game with a shoulder injury and it resulted in Will Barton seeing 37 minutes and 49 fantasy points. While that's pretty ambitious, no matter the spot, Barton is once again in play here if Harris sits. The Blazers are no stalwarts on defense and with Barton seeing a lot of minutes at both the 2 and 3, he'll see plenty of different defenders. None of them should have much success, and they definitely can't do any doubling with tons of other weapons to choose from. Barton is just $6K and you simply can't fade him if Harris is out. Barton is locked into 28 minutes no matter what with the upside for 40 is Gary Harris misses. Keep an eye out for the news article, as it'll likely have some very helpful info. At least I hope it's out by then.

Kentavious Caldwell-Pope FD - $4700 DK - $4500
Opponent - PHO
Proj Pts FD - 26.22 DK - 26.34
Kentavious Caldwell-Pope hasn't been getting much attention on the Lakers, but he's been solid and consistent. He's also an amazing defender, which does matter more in a fast-paced game like this. KCP is going to be out for there as many minutes as Devin Booker. He should be on him from start to finish. The Suns have allowed over 50 FPPG to opposing shooting guards and while that's per 48 minutes, it's still a high number. The price is way too low here for a guy that's been over 34 minutes in 6 straight games. He's a very safe punt option in a game that should be given loads of attention. It's between 2 fast-paced teams who barely know how to play any set defense. We have a lot of options at shooting guard, so it'll be important to choose wisely.

Small forward

LeBron James FD - $11200 DK - $10700
Opponent - NY
Proj Pts FD - 60.01 DK - 62.63
While Giannis Antetokounmpo has insane upside in any game, it's minimized against a slow and grueling Grizzlies team. In tournaments, go ahead, but I won't be there. Instead, I'll have my eggs in the LBJ basket. Narratives are always weird, but in this case, not so much. LeBron has been quoted multiple times saying he loves playing in MSG and wants to put on a show when he's there. He'll certainly have the opportunity to do so tonight against a Knicks squad that isn't very good yet. Especially on defense. It'll be a combo of Doug McDermott and Michael Beasley that man up LBJ, so that'll be fun. He has a 55 fantasy point floor and an 80 point ceiling. He's having one of his best offensive seasons so far and the fantasy production has been bonkers. Tonight, he's an uber-safe superstar at a position without much depth. He's been getting 38+ minutes, which is obviously worrisome, but you have to think it continues until it doesn't. I love Lebron tonight and will do whatever I need to fit him in.

Taurean Prince FD - $5800 DK - $5300
Opponent - NO
Proj Pts FD - 31.42 DK - 31.08
Taurean Prince has been flying under the radar as one of the more consistent cheap options out there. His price has risen slowly, but it's still very manageable in all formats. He's typically sitting around 33-36 minutes per game, which is incredible against the Pelicans. They don't even really have a SF, so they'll toss guys like Dante Cunningham and E'Twaun Moore there. Prince will have no problem playing his desired game against them and coming through with a floor of 25 fantasy points and upside for much more. He doesn't rely on 1 stat, which is very nice in cash games. This game is expected to stay close and the interior of the Pelicans should push production towards the perimeter. The price is fair and

Evan Fournier FD - $6300 DK - $6400
Opponent - GS
Proj Pts FD - 30.22 DK - 30.92
This is definitely a tournament option, but the scoring punch of Even Fournier is the only way the Magic can keep up with the Warriors. Especially is Elfrid Payton is out. On one hand, you have the Warriors absolutely obliterating the Magic, which is very possible. It would put most of the starters around 24 minutes and missed value. On the other hand, the Magic somehow keep it relatively competitive, which is also very possible if Steph Curry is out. Not likely, but possible. Fournier will draw a great defender, but that doesn't really matter here. The Warriors play fast enough where an individual defender doesn't really make much of an impact. It has more to do with the pace they play at and the upside for opposing teams if it stays close. I would much rather go Covington or Ingram in cash games at a similar price, but neither have the same upside as Fournier. His price is very fair on both sites and I will have a bit more ownership if Payton is out. While we don't even know if it will happen, Fournier will be the guy with the ball in a big moment. And $6k will be cheap if that's the case. With a ceiling of 60 and a floor of 12, Fournier will be reserved for tourneys.
Consider Thabo Sefolosha if he starts for Rudy Gobert.
Power forward

Anthony Davis FD - $11400 DK - $11000
Opponent - ATL
Proj Pts FD - 58.07 DK - 58.03
It'll be tough to fit all of Lillard, LBJ, and Anthony Davis, but it's possible. I don't think that's your best plan of action neccesarily, but it's an option. Power forward is always a bit weird of a spot and it's a great feeling to be able to throw out an AD in one of them. He's having his best season yet and demolishing whoever is on the court with him. Against the Hawks, he should have a field. Not only do they not have any rim defense, but they play John Collins and Luke Babbitt at the 4. Davis is going to put those guys in their seats after about 2 plays. It's a total and utter mismatch for both of the big men on the Pelicans and it could turn into a back and forth shootout with Schroder and co. Over the last 5 games, he's been over 60 FP in 2 and 50 FP in 4. He should be able to hit the mark tonight and come through in all formats, like he's done all year.

Kyle Kuzma FD - $6200 DK - $6400
Opponent - PHO
Proj Pts FD - 33.96 DK - 34.61
We've looked at this bout between the Suns and Lakers quite a bit already and we can't ignore the big guys either. Kyle Kuzma has quickly risen in price, but it's been rightful. It's actually come down from the initial spike, which put Kuzma closer to $7k. Since Larry Nance went out with a fractured thumb, Kuzma has played over 34 minutes in every single game. He's also put up 30+ FP in half of them. He now sees an incredible match-up with the Suns, who don't play defense and they don't play defense fast. They've allowed the 6th most FPPG to opposing PF's at 48.1 and it has a lot to do with PACE. Bender and Chriss aren't special defenders either, and Kuzma should have his way on the perimeter. You can't really ever call this guy safe, but this is as good of a spot as you'll get.
Derrick Favors FD - $5400 DK - $4600
Opponent - MIN
Proj Pts FD - 27.86 DK - 27
Is Derrick Favors back? I know it was against the Nets, but those 35 minutes are sure encouraging. He's been on a steady incline in terms of both minutes and production, and he now sees a solid match-up vs the T-Wolves. The Wolves are weaker against PF's than any other position, allowing 54 FPPG, which happens to be 4th worst in the league. Favors should have no problem taking advantage of Taj Gibson or Gorgui Dieng. it really just comes down to how many minutes he's in there for. With last game 3 days ago, I feel safe to poject at least 26+ here, with the chance he's permanently at 30. He's a solid value option in all formats that I have a ton of exposure to.
Center

Joel Embiid FD - $8800 DK - $7900
Opponent - LAC
Proj Pts FD - 48.83 DK - 50.08
It's almost a positive that Embiid only played 25 minutes last game, because he's certainly very rested. He now gets a match-up against a Clippers squad that will warrant his size on the floor. I'd expect him to get back to around 32-35 minutes here like he's been at for a while now. DeAndre Jordan is going to battle Embiid for boards, but it's about the only thing he's nearly as good at. He won't be able to cover Embiid in the paint or on the perimeter, let alone off the dribble. He has shown insane upside at 32+ minutes, hitting 60 FP already on the young season. He's going to be a huge mismatch problem in a game that should remain close. Vegas hasn't dropped a line yet, but I'd be shocked if the line is higher than 3 or 4. There's no such thing as an easy play at center, but Embiid is going to dominate.

Kevin Love FD - $7500 DK - $7500
Opponent - NY
Proj Pts FD - 44.01 DK - 47.34
K-Love is playing extremely well, and his price is still at $7.5k. His box scores have been very up and down, but I think he mixed in a bit more consistency as the year passes. Tonight, he'll match-up with the Knicks interior of Kristaps Porzingis and Enes Kanter. He'll currently match-up with Kanter, but I'm not sure how long that could possibly last. He will obliterate him inside and outside and I would dudpect the Knicks will go "small" with Porzingis at the 5 early. That's fine. Love will still get his and he'll be in there for 35+ minutes in a close game. If you do think this game stays competitve (I do), get exposure to it on both sides. Love is an slightly underpriced safe center option with more than enough upside.
GRAB A FREE TRIAL OF OUR PROJECTION SYSTEM, AND CHECK OUT DFSR PRO!
image sources
JAZZ-PELICANS: (AP Foto/Tyler Kaufman)