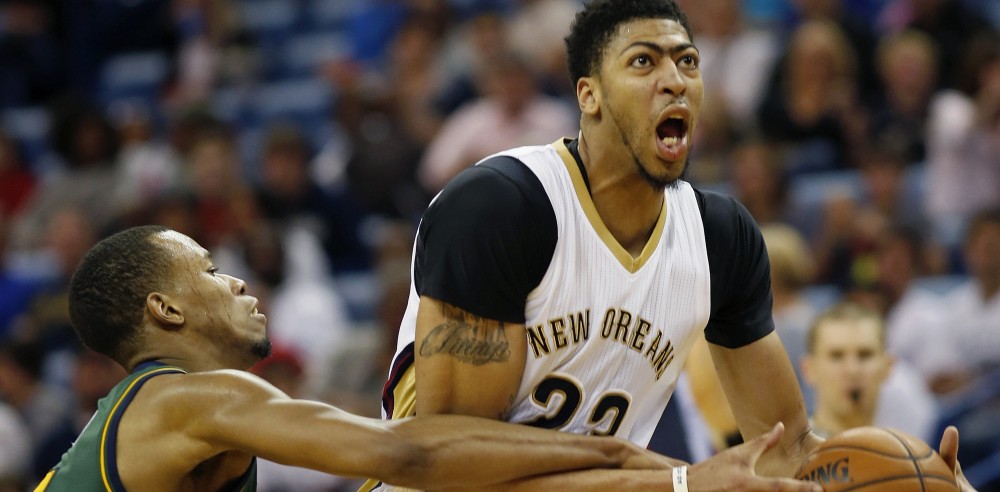 Daily Fantasy NBA Basketball Picks for FanDuel and DraftKings - 11/17/17
Now's your chance to get DFSR PRO, which will give you access to our NBA optimizer, our NFL Optimizer, and our new player lab! Get started for free by clicking the button below.
First time with NBA or NFL? Be sure to read our free NBA and NFL Ebooks on building lineups, general strategy and more. We've got you completely covered.
Point guard

Kemba Walker FD - $8000 DK - $7900
Opponent - CHI
Proj Pts FD - 41.59 DK - 43.18
We have an electric 11-game slate on our hands with plenty of different options at each position. There's a lot of different ways to pay up and a few cheapies that let you get them. People always want to ignore Kemba Walker on the road, but it's overplayed. He's a tremendous point guard no matter the arena and he's been phenomenal on the road early in the season. Tonight, he matches up with a Bulls team that has been atrocious against PG's. In fact, they've been by far the worst team in the entire league, allowing 54 FPPG to the 2nd worst 50 (Mavs). Jerian Grant is a poor defender and he doesn't have any help underneath to cover him up. Walker will have his way everywhere on the floor and his usage has been through the roof at 28%. Nobody else really dictates action with Batum out, so Kemba can do what he wants without worrying about egos. There's a lot of different options at PG, but the Bulls stink against point guards and I don't think Kemba comes in more than 20% owned.

Jrue Holiday FD - $6600 DK - $6500
Opponent - DEN
Proj Pts FD - 34.91 DK - 35.28
Jrue Holiday might be a clear number 3 option, but that's fine. He's still putting up great fantasy numbers and doing it consistently. We'll get to the bigs later, who are both in play against a weak interior defense. As for Holiday, he's firmly in play against a Nuggets squad that's playing fast and has allowed 47.2 (4th most) FP per game to point guards. Jamal Murray still has a lot of learning to do and he's been dominated by physical guards. Holiday certainly fits the mold as a guy who can do damage when given the opportunity and I don't see how he doesn't get it tonight. At over 35 minutes in nearly every game, Gentry is giving Holiday plenty of opportunity. He's been over 30 fantasy points in every friendly match-up so far and will look to keep the streak alive tonight in the mid-$6k's. He's a bit cheaper than a lot of the other options and shouldn't be very popular. Consider Holiday in all formats.
Yogi Ferrell FD - $4000 DK - $3800
Opponent - MIN
Proj Pts FD - 21.23 DK - 21.73
Yogi Ferrell is just too cheap for the minutes he is getting. He's been over 33 minutes in 3 straight games and I don't really care that he struggled against the Spurs and Thunder. This match-up against the Timberwolves is far better, considering they allow the 3rd most FP's to opposing PG's at 48.9. Ferrell won't get anywhere near that, but he's somehow at $4k on both sites and will only need you about 20. In a close and fast-paced match-up with the T-Wolves, that shouldn't be too tough. Ferrell is active when on the court and the Mavs will need some help with his speed in the open floor. There isn's a whole lot of value on the slate as I type this, so Ferrell comes in as one of the top point per dollar options. Point guard is a spot you need to get right and I don't think Ferrell is the one who hurts you.
Shooting Guard

Devin Booker FD - $7600 DK - $7800
Opponent - LAL
Proj Pts FD - 38.39 DK - 39.98
Devin Booker played last night and ended up getting blown out by the Rockets. Fortunately, the Suns were out of it by the 2nd quarter, so they were able to plan ahead and give Devin Booker just 30 minutes. He's now well-rested for the 2nd half of this B2B with a Lakers squad he just did some immense damage against. Kentavious Caldwell-Pope is a strong perimeter defender that you typically avoid, but Devin Booker is an even better scorer. He can put up 40 real-life points on any night his shot is falling. If he gets super hot, he can hit 50. Considering he almost reached Kobe Bryant's 81 at 21 years old, it's scary to put a ceiling on him. In this match-up, expect 34+ minutes and at least 35 fantasy points. I think people will tend to ignore with the Suns on a B2B, but Booker has played big minutes in all of them this year, so don't see why tonight will be any different. Booker is a guy at $7k that's leaned on like a superstar. He's option 1 and 2 on this offense. Against the Lakers, he's in play in all formats.
Donovan Mitchell FD - $6100 DK - $6500
Opponent - BKN
Proj Pts FD - 36.66 DK - 36.18

Rodney Hood FD - $5400 DK - $5400
Opponent - BKN
Proj Pts FD - 27.21 DK - 28.35
I'm very much enjoying Rodney Hood and Donovan Mitchell both playing and getting 30+ minutes. It's something I didn't think would ever happen in Utah, but they woke up and realized that these 2 guys are just leaps and bounds above the other weird role guys that play 10-15 minutes. These 2 guys are actually pretty similar in terms of fantasy. They'll both shoot 15-20 times and are equally good at stuffing the stat sheet with peripherals. The match-up with the Nets is ideal and both of these guys are firmly in play in both formats. We also have Ricky Rubio questionable now, which would put these guys into an even bigger role. As things currently stand, these guys will each be in about 80% of my lineups. That other 20% is for some high-end upside. The point is that this is my favorite value of the day and in cash games, tough to ignore. Depending on if Rubio sits, Mitchell and Hood go from A to A+ plays. Either way, you definitely want exposure against a Nets team who pride themselves on not playing defense.

Small forward

LeBron James FD - $11400 DK - $11200
Opponent - LAC
Proj Pts FD - 57.18 DK - 60.12
We haven't looked at a real superstar yet and LeBron James will be our first. With 11 games on the slate, we do have a lot of options to pay up for, but many aren't in optimal spots. James, however, sees a match-up with a Clippers team that ranks 2nd worst against SF's. They'll also be missing Danilo Gallinari, who is the only real small forward on the team. Wesley Johnson and Lou Williams will both see time at SF, but Blake Griffin will also see some time on him. James is playing the best basketball of his career in fantasy terms, putting up 50+ on a nightly basis with flashes of 70 FP far more often than usual.  His price is high, but he's been paying off it off on most nights and this match-up is close to ideal. Vegas expects it to be close and you can count on another 34+ stat-stuffing minutes out of LBJ. He's easily one of the top superstar options, but we'll get to some more.
T.J. Warren FD - $7500 DK - $6500
Opponent - LAL
Proj Pts FD - 39.79 DK - 38.81
We're onto another Phoenix Sun here at SF after touching on the superstar Devin Booker earlier. I mentioned they were on a B2B and were blown out, putting Booker at 30 mins. Warren was held to just 26 minutes, so he can be considered a full go. He'll match up with Brandon Ingram, who we're about to look at as well. Ingram is a great offensive weapon, but he's nothing to be worried about on defense. Especially with a guy like Warren that's physically stronger and great at getting space on the perimeter. The Lakers have allowed the 8th most FP's to opposing SF's and the 3rd most 3's. Warren is getting up there in price and rightfully so. He's a guy that can be counted on for 30 with a 55 ceiling, assuming the game remains close throughout. This is a game you'll likely want exposure to out of the 11. At least in a spot or two.

Brandon Ingram FD - $6200 DK - $6300
Opponent - PHO
Proj Pts FD - 30.01 DK - 30.31
If you want to save some funds and/or get exposure to the other side of the court, Brandon Ingram is another great option at SF. Sure, T.J. Warren is a good 1-on-1 defender, but it doesn't really matter. The Suns play faster than anyone in the league and it's impossible to sustain defense in that type of system. It's why the Suns are now ranked in the bottom 7 against opposing SF's. Ingram is also a match-up problem for Warren with his length, so the nightmares don't just end with PACE. His price is fair on both sites and he gives you a considerable discount from Warren, who has a similar floor. I'll have exposure to both and like a game stack in tournaments a ton. If this game does stay close, we could see 3 or 4 guys on each side reaching value. Sign me up.
Power forward

Anthony Davis FD - $11000 DK - $10200
Opponent - DEN
Proj Pts FD - 57.27 DK - 57.22
Let's re-visit the high-end with Anthony Davis, who's sitting at $11,000 and $10,200 on each site respectively. He comes into the game with 2 average performances and now sees his best match-up in a few games against the Nuggets. Denver has allowed the 3rd most FP to opposing PF's behind just the Kings and Pacers. Paul Millsap isn't a terrible defender, but he isn't good enough to carry an already-porous team defense. The Nuggets play fast as a team and there's not a whole lot you can do individually when nobody stops the ball or guards the rim. Davis will match up against a bunch of different players off the bench (Lyles, Arthur, Faried) and none of them will have success. The Nuggets bigs are at a huge disadvantage tonight and I think Jokic and crew have some trouble. Davis is a solid bet for 50 fantasy points with a ceiling over 70.  Power forward is plentiful, but AD still has the highest floor and ceiling by a solid margin.

Serge Ibaka FD - $4900 DK - $5200
Opponent - NY
Proj Pts FD - 27.26 DK - 27.33
Serge Ibaka is never the most exciting roster spot in DFS, but he's cheap and we know the minutes will be there. He's the only guy who has any chance at slowing down Porzingis and I think we see at least 32-35 minutes. Porzingis is still going to destroy him on offense, but he isn't any good at defense. His length is intimidating, but the Knicks allow a very average 45 FPPG to opposing PF's and can be taken advantage of. A lot of it has to do with the non-existent defense of Enes Kanter. Ibaka is cheap on both sites and a fine way to get value at PF. He's not my favorite value play of the day and I won't have all that exposure. Power forward is a spot I'll try my best to pay up at.

Kristaps Porzingis FD - $9000 DK - $9000
Opponent - TOR
Proj Pts FD - 50.14 DK - 50.04
We'll get right to the other side of things and take a look at Kristaps Porzingis. It might be tough to pay up for both him and AD, but it's an interesting option in tournaments that I doubt many explore. Porzingis is still playing extremely well and putting up 40+ fantasy points in most match-ups. You'd assume the Raptors are good against PF's with Serge Ibaka, but it's not the case. On the season, the Raptors rank 3rd worst against PF's with 53 FPPG. They have no real rim stopper and that's a huge problem when facing Kristaps Porzingis. He'll be able to get his shots from anywhere on the court and is looking at another game with immense upside. Vegas expects this one to stay close and relatively high-scoring, putting Kristaps in for at least 32 minutes, if not more. His price is high, but certainly fair for his recent production. He's in play in all formats tonight but I do prefer tournaments.
Center

Marcin Gortat FD - $4800 DK - $5200
Opponent - MIA
Proj Pts FD - 27.76 DK - 27.43
Gortat is nothing special tonight, but he's too cheap. Simply put, Gortat at $5k is criminal. He's a solid center that will always get minutes, whether production follows or not. He's also the one Wizard who doesn't get downgraded because of the Heat Pace. Centers are affected the least by PACE, in general. Hassan Whiteside is one of the scarier guys to face off with in the NBA, but he's really not that great of a defender. After ranking 7th worst in 2016, the Heat are now sitting league average against center, but Whiteside has missed a bunch of games. He's nothing to be worried about for a veteran like Gortat  and I expect another solid 25-30 fantasy points in 30 minutes of work. He's a gem of a cash game play and fine in tourneys at the price.

DeMarcus Cousins FD - $11600 DK - $10900
Opponent - DEN
Proj Pts FD - 59.82 DK - 62.28
If you have the funds to pay up, DeMarcus Cousins is just as in play as Anthony Davis. Cousins, like Davis, will be a huge mismatch for Denver. Nikola Jokic is not a good defender and he's a big reason why a lot of the team defense stats are down as well. He is way too slow for Cousins and I suspect he will have his way on the perimeter and in the paint. His price is way up there, but he's giving ou consistent production in even better minutes. Alvin Gentry knows the only way to win is to play these studs a lot, so he's giving them the opportunity to play 35+ minutes, which he's done in all but 1 game recently. Against a Nuggets team that doesn't play much interior defense, pencil in 55 for Cousins with the upside for far, far more. If you're forced to choose between the two, I prefer Davis just slightly because of the discount.
GRAB A FREE TRIAL OF OUR PROJECTION SYSTEM, AND CHECK OUT DFSR PRO!
image sources
Rodney Hood, Anthony Davis: (AP Photo/Max Becherer)