Basketball Picks Daily Fantasy
Expert Advice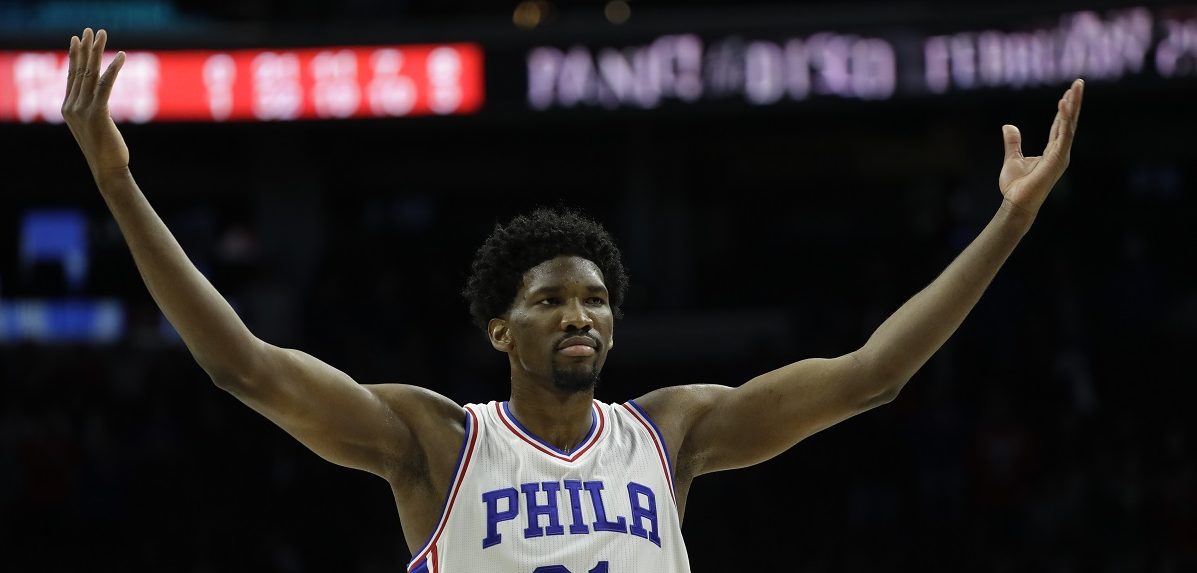 Daily Fantasy NBA Basketball Picks for FanDuel and DraftKings - 11/27/17
Now's your chance to get DFSR PRO, which will give you access to our NBA optimizer, our NFL Optimizer, and our new player lab! Get started for free by clicking the button below.
First time with NBA or NFL? Be sure to read our free NBA and NFL Ebooks on building lineups, general strategy and more. We've got you completely covered.
Point guard

Darren Collison FD - $6400 DK - $6100
Opponent - ORL
Proj Pts FD - 33.37 DK - 33.84
We're kicking it back to 7th-grade science class tonight with a whole bunch of "if-then" scenarios. I'm not even going to go over them here, as it's enough to fill up 2 paragraphs. We'll eventually touch on each situation. The first situation we're looking at is in Indiana with Darren Collison. Oladipo missed last game and is questionable tonight, possibly giving way to a bunch of ball-handling opportunities. Collison sees an 8% usage spike with 'Dipo off the floor, so it's certainly a measurable difference. He finished with 33 FP in just 30 minutes against the Celtics last time out and that's about what you should expect. Against the Magic, the game will stay close and be high-scoring. Elfrid Payton isn't a bad defender on the perimeter, but the Magic are the 6th worst teams against PG's for a reason. They have nobody to cover the pain and give up a ton of open 3's (assists). Collison is a very safe option in all formats if Victor Oladipo is out.
T.J. McConnell FD - $5400 DK - $4700
Opponent - CLE
Proj Pts FD - 34.96 DK - 35.79
Here we have another guy who is relying on an injury to maintain value. Ben Simmons is slated as a PF, but he plays point guard. If he's out, T.J. McConnell will get the ball in his hands a ton more and pick up a couple extra minutes. With Simmons out last game, he picked up 36 minutes and put up 54 fantasy points. We're obviously expecting nowhere near that tonight, but a 25-30 FP game is very likely. The Cavs don't really have a PG, so it just depends who they play as to who will cover. If it's a superstar, LeBron may slide over. In this case, I expect it to be Wade and Korver. Neither are anything to worry about in 2017. McConnell, like so many others, is a great play if things fall into place.

Kyrie Irving FD - $8400 DK - $8200
Opponent - DET
Proj Pts FD - 41.48 DK - 42.27
You have a couple different ways to pay up at point guard. At the tippy top, you have a questionable Stephen Curry. The only way I touch Curry is if he gets full clearance and 1 or 2 of the others are out. He would then becomes one of the top plays on the slate. You can also go Chris Paul and Damian Lillard, who are both in positive match-ups in fast-paced games. At just a little bit cheaper is Kyrie Irving facing off with the Detroit Pistons. Jaylen Brown missed last game and while Kyrie already shoots plenty, his usage did go up by 4%. His price is fair on both sites for where he's been recently and I don't think he's very popular. There are so many ways to pay down if injuries break right and you'll need to pay up somewhere. Irving is our favorite option.
Consider Stephen Curry if he's active and any other Warriors are out
Shooting Guard

Klay Thompson FD - $7000 DK - $7000
Opponent - SAC
Proj Pts FD - 34.69 DK - 36.19
Stephen Curry, Kevin Durant, and Draymond Green, and Andre Iguodala are all listed questionable for this game. No matter what happens, I assume at least 1 of them will miss and make Thompson a serviceable cash game play. If 2 or 3 of them miss, he is an elite option in all formats. His usage would be astronomical and I wouldn't be surprised to see 25 shots. We love targeting guards against the Kings for years now and while they've been average this season, they're allowing the 2nd most 3-pointers PACE adjusted. There's no shutdown defender to worry about and a blowout shouldn't be in the works if multiple stars are missing. Thompson is a guy I plan on having a lot of exposure to, but who knows what will happen on this wild November slate. These are the mind games I'm used to playing in March. The NBA injury typhoon has come early and it's very, very fun.

Lou Williams FD - $7300 DK - $6500
Opponent - LAL
Proj Pts FD - 36.71 DK - 38.23
We know Danilo Gallinari will be out here, so it's the Lou Will show against his former team. With Gallo out, he's consistently playing 35+ minutes and 30+ fantasy points. He also hits a stupid 45+ ceiling a little often for a guy at this price. He is priced up, but still fair for what he's been doing in this circumstance. The Lakers have just 1 solid perimeter defender and it's KCP. They've ranked 24th against guards on the year and don't offer much in terms of rim resistance. Williams is a lock for 25 fantasy points with the upside for way more. Make sure you confirm Danilo Gallinari will, in fact, miss the game and plug in Lou. I like Thompson more depending on the injuries, but Williams is already a good play without having to wait for news.

James Harden FD - $11800 DK - $11800
Opponent - BKN
Proj Pts FD - 52.48 DK - 54.54
James Harden is definitely expensive, but you won't have a hard time getting the funds together. There is nobody on the slate with a ceiling or floor quite as high. The only problem here is the 16 point spread. If the game does turn into a blowout, we could very easily see 45 FP in 30 minutes in 3 quarters. That's the floor. If the game stays close, Harden will be in there for 35+ minutes and is a lock for 55+ fantasy points. The Nets have absolutely no idea how to cover anyone on the perimeter and a guy like Harden just brings nightmares. Dinwiddie and LeVert will be the guys who try, but will ultimately have about 0 success. I will have a lot of Harden in cash games and tournaments, but don't think he's a must at the price.
Consider Marcus Smart is he's starting

Small forward
Omri Casspi FD - $4000 DK - $3800
Opponent - SAC
Proj Pts FD - 23.92 DK - 24.33
This is a guy who could easily become a must play. With 4 key Warriors questionable, there's a great chance he sees 30+ minutes. If all of them are out, Casspi may be forced into 36-38 minutes. They haven't shown a willingness to stretch him out, but they won't have an option if Iggy isn't available to cover for Durant. On the off chance that all the Warriors play, Casspi becomes an irrelevant option. It just all comes down to the injuries. The Kings are a nominal defense that doesn't do anything jarring on the perimeter. Casspi has been great on a per-minute basis and should see the most minutes he has yet. The price is close to minimum and he's as close to a must-play as you'll get in basketball depending on the injury news.
Lance Stephenson FD - $4600 DK - $4100
Opponent - ORL
Proj Pts FD - 31.66 DK - 32.6
We'll keep the theme with paying down here with Lance Stephenson. We looked at Darren Collison at PG and Stephenson is in the same boat. Like Collison, he'll still get minutes if Oladipo plays, he just won't get nearly as many and the minute he does get will not be as productive. With Oladipo out last game, Lance the great saw 36 minutes and put up 30 fantasy points. We all know he loves to chuck the ball and he's allowed to if 'Dipo is out. The Magic are a team that will stay close with Indiana and Stephenson will be in there down the stretch. Count on 12+ shots and 25+ fantasy points, assuming Oladipo rides the pine for another contest.

Joe Harris FD - $4100 DK - $3600
Opponent - HOU
Proj Pts FD - 16.46 DK - 16.91
We do know Allen Crabbe will be out, so there's at least 1 guy on this slate who isn't questionable. Allen Crabbe isn't  a huge fantasy asset just yet in his career, but he's taking up a lot of minutes on a fast-paced Nets team. With Crabbe out last game as well, Harris ended up seeing 37 minutes and putting up 24 fantasy points in a grueling match-up with the Grizzlies. He'll now see a similar amount of playing time in a game with Houston that's expected to be extremely fast. Vegas has the total at 229 as of now and while it's supposed to be a blowout, Joe Harris won't get his minutes restricted.
Consider - Robert Covington (if Simmons outs), Doug McDermott (if Porzingis out). There's also a guy named LeBron James that's worth paying up for if you have the funds.
Power forward

Aaron Gordon FD - $7400 DK - $7400
Opponent - IND
Proj Pts FD - 38.09 DK - 38.2
We've looked at a ton of value on this slate. You have to eventually pay up and you can only play James Harden once. Gordon is a solid option in the mid $7k's at a power forward spot that doesn't offer much tonight. He sees a game against the Pacers that should be high-scoring and close. Vegas hasn't dropped a line yet as they wait for Oladipo news, but I expect it to be around a 215 total with a 4 or 5 spread. These 2 teams played just a few nights ago and it was a close game (105-97). That game did have a 220 O/U, so it played a lot slower than Vegas expected. Gordon is a huge mismatch problem for a Pacers team with Thaddeus Young at the 4. They are the only team in basketball that allows over 50 FPPG to opposing power forwards. Gordon is doing what he wants on this offense and you can pencil him in for an easy 30 fantasy point floor with the upside for a lot more. Power forward is pretty barren compared to the rest of the positions, so Gordon should end up highly-owned.
Michael Beasley FD - $4600 DK - $3700
Opponent - POR
Proj Pts FD - 17.95 DK - 18.22
Here's another option that is very contingent on an injury. Kristaps Porzingis is currently on the downside of questionable and we know what will happen if he's out. Beasley saw 36 minutes last game and finished with 39 fantasy points (30 points, 8 rebounds, 2 assists). Beasley is a guy that wants to shoot at all times, and this Knicks team doesn't have anyone breathing down his neck for looks. He's actually a pretty good scorer to have on the bench for a situation like this. He's volatile and injury-prone, so tough to rely on for long stretches, but dynamic when you can tell him to put 30 in the bucket and play strong defense. He can be close to an elite player for a week or two. This match-up with the Blazers is great as they will have a lot of trouble with Beasley at the 4 or the 3. He is a huge mismatch and will have no problem getting to value at the minute price. Beasley is a guy I'll have exposure to in all formats if Porzingis is out.
Center

Joel Embiid FD - $9700 DK - $10000
Opponent - CLE
Proj Pts FD - 52.46 DK - 54.85
Embiid is the priciest of the bunch, but there are a lot of different ways to pay up at center, so no one guy should be too popular. Embiid is just insane. He's the best per-minute DFS guy in the league and is finally being stretched out for real minutes. He sees a match-up against the Cavs tonight that could be very juicy. Kevin Love plays the 5 here, so something will need to be figured out. No matter what, the Cavs don't have any athletic 7 footers to stay with Embiid, so it'll be a big mismatch whether it's Kevin Love or LeBron. If Simmons is out again, Embiid will also see some more shots. I don't think he's contingent on him missing, though. This game is going to stay close and Embiid is a lock for 50 if it does.
Kyle O'Quinn FD - $4800 DK - $4000
Opponent - POR
Proj Pts FD - 27.61 DK - 26.72
We're once again Assuming Kristaps is out. He went nuts last game with Porzingis out and put up 50 fantasy points in limited minutes. He might never do that again, but he is always a very strong DFS option when given the minutes. Against the Blazers, he should have no problem producing. They rank 24th against big men and it has a lot to do with Nurkic. He just doesn't protect the rim. O'Quinn is very cheap on both sites and there's a great chance he sees closer to 30 minutes than last game. I will personally do my best to get 100% Embiid, but I'll have some KOQ where I need to pay down.
GRAB A FREE TRIAL OF OUR PROJECTION SYSTEM, AND CHECK OUT DFSR PRO!
FREE EBOOK
SECRETS TO CRUSHING DAILY FANTASY FOOTBALL!
DON'T SET ANOTHER LINEUP BEFORE YOU READ THIS BOOK.