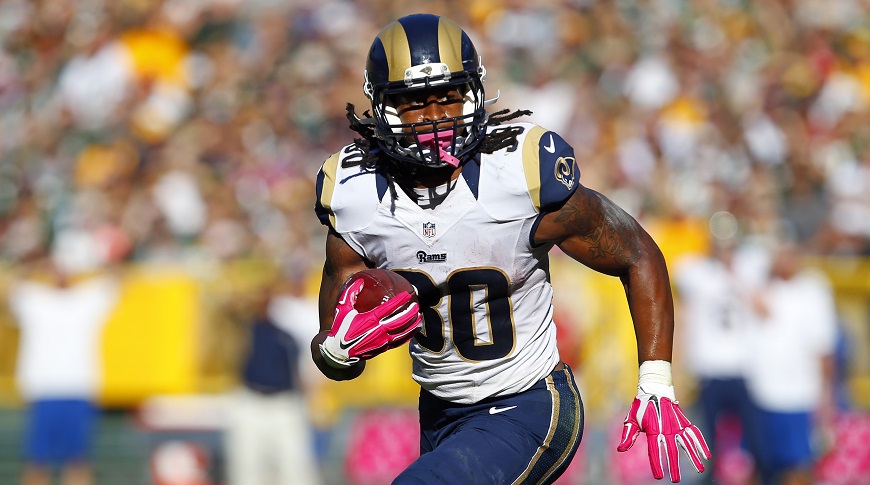 Daily Fantasy Football Picks for FanDuel and DraftKings Week 17 - 12/31/17
If Christmas Eve NFL wasn't enough to put you on shaky ground with the significant other, how about a little New Year's Eve action? Week 17 is always the most fluid of DFS NFL weeks. It's very hard to know who is going to play their starters, who is going to rest with some phantom injury, and which teams are going to battle for higher seeding while others rest on their laurels. That being said, there is still plenty of value to pass around this week, so let's get to it!
Now's your chance to get DFSR PRO, which will give you access to our NFL optimizer for FanDuel and DraftKings, our NBA Optimizer, and our new Player Lab! Get started for free by clicking the button below.
First time with NFL? Be sure to read our free MLB and NFL Ebooks on building lineups, general strategy and more. We've got you completely covered.
A quick rule of thumb for week 17
Week 17 is crazy in the NFL because we simply don't know what teams are planning to do with their DFS relevant players. This can lead to outsized opportunity for backups, or it can lead to heartbreak when we play a guy who we think is a stud and he only winds up playing the first half. Thus, there are 5 tiers of opportunity for week 17 I want you to take into account:
Tier 1: Teams with a ton on the line
I'm talking playoff births and a first round bye. Both of these are so important that any team would go all out to try and secure it.
For week 17, the following teams have this level of skin in the game:
Tennesee, Buffalo, the LA Chargers, Baltimore, Atlanta, Seattle, Minnesota, and Carolina.
Tier 2: Teams playing for playoff seeding and/or divisional titles, but who are locked into the playoffs:
New England, Pittsburgh, New Orleans, the LA Rams.
Tier 3: Teams with nothing to play for, but who haven't had anything to play for in ages:
Cleveland, Indianapolis, Houston, NYJ, Denver, Cincinnati, Miami, Oakland, NYG, Tampa Bay, Chicago, San Francisco.
Tier 4: Teams playing for moral victories (like a .500 record).
Detroit, Dallas, Arizona, Washington, Green Bay.
Tier 5: Teams that were recently eliminated or totally locked into their spot:
Jacksonville (locked into the 3 seed), Philly (locked into home field advantage), Kansas City (locked into the 4 seed).
If I can help it, I'm only playing players in the top 3 tiers unless I get explicit news that a Tier 4 team is really earnestly going for it. The Packers shutting down Aaron Rodgers shows me they don't really care, for instance, so I'm pretty unlikely to prioritize their players.
Quarterback

Cam Newton FD 8400 DK 6800
Opponent ATL
Proj Points FD - 20.33 DK - 20.99
Three straight weeks of Cam as the chalk QB play? I think it's possible. Carolina has an outside shot of getting a first round bye, and they can win their division with a win and a New Orleans loss. We know the passing has been suspect for Cam recently, but it's been reassuring to see the Panthers turn him loose on the ground. He's had 14 carries in each of his last two games, and punished this Atlanta team for 84 rushing yards on just 9 carries in their last meeting. You're obviously taking on some level of risk with a QB who has thrown for fewer than 200 yards in 4 of his last 5 games, but I personally think there is something to running QBs having higher upside in games that demonstrably matter. Atlanta will be playing for their playoff lives here as well, but I think this just leads to a fast paced game where Cam can shine. I'd be happy to play him in all formats, and still consider him quite a value in one of the few games that actually matters this week.
Drew Brees FD 8200 DK 6500
Opponent TB
Proj Points FD - 19.59 DK - 20.37
Tier ranking: 2. New Orleans is playing for a divisional title and a first round home game, so it's hard to believe they won't be bringing it against the Bucs this week. Brees has been rather enigmatic from a fantasy perspective this season as the emergence of Alvin Kamara and the steady production of Mark Ingram have made him a little less necessary, but the Bucs' dead-last passing defense moves the needle enough to push Brees into consideration for me here. I think you're taking on some risk given his recent track record, but would it shock anyone to see a few of those NO touchdowns turn into passing touch downs at some point, particularly with the explosive Kamara catching balls out of the backfield? He's a particularly good value on DraftKings, where he's cheaper than many options in the same price range on FanDuel. Seems like a fine play for any format.
Brett Hundley FD 6000 DK 4800
Opponent DET
Proj Points FD - 17.21 DK - 18.31
Well, we're officially off board into the "teams that have given up" tier, but in Hundley's case, he's the direct beneficiary of his team quitting. He'll also be going up against the recently eliminated Lions, and with his career hanging in the balance, I think he's a fine option for big tournaments (or even cash on DraftKings). The Packers have had a hell of a time running the ball all season, and Hundley has topped 22 FanDuel fantasy points in 2 of his last 4 starts. He was also awful in the other 2 starts. But in there previous meeting earlier this season Hundley had one of his better games, completing 26 of his 38 passes for 245 yards while chipping in 22 rushing yards and a rushing touchdown to boot. He seemed to have some synergy with Lance Kendricks and Michael Clark, and Davante Adams potentially returning would be icing on the cake. It's not for the faint of heart of course, but I don't think it's crazy to take value at the QB position this week.
Running Back
It's an embarrassment of riches at running back in week 17. There are good expensive options, good midrange options, and good punts to boot! It's hard to know where everything will shake out as the week progresses, but let's give you a couple good options at each tier.
Todd Gurley FD 9800 DK 9800
Opponent SF
Proj Points FD - 27.22 DK - 29.55

Alvin Kamara FD 8800 DK 7900
Opponent TB
Proj Points FD - 21.88 DK - 25.07
Both of these premier running backs have a reasonable shot at dramatically improving their playoff position this week and are coming off of notable usage increases, and I'd be happy to run out either (or both!) of them in week 17. Gurley was a great running back and an elite wide receiver both in week 16, putting up 276 total yards of offense and 2 touchdowns. He draws the 49ers, who possess a bottom 10 rushing defense this season. The Niners have also been passing more now that they are doing so semi-competently, which should lead to more possessions. Kamara, meanwhile, is a guy I've been down on for most of this season... but it's hard to deny that he's rounding into a Le'Veon Bell-Lite sort of RB. The 12 carries a game are discouraging, but the rising targets (culminating in 9 vs. the Falcons last week) has me feeling very bullish on him in week 17. Throw in the aforementioned terrible Bucs passing defense and I think we see one more monster game out of this guy before it's all said and done, even if I am skeptical that he can continue this level of per-touch performance forever.
Edit: Gurley will be out This came after we wrote the article obv. At this point the Rams are sitting everyone, so we need more info about who is filling in and in what capacity.

CJ Anderson FD 6900 DK 6000
Opponent KC
Proj Points FD - 20.24 DK - 22.53

Dion Lewis FD 7200 DK 6800
Opponent NYJ
Proj Points FD - 19.45 DK - 21.19
Anderson was one of the great calls of our projection system last week, touching the ball 23 times en route to 133 total yards, 7 receptions, and a touchdown. We know that Denver doesn't trust their passing game, and he'll be facing an already suspect KC run defense in a week where they aren't playing for anything. You obviously take on some risk because Denver isn't really playing for anything either, but he looks like a great value play for big tourneys. As for Lewis, I actually think he's a lot riskier than the price would suggest. He had a pile of touches last week (24 carries!), but the Pats also ran the ball 38 times last week. They're -15.5 point favorites against the Jets this week, and even with the first round bye, I'd be very worried that the Pats will just go off-script and give the ball to one of their other running back options at some point. I imagine they still want to win to clinch the #1 seed, but with a first round bye locked up I'm not as confident as I'd like to be to pay up a little bit extra for him this week.
Derrick Henry FD 5800 DK 5500
Opponent JAX
Proj Points FD - 15.05 DK - 16.08

Branden Oliver FD 4500 DK 4000
Opponent OAK
Proj Points FD - 11.16 DK - 12.02
Now here's an interesting tier of players. Both Tennessee and the Chargers have a playoff birth on the line in week 17, and both could be without their #1 running backs. As of this writing both are considered questionable, with Murray leaning toward doubtful, opening up huge opportunity on teams that already like to run the ball a lot. We know Henry has been competent in a time share this season, and given the general lack of confidence TEN seems to have in the passing game I think we could see huge opportunity for him here against Jacksonville's #1 passing defense. As for Oliver, things get a little more complicated. If Gordon winds up sitting (and Ekeler still injured), we'd be getting a #1 running back on a team that absolutely has to win for the bare minimum salary on FD. But this same guy had 9 yards in his 8 carries last week. Oakland has nothing to play for, but playing as a spoiler to a division rival could be awfully tempting here. If Gordon were out I'd have to think long and hard about this, but I might just run Oliver out there.
Wide Receiver

Mike Evans FD 6900 DK 7200
Opponent NO
Proj Points FD - 14.93 DK - 17.8


Larry Fitzgerald FD 7500 DK 6900
Opponent SEA
Proj Points FD - 15.75 DK - 19.76
A fair warning in case it isn't already obvious, we've got a LOT of wide receiver value in the "games don't matter" category. But both of these guys haven't played for anything in quite a while, and that hasn't stopped their teams from trotting them out there. Evans saw a big increase in opportunity with Desean Jackson shelved last week, and he's criminally underpriced if you think TB leaves him out there for a whole game. Again, with the opportunity to play spoiler, I think Evans gets his full run of snaps for a team that desperately needs wideout production.
Fitzgerald is firmly in the "team playing for moral victory" camp, with Arizona having the chance to both eliminate Seattle from the playoffs AND to finish the season at .500. They showed every intention of going to arguably their only good skill position player last week, feeding Fitzy 15 targets. He turned those into 9 catches, 119 yards, and a touchdown. You're paying a little bit of a premium on him here, but I can't say it's not warranted - I think he makes a fine inclusion into lineups of any format even if Seattle will throw the kitchen sink at him here.
Roger Lewis FD 5100 DK 3600
Opponent WAS
Proj Points FD - 14.05 DK - 17.47
Well we're officially in "nothing to play for" territory here, but with Shepard likely sidelined this week, how does Lewis not get 10+ targets? He's garnered double digit targets in each of the last 3 weeks, and while he and Manning haven't turned into particularly noteworthy production, that level of opportunity is nuts on these prices. It's a simple case of price and opportunity mismatch, and I'll happily fill up a cheap slot with Lewis so I can pay up elsewhere for premium guys like Gurley.

Keelan Cole FD 5900 DK 5700
Opponent TEN
Proj Points FD - 12.63 DK - 15.21
Okay, this one makes me a little nervous, since Jacksonville has no playoff mobility at this point - but we're on back to back weeks of excellent wide receiver play from Cole, and Jacksonville DOES have the opportunity to eliminate a division rival from the playoffs. And while Cole has been an important part of the offense, I actually think he could stand more live-action seasoning since he's only been recently brought into his current role on the team. In the last 2 weeks he's put together WR1 production, turning 22 targets into 13 catches and 294 receiving yards. He's a downfield threat with big play ability, and the Titans are the not-so-proud owners of the league's 7th most generous passing defense. You might not love the safety given Jacksonville's seeding, but I think he's a very reasonable play at his sub $6,000 price tag.
Tight End
Rhett Ellison FD 4500 DK 2700
Opponent WAS
Proj Points FD - 10.58 DK - 12.68

Lance Kendricks FD 4500 DK 2500
Opponent DET
Proj Points FD - 10.92 DK - 13.34
How cheap can you go? Ellison stood in for the injured Evan Engram and performed admirably, hauling in 4 catches on 7 targets for 60 yards. With Engram likely out this week, you're getting a tight end that can catch passes in an offense that's missing its WR1 in Shepard and its TE1 in Engram. And at the bare minimum salary, you can believe you'll see some ownership here. As for Kendricks, he's only a play if Richard Rodgers misses this game... but he's a great play if Rodgers is out again. He looked comfortable with Hundley, and given that Hundley will likely be missing his preferred #1 option in Adams, it's easy to picture Kendricks building upon last week's 9 target performance in a much softer match-up against the now eliminated Lions.

Eric Ebron FD 5600 DK 4500
Opponent GB
Proj Points FD - 11.17 DK - 13.84
Ebron has turned into a pretty reliable midrange tight end recently, putting up at least 12 fantasy points in each of his last 3 games. The tight end position is as scarce as ever, particularly in the "teams with games that matter" category, so I'd be willing to reach for him again here. He's caught 5 balls in each of his last 3 games and averaged better than 8 targets in those games. He also punched in a touch down in each of his last 2 games, showing that he's a preferred red zone target as well. If I decide the above guys are a little too risky, I think Ebron is a very solid high-floor hedge.
Also considered: With all of the cheap value at WR and RB, it wouldn't surprise me to see Rob Gronkowski make his way into lineups once again. I'd be a little cautious here though since New England is very happy to just spread the ball around when things are looking secure.
Defense
The Steelers and Vikings are very similar options this week - they cost a lot and have great match-ups with historically bad offenses that turn the ball over a ton. With all the savings elsewhere it might just be a week where we want to spend up at defense.
If we want to go a little bit cheaper, Vegas thinks the Cardinals will be hopeless against the Seahawks defense this week. Our projection system also likes the Los Angeles Rams against the 49ers on account of their price. The Niners have been more effective with Garoppolo under center, though, and the Rams have less to play for than some other teams going this week.
Now's your chance to get DFSR PRO, which will give you access to our NFL optimizer for FanDuel and DraftKings, our MLB Optimizer, and our new Player Lab! Get started for free by clicking the button below.
First time with NFL? Be sure to read our free NBA and NFL Ebooks on building lineups, general strategy and more. We've got you completely covered.
image sources
Todd Gurley: (Jeff Haynes/AP Images for Panini)