Basketball Picks Daily Fantasy
Expert Advice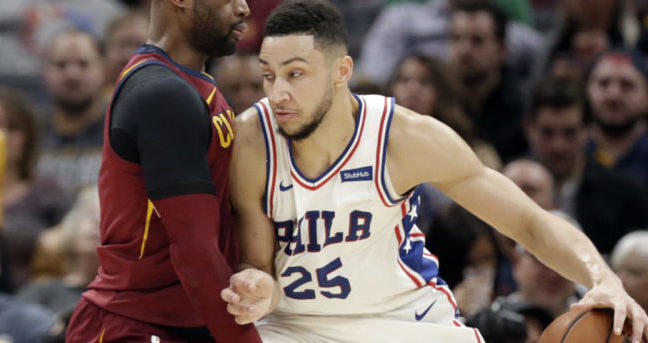 Daily Fantasy NBA Basketball Picks for FanDuel and DraftKings - 12/30/17
It's Saturday night, the eve of New Years Eve, and the NBA has given us daily fantasy lovers an interesting seven game set of contests from which to build our lineups. There are a couple of high scoring projections from our friends in Vegas, some teams that love to run the boards, and some poor defenses to be taken full advantage of. So why are we wasting time here? Let's get to the picks!!!
Now's your chance to get DFSR PRO, which will give you access to our NBA optimizer, our NFL Optimizer, and our new player lab! Get started for free by clicking the button below.
First time with NBA or NFL? Be sure to read our free NBA and NFL Ebooks on building lineups, general strategy and more. We've got you completely covered.
Point guard

Ish Smith FD - $6000 DK - $5500
Opponent - SA
Proj Pts FD - 31.53 DK - 31.65
Reggie Jackson is out for six to eight weeks, so it's good news for the Pistons that they have Ish Smith who has experience as a starting point guard in this league and dazzled in his return to the starting rotation on Thursday against the Magic. Austyn recommended Ish in the picks that day and hopefully you took advantage as he paid 7X points per dollar at bare minimum salary. The price is quickly heading up on Ish, but we've still got plenty of room before we hit his ceiling. Particularly against a Spurs team allowing the tenth most fantasy points to opposing point guards. Smith saw 32 minutes in his first start and should be a lock for 30+ from here on out until RJax returns. In the meantime we've got a tremendous play at the point with a solid 5X floor. My one concern is the Spurs slowing down the Pistons already low pace of play which could limit the ceiling but as cash game plays go Smith is a lock.
Tyler Johnson FD - $6000 DK - $5800
Opponent - ORL
Proj Pts FD - 30.06 DK - 29.88
Between injuries to Goran Dragic and Dion Waiters, Tyler Johnson has been enjoying some time in the Miami Heat starting rotation these past couple of weeks and we have been enjoying locking him in as a value play for our DFS lineups. The price is starting to creep into that territory where we have to question is the value still there, but tonight in a prime matchup against the Magic, I think it's safe to say the answer is yes. Elfrid Payton doesn't do defense. He doesn't even try. Johnson managed to drop 17 points with four rebounds, two assists, a block and a steal against Orlando on Tuesday good for 5X points per dollar, and I see no reason to expect him to give us any less tonight, despite his less than impressive showing last night in a blowout loss to the Nets. Tonight's game has a modest 205 projection with just a one point spread. These are two teams that are hurting bad, so there are minutes to be had and only so many players to absorb them. Pushing into the $6K price range, has me fading Johnson in my GPP lineups, but as a cash play, he's clearly in consideration.
Shabazz Napier FD - $4800 DK - $5000
Opponent - ATL
Proj Pts FD - 31 DK - 30.97
This is the "if" play that becomes the obvious play if Damian Lillard misses a fourth game with a hamstring injury. Shabazz Napier has drawn three straight starts in Lillards place and has paid 9X PPD in each of those starts, and could have easily posted over 10X against Philly on Thursday if he didn't struggle early on in the first half and give the ball up five times. A strong fourth quarter helped him to recover his stat line as he saw his highest point total to date of 23 and managed three steals for a third consecutive game. The Blazers head south to Atlanta next to play a Hawks team that have allowed a staggering 52.5 FDP per game over their last ten contests and if Napier can keep on the court for 35+ minutes the sky is the limit for his ceiling. It's really quite simple: if Lillard is out, Napier is in everywhere.

Consider Andrew Harrison in GPPs against the Warriors.
Shooting Guard

Gary Harris FD - $6300 DK - $6100
Opponent - PHI
Proj Pts FD - 30.62 DK - 31.09
There really isn't a whole lot to love at the two tonight, There are two plays that really stand out, and both of them come from the two games we're going to attack the most tonight. First up we have Gary Harris and the Nuggets hosting the Sixers. We're going to hit this game from both sides at nearly every position as it has a 215 projected total coming out of Vegas with just a 6.5 point spread. Gary Harris has no idea what the Denver bench looks like. Outside of a game against Minnesota on the 20th when he sat out with a sore elbow, Harris has played a minimum of 35 minutes in each of the Nuggets last seven games, and upwards of 42. Genrally speaking though, he does need each and every one of those minutes to hit value. He should have little trouble tonight against a Philly team ranking behind only the Bulls and Hornets in FP per game allowed to opposing shooting guards this season while playing at a lightning fast 103.3 pace factor. Harris should easily hit value tonight, and a 6X ceiling isn't out of the question.

Jrue Holiday FD - $7700 DK - $7100
Opponent - NY
Proj Pts FD - 36.48 DK - 36.72
The other game we're going to cover a lot of ground on is the Pelicans hosting the Knicks. This one has the highest projection out of Vegas at 217 and with just a 5.5 point spread there's really no concern of it getting out of hand. The game has a 100.3 combined pace factor, which means the fantasy points should come quickly from all angles. The first play we're going to look at is the Pelicans shooting guard Jrue Holiday. Of the three headed monster in the bayou, Holiday is the easiest one to work into your lineups as he costs a fraction of the price of Boogie and the brow, but still provides solid fantasy production in his own right. Holiday is a lock for 30+ minutes a night and has eclipsed the 40 minute mark three times in his last ten games. In those games he has paid an average of over 7X PPD so the more time Jrue sees on the court, the more he's going to pay off. The Knicks are an average defense at the two, allowing opponents to post 43.1 FP on average. He saw 39 minutes last night against the Mavericks but don't let that scare you, Holiday has shown no signs of slowing down on B2B's and ran 41 minutes on consecutive nights earlier this month. Jrue is a safe cash game play, and I can see myself getting a little tournament exposure to boot.
Consider Kent Bazemore against Portland.

Small forward
Courtney Lee FD - $5600 DK - $5200
Opponent - NO
Proj Pts FD - 29.36 DK - 29.28
Courtney Lee is having himself a career season for the Knicks, and has really stepped up his game with Tim Hardaway Jr sidelined for the month of December. He's putting up career highs in rebounds and assists, while his 45.6 shooting percentage from the field is among his top three. Now in his tenth season he shows no signs of slowing down and continues to impress. He's posted five straight games with double digit scoring, and has eight in his last nine games. The minutes have been a little wonky, but as long as he sees over 30 he should be safe to lock in and expect a 5X PPD performance, and he's played at least 33 in each of his last four, maxing out at 39 against the Spurs on Thursday night. The Pelicans are a league average defense against the three and in a game with a 100.3 pace and the highest projected total on the night Courtney Lee is a fantastic cash game play.

Taurean Prince FD - $5300 DK - $5100
Opponent - POR
Proj Pts FD - 26.86 DK - 26.83
Taurean Prince has been on fire lately. In his last nine games he posted career high real point totals three times. He scored 24 against Cleveland on the 12th and then again against the Heat on the 18th. Last night he eclipsed that mark by six posting 30 against the Raptors to go along with ten rebounds in 34 minutes. He ended the night with a 9.3 PPD showing against a top ten SF defense. The Blazers come to town tonight and are terrible at defending against the three giving up the sixth most fantasy PPG at the position. Vegas has yet to drop a line on this one, I assume they're holding out until they have an idea as to what Lillards status is, but I would expect it to stay close enough for Prince to see plenty of opportunity to give us another solid outing. Prince is just priced too low given the matchup and should be considered in all formats.
Robert Covington FD - $6100 DK - $5700
Opponent - DEN
Proj Pts FD - 33.31 DK - 32.79
The Sixers head to the mile high city tonight to face the Nuggets. Robert Covington left Thursday nights game against the TrailBlazers after 24 minutes with a finger injury, and his status for tonight is up in the air, but it doesn't seem to be too serious and if he plays the system loves him tonight in a game that Joel Embiid has already been ruled out of for rest purposes. Denver's got an average interior defense and RoCo, who has really struggled shooting the rock lately could be a risky option if there's any lingering effects in his finger. If he's cleared to play and healthy, the system loves him as the top points per dollar play at the position, but I'll probably limit him to tournaments to be on the safe side. If Covington is ruled out tonight, then Justin Anderson could be an excellent option if he draws the start and Dario Saric becomes much more intriguing as well.
Consider Kevin Durant and Lebron James of course. James will cost more, but has the much better matchup, and no blowout concern.
Power forward

Ben Simmons FD - $8700 DK - $8300
Opponent - DEN
Proj Pts FD - 45.54 DK - 45.19
Sticking with the Sixers, we open up the power forward position with Ben Simmons. It wasn't that long ago we were putting out $10K+ in salary for Simmons, so getting him in the mid $8K range is hard to pass up. Sure he's put up some underwhelming fantasy performances in the past couple of weeks, but Simmons sees a big boost when Joel Embiid is off the court which just happens to be the case today. In the last six games that Joel has been held out Simmons has played 35 minutes and averaged 42.5 FanDuel points per game good for 5X PPD at these prices, and he's shown 7X PPD upside against stronger defenses than what Denver will throw at him tonight. Simmons is bound to turn the heat back up again eventually, and once he does that price is going to climb back up, so now is the time to take advantage and lock him in, both in cash and tournaments.

Anthony Davis FD - $10900 DK - $10500
Opponent - NY
Proj Pts FD - 54.21 DK - 54.27
Anthony Davis is now seven games returned from his most recent injury, a groin strain that led to him missing four of six games earlier this month. In those seven games back Davis has paid at least 5X PPD four times, eclipsing the 5X mark twice with three 30+ point performances and four double doubles. My one concern would be the 42 minutes the Pelicans let Davis run the boards last night, though he did run 40 and 41 minutes in back to back contests back in early November. What is of no concern is the matchup. The Knicks allow the seventh most fantasy points to opposing power forwards, and Kristaps Porzingis is certainly nothing to fear on defense, particularly against one of the best fantasy players in the game. If you can pair Davis and Simmons together, and I don't see it being too difficult, especially if injury news breaks our way, then by all means do it. Cash. Tournament. Doesn't matter. Just do it!
Jarell Martin FD - $4200 DK - $4500
Opponent - GS
Proj Pts FD - 21.82 DK - 21.34
Here's another "if" play. If JaMychal Green misses another game with the knee injury that kept him sidelined for the Grizzlies last three contests, Jarell Martin becomes a solid option at power forward. Martin drew the start against the Lakers on Wednesday and was excellent. He ended the night two rebounds shy of a double double and posted 20 points in 31 minutes paying nearly 10X PPD. The sites were quick to raise the price on Martin, but he's still near minimum salary across the industry, and as long as he sees another starting nod, he's still priced to play in all formats even in a game against the Warriors with real blowout potential.
Consider Dario Saric if Covington is ruled out.
Center

Jusuf Nurkic FD - $6100 DK - $6800
Opponent - ATL
Proj Pts FD - 32.31 DK - 31.79
Center is another spot that I just don't particularly love what we're being given to work with, but here we go...on the value side at the five we find Jusuf Nurkic. Nurkic hit a bit of a rough stretch, giving up the rock four times against the Nuggets, and then being unable to find the hoop in a game with the Lakers, he came in well below value each time, but Thursday night against Joel Embiid and the Sixers he took a pop to the nose which seemed to shake something up in him, he ended the night with 21 points and 12 boards in 28 minutes. Tonight he draws an equally appealing match up against an Atlanta Hawks front court that is terrible against opposing bigs. Atlanta will try to counter Nurkic with Miles Plumlee and Tyler Cavanaugh, which means we should be ablate safely pencil him in for another double double. For the price, this matchup makes Nurkic an extremely safe option at the five while presenting the chance for some serious upside.

Nikola Jokic FD - $9500 DK - $8600
Opponent - PHI
Proj Pts FD - 46.03 DK - 47.99
If paying up at center is your thing, then consider Nikola Jokic. Sure, Boogie will probably net you more points, but for the price difference in a top ten defensive matchup with the Knicks is it worth the risk? Same with Drummond against the Spurs top five defense. Joker meanwhile draws a Philly D allowing the third most fantasy points to the position, an average of 47.7 fantasy points in the last five games, three of which have been played without Joel Embiid who will rest tonight. The Nuggets are coming off of a hard fought loss to Minnesota in which Jokic had one of his best performances since returning from an ankle injury. Philly plays one of the fastest games in the NBA and the pace up factor will benefit Joker greatly granting him more opportunities in the glass and a double double is all but guaranteed here. I'll limit Jokic to cash games on FanDuel, but that price on DraftKings makes him an all formats play over there, and with the flex player option I'll be pairing both of these guys up in some lines there as well. Good luck out there tonight!!
GRAB A FREE TRIAL OF OUR PROJECTION SYSTEM, AND CHECK OUT DFSR PRO!
FREE EBOOK
SECRETS TO CRUSHING DAILY FANTASY FOOTBALL!
DON'T SET ANOTHER LINEUP BEFORE YOU READ THIS BOOK.