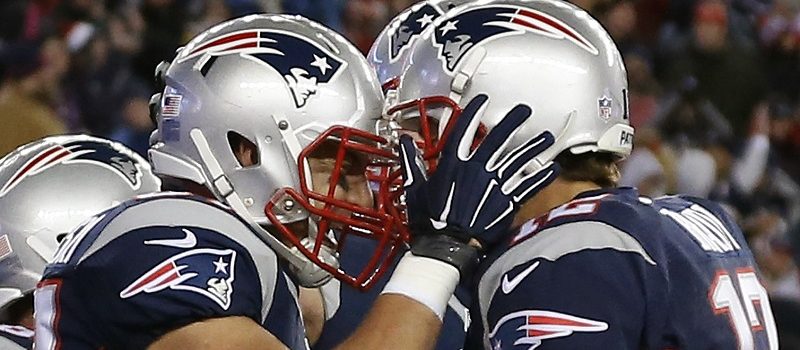 Daily Fantasy Football Picks for FanDuel and DraftKings - Divisional Round 2018
The Wildcard Round offered little good football, but plenty of DFS success over here at DFSR! When the playoffs arrive we get a lot more certainty about roles and opportunity, so we get our edges from places besides getting a $5,200 running back or wide receiver. Let's break it down!
Now's your chance to get DFSR PRO, which will give you access to our NFL optimizer for FanDuel and DraftKings, our NBA Optimizer, and our new Player Lab! Get started for free by clicking the button below.
First time with NFL? Be sure to read our free MLB and NFL Ebooks on building lineups, general strategy and more. We've got you completely covered.
Quarterback
Since there are so few games this week and so few options, let's just go team by team and see what kind of value can be had.
Atlanta vs. Philadelphia
Matt Ryan vs. Nick Foles. Our system hates both of these plays, and it isn't hard to see why. Ryan's best game of the season was 19.42 fantasy points, and his average of 15 fantasy points per game is the worst of any QB left in the post season this side of... Nick Foles. Foles, meanwhile, is cheap - but not THAT cheap. Both of these are strictly GPP only plays.
Tennessee vs. New England
We saw Tennessee's game plan last week. Trailing by 18 at half time, they continued to pound the ball with back-up running back Derrick Henry. It's hard for me to believe that Mariota even has tournament upside, even if he did throw a touchdown to himself last week.
As for Brady? He's also been rather light on pass attempts recently, but the Pats also haven't really HAD to win. I think they like what they have in Lewis, but I think there's more to this decision than looking at Brady's passing attempts recently. I pointed this out in the Tennessee write-up last week, but they've been a top 4 team against the run this season and a bottom 7 team against the pass. I worried that KC might lean more heavily on the pass, which is why I didn't like Hunt that much. What happened? They refused to give Hunt more than 11 carries all while blowing an 18 point lead. This Tennessee front 7 is legit, and I think you could see the Pats lean very heavily on Brady here. I like him as a cash or tournament play.
Jacksonville vs. Pittsburgh
A brutal one, if you ask me. Bortles ran for more yards than he passed last week, and that was against a bad Buffalo passing defense. Pittsburgh has done a great job suppressing the pass this season, ranking 5th in the league against opposing ball throwers. Don't play Bortles in any format.
As for Ben? He's got the worst match-up possible in Jacksonville. The Jags have been the best passing defense by every available metric - DVOA, passing yards allowed (where they allowed 10% fewer than 2nd place), and passing yards per attempt. It's tough to rule Ben out as a big tournament play because of the play makers around him, but I'm not running him out there for cash.
New Orleans vs. Minnesota
Minnesota has been the 2nd best pass defense in the league, and Brees just finished the season with his fewest pass attempts in any season where he played all 16 games since 2002. He's still priced like a premier QB, and he just can't be considered one anymore given how much NO leans on the run and his opponent here.
So that leaves us with Case Keenum? I mean, I guess. Let's be clear, I basically hate every QB play on this slate besides Tom Brady, but Keenum might be in the "distant 2nd" category. Minnesota has their full complement of weapons healthy, and the big play making ability of Diggs and consistent chain-moving of Thielen could be enough to vault Keenum into consideration. He's had some big weeks this season, and you can't rule out that Brady simply isn't the best play of the week. With how Minnesota has been leaning on the run recently, though, I think I'll ultimately pass.
Running Back
Atlanta vs. Philadelphia
Two running backs by committee? Nah. Freeman and Coleman ran the ball a combined 32 times last week, but I'm not playing a guessing game as to where the opportunity will go at the current prices outside of big tournaments.
Jay Ajayi is what passes for a starting RB in Philly, but the opportunity is nowhere near their to support his $6,900 FanDuel price.
Tennessee vs. New England
Now here are some running backs to believe in. If we don't like Mariota for this week because Tennessee will run the ball down 18, we like Derrick Henry for exactly the same reason. With a lot of tough defenses going this week, New England actually represents something of a reprieve. They allowed the 2nd most yards per carry of any defense in the entire NFL this season, and they naturally rank dead last among teams in the playoffs. When they did depress the run it happened because the other team had given up, but I just don't think that's in the cards for Tennessee this week. I love Henry in every format.
Famous last words and all, but do we finally have some sanity around the NE running back situation? Lewis had 50 carries over the last 2 weeks of the regular season, and scored 2 touchdowns in each of those games. I have to think Burkhead's likely return hurts Lewis' likelihood of dropping 25+ touches in this game, but I still think he's a reasonable cash game option given the general lack of just that this week, even in a tough match-up with the Titans.
Jacksonville vs. Pittsburgh
Two running backs with big time opportunity looming, but their own question marks. Fournette looked pretty bad against the Bills last week in spite of big time opportunity precisely because the Bills knew what they were going to do. With how bad Bortles looked, is their any doubt that Pittsburgh will stack the line and try to take Fournette away? I love his opportunity here, but it might wind up being a lot to pay for a guy going up against a team that knows he's going to get the ball repeatedly.
Bell is an interesting question, though. Jacksonville has been so insane against the pass that it's hard to believe that the Steelers won't try to establish Bell early and roll with him. Similarly to Fournette, though, Bell is really expensive and has a pretty bad match-up. I'm not sure if this is where you can afford to pay up if it means going away from Brady under center.
Ultimately I think I like Fournette better here simply on account of the $1,500 price difference, but I wouldn't bet my life on it. Both seem like reasonable cash game options if you can make the money work.
New Orleans vs. Minnesota
I am simply not playing the New Orleans guys after their performances last week. Kamara and Ingram split carries, as expected, but did very little with them in a much better match-up with Carolina. Not touching them against Minnesota.
How about Latavius Murray, though? 3 straight weeks with 20+ carries is a pretty promising trend for a RB that's under $7,000, and New Orleans DID give up the 4th most yards per carry of any defense in the NFL. With Minnesota favored by 4 and New Orleans having some playmakers in the secondary, I like Murray as a cash game play in spite of McKinnon drawing some of his usage away.
Wide Receiver
Atlanta vs. Philadelphia
The Falcons showed what they wanted to do last week, sending 18 of their 31 available targets to Julio Jones and Mohamed Sanu. But they were also winning the whole game, and were very obviously just trying to put the game away on the ground. Vegas is slightly favoring the Falcons this week, but it also likes this as the tightest spread game on the slate.
I'm not sure I want to pay up for Jones, but it's hard to imagine fading Sanu in cash. He's cheap, the targets seem reliable, and I think there's room for upside if Atlanta doesn't get an early lead to hold on to.
As for the Eagles, oy. Nick Foles' appearance has dumpstered the value of guys like Alshon Jeffery, but Nelson Agholor has maintained his value. We can't be certain what the plan will be since the Eagles were just getting their sea legs under them with the Nick Foles era, but Agholor did have 9 and 7 targets in the 2 games he put the most time in. He's relatively cheap, and is a chain-mover. I think he should be a solid cash game play.
Tennessee vs. New England
Tennessee? No. How about New England, though? We're still waiting for firm news on Chris Hogan, but in the meantime it's hard to recommend any of these other guys for anything outside of big tournaments. Cooks appears to have the highest upside (he did have 11 targets vs. the Jets), but he's expensive, and had 2 catches for 19 yards the prior game.
Hogan's return would just gum up the works even further. I wouldn't play Hogan because I'm concerned about his health even if he does play, and the whole WR situation would be a stay-away in that case.
Jacksonville vs. Pittsburgh
You could make an argument for Dede Westbrook on Jacksonville, considering only 3 receivers on JAX had more than 1 (1!) target last week. No other WR had more than 1 target. No.
Things are a little more interesting on Pittsburgh, but again, the match-up here is pretty horrendous. Antonio Brown is one of those WR that at least begs the question as to whether he is "match-up proof", but it might be hard to stomach paying up for him here if it means having to go cheap at QB for instance. Still, Brown is much safer option in my mind than someone like Julio Jones, and I could see him getting cash game plenty of cash game run here.
New Orleans vs. Minnesota
I don't mind Michael Thomas on the New Orleans side since he seems to be the one WR who has escaped the Saints' shift away from the pass - but there's still a ton of risk there against Minny's second ranked pass defense. It's a big tournament play only.
We played Ted Ginn on DraftKings last week, but you can't count on him turning 6 targets into 116 yards and a touchdown with any regularity. He's playable I suppose, but there's a lot of variance built in there.
On the Minnesota side, neither Diggs nor Thielen has topped 8 targets in the last 3 weeks, which I think shows you what Minnesota hopes to do in any given game. Minnesota has the 2nd highest projected total on the slate, and doesn't have the same blowout concerns that are present in New England.
But can you play these guys? It's a tough sell for me for cash games. New Orleans has some excellent corners, and Minnesota has shown that they would prefer to lean on the run in close games. Still, for Diggs in particular, I think there's big upside for big tourneys.
Tight End
I won't do the full game by game tight end breakdown here simply because most of these teams don't even feature a real pass catching tight end, but here are the guys to watch:
Rob Gronkowski FD 8500 DK 7100
Opponent TEN
Proj Points FD - 20.85 DK - 24.59
The Pats have seemingly tried to save Gronk for games that matter, and here's a game that matters. I'm a little concerned about the potential for blowout to be sure, but given how good Tennessee is against the run I suspect you'll see hot and heavy Gronk action until the game gets out of hand. His price is especially egregious on DraftKings, and I suspect he'll see huge ownership there. I could certainly see people paying up for him at TE on FanDuel as well, and leaving the cheap plays to WR and Derrick Henry.
Zach Ertz FD 7200 DK 5800
Opponent ATL
Proj Points FD - 15.86 DK - 19.51
A clear and obvious winner of the move to the Nick Foles era, Ertz has been an incredible safety blanket for the deer-in-the-headlights Foles. He has 9 and 14 targets in the two games that Foles played a full set of snaps. Ertz is very reasonably priced on both sites, and I love his point per reception upside on DK. I imagine Philly will be as conservative as they can be here, and that means a lot of Ertz early and often.
The only other playable tight end is Delanie Walker, who does have tournament upside given that he's garnered 14% target share in each of the Titans' last 2 games. Not a reasonable cash game option from where I'm sitting, though.

Now's your chance to get DFSR PRO, which will give you access to our NFL optimizer for FanDuel and DraftKings, our MLB Optimizer, and our new Player Lab! Get started for free by clicking the button below.
First time with NFL? Be sure to read our free NBA and NFL Ebooks on building lineups, general strategy and more. We've got you completely covered.
image sources
Rob Gronkowski, Tom Brady: AP images