Basketball Picks Daily Fantasy
Expert Advice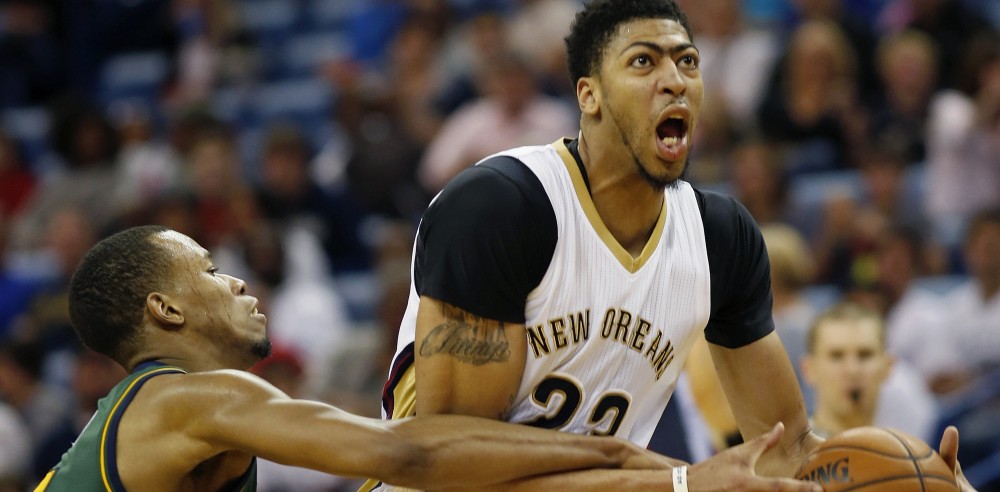 Daily Fantasy NBA Basketball Picks for FanDuel and DraftKings - 2/12/18
Now's your chance to get DFSR PRO, which will give you access to our NBA optimizer, our NFL Optimizer, and our new player lab! Get started for free by clicking the button below.
First time with NBA or NFL? Be sure to read our free NBA and NFL Ebooks on building lineups, general strategy and more. We've got you completely covered.
Point guard

Austin Rivers FD - $5100 DK - $5400
Opponent - BKN
Proj Pts FD - 28.4 DK - 29.5
Welcome to NBA Monday! We have 6 solid games on this slate and all of them deserve attention. The Clippers and Nets face off in what should be a high-scoring, tight game. Vegas has it slated at a 218 over/under with just a 4 point spread. We know the Nets are a putrid defense and we've been targeting them all season long. Nothing has changed with Dinwiddie still at the helm and absolutely no rim protection behind him. On the season, they rank dead last against point guards at 42.2 FPPG. Since returning from injury, Austin Rivers has played 31 and 33 minutes. He put up 24 and 29 fantasy points in those games and now sees the best match-up yet. His price is still under $5.5k on both sites and you're only looking for 25 in cash games. With a PG position that's a lot weaker than usual, Rivers makes for a phenomenal option in all formats.
Jerian Grant FD - $6500 DK - $5200
Opponent - ORL
Proj Pts FD - 33.69 DK - 34.05
Here we have another mid-range option that has been getting a huge opportunity as of late. Over the last 4 games, he's been over 36+ minutes in every one. He's backed it up with 26, 18, 40, and 31 fantasy points. We know Jerian Grant is a great DFS player and has always produced when on the floor.  Assuming Kris Dunn is out again, you can lock in another 35+ minutes for Grant. The Bulls run into the Magic tonight, who rank 25th against point guards. Elfrid Payton has been the PG for most of the season, but I can assure you that D.J. Augustin and Shelvin Mack are no better. The real issue they have is the lack of rim protection. For a PG like Grant that's basically an SF, it will be a problem if he gets in the paint. Grant is a strong option in all formats, assuming Dunn remains out.

D.J. Augustin FD - $6100 DK - $5300
Opponent - CHI
Proj Pts FD - 31.05 DK - 32.4


Shelvin Mack FD - $5500 DK - $4800
Opponent - CHI
Proj Pts FD - 21.28 DK - 21.46
These guys have gotten a bit priced up with Elfrid Payton out of the picture, but there is still some opportunity. Over the last 2 games, Augustin put up 40 points 2 games ago and Mack put up 40 last game. They will split 45 minutes and both are extremely effective when on the floor. For me, D.J. Augustin is the guy who gets the nod. He not only matches up better with Jerian Grant, but has been over 25 minutes in most games since Payton was held out. Mack is fine as well, as he's at least seeing 20 minutes in every single game and is keeping his FP totals up over 20. For me, these 2 guys are going to be all over my DK lineups. They are both far too cheap and make sense in both formats. The Bulls rank 21st against point guards and Jerian Grant is not at all a good defender. I certainly like Rivers and Grant more, but these 2 guys are serviceable for the price.
Shooting Guard

Lou Williams FD - $6800 DK - $7600
Opponent - BKN
Proj Pts FD - 37.95 DK - 39.48
You can't tell me it's not weird to see Zach LaVine as the most expensive option at SG. He certainly deserves it, but these last couple weeks have been crazy in the NBA. For the Clippers, the absence of Blake Griffin is impactful. We're touching on 4 Clippers in this article and it's not tough to see why when you look at the match-up with Brooklyn. Lou Williams has grabbed 3% of usage from Blake Griffin and has been over 30 minutes in every game. Tonight, it'll be the worst defense in basketball covering him. We know Williams will produce when on the floor and Vegas does project this game to be close. He's a bit more affordable on FanDuel, though he's in play on both sites in all formats. The Clippers aren't scary at all and I don't think they have a good shot of blowing out the Nets. Williams is always looked at as a volatile player, but he's been extremely consistent all this year. He'll be in most of my lineups across both formats.
Courtney Lee FD - $4800 DK - $5000
Opponent - PHI
Proj Pts FD - 25.12 DK - 25.24


Tim Hardaway Jr. FD - $5700 DK - $6000
Opponent - PHI
Proj Pts FD - 29.46 DK - 30.53
These two guys are on the same team, but are very much different players. Courtney Lee is the more consistent guy who will produce when given the minutes. Hardaway Jr. is a bit more volatile, but he can hit 40-50 fantasy points on any given night. We know the 76ers are atrocious against shooting guards and it has everything to do with J.J. Redick. On the season, they rank 24th against the position. Hardaway has been priced up a bit because of his recent output, but both are in play here. Vegas expects these games to be close and both of these guys are locked into 25+ minutes. Lou Will is easily my favorite at the position, but I'll have plenty of both Lee and THJ Jr.
Small forward
Michael Beasley FD - $6500 DK - $6800
Opponent - PHI
Proj Pts FD - 38.98 DK - 39.19
This is a tough one, huh? Nope. Until Beasley is into the high-$7k's or $8k's, you just plug him in. Especially in such a friendly match-up with a Sixers squad that doesn't love defense. They're actually decent against small forwards, but Beasley will be playing PF for the most part. Over the last 2 games (Porzingis out), Beasley has posted a 24% usage rate. The only guy higher is Tim Hardaway Jr. Beasley has been at 41 and 36 fantasy points over the last 2 and it's probably fair to expect right around there on a regular basis. Tonight, this is a game we want to attack and Beasley is one of the easier ways to do it. When you combine that with him being at a pretty weak position, Beasley is a lock for my cash games and tournaments.

Danilo Gallinari FD - $6800 DK - $6300
Opponent - BKN
Proj Pts FD - 30.85 DK - 31.89
I know Danilo Gallinari returned from injury just a few games ago, but it looks like he's 100% healthy. He saw 40 minutes against the 76'ers last game and you can now safely project him for at least 34+. He's been over 30 fantasy points in each of the last 4 games and hit a 45 point upside. Without Blake Griffin in the lineup, there is plenty of shots and usage to go around. His price is still under $7k on both sites and you're only looking for 30 in cash games. Small forward is always a little underwhelming and tonight is no different. I'll have exposure in both cash games and tournaments at what should be low ownership.
Power forward

Lauri Markkanen FD - $6600 DK - $6500
Opponent - ORL
Proj Pts FD - 30.88 DK - 31.36
Since coming back from injury, Lauri Markkanen has played 33 and 35 minutes. He got up to 28 fantasy points last game against the Wizards and will now step up to the plate against Orlando. With Aaron Gordon remaining out, Hezonja and Khem Birch will continue picking up minutes at the 4. Neither are very good defenders and Markkanen will demolish both. He's been phenomenal on the season and it looks like he's already back in his groove. His price came back down to $6.5k on both sites and he'll need you in the low 30's to make you happy. Power forward is a solid spot tonight and you'll need to get it right. Lauri Markkanen is a solid option in both cash games and tournaments.

Ben Simmons FD - $9000 DK - $8500
Opponent - NY
Proj Pts FD - 42.54 DK - 42.28
We haven't been looking to pay up all that much, so here's an opportunity to do so. We've touched on a few Knickerbockers in THJ/Lee and Beasley, who are some of the best plays on the entire slate. If you're looking to get exposure on the Sixers side, you probably want to look under the rim. Simmons, Saric, and Embiid are all in phenomenal match-ups and deserve attention. Ben Simmons is our favorite. He's been over 40 fantasy points in 3 straight games and is seeing 35+ minutes when the games are close. With Porzingis out of this Knicks lineup, there isn't much length or athleticism at all. I guess we can assume it'll be Michael Beasley. He's the only real guy with size, but it will create huge mismatches elsewhere and we know Simmons is going to take advantage of all of those. Simmons is still pretty expensive, but you're looking for 40-45 in cash games at $9k. The Sixers are favored by 12, but should be close enough to keep the starters in. We do need to pay up at a few spots and Simmons is one of our top options.

Davis Bertans FD - $3900 DK - $4300
Opponent - UTA
Proj Pts FD - 17.12 DK - 17.34
With LaMarcus Aldridge out of the mix, Davis Bertans should be in for big minutes. With LMA in, he's been at 26 and 31 minutes. While I do think a lot of the minutes go to Gasol and Lauvergne, Bertans will see at least 8-10 extra minutes. We've seen him get close to 40 minutes a few times this year as he's a consistent player that Popovich fully trusts. He's not the most efficient DFS scorer when on the floor, but he's also not the worst. he averages 0.81 FP per minute and will easily reach value if he gets 30+ minutes. The match-up against the Jazz isn't great, but Favors will struggle to come outside and cover Bertans at the 3-point line. He's around $4k on both sites and needs you just 18-22 to make you happy. You never love playing Davis Bertans against the Jazz, but it just might be necessary if you want to pay up at 2 or 3 other spots. For me, I'll have about 25% exposure in cash games and tournaments with another 25% on Pau Gasol.
Center

Anthony Davis FD - $11700 DK - $11400
Opponent - DET
Proj Pts FD - 61.01 DK - 61.34
There aren't many ways to pay up on this slate and Anthony Davis is clearly the go-to guy. He's the only option above $11k and has far more upside than anyone on the slate. He put up 91 fantasy points last game, so he's certainly playing as well as ever. He's been ridiculous without DeMarcus Cousins and has disappointed just 2 or 3 times since Boogie went down with injury.  I know the price is crazy, but you can easily fit him on a slate like this. He'll face off tonight with Andre Drummond, which is a very exciting match-up as a basketball fan. We know Drummond is terrible on defense and Davis will have no problem putting up points. They rank 19th on the season against the position, but that's almost meaningless against a superstar like AD. He is going to dominate no matter the match-up and it just comes down to how many minutes he gets and how close the game is. With a 220 over/under and just a 3 point spread, Vegas certainly thinks it stays high and tight. For me, Anthony Davis is my favorite way to pay up on this slate. He's going to put up 50+ fantasy points as a lock and can hit 70+ with ease.

DeAndre Jordan FD - $7800 DK - $7200
Opponent - BKN
Proj Pts FD - 41.75 DK - 42.94
If you can't pay close to $12k at Center, DeAndre Jordan is an easy pivot. He's grabbing 30+ minutes every single game and has been one of the more consistent guys in the entire league with Blake Griffin out. He now gets the absolute best match-up you can have for a rebounder. On the year, the Nets rank dead last against the position. Dead last. They're only trending downwards with Allen at the helm. Jordan is going to pick up another 15 rebounds and 30 fantasy points with the upside for much much more. I'll personally going to try my best to get Anthony Davis on my team, but won't be mad at all if I have to settle for DJ. Good luck tonight and feel free to comment below if you have any questions!
GRAB A FREE TRIAL OF OUR PROJECTION SYSTEM, AND CHECK OUT DFSR PRO!
FREE EBOOK
SECRETS TO CRUSHING DAILY FANTASY FOOTBALL!
DON'T SET ANOTHER LINEUP BEFORE YOU READ THIS BOOK.