Daily Fantasy PGA Picks for DraftKings & FanDuel - Genesis Open
DFSR is proud to bring you, Chris Durell. He'll be bringing weekly PGA picks, analysis, and breakdowns to help you cash on DraftKings and FanDuel. As every week in DFS PGA changes with the course setup, field of players and weather, Chris will be providing a range of different picks for cash games as well as upside plays for tournaments. If you have any questions to lineup lock you can reach him a variety of ways. Leave your question/comment below in the comments section, find him in the DFSR Chat room or hit him up on Twitter(@Jager_Bombs9). Chris is also providing his DFS PGA Weekly cheatsheet where he provides stats, course history, current form, fantasy points, and much more. Grab your copy today and edge out the competition.

Genesis Open
Welcome back golf fans. I hope you enjoyed the Pebble Beach Pro-Am that ended with an unlikely winner. It was Ted Potter Jr. picking up his second career win and it was huge for Potter who won the Greenbrier Classic back in his rookie season in 2012 and in 67 starts on Tour since that win, only recorded two Top 10 finishes. If you were one of the .04% that played him in GPP's last week, you likely saw some green screens and were thrilled with your bankroll Sunday night/Monday morning.
This week the PGA Tour stays in California and heads to Pacific Palisades for the Genesis Open(once named the Northern Trust Open). If you have been waiting for the "Big Boy" tournament, this is it as four of the Top 10, 11 of the Top 20, and 27 of the World's Top 50 players are in the field to take on Riviera Country Club. The course is an absolute beastly Par 71 setup that stretches out to 7,322 yards with tough to hit fairways, tough to hit and fast greens. Combine that with the tricky Poa greens and the players in this strong field will have their hands full this week. Let's now take a look at the course details and setup, past winners, key stats, and then jump into some picks based aroudn Course History, Current Form, and the Stats Model.
The Course
Riviera Country Club
Par 71 - 7,322 Yards
Greens - Poa Annua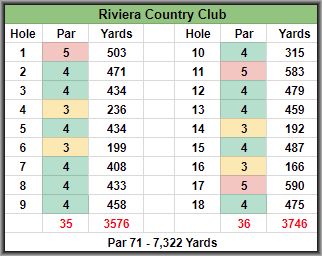 **Click HERE or the pic above to see a breakdown of the course on PGATour.com**
Hole Composition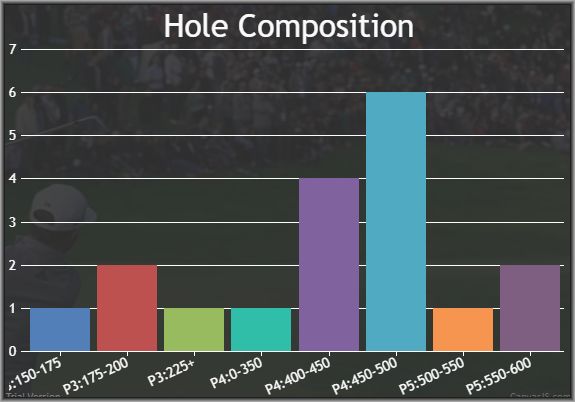 Approach Shot Distribution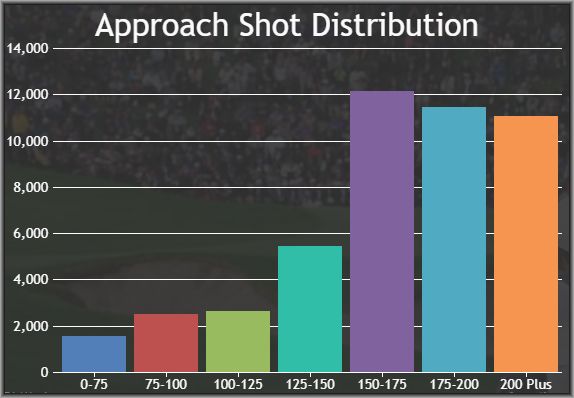 Past Five Winners
Dustin Johnson(-17)
Bubba Watson(-15)
James Hahn(-6)
Bubba Watson(-15)
John Merrick(-11)
Top Stats in the Model
Strokes Gained: Off the Tee with emphasis on bombers
Strokes Gained: Approach with emphasis on long irons
Birdie or Better %
Strokes Gained: Putting on Poa Annua greens
One little note before jumping into the article. I use multiple sources for my research to help determine key stats starting with Fantasy National Golf Club and their elite set of tools from course history, hole composition, past performance and much, much more. I also combine it with some of the information on Future of Fantasy including correlated courses and most importantly the quotes from players section to help determine what it takes to win here(key stats). When breaking down ownership and trying to come up with popularity, I love the tools over at FanShareSports as they break down every piece of information on articles and social media mentions to provide us with Tag COunts, Sentiment Ratings, Subject Tags, Salary Differential week to week and much more.
Top Course History Targets
Dustin Johnson
World Golf Ranking (#1)
Vegas Odds (5/1)
Draftkings ($11,900)
FanDuel ($12,900)
DJ was my top course history target last week and he appeared to be on his way for another win at Pebble Beach before a final round 72 left him with a T2 finish, three strokes behind Ted Potter Jr. I am jumping right back on the DJ train this week as it's impossible to ignore him from a course history standpoint. He is the defending champion of this event and has finished Top 5 in four straight years and six times in 10 trips. Looking at the last 24 rounds here at Riviera(via Fantasy National Golf Club), DJ ranks 1st in DraftKings scoring, 1st in SG: T2G, 1st in SG: OTT & APP and 5th in SG: Putting. He stands out in all areas this week and is the only player on my sheet to rank Top 10 in all four categories making him my top play in GPP formats this week.
Adam Hadwin
World Golf Ranking (#57)
Vegas Odds (80/1)
Draftkings ($7,100)
FanDuel ($9,400)
If you are loading up on Dustin Johnson or another elite player at the top of the salary, you are going to need some value this week and the first name I turn to is Adam Hadwin. He has played here at Riviera three times with finishes of T22 in 2015, T16 in 2016, and a T34 last year. In the field, he also ranks 15th overall in DraftKings scoring in when looking at the last 12 rounds. He has only tallied one Top 10 finish this season(T3 at CareerBuilder Challenge) but has made all seven cuts. I would only consider him for GPP's on FanDuel in the mid $9K range but in the low $7K range on DraftKings, I think he is in play in all formats.
Top Current Form Targets
Paul Casey
World Golf Ranking (#17)
Vegas Odds (22/1)
Draftkings ($10,200)
FanDuel ($11,600)

No one in the field has better form than Paul Casey when looking at average finish over their last five tournaments. He has played four times this year with finishes of T7, T19, T11, and a T8 last week at Pebble Beach. Going back even further, he has not missed a cut since the Sony Open last year, a stretch of 24 straight official PGA Tour events. He hasn't been spectacular here but did finish T2 back in 2015 and has made the cut here in all five trips to Riviera in his career. He also fits the stats model ranking 1st in SG: APP, 13th in SG: OTT, 25th in Par 5 Scoring, 16th in Birdie or Better %. He makes an excellent target in all formats.
Chez Reavie
World Golf Ranking (#43)
Vegas Odds (35/1)
Draftkings ($8,000)
FanDuel ($9,900)
Another player who just doesn't miss cuts and comes in with excellent form is Chez Reavie. He has made all nine cuts during the 2017-18 season and is peaking most recently with back to back runner-up finishes. Dating back to the AT&T Byron Nelson last year, he has now made 20 straight cuts with only six finishes outside the Top 25. He missed the cut here last year but didn't come in with the same form as he missed the two previous cuts as well but the year before he picked up a 7th place finish here at Riviera. He isn't a bomber by any means but pops on the stats model ranking 8th in SG: APP and 7th in Proximity from 125-200 yards and is 18th from 200+. On top of that he ranks 5th in Par 4 scoring on my sheet and 23rd in BoB% and looking at the rolling report of SG: Putting on Poa Annua(via FNGC), he ranks 6th, 7th, 10th, and 4th over his last 4, 8, 12, and 24 rounds. He will be a staple in all of my cash lineups and will also be using him in GPP formats.

Who the Stats Like
Ollie Schniederjans
World Golf Ranking (#79)
Vegas Odds (45/1)
Draftkings ($7,600)
FanDuel ($9,400)

Ollie currently sits 10th overall in my stats model this week thanks to his rank of 11th in SG: APP(31st or better in Proximity from 125-200+ yards), 20th in Par 5 SCoring, 21st in Par 4 Scoring, and 7th in Birdie or Better %. Stats are definitely not the only place he stands out this week as he comes in with the 12th best odds in the field(45-1) while his DraftKings price ranks 27th overall. On top of that, he has Top 10 finishes in two of his last three events(Sony Open & Waste Management Phoenix Open) and playing here at Riviera in his first trip last year, he finished with a T8. All things considered, he is on my radar in all formats.
Brandon Grace
World Golf Ranking (#28)
Vegas Odds (45/1)
Draftkings ($9,000)
FanDuel ($10,900)
I realize it's a small sample size for Grace but I do like his stats and wanted to find a way to fit him into the article and only had one spot left(it's my article, I will do what I want, lol). He was tied for second in Greens in Regulation last week and sits 4th overall on Tour this year hitting 76% and is 1st from 175-200 yards and 1st from 200+ yards when looking at Proximity by distance. He finished T22 in his first trip to Riviera last year and has been a cut machine on both the PGA and European Tours this year. He may also come a bit lower owned considering Daniel Berger, Alex Noren, and the GOAT Tiger Woods are right in the same range.
Tournament Update Thread
**Weather Update**
Chris Durell has been playing Daily Fantasy Sports for five years and fantasy in general for more than a decade. He is active player in college football, NFL, MLB, NASCAR, NHL and of course PGA. He lives in Saskatchewan, Canada with his wife and two daughters. You can follow him on Twitter at @Jager_Bombs9 for advice, strategy, answers to any PGA questions and how he copes with the winters up north.