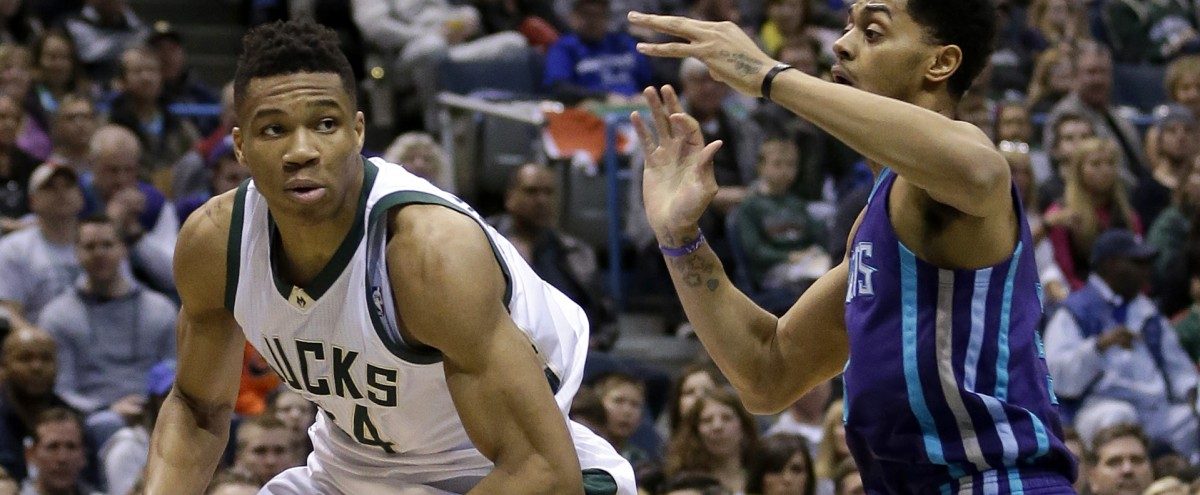 Daily Fantasy NBA Basketball Picks for FanDuel and DraftKings - 2/13/18
It's Tuesday night in the NBA and as we approach the All Star break, we have a six game slate on our hands with a ton of question marks. While our friends in Vegas are withholding the opening lines based on all of the news that is up in the air at the moment, that doesn't stop us from looking at the top plays position by position as determined by our lineup optimizer. So let's dive right in!!!
Now's your chance to get DFSR PRO, which will give you access to our NBA optimizer, our NFL Optimizer, and our new player lab! Get started for free by clicking the button below.
First time with NBA or NFL? Be sure to read our free NBA and NFL Ebooks on building lineups, general strategy and more. We've got you completely covered.
Point guard

De'Aaron Fox FD - $6000 DK - $6300
Opponent - DAL
Proj Pts FD - 29.5 DK - 30.05
Point guard is a train wreck coming into tonight. A lot of uncertainty, and nothing to like about the sure things we have to work with. De'aaron Fox has run 31-35 minutes in four of the Kings last five games. He was impressive against the Timberwolves on Sunday scoring 23 points in 34 minutes to pair with three steals, and two boards, and two assists each. Over his last seven he's produced .93 FP per minute against some formidable defenses, and tonight sees a Dallas team that is slightly below average defending against the position. You have to trust the minutes on this one, but if you think Fox can continue to run the boards for 30+ then he's one of the surest plays at the position tonight.
Raymond Felton FD - $5000 DK - $4900
Opponent - CLE
Proj Pts FD - 32.13 DK - 32.34

Yogi Ferrell FD - $4500 DK - $4500
Opponent - SAC
Proj Pts FD - 25.92 DK - 26.86

Patty Mills FD - $4100 DK - $4700
Opponent - DEN
Proj Pts FD - 22.94 DK - 23.97
We'll call this group here, the "if" bunch. If injury thrusts them back into the starting rotation, then each of them becomes worthy of consideration based on the opportunity they see at value pricing. Felton started the last two games for the Thunder in place of Russell Westbrook seeing an average of 32 minutes and scoring an average of 29.3 FPPG. He was excellent against the Grizzlies on Sunday paying 6.4X at these prices which are up dramatically since then but still well below what he is capable of paying in the right matchup. They don't come much more right than the Cavs who have allowed the most FPPG to opposing points in the last ten games. Then there is Yogi Ferrell. Ferrell drew the start in place of JJ Barea on Sunday dropping 20 in 33 minutes and paying 8.1X PPD. Barea was resting, and should return tonight, but if Ferrell can continue to earn time with the starters he's an excellent option. Finally, there's Patty Mills. As I was writing up Felton I got the alert that Dejounte Murray and Tony Parker are playing Monday night, but as each sat out Saturday against Golden State with assorted injuries, there is always the chance of one or both being rested on the tail end of the back to back. Mills saw only 17 minutes in the start Saturday and was a non factor, but tonight the Spurs play Denver, who have been nearly as bad at the position as Cleveland over the last ten. I've got these guys listed here in the order of probability that I think they stand to start, and also in the order in which I prefer to have them as an option. Russ seems to be questionable as I write this, and I would love the chance to ride with Felton once again in a prime matchup.
Shooting Guard

James Harden FD - $11300 DK - $11000
Opponent - MIN
Proj Pts FD - 52.95 DK - 55.24
With Russell Westbrook's status up in the air, we still have four other $10K+ plays to consider tonight, most of them at the three, but first up at shooting guard we have James Harden. The Beard continues doing beard things night in and night out. He has scored at least 27 real points in all but one of his last eight contest, including that 60 point masterpiece against Orlando to close out January. Harden leads the NBA in PPG and three pointers made per NBA.com. but scoring is just one facet of his game. He continues to stuff the stat sheet full of peripherals game after game, and is always a candidate to put up a 70FP performance in any given contest. With all of the uncertainty going into tonight, Vegas is being stingy with releasing the opening lines, but I anticipate a lot of high projections, given the matchups we have on tonight's schedule with this game being among the top of the heap. Our NBA lineup optimizer loves Harden tonight, and it's easy to see why.

Andrew Wiggins FD - $6200 DK - $6200
Opponent - HOU
Proj Pts FD - 29.11 DK - 29.34
Sticking with the same game we have Andrew Wiggins. Wiggins price has fluctuated over the short term from the $6-$6.5K range, so we are getting him on the cheap tonight, which is just when we want to take advantage. Wiggins is a scorer and not much more, but it's when he is able to pick up a little extra on the stat sheet that he really comes through. The Rocket's possess an average DvP ranking and James Harden certainly doesn't go out of his way on the defensive end which should free Wiggins up to drive to the basket and snag some rebounds in the process. Wiggins is locked into a 34-39 minute per game role which should allow plenty of opportunity in a pace up contest against the top ten paced Rockets.
Consider J.R. Smith against the Thunder.
Small forward

Giannis Antetokounmpo FD - $11800 DK - $10700
Opponent - ATL
Proj Pts FD - 58.08 DK - 58.62
There will (hopefully) be plenty of value to be had elsewhere because our system is screaming to pay up at the three. First up we have the Greek freak. Even as the second highest priced player on the night, Giannis is projecting as one of the top PPD plays at the position, coming in well over 5X PPD against a far inferior Hawks defense. Atlanta has the fifth worst team defensive rating in the NBA, and more specifically against opposing small forwards they've allowed the sixth most FPPG on average this season, while over the last ten games surrendering more than any team not from Cleveland to the position. Matchup aside, there isn't much I can say about the Alphabet that we haven't already covered time and again in this spot. The freak is an absolute beast, scoring 30 points or better in a game 17 times already this season, coming in second to only Harden in PPG and ranked fifth in the league in FPPG, while being aggressive in the glass and double doubling on the regular, averaging 11.1 rebounds over his last seven. Harden is an excellent way to pay up, Giannis is even better, particularly on DraftKings where he comes in priced cheaper.

Paul George FD - $10000 DK - $9900
Opponent - CLE
Proj Pts FD - 51.56 DK - 53
Sticking in the upper echelon of pricing we have Paul George. George comes in to the night projecting as a better PPD play than both Giannis and Harden, but bear in mind, the system is considering both Russell Westbrook, and Carmelo Anthony out with these numbers. George sees his usage jump 12.3% to a ridiculous 38.8% with the aforementioned duo off the court per NBAwowy.com. It jumps to 33% with just Melo out, while reaching 36.4% with no Westbrook. Cleveland is terrible defensively, and specifically against small forwards, they allow the most FPPG, so you can certainly consider George even with Westbrook and Melo active, but given the sudden influx in his pricing, I don't think you can bank on a solid return for your investment. He becomes a much more attractive play with one if not both of them riding the pine for a third straight game.

Justise Winslow FD - $3700 DK - $3900
Opponent - TOR
Proj Pts FD - 19.89 DK - 19.79
With all of these top tier plays, how about a little bit of value to balance things out. Miami travels north of the border to play the Raptors tonight. Justise Winslow has been a very volatile play lately, but his price has dipped to near minimums across the industry. In 40 minutes combined between games against the Rockets and the Bucks, Winslow has scored five points, with seven rebounds, three assists and a block, and paid well under 5X PPD each time, but in the eight games prior to that Winslow has paid at least 4.2X and maxed out at 9.1X PPD while averaging 6.0X PPD at these prices in that stretch. Toronto isn't a push over match up, and Winslow will have to work for it, but he's priced at a point where we don't have to ask too much from him and as long as he can see 20+ minutes of court time, he should have plenty of opportunity in a fast paced contest against a Toronto team that runs a top ten, 100.5 pace.
Power forward

Davis Bertans FD - $5000 DK - $4800
Opponent - DEN
Proj Pts FD - 25.53 DK - 26.04
Ugh. Point guard is ugly, but at least there's a reason for it, with all of the uncertainty. Power forward is just ugly with no excuse. We're going to open things up with Davis Bertans. Bertans has drawn four straight starts for the Spurs now, and will likely continue to start, at least through the All-Star break with LaMarcus Aldridge on the shelf receiving treatment on his knee. As I write this, the Spurs are midway through the first quarter of their game with the Jazz in Utah, but in the three starts prior to last night, Bertans has continued to perform progressively better, posting a 10/5/4 line with a steal in 31 minutes against the Warriors on Saturday. The prices on Bertans, are starting to spike, but I don't think it's anything we have to concern ourselves with just yet if he continues on the track he's on right now, which should not be too much to ask against a Nuggets team ranked in the bottom third of the league in DvP for fantasy points surrendered this season. These two teams play a snails pace, and the game has a combined pace factor of 97.7 so I won't look for much upside out of Bertans, but as a cash game play, he's probably one of the best options going at the position tonight.
Ersan Ilyasova FD - $4600 DK - $4500
Opponent - MIL
Proj Pts FD - 21.25 DK - 21.65
I warned you this position wasn't pretty. Ersan Ilyasova missed a game in New York last week with illness, and though he returned two nights later against the Grizzlies it seems he just now is finally starting to return to form. After averaging 17 minutes per game in his first two games back, Ersan averaged 27 per in the next two, and was fantastic at home against the Pistons on Sunday scoring 19 with five boards, and two steals. Milwaukee is a tough defensive matchup for the position, but if Ilyasova can continue to pull 20-25 minutes, as a sub $5K play, there's always potential for him to hit the 5X mark regardless of the matchup.
Center

Pau Gasol FD - $6000 DK - $5600
Opponent - DEN
Proj Pts FD - 31.89 DK - 32.03
Pau Gasol returned to the starting lineup last night for the Spurs, after coming in off the bench for the past three games. While it's still early in their match up against the Jazz as I write this to speculate on how his return to the starting five will turn out, we can look at Gasol and how he has performed this season as a whole. Gasol was generally seeing similar minutes for San Antonio regardless of starting or off the bench, and his fantasy production never wavered either. He only saw 10 minutes in a blowout at the hands of Golden State on Saturday, but prior to that he was locked into a steady 20-25 minute rotation that dated back prior to his shift to the second unit. With LaMarcus Aldridge sidelined through the All Star break, the Spurs have 30 minutes per game to distribute, and I would expect a majority of them to go to Davis Bertans and Pau Gasol, though with Pop, you never know. I'll still take my chances with each, particularly against a weak Denver interior.
Dewayne Dedmon FD - $5800 DK - $5300
Opponent - MIL
Proj Pts FD - 29.47 DK - 29.14
There isn't much need to pay up at center tonight, particularly when we looked at fantastic ways to pay up at other positions, so we will likely need find some value at the five. With that, following Gasol, we will stick with the lower, mid-tier and give some love to Atlanta Hawks big man Dewayne Dedmon. Dedmon drew the start against the Pistons on Sunday and was phenomenal. Coach Budenholzer stated following the game that he expects to stick with this starting rotation for the time being, which means we should continue to see a healthy helping of Dedmon. In 31 minutes on Sunday, Dedmon double doubled with a 20/13/1/1/3 line ending the night paying 9.4X PPD. Now his price has jumped dramatically, but if he stands to see about 30 minutes per game, while paying 1.0FP per minute then Dedmon is still priced at a point where we can lock him in with confidence, which if he does indeed continue to start is exactly what I plan to do tonight.
Consider Karl-Anthony Towns with upside against the Rockets in GPPs.
As always, post any questions down below, or pop on into the member chat where the hoops talk never stops. Thanks for reading and good luck out there tonight!!! Cheers!
GRAB A FREE TRIAL OF OUR PROJECTION SYSTEM, AND CHECK OUT DFSR PRO!
image sources
Giannis Antetokounmpo, Jeremy Lamb: (AP Photo/Aaron Gash)