Basketball Picks Daily Fantasy
Expert Advice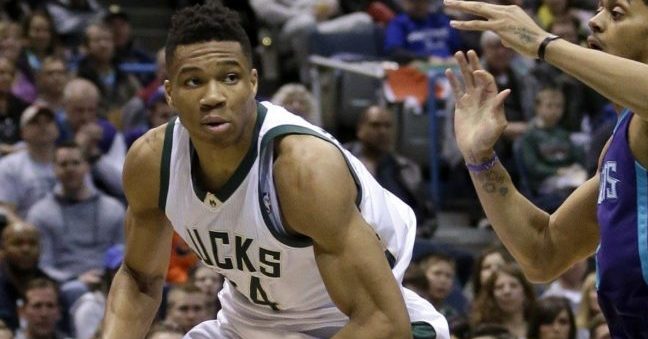 Daily Fantasy NBA Basketball Picks for FanDuel and DraftKings - 2/15/18
Now's your chance to get DFSR PRO, which will give you access to our NBA optimizer, our NFL Optimizer, and our new player lab! Get started for free by clicking the button below.
First time with NBA or NFL? Be sure to read our free NBA and NFL Ebooks on building lineups, general strategy and more. We've got you completely covered.
Denver Nuggets @ Milwaukee Bucks - 213 total, MIL -3
Denver Nuggets

Nikola Jokic FD - $10000 DK - $9800
Opponent - MIL
Proj Pts FD - 45.86 DK - 47.85
Welcome to NBA Thursday! it's our last slate of this half of the season and we won't see another until Sunday. It's not a very fun one, either, if we're being quite honest. We have 2 interesting games, but it's hard to field a very different lineup than everyone else. Especially without much injury news. We'll kick it off in Milwaukee, where they'll host the Nuggets with a 213 total. With just a -3 spread, it's expected to stay close and be pretty high-scoring. Looking at the Nuggets side first, there is absolute merit in paying up for Nikola Jokic. He's playing the best basketball of the season and is in a phenomenal match-up with Thon Maker and the Bucks. With Henson out, the Bucks will struggle immensely with real size. The Nuggets will need Jokic to stay in this game and you can expect 34+ minutes. Jokic isn't a must by any means at $10k, but he has a floor over 40 and a 70 point ceiling. He'll be in my cash games and tournaments, but there are some other centers to consider, who we'll get to.

Gary Harris FD - $6000 DK - $5900
Opponent - MIL
Proj Pts FD - 26.6 DK - 26.87


Will Barton FD - $7700 DK - $6800
Opponent - MIL
Proj Pts FD - 33.35 DK - 33.86
The scoring punch of these 2 is something the Nuggets will need if they want to stay close. Let's touch on Barton first. He's seen 42 minutes in each of the last 2 games and has been over 40 FP in each. He's shooting as much as ever and has a usage rate just as high as Jamal Murray when on the floor. He is more expensive than Gary Harris, but he can very easily pay off his salary if the game stays close. As for Gary Harris, he's my favorite SG on the slate. He's been priced down on both sites for no real reason and can still be counted on for 34+ minutes ad 30 fantasy points in a close game. He'll also see Khris Middleton defense instead of Giannis. With just two games on the slate, you almost can't even consider a blowout. Especially with spreads like this. Assuming this game is close, both of these guys are extremely safe and have a ton of upside. If we're being honest, these guys will be in the majority of my SG spots, next to Wiggins.
Wilson Chandler FD - $6200 DK - $4900
Opponent - MIL
Proj Pts FD - 21.78 DK - 22.36
You're never excited to play Wilson Chandler, but he's been at 34 and 40 minutes in each of the last 2 games, so he's worth a look. Small forward has a few options and he's the cheapest of the bunch. He's far too cheap on DK and will be a mainstay in my cash games. On FanDuel, he's fine, but I'd rather go with Ingram or find a way to pay all the way up for Butler or Antetokounmpo. Chandler will likely match-up with Giannis for some of the game, but won't be shadowed by him by any means. Giannis will see a lot of time on Barton, so Chandler will have plenty of opportunities if the game does stay competitive.
Milwaukee Bucks

Giannis Antetokounmpo FD - $11700 DK - $10700
Opponent - DEN
Proj Pts FD - 53.76 DK - 54.38
Giannis has to be in play with just 2 games on the slate. He could outscore the field by 30 fantasy to no surprise. Personally, I do like Jimmy Butler just a tad bit more for the price. With that being said, Giannis is sitting in 100% of my cash games. I just can't feel the fade on this slate. The Nuggets are a porous defense against every position and nobody on that perimeter has any chance of stopping him. Chandler and Barton will both take shots, but I don't expect either to put up much of a fight. His price has gotten way up there on both sites, but rightfully so. He's consistently been around 50 with the occasional 70 in strong match-ups. There isn't much else to say here. We know who Giannis is and what he brings to the table. It just depends on your roster construction and who you like elsewhere. If you can afford him, do it.
Thon Maker FD - $3800 DK - $4100
Opponent - DEN
Proj Pts FD - 18.98 DK - 18.32
It's not easy to find value on this slate. With John Henson out, Thon Maker has seen 24 minutes in each of the last 2 games. He's put up 17 and 21 fantasy points, which is fine at his close to minimum price. Without much other value on this slate, he just might be necessary. The match-up with Jokic is strong on offense, seeing the Nuggets rank 23rd against Centers this month. Jokic is a menace with the ball, but he's a lazy defender and an average rebounder. Maker isn't all that great himself, but he can get it done when given decent minutes. You don't ever love the play with so many studs at the position, but you may not have an option if you want both Butler and Giannis, like I.
Los Angeles Lakers @ Minnesota Timberwolves - 223, MIN -10
Los Angeles Lakers

Kyle Kuzma FD - $6900 DK - $6000
Opponent - MIN
Proj Pts FD - 27.16 DK - 27.88
Power forward is a weird spot tonight. There are 4 real options in Kuzma, Gibson, Lyles, and Parker. Kuzma and Gibson stand far above the rest and stand to be heavily owned for that reason alone. His minutes are always kind of weird, but he's put up 30 FP in each of the last 3 and now sees a great match-up with Taj Gibson. Gibson will have his own mismatch with Kuzma on the inside, but he'll struggle just as much with Kuzma on the perimeter. he's 10x the athlete Gibson is and will have no problem taking advantage of what should be an extremely fast-paced game (223 total). There's nothing special about this play tonight, but you don't have anywhere else to go, so there's that.
Isaiah Thomas FD - $7300 DK - $5800
Opponent - MIN
Proj Pts FD - 27.12 DK - 29.01
Thomas figured out a way to get punched in the head 3 times and then get ejected after just 4 minutes of court time last night against the Pelicans. He played 30 minutes in his debut with the Lakers and it's what we're likely looking at for the recent future. Without many warranted shooters on the team, he's going to be the main option. He will run a ton of PNR's with Julius Randle and I have no problem combining them. Thomas by himself is going to be a fantasy gem on this Lakers squad and it's only a matter of time until he has the starting nod. It's tough to know how much it means, but he's not happy about last night. He'll also be fully rested and given at least 30 minutes, while everyone else is on a B2B. He's going to have a good game tonight and I feel safe projecting a 30 point floor and 60 point ceiling. The T-Wolves aren't a defense that scares me, unless Jimmy Butler switches, which isn't much of a possibility with Ingram at the 3.
Minnesota Timberwolves

Jimmy Butler FD - $9500 DK - $9500
Opponent - LAL
Proj Pts FD - 45.55 DK - 45.22


Karl-Anthony Towns FD - $10300 DK - $9300
Opponent - LAL
Proj Pts FD - 42.81 DK - 44.7


Jeff Teague FD - $6700 DK - $6200
Opponent - LAL
Proj Pts FD - 32.79 DK - 33.41


Andrew Wiggins FD - $6300 DK - $6400
Opponent - LAL
Proj Pts FD - 30.06 DK - 30.42


Taj Gibson FD - $5200 DK - $5300
Opponent - LAL
Proj Pts FD - 28.12 DK - 27.58
It would be careless to leave any of these guys out. Yes, I like some more than others, but this squad has the best match-up on the slate and play the most concentrated minutes in the NBA. Let's start with the stars, Jimmy Butler and KAT. Butler is my favorite play on the slate. He's locked into a minimum of 36 minutes and can easily get to 40 if Thibs is feeling it. The Lakers stink on defense (28th against SF) and you can attack them from any angle. Jimmy Butler is a top 10 player in this league and will put up 50+ tonight if the game stays close. That's a branch I'm willing to hang on. As for KAT, he has just as much upside, but I think I'll personally go elsewhere at the position. I just can't afford him. Jeff Teague and Andrew Wiggins are another 2 that make a lot of sense in both formats. The Lakers are once again in the bottom 10 against both positions and give up a ton of peripherals. They are both seeing the 35+ minutes as expected and both can be played in all formats. Then you get to Taj Gibson, who you almost have to play. He's not in an insane spot, but the position is terrible and his price is great. The minutes are locked in and you could argue he's a must play in cash games. Ugh, 2 game slates. Good luck tonight and feel free to comment below if you have any questions! Thanks!
GRAB A FREE TRIAL OF OUR PROJECTION SYSTEM, AND CHECK OUT DFSR PRO!
FREE EBOOK
SECRETS TO CRUSHING DAILY FANTASY FOOTBALL!
DON'T SET ANOTHER LINEUP BEFORE YOU READ THIS BOOK.