Basketball Picks Daily Fantasy
Expert Advice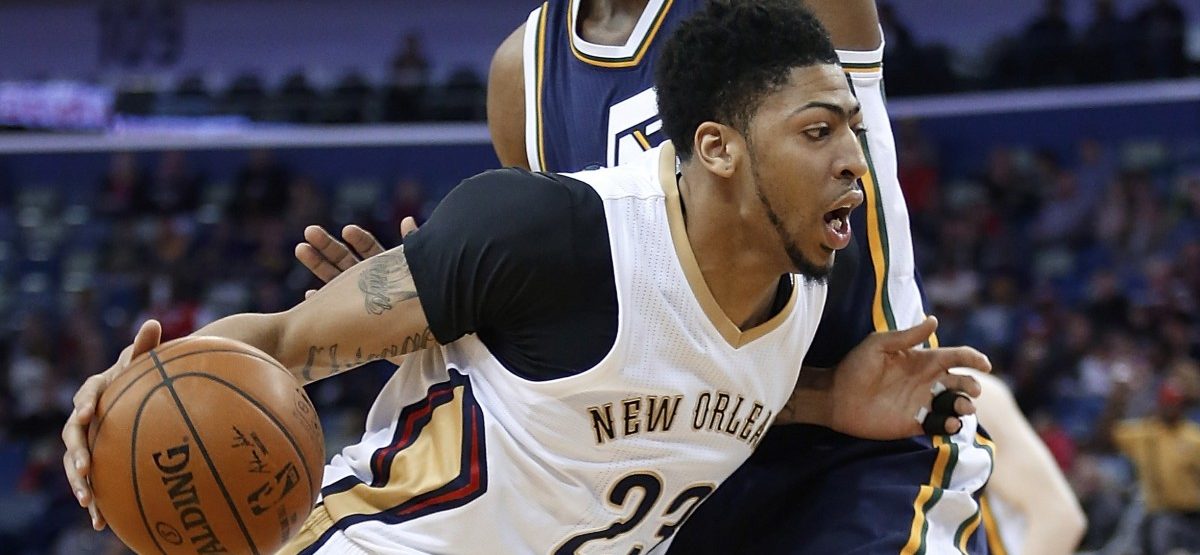 Daily Fantasy NBA Basketball Picks for FanDuel and DraftKings - 2/26/18
Now's your chance to get DFSR PRO, which will give you access to our NBA optimizer and our new player lab! Get started for free by clicking the button below.
First time with NBA? Be sure to read our free NBA Ebooks on building lineups, general strategy and more. We've got you completely covered.
Point guard

Russell Westbrook FD - $12000 DK - $11800
Opponent - ORL
Proj Pts FD - 60.26 DK - 63.65
Welcome to NBA Monday! We have a very healthy 10-game slate on our hands with plenty of options at every position. We have lots of games that deserve attention and a few we can ignore. There's a ton of fluid situations with players sitting/resting and youngsters picking up excess minutes. We open up the slate with one of the 2 big superstars in Russell Westbrook. Westy is sitting near $12k on both sites, so we are looking for one of his big games. He's been up and down as of late, but regularly sits over 55 FP in good match-ups. This certainly constitutes as one, considering the Magic rank 26th against the point guard position. Augustin and Mack are even worse than Payton was and have 0 chance to stay with Westbrook on the perimeter or under the rim. At a 221 total and 10 point spread, the starters are expected to play a full allotment of minutes. If Westy gets 35+ minutes tonight, you will want exposure when things are said and done. He's nowhere near a must because of the price and another superstar later (AD), but don't ignore Westbrook in the slightest.

Elfrid Payton FD - $7500 DK - $7700
Opponent - NO
Proj Pts FD - 39.47 DK - 39.41
We'll  now start our little tangent into this Suns-Pelicans match-up. Fair warning, we're going to be all over this game. With a 232 point total and 7 point spread, there's no reason not to. Elfrid Payton has played great since joining the Suns. He's been over 30 fantasy points in every single game since February 6th and is typically closer to 40. It's not much of a surprise for a guy that thrives in the open floor and now gets to play on a team that plays faster than anyone in the last 10 years. He now gets to a Pelicans squad that ranks 26th against the point guard position. Rondo is not only a bad defender, but the loss of Boogie Cousins hasn't helped either. The price is fair in the mid-$7k's and you're needing 34-37 in cash games. Assuming this game stays close, I don't see that as much of a stretch. At all.
Rajon Rondo FD - $6000 DK - $5800
Opponent - PHO
Proj Pts FD - 32.69 DK - 33.21
Rondo went off last night in 35 minutes with 43 fantasy points against the Bucks. He'll now jump into what is one of the best match-ups in all of the league. Since Elfrid Payton joined the Suns, they've ranked 26th against point guards. He's not a terrible defender, but it obviously has a lot more to do with the insane PACE the team plays at. They have no protection under the rim and allow the 2nd most points in the paint in the NBA. We know Rondo derives his upside from peripherals, so a fast-paced game benefits him a lot more than it does some other guys. His price is still way too low on both sites and you're looking for just under 30 fantasy points in cash games. Assuming the game stays close and Rondo grabs 28+ minutes, you're looking at easy value in all formats. Point guard is an important spot to get right and you won't go wrong with any of those 3 guys.
Shooting Guard

Jrue Holiday FD - $8500 DK - $8100
Opponent - PHO
Proj Pts FD - 43.96 DK - 44.14


Devin Booker FD - $8400 DK - $8300
Opponent - NO
Proj Pts FD - 40.77 DK - 42.69
We liked Rondo and Elfrid at PG and it's no surprise we're back on this match-up. Holiday has been absolutely great ever since DeMarcus Cousins went out, as expected. His usage is now sitting well over 20% and the ball is in his hands a ton. He's getting a boatload of minutes every game and has held a 40 FP floor over the last couple weeks. He now gets the best match-up you can have. Not much of a surprise here, but the Suns rank dead last against SG's. Not just by a little bit, either. Allowing over 44 FPPG, the next worst team allows just 40. Booker isn't the worst defender in the world, but he gives no effort and the Suns play faster than anyone in the NBA (except the Pelicans since the ASB). We're looking at a crazy 232 over/under for a reason. As for Booker, just flip it around. Since Boogie went out, the Pelicans are the only team that's matching their PACE. Booker is the only real scorer on this squad and he's a lock to shoot 20+ times tonight. If this game stays close, these are 2  guys I'm VERY confident in. Neither team can produce if these guys have a bad game. I'll have them in my cash games and most tournaments.
D'Angelo Russell FD - $7200 DK - $6300
Opponent - CHI
Proj Pts FD - 39.56 DK - 41.04
D'Angelo Russell has been out of our lives for most of the year and he's slowly working himself back into the mix. He's been over 30 minutes in 2 of the last 4 games. Production-wise, he's been over 25 FP in each of the last 4 games and 33+ in 3 of them. The point is that he's playing well and finally healthy enough to play 30+ minutes. He now gets a tremendous match-up against the Bulls with a 218 total and 3.5 point spread. You can't look at DVP  here with this weird Bulls rotation and neither Grant nor LaVine is a strong defender. Russell is still the guy that can put up 40 real-life points on any night and we know this Nets team doesn't have many shot-takers. His price is low on both sites, but he's a pure value play on DK at close to $6k. This game is worth targeting and we will touch on a few more options right now. As for Russell, he's in play in both cash games and tournaments if you think this game stays close.
Small forward
David Nwaba FD - $5000 DK - $4900
Opponent - BKN
Proj Pts FD - 24.88 DK - 23.99
If you want to pay up at small forward, you can. It's just not necessary. From the top in Kevin Durant to the mid-range with Brandon Ingram and Paul George, they all deserve attention. I just don't think you need me to tell you that. We'll instead look at 3 slower end guys who have some solid value and may not be so popular '(except Warren). With the Bulls resting Justin Holiday, it's opened up minutes for David Nwaba. He's been at 33 minutes in each of the last 2 games and turned them into 22 and 38 FP performances. He now gets an elite match-up against a Nets squad that loves giving up FP of all kind. With Nwaba playing a lot of his minutes at the 2, I'm not sure who covers him. Carroll should be on LaVine, which could give Nwaba a weird mismatch with a Russell or Harris. He is far too cheap if seeing 30+ minutes and you can almost pencil him in for value, assuming Holiday remains out. He's a mainstay in almost all of my lineups, from cash games to GPP's.

DeMarre Carroll FD - $5600 DK - $5900
Opponent - CHI
Proj Pts FD - 30.71 DK - 31.07
We go right to the other side of this game here with DeMarre Carroll. After disappointing for most of the season, he's rounded out nicely and is looking like the guy we saw in Atlanta. He's posting 25-35 FP a night and has rarely missed the flag in cash games. His price is still very low and you're only looking for 28-30. You're well aware of the 218 O/U and - spread, which is huge for Carroll, who relies on peripherals for upside. The Bulls have been playing games with their lineup, so it's hard to reference DVP, but they do rank 21st on the season and 25th over the last 5. Nwaba is not a good defender and there is certainly nobody to be afraid of under the rim. Carroll has been extremely consistent as of late and is the only real option on the Nets after D-Russ. This is a game we're big on and we'll get right back to it at PF. Stay tuned.
T.J. Warren FD - $6500 DK - $6200
Opponent - NO
Proj Pts FD - 36.61 DK - 35.7
Here's another easy play from this game. While Devin Booker is the guy who does real damage on this Suns team, he can't do nearly as much without the help of T.J. Warren. He's nowhere near the leader of this team, but if you watch the Suns you know exactly what I mean when I say he controls the floor. The ball often runs through him and while it will usually end up in the hands of Booker, Warren ends up with plenty of opportunity for himself. Especially in a game that's expected to get over the 230 mark. His price is still too low on both sites and I don't have a problem locking him into every single lineup if you think the game stays close. He's at the end of the 3 options here, but he's right up there as my favorite at the position. The only problem you could run into is ownership, but that's negligible on such a large slate with so many options. PLug Warren in if you're looking for 35 fantasy points.
Power forward

Lauri Markkanen FD - $6100 DK - $5500
Opponent - BKN
Proj Pts FD - 30.73 DK - 31.17
Markkanen is back over his normal 30 minutes in each of the last 2 games and Portis fell back to 19 last game. While both of these guys are elite talent that deserves a lot of attention, it's clear that the Bulls see a future in Markkanen that isn't matched by the Razorback alum in Portis. Now with that being said, Portis is a full $1k more expensive. We have a gem in Lauri Markkanen tonight at just $6.1k on FanDuel and $5.5k on DraftKings. He gets an elite match-up against a Nets squad that sits 29th in the league against power forward. We know Markkanen can put up 40-50 fantasy points with ease and you can lock in at least 25. He's my favorite play at a position that some may consider weak.

John Collins FD - $5800 DK - $5800
Opponent - LAL
Proj Pts FD - 31.66 DK - 31.02
Collins has been over 30 minutes in each of the last 2 games. This guy is a monster when on the floor and we will want a lot of him in this 2nd half if he's going to be over 30 minutes on the usual. It's not much of a surprise with more young players getting pushed for the Hawks, but it's still not necessarily a safe situation. Collins has always been very volatile and a few unnecessary fouls will put that right back in play. With that being said, you have to take some risk and Collins is safe enough for me in cash games. Assuming he does see those minutes, he'll bully the Lakers interior. With Kuzma not having a chance, it'll have to Julius Randle, who's not a very good defender. Neither is Brook Lopez. Collins is way cheap under $6k and will hit value if this game remains close. We haven't touched a ton on this game, but is certainly one you can target with a 224 total and just a 2 point spread. Collins, in particular, makes sense in every format out there if you're looking for 27-35 fantasy points.
Center

Anthony Davis FD - $12500 DK - $11700
Opponent - PHO
Proj Pts FD - 64.19 DK - 64.22
Shocker here, but we're all over Anthony Davis in what is the highest over/under of the slate and one of the highest of the season. The NBA lineup optimizer has him projected for over 60 fantasy points and it's not crazy in the slightest. While he did play a monstrous 40+ minutes last night, he did the same in mid-January and bounced back with 37 minutes the next night. I guess there is some risk if the game gets out of hand, but I don't think it does and the Pelicans have made it clear that the offense is running solely through Anthony Davis. They just don't know how else to play and I don't blame them. He's one of the more dominant players we've seen in recent history and has the ability to hit some shots that just don't look like they should be taken. The match-up against the Suns is an obvious one and doesn't really need to be delved into. He's the top play on the entire slate and a safe bet for 55 fantasy points if you think the game stays close. This could be an 80+ monster performance, but the 40+ minutes last night undoubteduly creep into the back of my mind.
Alex Len FD - $5200 DK - $5600
Opponent - NO
Proj Pts FD - 30.77 DK - 31.67
With Tyson Chandler expected to remain out, the interest in Alex Len remains. He's been over 33 fantasy points in 3 straight games and has locked in a double-double in each of the last 2. It's hard to believe he'll now see fewer minutes against a Pelicans interior that demands size. I actually think Len see closer to that 37 minutes than the 24 or 29, but that's hard to project for such a volatile player. Len is no longer close to minimum price, but he's also not expensive at all. Assuming he sees 25+ minutes, you're looking at a double-double in this game. We're all well aware of the high total and low spread, and this is the number 1 game we've looked at. Anthony Davis is certainly the top option at the position and arguably the slate, but you may have to pay down in a spot or two. If that's the case, plug in Len for 30-ish FP. Good luck tonight and feel free to comment below with any questions or comments!
GRAB A FREE TRIAL OF OUR PROJECTION SYSTEM, AND CHECK OUT DFSR PRO!
image sources
JAZZ-PELICANS: (AP Foto/Tyler Kaufman)
FREE EBOOK
SECRETS TO CRUSHING DAILY FANTASY FOOTBALL!
DON'T SET ANOTHER LINEUP BEFORE YOU READ THIS BOOK.