Basketball Picks Daily Fantasy
Expert Advice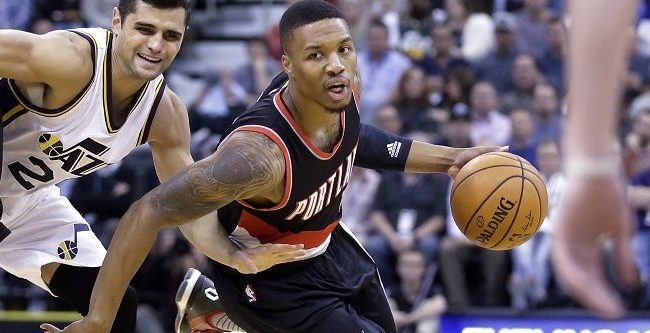 Daily Fantasy NBA Basketball Picks for FanDuel and DraftKings - 3/5/18
Now's your chance to get DFSR PRO, which will give you access to our NBA optimizer and our new player lab! Get started for free by clicking the button below.
First time with NBA? Be sure to read our free NBA Ebooks on building lineups, general strategy and more. We've got you completely covered.
Point guard

Damian Lillard FD - $9400 DK - $9700
Opponent - LAL
Proj Pts FD - 46.23 DK - 48.47
Welcome to NBA Monday! We have 7 games on the slate and all of which deserve attention. There are certainly some games with higher totals, but there is opportunity everywhere you look. We'll kick things off in Los Angeles, where the Blazers and Lakers face off in a game with 224 total and just a 2 point spread. You should get excited when you see those numbers. Lillard has been playing great basketball as of late and is coming off one of those games where he was able to take a back seat and let McCollum do the dirty work. He should be fully rested for tonight and we'll see 35+ minutes out of him if things go to plan and the game is close. Lillard is priced in the mid-$9k's on both sites needing you 45 in cash games to make you happy. The Lakers stink at defense and rank 24th against the PG position in particular. Lillard is a solid play in both cash games and tournaments.

Goran Dragic FD - $7200 DK - $7800
Opponent - PHO
Proj Pts FD - 33.26 DK - 34.4
Point guard isn't a spot I'm looking to pay down at. At least not yet. We do have immense value at other positions and a whole lot to be ignored here. We'll instead stay in the mid-range, away from Damian Lillard. Dragic and the Heat will face off with the Suns in what will be a fantasy goldmine for the Heat squad. The Suns play faster than anyone in the league and will now give up an extra 5-10 to the opposition. As for tonight, Goran Dragic is one of your best options at the position. He's playing 30+ minutes on a nightly basis and holds an FP range of 30-55 in this excellent match-up. Let's touch on the other side of things with Elfrid Payton.

Elfrid Payton FD - $7100 DK - $7200
Opponent - MIA
Proj Pts FD - 35.94 DK - 36.16
If Dragic isn't exciting enough or is going to be too popular, Elfrid Payton is as good of a pivot as you'll ever find. If we're talking about the trade deadline, Elfrid Payton may be one of the biggest winners. He now gets to showcase the type of PG he can be for a fast-paced, somewhat-organized Suns squad. This is also with T.J. Warren and Devin Booker throwing up a million shots each. As long as the game stays close, Payton can be bet on for 34+ minutes and 40 fantasy points. The Heat aren't a team you want to necessarily attack, but ranking 21st against the position is something I refuse to run away from. I do prefer Lillard and Dragic, but am currently sitting with nearly 50% Elfrid Payton across the board and love him as a differentiating play.
Shooting Guard
Dwyane Wade FD - $4900 DK - $5400
Opponent - PHO
Proj Pts FD - 28.48 DK - 28.34
We know what we're getting out of Wade and this match-up is tremendous. Wade is grabbing 23-25 minutes a night and shooting a ton when in there. I also think he could get stretched out if the game comes down to the wire and we know where the ball will be. He's been over 30 fantasy points in 2 of the last 3 games and didn't put out much of an effort against a lifeless Pistons squad. He now sees the Suns, who play at the fastest PACE in all of basketball. They also rank dead last against the SG position in all of the NBA, so I don't think he'll have much resistance. His price is still very fair around $5k and you're only needing 25 in cash games. Shooting guard is always one of the weaker positions on the slate and there isn't all that much opportunity cost. Consider Wade one of the safer plays on the entire slate, though I'm not sure I would go out of my way in tourneys.

C.J. McCollum FD - $7400 DK - $7700
Opponent - LAL
Proj Pts FD - 35.27 DK - 36.5
There aren't many SG's more consistent than C.J. McCollum. He's especially great because of the ceiling he constantly shows around 50 fantasy points. He went off last game against the Thunder and finished with 54 fantasy points. His shot is on fire as of late and he now faces off against a Lakers team that ranks 24th against the shooting guard position. His price is still fair around the mid-$7k's and you're looking for 35 fantasy points in cash games. In a game with a 224 total and 2 point spread, there are plenty of fantasy points to go around. He'll see the defense of KCP, who is a pretty average defender with the scrubs around him. This isn't too tough of a play to get. He's one of the safer plays on the entire slate and has enough upside for a tourney.
Kobi Simmons FD - $3700 DK - $3700
Opponent - SA
Proj Pts FD - 14.66 DK - 14.64
With Andrew Harrison and Mario Chalmers ruled out, the Grizzlies doesn't have a listed PG. we assume it'll be a mix of Kobi Simmons and Wayne Selden. The match-up with San Antonio isn't ideal, but we knew it should be worth it in the long run. In an ideal world, Simmons goes from 16/20 minutes all the way up to 30+. He is nothing to be scared of by the opposition, but the Spurs will still likely get involved. The price here is tremendous and you're only needing 15-20 fantasy points in cash games. In tournaments, you may be better off with paying up and looking for value elsewhere. All in all, Kobi Simmons is a great value play if we can be sure the minutes are in play.
Small forward

LeBron James FD - $12500 DK - $11700
Opponent - DET
Proj Pts FD - 59.17 DK - 62.41
Big surprise here, huh? Lebron is dominating on a nightly basis and it's not all that difficult to see why. The ball is in his hands for literally 35-38 minutes every game. They don't have a point guard. He's seeing around 40 minutes a night and nobody in this league can cover him. He put up 55 fantasy points against this same Detroit Pistons squad a month ago and is now averaging 60 every night. His price is definitely up there at this point, but it's not tough to pay up. Especially on FanDuel, where the salary cap is just a little bit looser. The Pistons rank 24th against small forwards, so there's nothing to be worried about in terms of a match-up. With a 219 total and the Cavs favored by just 7, there is no real reason to stay away outside of the pricee.
Josh Richardson FD - $6400 DK - $6300
Opponent - PHO
Proj Pts FD - 31.74 DK - 31.17
You won't find a lineup of mine without LeBron James, but you do need 2 small forwards. We're back on the Miami Heat here, who have one of the best match-ups possible. Josh Richardson has been a phenomenal scorer as of late and is sitting around 30 fantasy points on most nights. His ceiling is always around 50 when his shot gets hot and it's not a crazy thought against a Suns squad that plays absolutely no defense. Richardson plays a combo of SG and SF, so he will see both Devin Booker and T.J. Warren. They rank dead last against SG's and 18th against SF. This is the highest number you'll see a Heat total at and there is no real reason to stay away from any of them. Especially with the injuries to Tyler Johnson and Wayne Ellington that have forced Spoelstra to pinch the rotation. Richardson is locked into 34+ minutes if it stays close and is always a threat to take over the scoring load and have a huge night. His floor is around 25-28, assuming the game stays close.
Power forward

Julius Randle FD - $7500 DK - $7500
Opponent - POR
Proj Pts FD - 40.6 DK - 42.47


Kyle Kuzma FD - $5600 DK - $5400
Opponent - POR
Proj Pts FD - 31.63 DK - 32.33
Consider these guys some of the "easy" plays on this slate. Especially if Brandon Ingram is eventually ruled out. He will undergo an MRI early in the day and we'll see whether or not he suits up. Let's say he does. Randle will still grab 30 minutes and be a phenomenal play. Kuzma is the only guy who runs in trouble, as I gram out means he goes from 22-25 minutes all the way to 32+. They're both phenomenal FP producers when on the floor and this match-up against Portland is great. Aminu is fine on paper and the Blazers rank 20th against PF, so it's safe to target whoever you want down low. The team runs fast and has no relegations of allowing the inside bucket. Julius Randle is obviously the more talented of the two, though the substantial price difference more than shows that. For that reason, Kuzma is the guy I'll have 100% of if Ingram is ruled out. If he not, count me in a for a fair share of Randle and be back in. This is a game we've already touched a bit on and you can't blame us with a 224 total and minuscule 2 point spread. There is no wrong way to get exposure to this game if you think 28+ minutes is coming out of anyone. These 2 guys are fairly priced on both sites and I'll certainly have my fair share of both.

Lauri Markkanen FD - $5900 DK - $5900
Opponent - BOS
Proj Pts FD - 29.87 DK - 30.22
We'll just ride out the PF position with one of the easier plays on the day. We'll settle for Lauri Markkanen, who will be counted on for 30-35 minutes and 30 fantasy points. He's not as explosive as Bobby Portis, but does have a higher floor in every single way. They now face off against the Celtics, who are effective against every position. Versus PF in particular, Morris and crew have ranked 18th in basketball. Vegas has this game with a 215 total and 9 point spread, so while they don't think it's necessarily close, they also think the starters get a full complement of minutes. The price is amazing under $6k and he will be locked into almost every lineup of mine. There are also a few other options around the same price range, which should keep the ownership down quite a bit.
Center

Andre Drummond FD - $10100 DK - $9500
Opponent - CLE
Proj Pts FD - 49.78 DK - 50.28
It's going to be tough to stomach Andre Drummond at $10k, but it's not so tough when you look at those recent games. This is his team and he is putting up 50 fantasy points every good match-up. He's seen 37 and 38 minutes in each of the last 2 games, which is amazing to see. His upside is through the roof when seeing this opportunity and I wouldn't be surprised to see another 35+ minutes in a huge match-up with the Cavs. He matches up with Larry Nance who is significantly undersized. Drummond will bully him and they don't have any other big guys to worry about. He put up 72 fantasy points against these Cavs a month ago and I wouldn't be surprised to see an encore tonight.

Hassan Whiteside FD - $7500 DK - $7400
Opponent - PHO
Proj Pts FD - 38.92 DK - 39.39
Andre Drummond is a stud tonight, but you do have to consider the price. If you're not able to spend all the way up to $10k, Hassan Whiteside is a phenomenal pivot well under $8k. We've obviously touched on this Heat squad enough and you know the deal. The Suns play fast, no defense, blah, blah, blah. To no surprise, they rank 27th against the Center position. Whiteside will absolutely dominate this interior and if you know the NBA, you know the history here. Alex Len and Whiteside have basically thrown hands before and are at each other's throats every time they play. Whiteside will have 35 fantasy points and has a ceiling just as high as Andre Drummond. He's been resting the last 2 games, but should be able to go right back to 30+ minutes in a marquee match-up. I prefer Drummond, but have no problem paying down. Good luck tonight and feel free to comment down below!
GRAB A FREE TRIAL OF OUR PROJECTION SYSTEM, AND CHECK OUT DFSR PRO!
FREE EBOOK
SECRETS TO CRUSHING DAILY FANTASY FOOTBALL!
DON'T SET ANOTHER LINEUP BEFORE YOU READ THIS BOOK.