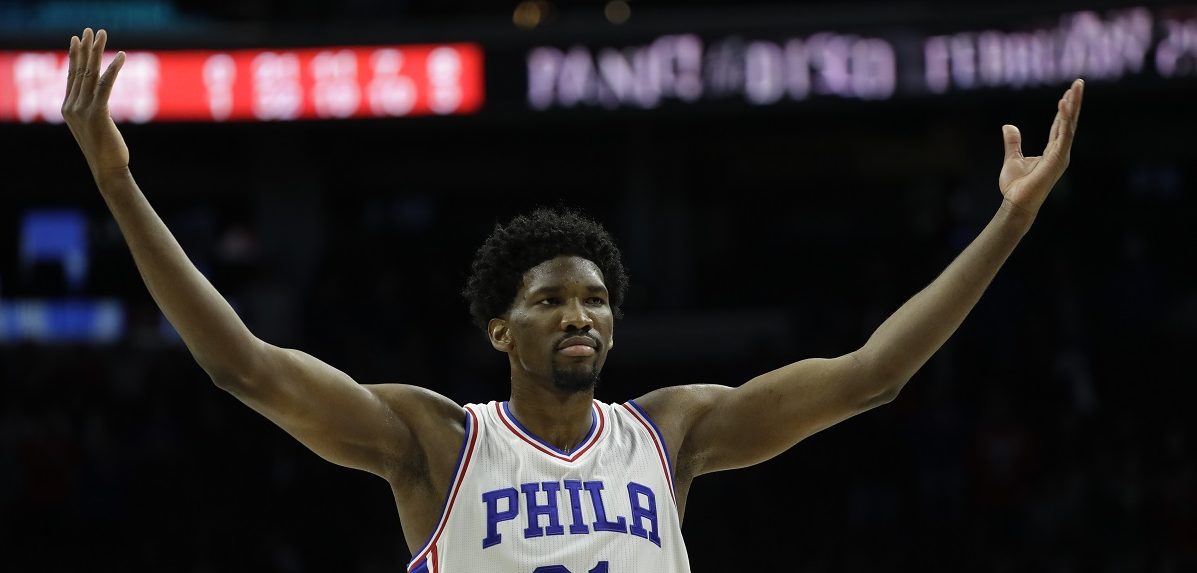 Daily Fantasy NBA Basketball Picks for FanDuel and DraftKings - 3/11/18
Sunday in the NBA brings us a full day of action with the first of the two slates kicking off at 3:30 EST. With nine games, marquee matchups and significant injury news, we've got a ton to dive into.
Now's your chance to get DFSR PRO, which will give you access to our NBA optimizer and our new player lab! Get started for free by clicking the button below.
First time with NBA? Be sure to read our free NBA Ebooks on building lineups, general strategy and more. We've got you completely covered.
Point guard
Early Slate

Frank Mason III FD - $5100 DK - $4800
Opponent - DEN
Proj Pts FD - 27.22 DK - 27.08
We kick it off with a couple mid-range opportunity guy who, even possibly coming off the bench again, makes for a solid value play. Mason's role is obviously dependent on De'Aaron Fox's status, but if Fox sits again you've just got a price and opportunity mismatch in a fast match-up with Denver. He's been great on these prices in back to back games, and I suspect that continues here. Mason played 28 minutes off the bench on Friday (Temple got the start) and put up seven points, 10 rebounds and six assists. The rebounds were likely an outlier, but he ran bad from the field at only 2-12 shooting. The numbers should even out in this matchup against a faster-paced Denver team.
Late Slate


Chris Paul FD - $8200 DK - $7800
Opponent - DAL
Proj Pts FD - 47.02 DK - 47.87
Early news has Harden likely missing this game, and if he does, you can immediately slide Paul into all your cash game lineups. With Harden off the floor, Paul basically transforms into the player he was on the Clippers, sporting a 31% usage rate and a time of possession that rivals the best in the league. The minutes haven't been there all season for Paul, but in the last game, Harden missed he played 35 minutes. It's a slow match-up with Dallas, sure, but the Mavs are also likely to be without the energetic Dennis Smith Jr. You're telling me JJ Barea or Yogi Ferrell will continue him? Nah. Play Paul everywhere.
Yogi Ferrell FD - $4100 DK - $4400
Opponent - HOU
Proj Pts FD - 21.77 DK - 22.63


J.J. Barea FD - $5400 DK - $5200
Opponent - HOU
Proj Pts FD - 30.34 DK - 32
A great value duo to pick from here if Dennis Smith Jr. misses this one as well. I'm writing this before Saturday's game plays out, but both could be in line for 30+ minutes. If they do these prices are a joke, and you should try to play both with Paul on DK and probably lean Barea for cash games on FanDuel. If Barea winds up playing less than 30 minutes on Saturday, though, you can probably go back Ferrell's way. (Update: Smith is now probable to play, meaning we need to lower Barea and Ferrell)
Shooting Guard
Early Slate

Donovan Mitchell FD - $7800 DK - $7400
Opponent - NO
Proj Pts FD - 39.48 DK - 39.88


Jrue Holiday FD - $8300 DK - $7900
Opponent - UTA
Proj Pts FD - 41.54 DK - 41.97
I'll honestly just take both sides of this game, assuming Davis sits again. Mitchell just seems like a solid value play here. We know the plan is to play him 38-40 minutes per game in close contests, and while there's no line on this game in lieu of no Anthony Davis news, I don't see a lot of blowout risk here. While Mitchell's price is on the high side for his average points per minute production, a top line match-up with the Holiday/Rondo duo should more than makeup for it on a small slate.
As for Holiday, it really isn't a great match-up here, and most of this rec comes to the increased usage and time of possession he sees when Davis is off the floor. If AD returns, you can likely scratch Holiday at these price points and hope to spend down at the position.
Late Slate

J.R. Smith FD - $3700 DK - $4200
Opponent - LAL
Proj Pts FD - 20.63 DK - 21.34
JR's already been playing plenty of minutes, and put up almost 10x points per dollar in the Cavs' last game when Rodney Hood went down. He was already starting, but replacing Hood with Jeff Green in the starting lineup should mean they will turn to Smith even more. The FD price is an absolute joke, and a match-up with the league's fastest team means we have one of the easier punt plays in recent memory if you ask me.

Kentavious Caldwell-Pope FD - $6800 DK - $6200
Opponent - CLE
Proj Pts FD - 33.64 DK - 33.9
The price has come down a bit on KCP, but the opportunity is still there. The bad news is that KCP has shown flashes of his old Detroit days, where a lot of minutes hasn't necessarily meant a ton of production. While the Orlando game was certainly a disappointment, the broader body of work since KCP has moved into this role with the Lakers suggests that he should be good or something like .85-.9 fantasy points per minute. Losing Hood should be a sizable blow to the Cavs' renewed defense, and this seems like a pretty high floor play for such a small slate.
With Harden out Eric Gordon is a must-include for cash games on the late slate. He has a 30% usage with Harden off the floor, and played 34 minutes the last time Harden sat. Out of this world play. He doesn't get his picture here because I had already written up the above two guys before this news came out. You can deal, I hope.
Missing in action for today: Jaylen Brown. As of this writing (the night before) we don't know exactly who is going to pick up the minutes there, but it will likely be a mishmash of Rozier, Smart, and parties unknown. Keep an eye out for news, but there should be some value that comes from the extra 28 minutes to spread around.
Small forward
Early Slate


Kevin Durant FD - $10600 DK - $10700
Opponent - MIN
Proj Pts FD - 50.89 DK - 51.26

Nemanja Bjelica FD - $5700 DK - $5800
Opponent - GS
Proj Pts FD - 30.49 DK - 31.13
At small forward today we see the same trend in both the early slate and the late slate: pairing one big money guy with one too-cheap punt play. In this case, we get Durant without Curry at a too-cheap price. Durant has hoisted 47 shots in the last two games, and no Jimmy Butler really hurts Minnesota's chance of hanging with him here. As for Bjelica, the recent minutes just make his floor ridiculously high even at this increased price. He's played 85 minutes in the last two games without the benefit of overtime. It's easy to forget given the "what have you done for me lately" world of DFS, but we've seen huge production from Bjelica in this role in the past, and the performance against Boston shows he still has it in him. Love this duo.
Late Slate


LeBron James FD - $12500 DK - $11600
Opponent - LAL
Proj Pts FD - 60.92 DK - 61.91

P.J. Tucker FD - $3800 DK - $3500
Opponent - DAL
Proj Pts FD - 21.4 DK - 21.66
In the late slate, we get LeBron in the fastest possible match-up with his shooting guard missing. Easy pay-up option, especially considering the Lakers will be without their only natural small forward in Ingram. Tucker, meanwhile, has been a little bit underwhelming given the huge opportunity he's had recently. But he does represent a way to escape a rough position cheaply, and I'm kind of just okay with it.
Also considered: Wilson Chandler looks terrific here against Sacramento, but only if you can trust the minutes. Monitor his situation as the day progresses.
Power forward
Early Slate


Draymond Green FD - $8100 DK - $8300
Opponent - MIN
Proj Pts FD - 43.14 DK - 42.91
He's already one of the best non-point guard distributors in the league, so the absence of one of the league's best passers has only continued to open up doors for his offensive role. He's averaged 9 assists in his last 5 games, and frankly, I think he's just running bad in the scoring department. Minnesota has played slowly this season, but they've also sported a bottom 5 defensive efficiency. I love Green's floor here.
If Davis is out, I'm still a believer in Mirotic. They've played a couple of weird game scripts, but I have to think the plan is to play Mirotic 35ish minutes. If it is, then he's a steal on current prices.
Late Slate


Kyle Kuzma FD - $6800 DK - $6000
Opponent - CLE
Proj Pts FD - 37.15 DK - 38.27


Jeff Green FD - $3600 DK - $3600
Opponent - LAL
Proj Pts FD - 27.88 DK - 28.26
Really solid options at PF for the late slate, here. Kuzma is dramatically underpriced given his current 38+ minute rotations, and even more so when you consider what the Cavs will be trotting out defensively here. I suspect he'll draw his old teammate in Larry Nance, here, but I'll trust the roughly 1 fantasy point per minute performance he's put on in this role this season and pencil him in for 35+ fantasy points with ease. As for Green, he's not an incredible player or anything, but he is in line for 35+ minutes on a nearly minimum salary here. Throw in a fast match-up with the Lakers and I'm loving him here.
Do you believe in revenge game magic? If you do, you're probably playing Larry Nance Jr. I don't hate the play by any means, but he's on the expensive side and as of now I'm leaning toward the above guys.
Center
Early Slate

Kosta Koufos FD - $4600 DK - $4900
Opponent - DEN
Proj Pts FD - 30.72 DK - 31.77
With Skal ruled out for Sunday, I'm looking to roll back my Kosta Koufos investment. Koufos was an actual monster when he started on Thursday, and while some speculated that he might miss this one given the musical chairs situation in Sactown I am guessing he'll be back out there if Labissiere is out. He had been paying 5x points per dollar on these prices at 20 minutes a game. If we can get 35+, we have to be buyers in all formats.
Late Slate


Joel Embiid FD - $9400 DK - $9500
Opponent - BKN
Proj Pts FD - 51.13 DK - 54.14
The late slate is just surprisingly deep, to be honest, considering this is the first 76er we've listed in a match-up against Brooklyn. Now there's some reason for the lack of Philly players here - very competitive positions like PF and erratic minutes from some of their other starters - but I think we can pretty well count on a full run of minutes for Embiid here. The price has come down considerably thanks to some weird game scripts and foul trouble recently, but unless you think that's what we should expect for the foreseeable future you just have a buying opportunity here. Foul trouble shouldn't be a problem given Brooklyn's awful frontcourt, and neither should his defensive match-up. The Nets have allowed the very highest fantasy points per minute to opposing centers this season. I love the Process in all formats tonight.
GRAB A FREE TRIAL OF OUR PROJECTION SYSTEM, AND CHECK OUT DFSR PRO!