Basketball Picks Daily Fantasy
Expert Advice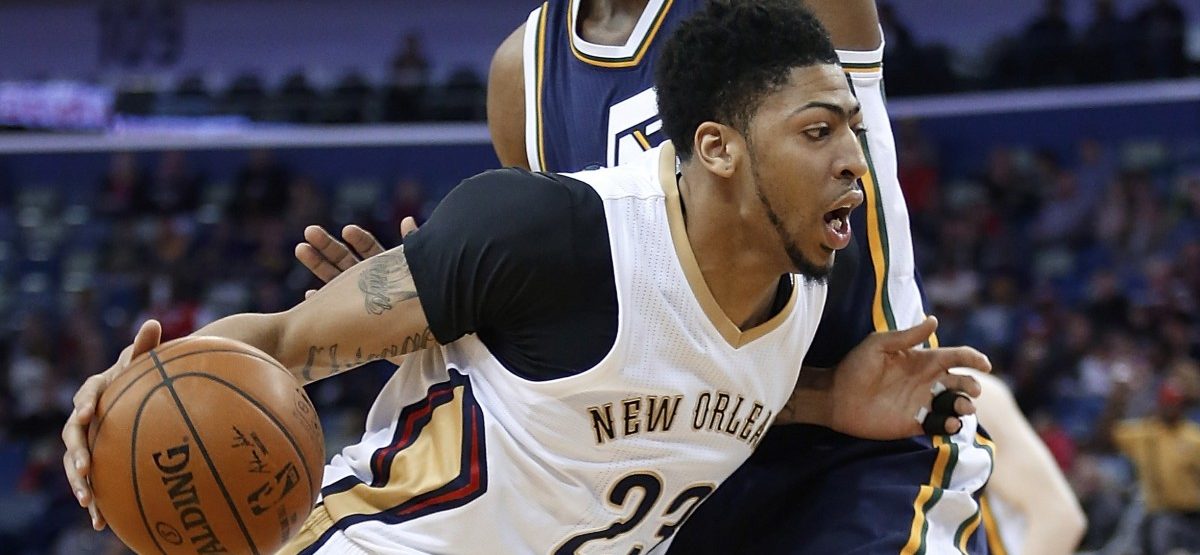 Daily Fantasy NBA Basketball Picks for FanDuel and DraftKings - 3/22/18
Now's your chance to get DFSR PRO, which will give you access to our NBA optimizer and our new player lab! Get started for free by clicking the button below.
First time with NBA? Be sure to read our free NBA Ebooks on building lineups, general strategy and more. We've got you completely covered.
Point guard

Lonzo Ball FD - $7100 DK - $7600
Opponent - NO
Proj Pts FD - 40.36 DK - 40.42

Isaiah Thomas FD - $5600 DK - $5700
Opponent - NO
Proj Pts FD - 24.87 DK - 26.65
We'll kick things off in New Orleans, where the Pelicans will host the Lakers in what figures to be a high-scoring affair. Ball is seeing 30+ fantasy points on almost every night and has been one of the more consistent guards around. You then get to Isaiah Thomas, who's more reliant on his jumper, but has immense upside against the Pelicans. On the season, New Orleans ranks 27th against point guards. Yikes. Vegas hasn't dropped a line just yet (due to uncertainty around the Pelicans' players), but I would be surprised to see a total under 220 or a line over 6. These two teams are pretty even on the floor and it just comes down to the Pelicans playing 3 nights in a row. As for the Lakers, they're well-rested. We still have Lowry in play and DeRozan + Siakam will join. Point guard is a pretty weak position on tonight's slate and I'm a huge fan of both of these guys. Let's Let's get to some of the top plays at the other positions.

Ish Smith FD - $5200 DK - $4600
Opponent - HOU
Proj Pts FD - 20.15 DK - 20.07
If Chris Paul was manning the one for Houston, I wouldn't have much interest in Ish Smith here. It's just looking like Paul will be out and we'll see a combo of Eric Gordon and James Harden at the one. Neither are strong defenders and will struggle with the size and speed of Smith. Smith has been great over the last few games and shows no sign of slowing down. Assuming Paul is out and the Rockets play small, you can target three or four bombers on the other side of things. Smith is my favorite guard on the Pistons and I think it's safe to project 25-30 fantasy points. 30+ if it stays close and high-scoring, as expected.

D.J. Augustin FD - $5500 DK - $5000
Opponent - PHI
Proj Pts FD - 29.01 DK - 30.43
Point guard isn't really a spot to go cheap tonight, so let's focus back up to the mid-range. D.J. Augustin isn't a guy I ever expected to roster in 2018, but here we are and he's putting up 20+ fantasy points every night. The price at $5.5k is still fine and you're looking for 25+ to accommodate your cash games. The Sixers, who rank 23rd against point guards, have ranked even worse at 26 since the break. This game is one of the two Vegas has dropped a line for yet, so we know a 213 total and 6 point spread is in the books. Augustin is going to see another 30 minutes and shouldn't have any problem matching it with a point per minute. He's in play in all formats at a very fair price tag around the industry.
Shooting Guard

James Harden FD - $11600 DK - $11600
Opponent - DET
Proj Pts FD - 53.49 DK - 55.01

Eric Gordon FD - $4700 DK - $6100
Opponent - DET
Proj Pts FD - 22.63 DK - 23.96
With Chris Paul questionable and looking closer to out, we may be looking at a backcourt combo of James Harden and Eric Gordon. We got used to it early in the year when CP3 was out for a while, and both of these guys seemed to be in play every night. If Paul does end up playing, I like these guys considerably less. If he misses, Harden is going to see the ball on every single possession and is a lock for 55+. Gordon will shoot 10-15 times and be one of the top value plays on the entire slate. The Pistons are nothing to be scared of and both of these guys will do their damage when on the floor. If Paul ends up being ruled out, one of these guys will be on every team of mine.

Kentavious Caldwell-Pope FD - $5500 DK - $6200
Opponent - NO
Proj Pts FD - 32.6 DK - 32.72
Apologies to FanDuel and DraftKings, but I don't understand why The price of KCP is in the gutter. He's gotten away from the 30's for a few games and his price has now entered the $5k's. He's been over 38 minutes in two straight games and is still shooting as much as ever. He grabs a match-up tonight against a Pelicans team that ranks 28th vs shooting guards. They've also played faster than anyone in the league besides the Suns since the All-Star Break. Caldwell-Pope will be out there for another 35+ minutes and you won't find a safer shooting guard. I wouldn't be surprised if I end up with 100% Caldwell-Pope. The price is too low and production/minutes too consistent.
Small forward

Mario Hezonja FD - $4500 DK - $4700
Opponent - PHI
Proj Pts FD - 23.31 DK - 23.19
There's no getting around the ugliness that is SF on this slate. The two guys we're looking at here are rather safe but it's all relative at small forward. We looked at D.J. Augustin from this Magic team a bit ago and I have no problem challenging the Sixers defense. Outside of one outlier against the Raptors, Hezonja is seeing 25-30 minutes on a nightly basis. He's putting up 20 in most and is still sitting at just $4k. With Jonathan Simmons downgraded to doubtful and Evan Fournier out, he could easily pick up 30 minutes.

Taurean Prince FD - $7500 DK - $7200
Opponent - SAC
Proj Pts FD - 29.28 DK - 29.91
It feels awkward to pay this price on Prince given what he's cost most of the season, but Prince actually become sort of safe recently. He's put up 40 in four of the last five and missed the mark against the Jazz. The ball has been in his hands a ton with a 26% usage rate and it's not going to stop. Expect another 30+ fantasy points as long as the game stays close. The Kings are a bad team and a lackluster defensive group. It'll be guys like Justin Jackson and JaKarr Sampson on him, so there's no need to worry on that front. Prince is an elite play in all formats and a guy I'll have lots of exposure to.
Power forward

Julius Randle FD - $7500 DK - $8000
Opponent - NO
Proj Pts FD - 43.33 DK - 45.45


Kyle Kuzma FD - $6200 DK - $6300
Opponent - NO
Proj Pts FD - 34.1 DK - 35.02
Right back to New Orleans. The Lakers run a tight rotation and it allows guys to pick up huge minutes. Randle is seeing 36 minutes on most nights and Kuzma is at 34. They can both get closer to 40 and will rarely drop to 30. They now get a strong match-up New Orleans, who ranks in the bottom 10 against both the SF and PF position. Randle is the leader of the offense at this point, so the price is fair. He's going to grab 40+ on most nights in this spot and has a ceiling in the 60's. Kuzma isn't as consistently productive, but he puts up 40 a ton, which is crazy for a guy in the low $6k's. He's going to draw E'Twaun Moore on defense and dice him up with ease. I like both Randle and Kuzma a lot in every format, though I do lean Kuzma just slightly with the discount.

Anthony Davis FD - $12500 DK - $11700
Opponent - LAL
Proj Pts FD - 61.82 DK - 61.33
I don't have any idea why the NBA would schedule a team to play 3 nights in a row in March, but it's happening to the Pelicans right now. Davis has played 35 and 35 minutes over the last two nights and now draws an elite match-up with the Lakers. Their fast play has them allowing the 6th most fantasy points per game to opposing power forwards. The big question here just comes down Davis' minutes and whether or not he gets normal run. If he does, he is the top play on this slate and could get to 70 fantasy points with ease. It's just somewhat hard for me to trust a guy that's so injury prone and on his 3rd game in three nights. We have seen that the Pelicans can't help themselves once a guy is actually playing, though, so if Davis is in the line-up I expect 35+ minutes from him.
Center
Dewayne Dedmon FD - $5300 DK - $5600
Opponent - SAC
Proj Pts FD - 29.58 DK - 29.37

Mike Muscala FD - $4000 DK - $4400
Opponent - SAC
Proj Pts FD - 25.83 DK - 25.7
With John Collins out, both Mike Muscala and Dewayne Dedmon saw close to 30 minutes last game. Dedmon picked up 46 fantasy points and Muscala grabbed 23. That was in an extremely tough match-up with Rudy Gobert and the Jazz. They now see Willie-Cauley Stein, who is a good defender, but coming off of injury and still a far worse defender than Gobert. The Kings play pretty fast and a 213 total is nothing to scoff at. I think Dedmon is certainly safer, but Muscala can easily put up 30 and be the key to a tournament. I will have plenty of exposure in both directions and really don't think you can go wrong. Let's see what to do if you need to spend some of those funds.

Brook Lopez FD - $6800 DK - $6700
Opponent - NO
Proj Pts FD - 34.25 DK - 34.14
Lopez has been dealing with a sore back, but he keeps getting on the court and producing. He got up to 37 minutes last game and hit 41 fantasy points. He's currently probable to play and all signs ae poiting to him being in there. His size and scoring punch will be neccesary against New Orleans and I have a sneaky suspicion the Lakers don't really care about the long-term health of Brook Lopez. Expect another 35 minutes and 40 fantasy points for just under $7k. There are a lot of different ways to go at C and this is one that won't kill you.
GRAB A FREE TRIAL OF OUR PROJECTION SYSTEM, AND CHECK OUT DFSR PRO!
image sources
JAZZ-PELICANS: (AP Foto/Tyler Kaufman)
FREE EBOOK
SECRETS TO CRUSHING DAILY FANTASY FOOTBALL!
DON'T SET ANOTHER LINEUP BEFORE YOU READ THIS BOOK.