Baseball Picks Daily Fantasy
Expert Advice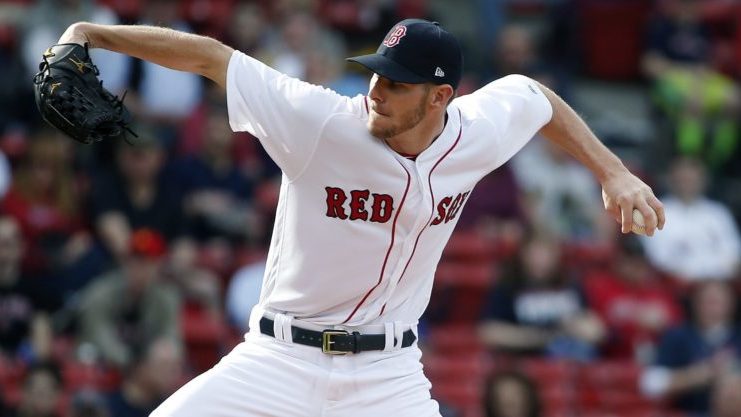 Daily Fantasy MLB Picks for FanDuel and DraftKings - 4/3/18
Welcome back to another full day of MLB action as we have a four-game early slate followed by a nine-game main slate. There is also a fifth early game that starts at 1:10 p.m. ET but if you want to get in on that action you will have to play the all-day slate on FanDuel. Let's jump in and take a look at some of the top plays at each position for both slates.
Now's your chance to get DFSR PRO, which will give you access to our MLB optimizer and our new player lab! Get started for free by clicking the button below.
First time with MLB? Be sure to read our free MLB Ebooks on building lineups, general strategy and more. We've got you completely covered.
Pitcher
Early

Chris Sale FD 11400 DK 12900
Opponent - MIA (Jose Urena) Park - MIA
FD - 48.58 DK - 27.53
Sale was the Red Sox opening day starter last Thursday and he picked up right where he left off last season. He only went six innings and threw just 92 pitches but he allowed just one hit while striking out nine Rays hitters. The Red Sox get an afternoon matchup today in Miami which is a park upgrade from Fenway and Sale opens as a huge -250 favorite. The Marlins split their opening series with the Cubs and are coming off a season where they were slightly worse against left-handed pitching and no longer have the services of Giancarlo Stanton or Marcell Ozuna. It's a hefty price to pay on a four-game slate but Sale is easily the top pitcher who gives us a high floor and huge upside making him safe in all formats.
Main

Justin Verlander FD 10300 DK 11600
Opponent - BAL (Mike Wright) Park - HOU
FD - 41.63 DK - 22.6
On the main slate, we have a slightly tougher decision at the top as Clayton Kershaw visits the Diamondbacks. I think he makes an excellent GPP play but for cash games, I prefer to take the savings and roll with Justin Verlander. He gets the much better matchup at home int eh best pitchers park in the big leagues and opens as a huge -250 favorite vs. the struggling Orioles who sit dead last in offense(.205 wOBA, .117 ISO) through three games and are currently down 5-0 to the Astros as I write this. Verlander made the opening day start for the Astros and went six innings throwing 90 pitches and while he gave up four hits, he didn't allow a run and struck out five in Texas. He was incredible for the Astros after coming over in September winning all five of his starts with an 11.4 K/9 rate and that success should carry over into 2018. He is safe in all formats.
Cole Hamels FD 6800 DK 8500
Opponent - OAK (Kendall Graveman) Park - OAK
FD - 30.34 DK - 14.76
Hamels struggled with his control in his first outing walking four Astros and that ended up getting him in trouble as he gave up three earned runs over 5.2 innings which inevitably led to a loss. The good news for fantasy owners is that he struck out seven which is a great sign considering he struggled in that department in 2017 with a poor 6.39 K/9 rate and career-low 9.7% swinging strike rate. Tonight he faces an Oakland team that won their opening day game against the Angels in extra innings but followed it up with three straight losses. Looking at their 2017 numbers, they were considerably worse against left-handed pitching with a .305 wOBA(.329 vs. RH), 90 wRC+(106 vs. RH) and struck out 24% of the time. He makes an excellent SP2 on DraftKings in the mid $8K range and, in my opinion, is very underpriced on FanDuel and allows you to stack some big bats throughout your lineup.
First Base/Catcher
Early
Hanley Ramirez FD 2800 DK 3500
Opponent - MIA (Jose Urena) Park - MIA
FD - 11.62 DK - 8.78
If we are going to be loading up on Chris Sale on this small four-game slate today we are going to need some value to make it happen. Enter Sale's teammate, Hanley Ramirez, who comes at a nice discount on both sits and has started the season off fairly consistent. After going 0-3 on opening day, he picked up two hits on Friday, a double, run, and a stolen base on Saturday and is currently 2-5 with a two-run homer on Monday night as I write this. He hits in the middle of the Red Sox order and gets another good matchup today vs. Jose Urena who was hit hard in his first start giving up five earned runs including two long balls to the Cubs. He picked up 14 wins last season with the Marlins but struck out less than six per nine with a 13.1% HR/FB rate. All things considered, he is my top first basemen on this slate.
Also consider: Buster Posey(SF) vs. Marco Gonzales in GPP formats.
Main
Edwin Encarnacion FD 3700 DK 4300
Opponent - LAA (Garrett Richards) Park - LAA
FD - 11.65 DK - 8.62

Yonder Alonso FD 2900 DK 3900
Opponent - LAA (Garrett Richards) Park - LAA
FD - 10.39 DK - 7.84
The Indians are coming off an excellent offensive season as they ranked Top 10 in runs, wOBA, wRC+, and ISO and while they dropped two of their first three games to open this season, did pile up 10 runs in the final two games of the series. It was Alonso on Saturday who led the way with a grand slam, two walks, and two runs and then Encarnacion pitched in on Sunday with two hits including two home runs and three runs batted in and both currently sit with a home run on Monday night. They hit back to back in the middle of the order and get a nice matchup tonight vs. Garrett Richards who struggled in his opening day start giving up four earned runs to the A's including two home runs while striking out four and walking three batters. You will have to make the choice between the two on DraftKings(I prefer EE) but on FanDuel with the new UTIL spot, you can stack both together in a lineup.
Also Consider: Evan Gattis(HOU) vs. Mike Wright 
Second Base
Early

Joe Panik FD 2500 DK 3400
Opponent - SEA (Marco Gonzales) Park - SF
FD - 9.04 DK - 6.99
The Giants overall has struggled in the early going but one hitter who has been consistent to start the season has been Joe Panik. He has picked up at least one hit in all four games including a home run in each of the first two games of the season. He gets a lefty/lefty matchup this afternoon which, at his DraftKings price, leaves him as a GPP only option but on FanDuel we can consider him in all formats in the mid $2K range especially considering his success against southpaws. He is 3 for 10 with two singles and a home run this season after recording a .290 average in 2017. He also gets a matchup vs. arguably the worst pitcher on the slate in Marco Gonzales making his first start of the season after recording a 6.08 ERA and 4.46 xFIP in 2017 between the bullpen and rotation.
Main

Cesar Hernandez FD 2900 DK 3800
Opponent - NYM (Seth Lugo) Park - NYM
FD - 8.95 DK - 6.98
If you were with DFSR last baseball season you are likely familiar with our love for leadoff hitters and if you are new don't forget to check out the strategy article Doug wrote last year highlighting the importance of said leadoff hitters. One I am looking at tonight is Cesar Hernadez of the Phillies who is coming off an impressive season where he put up a .294 average and .373 on-base percentage. He picked up where he left off to start the 2018 campaign with back to back multi-hit games including his first home run of the season. Tonight, he faces Matt Harvey making his season debut for the Mets and if he is anything like he was when he returned to the lineup last fall(1-4, 11.28 ERA, 5.24 K/9, 16.7% HR/FB rate in five starts), the Phillies could put up a big number giving Hernadez excellent PTS/$ value.
Shortstop
Early

Xander Bogaerts FD 3500 DK 4400
Opponent - MIA (Jose Urena) Park - MIA
FD - 10.39 DK - 7.99
After opening the season with a loss to the Rays, the Red Sox rebounded with three straight wins to take the series and then saw the offense explode on Monday night as they opened a series vs. the Marlins winning 7-3. Xander Bogaerts leads the way for the Sox with his 10 hits including multi-hit efforts in four of the five games with a home run and five runs scored. He hits in the middle of the order and will continue to get a ton of opportunity to drive in runs this season as he is surrounded by big bats in Hanley Ramirez and J.D. Martinez. Like I mentioned above, the Sox get a terrific matchup vs. Jose Urena making Bogaerts a top target in all formats today.
Main

Paul DeJong FD 3200 DK 3700
Opponent - MIL (Chase Anderson) Park - MIL
FD - 9.27 DK - 7.07
Dejong was called up in late May last year to make his rookie debut and impressed big time with a .285/.325/.532 slash line with 25 home runs and 65 RBI in 108 games. While it's only four games into the 2018 season, those numbers don't appear to be a mirage as he is red hot with hits in all four games including three home runs in his last two with five RBI and four runs scored. He does hit back in the seven hole of the batting order and the matchup is not the greatest against Chase Anderson but he comes with a sub $4K price tag on both sites and has all the confidence in the world.
Also Consider: Elvis Andrus(TEX) vs. Kendall Graveman
Third Base
Early

Kris Bryant FD 4200 DK 5300
Opponent - CIN (Cody Reed) Park - CIN
FD - 14.82 DK - 11.09
If you are paying up for one bat on the early slate, consider Kris Bryant who is coming off three straight 25+ home run and two straight 100+ RBI seasons for the Cubs. He started this season on a four-game hit streak against the Marlins before the Cubs were shutout yesterday in the opener vs. the Reds. Look for Bryant and Cubs to get back on a roll today as they face Cody Reed who will make his first start of the season after spending most of the 2017 season out of the bullpen. He struggled with control walking almost 10 batters per nine innings and in his only start, gave up seven earned runs over two innings. The throws primarily a fastball and slider if one of those isn't working it could be a long day for Reed and the Reds bullpen.
Also Consider: Matt Duffy(TB)
Main

Alex Bregman FD 3100 DK 4300
Opponent - BAL (Mike Wright) Park - HOU
FD - 12.29 DK - 9.35
In his first full season in the majors, Bregman impressed with a .284/.352/.475 slash line that included 19 home runs, 71 RBI, and 88 runs scored and he also stole 17 bases. All that production while spending most a majority of the season in the bottom half of the batting order. So far this season, he is a staple in the two spot of the order for a loaded roster in Houston which automatically gives him near elite PTS/$ value, especially on FanDuel where he remains in the low $3K price range. Tonight, he will be facing Mike Wright who is making his first start in the majors since the 2016 season and while he posted a 10.1 K/9 rate out of the pen last year, he allowed nearly 40% hard contact and a 20.8% HR/FB rate. All things considered, Bregman is a top target at third base in all formats.
Also Consider: Travis Shaw(MIL)
Outfield
Early
Hunter Pence FD 2100 DK 2900
Opponent - SEA (Marco Gonzales) Park - SF
FD - 9.1 DK - 6.98


Andrew McCutchen FD 2500 DK 3400
Opponent - SEA (Marco Gonzales) Park - SF
FD - 12.28 DK - 9.27
Like I mentioned with Panik, it has been an offensive struggle for the Giants early in the season but it's only a matter of time before they get it going. That time could be today as they get a great matchup vs. arguably the worst pitcher on the early slate in Marco Gonzales who is making his first start of the season after splitting time in the rotation and bullpen last season while posting a 6.08 ERA with 17.8% HR/FB rate. Pence is the safer option if you are wanting to choose just one player as he has hits in three of his first four games with a double. McCutchen has just one hit and is better utilized in GPP formats but is coming off seven straight 20+ home run and eight straight 80+ RBI seasons and has been much better over his career against left-handed pitching.
Also consider: Mookie Betts(BOS)
Main

Bryce Harper FD 4600 DK 5300
Opponent - ATL (Julio Teheran) Park - ATL
FD - 13.8 DK - 10.28
On the main slate, you really can't go wrong with either Trout or Harper if you are paying up in the outfield but for me, it's Harper who has been slightly better to start the year. He has picked up five hits in 12 plate appearances and has really heated up with three home runs, five RBI, five walks, and five runs scored in his last two games. Tonight, he and the Nats face Julio Teheran who gave up four earned runs(one home run) in his first start against the Phillies and has given up a 13% or greater HR/FB rate in three straight seasons. While I normally don't factor BvP in my picks, it is hard to ignore Harper's numbers against Teheran as he has faced him 38 times across 12 games and picked up 17 hits including seven home runs and 17 RBI.
Avisail Garcia FD 2800 DK 3800
Opponent - TOR (J.A. Happ) Park - TOR
FD - 10.64 DK - 8.21
For value, I will be turning to Avisail Garcia of the White Sox who has shown some crazy splits vs. left-handed pitching since the start of the 2017 season. In a small sample size to start this season, he is 2 for 4 against southpaws and last season in a much larger sample size, he hit .424 with a .434 wOBA and 177 wRC+. The matchup isn't elite against J.A. Happ of the Blue Jays but he does have issues giving up home runs with his primary struggles coming against right-handed bats(.317 wOBA vs. RH, .236 vs. LH & 28% hard contact to RH, 20% to LH). Garcia hits near the top of the lineup and with his value price on both sites, can be considered in all formats.
Also Consider: Ender Inciarte(ATL)
GRAB A FREE TRIAL OF OUR PROJECTION SYSTEM, AND CHECK OUT DFSR PRO!
FREE EBOOK
SECRETS TO CRUSHING DAILY FANTASY FOOTBALL!
DON'T SET ANOTHER LINEUP BEFORE YOU READ THIS BOOK.