Basketball Picks Daily Fantasy
Expert Advice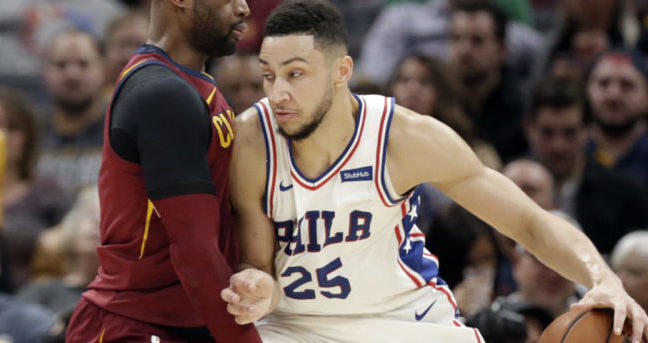 Daily Fantasy NBA Basketball Picks for FanDuel and DraftKings - 4/3/18
After a hoops free Monday the NBA comes back strong with a thirteen game Tuesday night. Russell Westbrook and company host the Warriors. John Wall takes his return to the boards tour into Houston, and Ben Simmons looks to keep the Sixers winning without the process against a hapless Nets squad. These are just some of the games we'll zero in on as we break down the top plays as determined by our NBA projection system. There's an awful lot to sort through so let's get down to the nitty gritty and check out tonight's picks!
Now's your chance to get DFSR PRO, which will give you access to our NBA optimizer and our new player lab! Get started for free by clicking the button below.
First time with NBA? Be sure to read our free NBA Ebooks on building lineups, general strategy and more. We've got you completely covered.
Point guard

John Wall FD - $8000 DK - $7500
Opponent - HOU
Proj Pts FD - 40.55 DK - 40.62
John Wall is back! Wall returned on Saturday when the Wizards hosted the Hornets following a 27 game absence dating back to January. The Wiz wasted no time returning Wall to his full allotment of minutes. Averaging 34.3 on the season, he saw 33 in his return to the boards. His numbers were understandably down from his season averages in his return, but he did manage to pay just about 5X points per dollar (PPD) on these FanDuel prices while crushing on the more reasonable DraftKings pricing. With no minutes restriction, the Wizards decided to rest Wall on the tail end of the back to back set Sunday in Chicago returning Tomas Satoransky to the starting rotation instead. With two off days Wall should be refreshed and ready to go tonight in a big-time matchup against the Rockets. The Rockets have had their own issues at the point, with Chris Paul missing four of the last five contests with hamstring and hip issues, and while they've been a top ten defense at the position this season, during that stretch they've fallen to 18th overall, allowing 10 more fantasy points (FP) per game than their season average. It's understandable to be cautious here as Wall is still working his way back, but if game one is any indication he is off to a good start and priced about $1500 less than what he was commanding prior to his injury making him an excellent option in both cash games and tournaments.

Trey Burke FD - $6900 DK - $6600
Opponent - ORL
Proj Pts FD - 39.15 DK - 39.99
If locking in Wall this early makes you a little uneasy, I get it. So let's take a look at a cheaper option projecting for similar scoring in our NBA lineup Optimizer. Trey Burke has been seeing reliable minutes for about a month and a half now and has procured four straight starts for the Knicks. In those four starts, Burke has averaged 33 minutes per game and paid 1.31 FP per minute. He's double-doubled twice in his last three games and tonight will lead the Knicks against a Magic team ranked 25th overall defensively against the point. Our system likes Burke for well over 5X PPD tonight and since he's averaged 6.8X on these prices in his last three games, that's about as solid a floor as you can hope to find. You can play him everywhere tonight with confidence.

Russell Westbrook FD - $11700 DK - $11800
Opponent - GS
Proj Pts FD - 56.21 DK - 59.3
It just feels odd placing Russell Westbrook here in the third spot, but there really are so many good ways to go at the point tonight. Still, Westbrook is Westbrook, and the Thunder would like a win again a Curry-less Warriors team to help secure a round of home court advantage in the playoffs. The Warriors, ranked ninth overall against opposing point guards this season, have fallen to twelfth without Curry, and are surrendering nearly 10 more FP per game over that time. Westbrook is always a formidable play, running 35 minutes minimum on a nightly basis, double-doubling on the regular while always a triple-double threat. In his last four games, Westbrook has paid 5X PPD or better on these prices three times while showing 6X upside against the Nuggets on Friday. With thirteen games on the schedule, we are presented with no shortage of ways to pay up on tonight's slate, which leaves us with a big decision. I mentioned there are many other strong options at the point who will cost less but Russ has the highest raw point projection of the day at any position. We might just have to sacrifice the salary and pay up for Westbrook.
Tyler Ulis FD - $4900 DK - $6200
Opponent - SAC
Proj Pts FD - 26.15 DK - 26.47
I mentioned Ulis in the Westbrook spotlight above. If we get word that Elfrid Payton is going to remain out with the knee injury that has sidelined him for three straight games, Tyler Ulis becomes a fantastic play on FanDuel. While not completely out of the question, the price on DraftKings is a little too steep for my liking, but for under $5K, Ulis looking quite appealing. In the last three games with Payton out of commission, Ulis has averaged 38 minutes and paid 5.6X, 8X, and 6.4X PPD against three of the top twelve defenses against point guards this season. The Kings are ranked 16th at the position. If Payton is cleared to play, consider this write-up null and void, but if Payton remains out Ulis is a top play on FanDuel, while certainly worth considering on DraftKings.
Shooting Guard

Bogdan Bogdanovic FD - $4600 DK - $5100
Opponent - PHO
Proj Pts FD - 27.4 DK - 28.3
Bogdan Bogdanovic has had an up and down season in the ever volatile Sacramento rotation, but he seems to be in the midst of a pretty hot streak seeing an average of 31 minutes over his last five games with four straight double digit scoring performances in which he shot 62.1% from the field and 60% from three. If the scoring and minutes continue at this pace it won't be long until the sites are commanding $5.5K for the Serbian export, so rocking him tonight at $5K or less against the easiest target in the NBA for shooting guards this season is just about a lock. Not only are the Suns poor defensively, but their second in the NBA 102.7 pace of play will surely open Bogdan up for a few additional shots, giving him upside he doesn't see too often in the conservative Kings offensive game. Consider him everywhere.

Tim Hardaway Jr. FD - $6300 DK - $6700
Opponent - ORL
Proj Pts FD - 31.67 DK - 32.63
It's been some time since the Knicks have really had anything to play for, yet they continue to run their starters for reliable minutes which is huge for us in the daily fantasy NBA world. Tim Hardaway Jr. for one averaged 34 minutes per game in March with 19.5 points, 3.7 boards, and 2.1 dimes. Outside of a couple of duds against the Sixers and Heat, he has been quite the reliable cash game play, while flashing 50 FP upside. The Magic bring the 23rd ranked defense against shooting guards to the Big Apple tonight in what will be a pace up contest for the Knicks, and projects to come down to the buzzer, opening with a mere one point spread according to our friends in Vegas. THJ needs to only get us 30-35 to satisfy our cash game needs which should come easily in tonight's matchup.
Donovan Mitchell FD - $8100 DK - $7600
Opponent - LAL
Proj Pts FD - 39.24 DK - 39.72
Donovan Mitchell is coming off of his ninth straight 20+ point game. The 21/3/4/0/2 line on Sunday was a little underwhelming thanks to a Timberwolves team that rolled over allowing Mitchell and the rest of the Jazz starters to sit out the fourth quarter. When allowed to run his full 35-40 minute allotment Mitchell is unstoppable and has been crushing it against some of the top defenses in the game. Tonight he goes against the 19th ranked defense at the position. The Lakers have been below average against shooting guards all season, and their league-leading 102.8 pace factor will open Mitchell up for some additional shots adding to his upside. While I would eventually like to see a more rounded game out of the rookie phenom, he is still managing more than enough to meet our needs in cash games on a near nightly basis. There are other places I think I'd rather pay up at, but given the match-up and the price, Mitchell is certainly a strong consideration in all formats tonight.
Small forward

Paul George FD - $8100 DK - $7700
Opponent - GS
Proj Pts FD - 40.49 DK - 41.2
We've discussed Russell Westbrook already, and the dilemma surrounding spending up with so much value at the point. If you choose to fade Russ, then Paul George is an excellent way to gain access to a game sporting one of the highest projections on the evening (opening at 221) and one of the smaller spreads (OKC -3.5). George is on a run of poor shooting which has seen PG-13 come in below 40% in four of the last six games. Don't let that scare you off - George has been a consistent shooter throughout his career, and this looks more like a bit of statistical noise. The price is reasonable and the usage is through the roof, with George throwing up 106 shots in that stretch with steady peripherals helping him to hit 5X or better on these prices three times. The Warriors have been average defending against the position over their last five games. Like Russ, the Thunder allow George full run on the boards (38 minutes per game over the last two weeks). I don't know that there's a ton of upside, but as a cash game play, Paul George has to be in the conversation.

Josh Jackson FD - $7300 DK - $7500
Opponent - SAC
Proj Pts FD - 35.58 DK - 35.87
Can we talk about this situation in Phoenix for a moment? Devin Booker and T.J. Warren have had that little GTD tag next to their profile photos on the sites for so long now, I'm beginning to think it's actually a part of them. At this point in time, we have to question if the Suns have any intention of returning either before the season's end. Personally, I don't see it happening. That means Josh Jackson should continue to draw starts for the Suns and remains a strong option in the mid $7K range across the industry. Jackson has started seven in a row now and averaged 35.7 minutes per start. While the Suns may be doing all they can to secure that top lottery pick, that isn't stopping Jackson from going out there and giving his all on a nightly basis. The Kings have been average defending the position all season and are allowing nearly 30% more fantasy scoring over their last five games. This is one of the last games of the night, so who knows if we get the official word on Booker and Warren prior to lock, but I'm feeling fairly confident in Jackson and his safety.
Michael Beasley FD - $7100 DK - $6800
Opponent - ORL
Proj Pts FD - 33.77 DK - 34.21
You'll want to watch the news closely for this one, as Michael Beasley was designated questionable yesterday morning with an illness. This game between the Knicks and Magic tips off just a half hour after lock, so there's a good chance we know more about his status with enough time to react. If cleared to play Beasley is one of the top plays at the position in our system against the eighth worst defense this season. Beasley's price is on the rise, but it still hasn't caught up with his level of play in recent weeks. Locked into about 30 minutes per night, Beasley has really let loose and in his last three games has averaged 27 points, 6.6 boards, and 2.6 assists while paying well over 5X PPD on these prices. He should continue dominating tonight against the Magic, furthering the argument that he is underpriced by at least $500-$1000. I'm hopeful whatever is ailing Beasley is just a 24-hour bug because I'm looking for at least 35-45 FP tonight and hope to have him in cash lines as well as tournaments.
Power forward

Ben Simmons FD - $9900 DK - $9600
Opponent - BKN
Proj Pts FD - 48.86 DK - 47.78

Ersan Ilyasova FD - $5400 DK - $5600
Opponent - BKN
Proj Pts FD - 26.41 DK - 26.63

Amir Johnson FD - $4600 DK - $3800
Opponent - BKN
Proj Pts FD - 29.7 DK - 28.73
My heart dropped along with the rest of Philadelphia when Joel Embiid collided with Markelle Fultz last week, and to add insult to injury, Philly will once again be without Dario Saric, who missed Sunday's game against the Hornets with an elbow injury. Simmons sees his usage jump 7% with both JoJo and Dario off the court this season. With Saric out Philly will once again look to Ersan Ilyasova to start at the four. Ersan saw 26 minutes in the start against Charlotte on Sunday and ended the day with 16 points and three boards. While it was an underwhelming performance, just look at the game two nights earlier in Atlanta to see what Ersan can bring to the table. His 21/16/2/1/1 in 29 minutes off the bench was enough for 8.7X PPD. In addition to Simmons and Ilyasova, we can also target Amir Johnson who has been drawing the starts at the five for Philly since the loss of Embiid. I prefer this play more on DraftKings where the price isn't up quite as dramatically as it is on FanDuel in the short term. That, along with multi-position eligibility makes targeting Johnson more of an enticing option there. Johnson isn't going to do a ton of scoring, but he does enough in the other statistical categories to warrant consideration at minimum pricing if he can stretch 20+ minutes out of a start. The Sixers are home tonight (where again, they've been virtually unstoppable) against a very poor Brooklyn frontcourt. The Nets are ranked 29th and 30th against power forwards and center respectively this season. I'll have Simmons everywhere tonight. I'll likely consider pairing him with Ilyasova on FanDuel while reserving Johnson for DraftKings tournaments lines.

Jabari Parker FD - $4800 DK - $4400
Opponent - BOS
Proj Pts FD - 23.09 DK - 23.23
I just gave you three great options from Philly and you still want more? Okay then, how about we talk a little bit about Jabari Parker. Parker exploded in Denver on Sunday, pairing 35 points with 10 boards and paying nearly 11.5X PPD on these prices. I haven't looked, but I have to think Parker won somebody a tournament with that type of outing. While he's not going to see 39 minutes every night like he did in Denver, Parker has been showing some slight sparks in even his usual 20-30 minute workload. Sunday was the third time in his last seven games that Parker managed double-digit scoring, and in that time he's averaging 1.03 FP per minute. He's going to see a much tougher opponent tonight in the form of the Celtics and their top-ranked defense in the NBA this season. Parker is priced at a point where he only needs to net us 20 FP in cash, but I'll likely stick with the Philly guys in cash and look to Parker to ride the hot hand and stretch another 30+ minutes for some GPP upside.
Center

Dwight Howard FD - $8900 DK - $9100
Opponent - CHI
Proj Pts FD - 43.84 DK - 45.05
Dwight Howard is coming off of a tough loss against Philadelphia on Sunday. Early foul trouble and a fourth-quarter blowout by the Sixers held Howard to just 25 minutes, his lowest total in 14 games. He still managed to double-double for the sixth game in a row working 10 points and 10 boards into the stat sheet despite the limited playing time. The 27 FP represented his second lowest performance in that time, the lowest also coming against the Sixers. With Philly in the rearview, Howard and the Hornets head into the windy city for a tilt with the Bulls. Howard has had a much better time with Chicago this season, scoring 45 FP in just 28 minutes the last time these two teams met in late February. The Bulls are ranked 27th overall against opposing big men this season. This game sports a modest 215 O/U with Charlotte as 5.5 point favorites. Howard has double-doubled in 48 games this season, and prior to Sunday's game in Philly was averaging 22.8 points and 17.8 boards, over the last five games for 45.26 FP per game. It's an excellent matchup for Charlotte's big man and he should get us to 40-45 FP with ease making for an excellent cash game play.
Kyle O'Quinn FD - $5500 DK - $5100
Opponent - ORL
Proj Pts FD - 30.38 DK - 29.26
Enes Kanter was ruled out on Saturday after being listed questionable with back pain following a hard fall in Philly. Kyle O'Quinn stepped into the starting spot at the five for New York, and despite scoring only eight points, he was dominant in the glass, allowing him to pay 5.7X PPD on these prices in 31 minutes. If Kanter is unable to go tonight with the Magic in town, expect O'Quinn to draw another start and be an excellent play against a team second only to the Nets in FP surrendered to opposing centers this season. KO'Q has started five games for New York this season. While the first start in Atlanta was forgettable he quickly bounced back and posted 50 FP in 26 minutes against the Rockets the next night. In three starts since he has seen 25,26, and 32 minutes and paid about 1.0 FP per minute in each. With Joakim Noah out of the picture, the Knicks will be awfully thin should Kanter remain unavailable, so consider O'Quinn a lock for 25-30 minutes at least and a strong cash game play with plenty of upside if he stretches additional time in a game with a 99.8 combined pace factor.

Steven Adams FD - $7200 DK - $6900
Opponent - GS
Proj Pts FD - 34.94 DK - 35.51
We'll close out tonight with Steven Adams of the Thunder. We've already looked at this game, and more specifically the Thunder with Russ and PG13. Adams comes in as the cheapest of the bunch and has been quite hot down the stretch, picking up his fourth double-double in his last five games on Sunday against Anthony Davis and the Pelicans. Like the aforementioned duo, Adams is locked into a heavy workload and has been over 30 minutes in eight in a row. He's a beast in the offensive glass and has been shooting the rock exceptionally well, 52.3% from the field over his last four games. The Warriors are one of the leagues toughest defenses at the five, but Adams has been a solid play against them all season long. I'm quite comfortable with Adams in all formats, especially on DraftKings where that sub $7K price tag is screaming upside.
With such a big slate there's so much to break down it's hard to fit it all into one article, so if you haven't done so already, click that little link down below and get in on the trial of our projection system to see how all of the plays rank tonight. You'll also have access to all sports, as well as our member chat which is bursting with NBA and MLB talk. As always, thanks for stopping by and reading, and feel free to drop any questions or comments below. Cheers!
GRAB A FREE TRIAL OF OUR PROJECTION SYSTEM, AND CHECK OUT DFSR PRO!
FREE EBOOK
SECRETS TO CRUSHING DAILY FANTASY FOOTBALL!
DON'T SET ANOTHER LINEUP BEFORE YOU READ THIS BOOK.