Baseball Picks Daily Fantasy
Expert Advice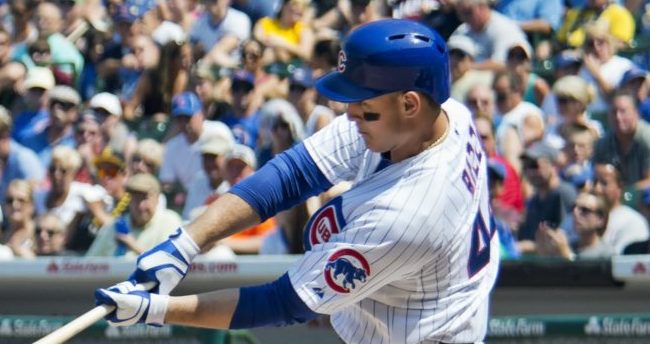 Daily Fantasy MLB Picks for FanDuel and DraftKings - 4/6/18
Now's your chance to get DFSR PRO, which will give you access to our MLB optimizer and our new player lab! Get started for free by clicking the button below.
First time with MLB? Be sure to read our free MLB Ebooks on building lineups, general strategy and more. We've got you completely covered.
Pitcher
Lance McCullers Jr. FD 7900 DK 12300
Opponent - SD (Luis Perdomo) Park - HOU
FD - 36.82 DK - 19.54
Welcome to Friday baseball! We have 7 fun games on the board with another two in a mini-slate that starts at 4. There are some options at pitcher, but I don't think any one option is superior or a must in cash games. I do think Lance McCullers is the best play, though. He went just 5.1 innings last game, but struck out 10 and grabbed the W, eeking himself to 45 FanDuel points. He now draws a match-up against a Padres squad that's expected to rank in the bottom five against righties. They also strikeout a ton (26.5%) and don't do much walking. If you look at the order, you'll learn a lot from seeing Eric Hosmer in the 3-hole and rookie Christian Villanueva at cleanup. The bottom of the order is AAA caliber and McCuller should have some fun with them. He's posted a 3.11 xFIP and 9.87 K/9 in Minute Maid and is truly an elite pitcher when in that ballpark. Facing what may be the worst offense in baseball, he should be able to coast to another 8+ Ks and the 'Stros should have the win locked up, making McCullers the safest option on the board with a ton of upside.

Luis Castillo FD 7200 DK 8700
Opponent - PIT (Trevor Williams) Park - PIT
FD - 32.24 DK - 16.89
If you're looking to go a little bit cheaper, Luis Castillo is a guy that we will be targeting all season long. He has the type of strikeout upside that can win you a tournament or keep you in a game. In his first start, he gave up six runs to the Washington Nationals. You can't blame him as they are one of the two or three toughest lineups on paper to face. He still got his strikeouts, though, and they will always be there at over 1 per inning. Tonight, Castillo is seeing a much friendlier match-up against the Pirates, who were middle of the road against righties in '17 and only lost good hitters. They have some decent bats up to the 5 (still K a lot) with Corey Dickerson, but them drop off immensely with high-K bats like Colin Moran and Jordy Mercer. Castillo always has immense upside, but he's pretty safe if you can get him cheap enough. Against righties and lefties, Castillo posted a .285 wOBA and .267 wOBA. Elite as can be. Don't hold a start against the Nationals against a guy. He should bounce right back tonight and put up a huge K-performance.
Early slate: Carlos Carrasco.
First Base/Catcher

Anthony Rizzo FD 3900 DK 5000
Opponent - MIL (Brandon Woodruff) Park - MIL
FD - 0 DK - 0
On to the hitting. First base / Catcher is always stacked and tonight is no different. We'll kick things off in Milwaukee, where the Brew Crew will host the Cubbies. They'll be facing Brandon Woodruff, who's just 25 and still not ready for the majors. In 2017, he was demolished by lefties to the tune of a .376 wOBA. He pitched just 40 innings, so it's not completely fair to judge him yet, but I surely have no problem targeting him with some elite left-handed bats. Anthony Rizzo is one of the best hitters in all of the league and he excels against righties. In just over 150 innings, Rizzo has sported a .386 wOBA and hit 22 home runs against them. Miller Park is an excellent ballpark for power and the Cubs are projected to put up 5 runs. Rizzo is fairly priced on both sites and I'm a fan in all formats.

Gary Sanchez FD 3400 DK 4900
Opponent - BAL (Kevin Gausman) Park - NYY
FD - 13.46 DK - 10.12
The Yankees ended up disappointing against Andrew Cashner, but that's really not much of a surprise. Cashner is going to have some terrible games, but he was a lot better last season and shut down a lot of good teams. Kevin Gausman is not in the same boat. He's worse than he's ever been and it's shown by the 1.40 HR/9 in '17. He also gave up a .340+ wOBA to both sides of the plate. He's going to struggle with the Yankees tonight and Sanchez is right up there with Judge and Stanton as a candidate to go yard. He will cost you some money, but I expect him to be under 25% owned and he's just as good as Rizzo in a tourney.
Marwin Gonzalez FD 2800 DK 3900
Opponent - SD (Luis Perdomo) Park - HOU
FD - 11.29 DK - 8.64
If you need to go a little bit cheaper at C/1B, Marwin Gonzalez is a phenomenal play. The Astros get to face off with Luis Perdomo, who has always struggled with left-handers. In 2017, Perdomo posted a .349 wOBA against lefties and has HR issues when away from Petco Park. His price is pretty low on both sites and this lineup should put up some runs. He'll be right in the middle of it and probably a big part of it all. If you can't pay up for Sanchez or Rizzo, Marwin Gonzalez is a great way to be cheap.
Early Slate: Freddie Freeman, Yan Gomes.
Second Base
Devon Travis FD 2300 DK 3100
Opponent - TEX (Matt Moore) Park - TEX
FD - 11.81 DK - 9.12
Second base is one of the uglier positions on this slate and I have no problem paying down. Travis was awesome against lefties in 2017, sporting a .423 wOBA and .323 batting average. He is going to be in the leadoff hole and the price is way too low. The match-up is also really solid. Matt Moore used to be a pretty good pitcher, but he was terrible last year. He was actually worse against lefties, but a .326 wOBA and 19 home runs in 130 innings is pretty bad in itself. This is another lineup that should have some success and you can even stack them up if you want. They tend to garner more ownership against lefties, but that may not be the case with the new look Jays. Devon Travis is cheap on both sites and extremely solid in all formats at a position without much of an opportunity cost.
Rougned Odor FD 2400 DK 3100
Opponent - TOR (Marco Estrada) Park - TEX
FD - 9.97 DK - 7.6
Joey Gallo is a guy I considered touching on at 1B, but Rizzo just slightly beat him out as my favorite high-$ 1B. We'll instead look at the Rangers here at 2B, where the powerful Rougned Odor resides. Efficiency-wise, Rougned Odor is bad. He held a .297 wOBA against righties in 2017 and struck out 25% of the time. He also hit 30 home runs as a second baseman, giving him a ton of leeway in every other offensive category. He's obviously a very volatile hitter that relies on the long ball and a guy you'll want to gravitate towards for big tournaments. He's facing a pitcher in Marco Estrada that's very volatile himself and has always struggled with the HR ball. This could be the perfect recipe and I wouldn't be surprised to see a dinger or two out of Rougned tonight. I like Travis a ton more in cash games, to be clear.
Early Slate: D.J. LeMahieu.
Shortstop

Manny Machado FD 3500 DK 4200
Opponent - NYY (CC Sabathia) Park - NYY
FD - 11.81 DK - 8.97
Shortstop is a position with a lot of options, but none that stand far above the rest. Machado has always been better against left-handed pitchers and held a .350 wOBA in 2017. Sabathia has actually aged really well, and was a whole lot worse a few years ago. He sported a .310 wOBA against righties last season and his peripherals suggest it should have been around .330-.340. The Orioles are projected to put up well over four runs and Machado has to be a big part of that. Along with Schoop, I don't hate doing a little stack. Sabathia isn't terrible, but he has HR issues and this team can punish him.

Didi Gregorius FD 3800 DK 4700
Opponent - BAL (Kevin Gausman) Park - NYY
FD - 10.47 DK - 8.07
The Yankees are one of the top offenses on this slate against Kevin Gausman and it's really tough to ignore Didi Gregorious at one of the weaker positions on the slate. He's just been so good against righties (.354 wOBA in '17) and has started this season on fire. Gregorious fits this ballpark perfectly with that insane line drive he constantly barely gets over the fence. He hits some boomers too, but you have to love him a ton in Yankee Stadium. Gausman stinks against both sides of the plate and I think he struggles with this lineup as a whole. Gregorius is a phenomenal option in all formats, though I still like Manny Machado just a little bit more. I'll have exposure to both.
Early Slate: Francisco Lindor.
Third Base

Josh Donaldson FD 4300 DK 4800
Opponent - TEX (Matt Moore) Park - TEX
FD - 14.61 DK - 10.89
The Blue Jays are an offense I'm a big fan of tonight in tournaments. On one hand, Matt Moore was a lot worse against lefties in 2017 and could be targeted from that side. On the other hand, he had huge HR problems against righties and this Blue Jays lineup is packed with a bunch of powerful ones. Donaldson being the top dog. He's been one of the premier hitters against lefties for a few years now and posted a .427 wOBA and 33 home runs (total) in 2017. He now enters Globe Life Park, which was slightly better for right-handed power than home in the Rogers Centre. Donaldson is pretty expensive, but he's as safe as it gets in baseball and has the coveted 2-HR upside. I like Donaldson more than Judge or Stanton, for reference.
Logan Forsythe FD 2100 DK 3200
Opponent - SF (Derek Holland) Park - SF
FD - 9.52 DK - 7.21
If you need to go cheaper, Logan Forsythe is phenomenal in all formats. Logan Forsythe is a bad hitter against righties and very, very good against lefties. He sported a .381 wOBA against them in 2017 and will be right in the heart of the lineup. The Dodgers are expected to score close to 5 runs, facing off with a bad lefty in Derek Holland. In over 100 innings, he gave up a pitiful .403 wOBA and 26 home runs. My lord. This is another team you can stack and Forsythe alone is a great 1-off. Let's get to the outfield.
Early: Nolan Arenado, Ryan Flaherty.
Outfield
Nomar Mazara FD 2800 DK 3400
Opponent - TOR (Marco Estrada) Park - TEX
FD - 10.31 DK - 7.85


Shin-Soo Choo FD 2600 DK 3400
Opponent - TOR (Marco Estrada) Park - TEX
FD - 10.29 DK - 7.78
Marco Estrada was a bad pitcher in 2017. He sported a 5.09 xFIP on the season and while he was worse against righties, the peripherals don't suggest the split should be so big. You'll see the numbers even out this year, so look for lefties to do plenty of damage themselves. This Rangers lineup has plenty of left-handed power and this isn't the ballpark to mess around with. Vegas thinks the Rangers score close to 5 runs here and I agree. Mazara and Choo are both lethal vs righties and held wOBA's over .360 over the last two seasons. They're both affordable on both sites and can be used in any format. There are plenty of options in the outfield, so let's move it along.

Kyle Schwarber FD 3900 DK 4800
Opponent - MIL (Brandon Woodruff) Park - MIL
FD - 10.85 DK - 8.05
We looked at Anthony Rizzo at 1B, but have ignored the Cubs since then. With Brandon Woodruff being young and inexperienced, he can easily have a blow-up game and give up a bunch of runs to the Cubbies. He sported that .386 wOBA against lefties in 2017, so you can also target just one or two lefties and hope for some power in Miller Park. Schwarber has looked amazing at the plate to start this season (.593 wOBA vs R) and held a .350 wOBA against righties in 2017. I think he hits 25 home runs against righties this year and this ballpark is even better than Wrigley Field for home runs. You can play Ian Happ as well, who should sit in the leadoff spot and has a ton of power as well. All in all, this Cubs team is one of the top tournament stacks and you can really go anywhere. In cash games, grab a lefty or two.

Giancarlo Stanton FD 4600 DK 5600
Opponent - BAL (Kevin Gausman) Park - NYY
FD - 17.16 DK - 12.68


Aaron Judge FD 4400 DK 5300
Opponent - BAL (Kevin Gausman) Park - NYY
FD - 15.4 DK - 11.4
You have to at least glance at these guys in this match-up. Affording them isn't easy and you probably can't get both unless you pay down at pitcher and dedicate your lineup to these guys. Gausman is just as bad against righties as he is lefties, so you're not on the bad side of any split here. Judge was better against righties in '17 and I like him just a tad over Stanton. He struck out 5 times a couple games ago and was booed by the Yankees fans. Classic. Both of these guys are fully in play in all formats and it's just a matter of affording him. Good luck in all formats and feel free to comment below with any comments or questions!
Early Slate: Carlos Gonzalez, Charlie Blackmon, Nick Markakis, Brandon Guys, Rajai Davis.
GRAB A FREE TRIAL OF OUR PROJECTION SYSTEM, AND CHECK OUT DFSR PRO!
FREE EBOOK
SECRETS TO CRUSHING DAILY FANTASY FOOTBALL!
DON'T SET ANOTHER LINEUP BEFORE YOU READ THIS BOOK.