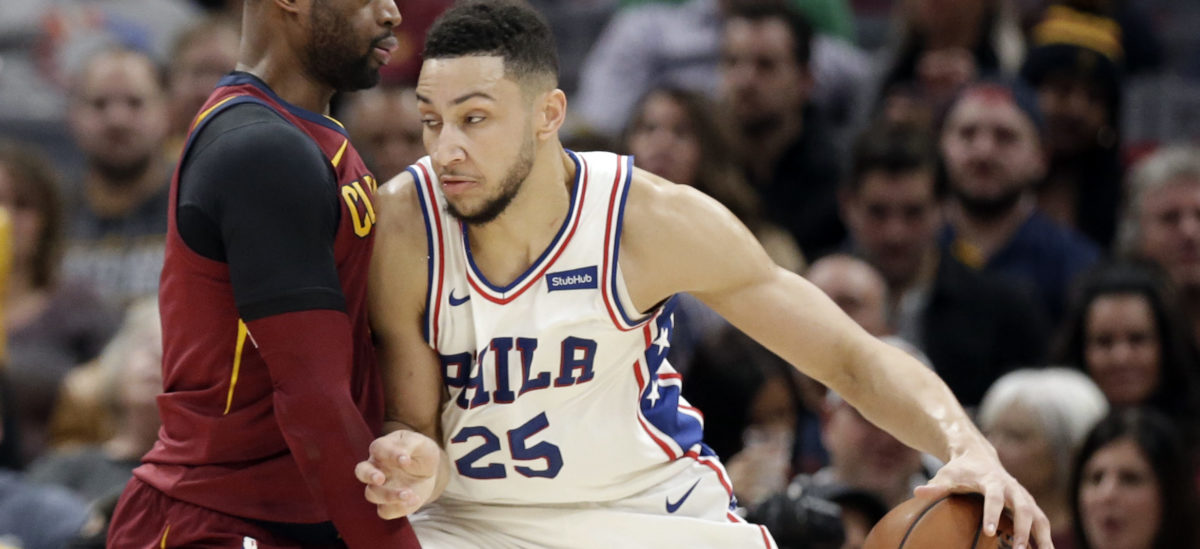 Daily Fantasy NBA Basketball Picks for FanDuel and DraftKings - 4/10/18
Well, it's a Monday in the NBA, and we have what looks to be one of the more irritating slates of the season. With exactly one team playing for a single damned thing, we have a lot of guesswork on the plate before us. And you know what? I'm honored to have you along for the ride.
Now's your chance to get DFSR PRO, which will give you access to our NBA optimizer and our new player lab! Get started for free by clicking the button below.
First time with NBA? Be sure to read our free NBA Ebooks on building lineups, general strategy and more. We've got you completely covered.
Point guard

Dennis Smith Jr. FD - $6400 DK - $7300
Opponent - PHO
Proj Pts FD - 34.55 DK - 36.17

Yogi Ferrell FD - $3800 DK - $5400
Opponent - PHO
Proj Pts FD - 19.81 DK - 20.53
One way or another it looks like we're going to get some value out of the point guard position from Dallas tonight. If Smith Jr. plays, his FanDuel price is simply too cheap. We saw him play 40 minutes against Philly and drop 54 fantasy points in the process. If he winds up sitting, Ferrell is sort of the last man standing. By this point in the season the Suns' defense needs no introduction, but just in case you meant to click on the MLB article or something, they're the best match-up in the league. I don't think you want to play both of these guys, but definitely keep an eye on who gets named the starter.
Quinn Cook FD - $6000 DK - $6400
Opponent - UTA
Proj Pts FD - 27.12 DK - 28.65
I started at this position for about 15 minutes before ultimately landing on Quinn Cook. Here's what you need to know about Cook for your cash games. He's been playing 36+ minutes per game, and Golden State doesn't seem especially worried about running him out there for longer stretches even as they build up to the playoffs. He's not an ideal play on these prices in a bad match-up, but have you seen the other options? Let's just break it down, shall we?
BOS-WAS: No one on Boston is playing more than 30 minutes right now, and John Wall is clearly on maintenance mode heading into the playoffs.
CHA-IND: Neither Kemba Walker nor Collison are playing more than 25 minutes per game right now.
PHI-ATL: Both of these teams are doing a point guard by committee thing. No.
PHO-DAL: We broke down the Dallas situation already. Ulis is pretty consistent right now, but he's way overpriced even in good match-ups.
UTA-GSW: Rubio is making his way back into the mix, but it's still a PG by committee there as well. Exum might be playable as a punt.
HOU-LAL: The Lakers are also on a committee. Chris Paul has been playing minutes, but can that possibly last? I don't trust it at these prices.
Fun!
Shooting Guard
Donovan Mitchell FD - $8000 DK - $8000
Opponent - GS
Proj Pts FD - 39.69 DK - 40.01
Seeding in the Western Conference is sort of a huge deal, and until I hear otherwise I am assuming that the Jazz are going to keep playing their starters big minutes. Getting the 4 or 5 seed means playing another team that's been battling for playoff spots, getting the 6 seed means Portland, and getting the 7th or 8th seed means a basic auto-loss to Houston or Golden State. I think the Jazz will fight for this one. Mitchell can only be called fairly priced at this point, and indeed, he hasn't paid these prices for cash game purposes on average this season. But in games that matter he has been playing 38+ minutes. Golden State is a good defensive team, but they also play fast, and it's hard to believe Mitchell leaves anything on the table here. He should be one of the highest owned players on the slate.

J.J. Redick FD - $5700 DK - $5600
Opponent - ATL
Proj Pts FD - 28.6 DK - 30.53
Philly is still actively pursuing the three seed, and Redick has certainly been playing his role. In close games he's playing 31-33 minute rotations, and in the last four games he's averaged 22.5/2/3, good for 6x+ points per dollar on these prices. It's a phenomenal match-up with the Hawks, who have allowed the 8th most fantasy points to opposing shooting guards this season. Yes, this will be one of the only complete write-ups possible on this slate, so let's enjoy it, shall we?
Do you believe in Danuel House? The man played 44 minutes for the Suns last game and was pretty damned good on these prices. It's hard to call it a total fluke, too. He played 34, 28, and 34 minutes in the games prior to that one. The Suns' plan going into the last few games of the season is anybody's guess, but I suspect he'll be a highly targeted punt option once again.
A note on Harden: The man is still playing minutes for some reason, and it's a super fast match-up with the Lakers. It's going to be tough to pay up tonight, so with the sea of inevitable late season punts he might be sort of the only way to invest a lot of salary.
Small forward
Robert Covington FD - $7500 DK - $7200
Opponent - ATL
Proj Pts FD - 34.35 DK - 34.19
So let's get this out there in the open: Robert Covington is sort of over-priced here. But follow me for a second. On a slate riddled with uncertainty, a lot of likely punt plays, AND very few ways to get safe big money payoffs, might it make sense to just take a lot of sort of inefficient upper middle class payoffs instead? Guys like Mitchell and Covington fit that description to me. Covington has been locked into 33+ minutes rotations in close games, and has been popping off defensively as Philly makes this end of season push. I believe that this run is something more than luck, as these "hustle stats" are often just that. With Philly playing for pride and the three seed, RoCo has averaged almost 6 defensive stats per game in his last 5 games. That means he's scoring 18 fantasy points on FanDuel before he ever scores a point or grabs a rebound. Again, it's a great match-up with the Hawks, and he seems like a very safe cash game option.

Dorian Finney-Smith FD - $4800 DK - $4400
Opponent - PHO
Proj Pts FD - 20.74 DK - 21.16
Harrison Barnes has already been ruled out for Dallas' final game on Tuesday, and that means we'll probably get piles of the pretty mediocre Dorian Finney-Smith. DFS (gotta love the acronym) is a classic candidate to play a ton of minutes and do absolutely nothing, but again, if we're looking for floor I think we should have a solid one here. It's a breakneck match-up with Phoenix, and we already saw what Dallas' plans are for DFS when Barnes sits. He played 35 minutes against Orlando in this situation 3 games ago. With nothing left to play for, I suspect he'll be out there for plenty of time. It's hard to imagine this being the pick that kills your double-ups. How's that for a ringing endorsement?
Also considered: Taurean Prince. He's a funny one here, because if you take his season long averages they don't really line up with these prices and this match-up, but if you look at his usage over the last 10 games or so it's not hard to imagine him getting up 17 or 18 shots here. If you think that's what Atlanta's hoping for he becomes another high floor cash game play, and I suspect he'll see solid ownership in all formats.
If Jonathan Motley starts again he'll be a huge play. Joe Ingles will probably get some run for the same reasons I recommended Covington, but he looks kind of overpriced to me. This slate, man.
Power forward

Ben Simmons FD - $10500 DK - $10700
Opponent - ATL
Proj Pts FD - 46.75 DK - 45.99
Let's be clear - I feel like this is an overpay for Simmons. But who are we supposed to trust as a payoff for all of these punt plays tonight? Simmons' minutes have been somewhat hit or miss recently, but that looks largely game script dependent to me. He's playing 36+ minutes when the games stay close, and doing his best baby-Bron impression in the meanwhile, threatening triple-doubles on a game in game out basis. The issue, of course, is that you're also paying near LeBron prices for him. Still, the Hawks have basically given up here, and I think Simmons can be expected to outpace his normal fantasy point per minute production.

Dwight Powell FD - $4700 DK - $5800
Opponent - PHO
Proj Pts FD - 29.62 DK - 29.07
Dwight Powell is quite simply one of my favorite plays on the slate. The Mavs have been ramping up his minutes as the season comes to a close, and have done so quickly enough that the price hasn't caught up just yet. He posted 29.4 and 36 fantasy points in bad match-ups with Detroit and Philly, and now gets an all-world spot against the reckless Suns. It seems like the perfect game script is brewing for the Mavs athletic youngster, and 5x+ points per dollar is absolutely the floor in my mind. He will be my most played player, assuming he starts again.
Also considered: Derrick Favors. Like basically all of the Jazz he's too expensive for his current production, but his role is also utterly secure in a game the Jazz have every incentive to win. He'll be a highly owned cash game play.
Center
Alex Len FD - $4600 DK - $5700
Opponent - DAL
Proj Pts FD - 24.17 DK - 23.94
This might be the shallowest position I've ever seen, so I'm going to go ahead and give you a cheap option that at the very least lets you get away from it without too much investment. This play gets a heck of a lot easier if Chriss is out (right now he's questionable), but you can consider him either way. When Chriss sat Len played 25 minutes and knocked this price out of the park, and in the prior two games when Chriss played he logged 18 and 32 minutes. Dallas isn't a great match-up, but the rest of the position is just so bad that I'm not sure where else you go.
Also considered: Marcin Gortat, but his minutes could be as erratic as Len's. I guess I just think it's kind of crazy to pay up for a guy like Dwight Howard, whose minutes are just as wild but who costs twice as much. Am I trust Capela to play real minutes in a meaningless game? How about Al Horford, who has been playing less than 30? Am I supposed to guess which Lakers' bigs play? Today is nuts, man. That's the end of the season in the NBA for you though, I guess.
GRAB A FREE TRIAL OF OUR PROJECTION SYSTEM, AND CHECK OUT DFSR PRO!