Baseball Picks Daily Fantasy
Expert Advice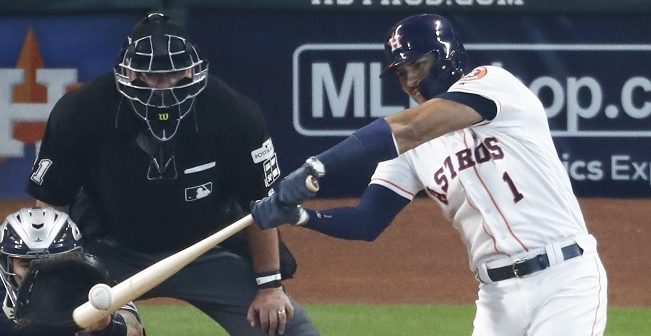 Daily Fantasy MLB Picks for FanDuel and DraftKings - 4/13/18
Welcome to Friday Baseball! We have a weird 2-game early slate available, but the real meat and potatoes is with the 13 main slate games. We have a few different pitchers worth considering and a ton of different offenses. Let's get to it!
Now's your chance to get DFSR PRO, which will give you access to our MLB optimizer and our new player lab! Get started for free by clicking the button below.
First time with MLB? Be sure to read our free MLB Ebooks on building lineups, general strategy and more. We've got you completely covered.
Pitcher

Gerrit Cole FD 10000 DK 12100
Opponent - TEX (Mike Minor) Park - HOU
FD - 18.89 DK - 7.13
We'll kick things off with one of the more pleasant surprises of the early 2018 season. The Pirates are surely happy with Jameson Taillon as their perspective ace, but Gerrit Cole isn't a guy you can possibly be comfortable letting go. He's an ace by every measure of the word and looks to be turning a corner this season. The only problem spot for Cole is his .335 wOBA against lefties, but that's expected to drop. He's started the campaign on fire, tossing 22 K's in 14 innings over just two starts. One of those game was against this Rangers squad, who are projected to score just 3.08 runs in Minute Maid Park. The lineup has some big names, but they're better against lefties and can strikeout with the best of them. Cole is going to be expensive, but he's worth it if you expect an encore of his first couple games.

Vince Velasquez FD 6700 DK 7900
Opponent - TB (Jacob Faria) Park - TB
FD - 13.82 DK - 4.39
If you're wanting to pay down, you have a pretty solid option in Vince Velasquez. If you have been playing DFS, you're well aware of Vince Velasquez. He was a gem in 2016, posting a 10+ K/9 and was one of the biggest surprises of the season. He then came back in 2017 and struggled mightily, but still struck out 8.5 batters per nine innings. He's now extremely cheap and gets to face off with one of the absolute worst offenses in all of baseball. The Tampa Bay Rays are projected just 3.94 runs and if you look at the order, there isn't a single lefty to be afraid of. They strikeout over 22% of the time against righties and I think Velasquez is somewhat safe for the price.
First Base/Catcher

Francisco Cervelli FD 2400 DK 3400
Opponent - MIA (Dillon Peters) Park - MIA
FD - 0.11 DK - 0.08
Cervelli is a guy we targeted against lefties in 2017 a ton. Why? Because he held a .407 wOBA against them in 2016. He ended up following that with a .305 in 2017, which is pretty terrible. His peripherals suggest somewhere in the middle and that's not a bad option against a poor lefty in Dillon Peters. Peters is a typical horrible Marlins prospect that is going to struggle against just about everyone. The Pirates have a 4.5 implied run total and Cervelli will be posted up in the heart of the order. He's a guy I love in all formats at the fair price tag and will have in just about every lineup.

Ryan Braun FD 2800 DK 4600
Opponent - NYM (Steven Matz) Park - NYM
FD - 11.5 DK - 8.74

Jesus Aguilar FD 2100 DK 3200
Opponent - NYM (Steven Matz) Park - NYM
FD - 0.11 DK - 0.08
There are always a lot of options at first base and tonight is no different. We'll kick things off in New York, where Steven Matz and the Mets are hosting the Brew Crew. Matz is a bigger name than most, but a .370 wOBA allwed in 2017 has me far off of him until he proves otherwise. Here we have two righties that live off their ability to hit southpaws. Braun has fallen off slightly from his prime or steroid use, but a .360-370 wOBA is extremely solid. As for Aguilar, he was even better with a .382 wOBA against them. Both Braun and Aguilar have a shot to do some damage here against a Steven Matz that has struggled to start the season. This Brewers team is a solid one and both of these guys are prime targets against southpaws.
Ryan Zimmerman FD 2500 DK 4000
Opponent - COL (Kyle Freeland) Park - WSH
FD - 13.05 DK - 9.86
This is more of a FanDuel play, but he can always hit a homer and pay off on DraftKings, too. On FanDuel, Ryan Zimmerman is just $2500 against a bad lefty. Zimmerman was one of the better hitters in all of baseball against southpaws in 2017, sporting a .425 wOBA on a 43% hard contact rate. He faces off with Kyle Freeland, who will probably be pretty good one day. He just struggles with his command and gives it up to righties with a .345 wOBA against. There is going to be a whole lot of hard contact from the Nats tonight and I don't see Kyle Freeland having all that much fun. I like the Red Sox a tad bit more, but the Nats are one of the best stacks in all formats. As for Zimmerman, you can play him wherever on FanDuel and worry about nothing.
Second Base
Eduardo Nunez FD 2800 DK 3500
Opponent - BAL (Chris Tillman) Park - BOS
FD - 11.43 DK - 8.93
Chris Tillman is utterly atrocious and Vegas has the Red Sox connecting for 6.02 runs, which is going to mean you can get a lot of value from the Red Sox tonight. In 2017, Tillman was one of the three worst pitchers in the entire nation. Against righties in particular, he sported a .400 wOBA allowed and they hit 17 home runs against him in just over 54 innings. That's trash by any measure of the word. You then get to Nunez, who is better against same-handed righties. He held a .350 wOBA against them in '17 and has some power in Fenway Park. Nunez is fairly priced and a top play at a pretty weak position. The Red Sox are one of the best offenses on this slate and we will touch on a few more of them in a bit.

Ian Kinsler FD 2900 DK 3900
Opponent - KC (Jason Hammel) Park - KC
FD - 0.12 DK - 0.09
The Angels are a team we won't touch on much, but I wanted to at least give the offense some attention with the 5.18 projected run total Vegas has given them. It's certainly not hard to see why when looking at the profile of Jason Hammel. He posted a .330 wOBA against both sides of the plate in 2017 and his peripherals suggested it should have been around .350. Ian Kinsler is a guy you want to target against lefties, but he can get it done against righties. He just hit a homer against a game ago and Hammel isn't going to overpower any righty. Kinsler is still cheap on both sites and I'm fine pivoting to him if you want a low-owned, high-upside option. I do prefer Nunez quite a bit.
Shortstop

Carlos Correa FD 4400 DK 5100
Opponent - TEX (Cole Hamels) Park - HOU
FD - 13.16 DK - 9.91
Mike Minor was originally expected to start here, so this is definitely a downgrade for the Astros. I'm just not sure it matters all that much. They are still projected for 5.25 runs and destroy whatever lefty typically takes the mound. Hamels was also pretty average in 2017, at least against righties. Through 114 innings, he allowed 16 home runs and a .324 wOBA against. Not horrible, but nowhere near the .217 he was boasting in his prime. The Astros are viable as a stack, though not one of my favorites. I would rather take one or two and try to pick out the homers. Carlos Correa is definitely my favorite and I think he's the best hitter on this Astros team by next season. He held a dumb .445 wOBA vs lefties in 2017 and is only going to build on that at the age of 23. He's going to cost you, but I'd much rather go here than Trea Turner, who should struggle with speed against a lefty.
Jordy Mercer FD 2600 DK 3100
Opponent - MIA (Dillon Peters) Park - MIA
FD - 8.28 DK - 6.39
We did touch on Francisco Cervelli and here's another cheap/mid-range Pittsburgh Pirate. It's just not that hard to target a bad Marlins lefty and their pitiful bullpen that will come in after. He hasn't pitched much in the majors, but has a 5+ xFIP in his limited innings. He profiles to be much worse against righties and should have a little bit of problem with the HR ball. Here we have a SS in Jordy Mercer that lives off his ability to hit southpaws and that's it. He held even splits in 2017, but posted .370+ wOBA's against lefties for years before that. He's going to be moved up in the order and could find the two hole. Dillon Peters is not a good pitcher and you have to think the Pirates get the ball rolling against him. Mercer and Cervelli are two of the cheapest ways to get exposure to the offense.
Third Base

Anthony Rendon FD 3500 DK 4400
Opponent - COL (Kyle Freeland) Park - WSH
FD - 13.29 DK - 10.02
Rendon is going to be one of my favorite bats on a slate every single time he faces off with a subpar lefty. He's not only dominant against left-handers, he's sitting in the heart of a lineup that lets him see a ton of solid pitches to hit. Rendon walloped lefties to the tune of a .460 wOBA in 2017, so elite by any sense. He now faces off with Kyle Freeland, who allowed a .345 wOBA against righties himself in 2017. The Nationals are expected to score over 5 runs and you have to think Rendon gets involved. This team is a great stack and I'll have plenty of exposure in all formats.

David Freese FD 2400 DK 3000
Opponent - MIA (Dillon Peters) Park - MIA
FD - 9.73 DK - 7.41
All the Pittsburgh lefty mashers! I was about to add Josh Harrison as well, so I gave you a break. David Freese looked like gem against lefties in 2017, posting a .364 wOBA. He's always been a lefty specialist and has been hitting fine to start this season. He's facing off with a guy in Dillon Peters that we've touched on plenty. Vegas thinks the Pirates put up 4+ runs here and I have to agree. The Pirates are a team I love to target against lefties and I'll have my fair share of Pittsburgh stacks. Freese is actually super cheap on both sites and can also be used as a simple punt play. He's cheap enough. I'll have a lot of David Freese on my teams, even though I do love Rendon.
Outfield

Mookie Betts FD 4500 DK 5100
Opponent - BAL (Chris Tillman) Park - BOS
FD - 15.47 DK - 11.79


J.D. Martinez FD 4000 DK 4800
Opponent - BAL (Chris Tillman) Park - BOS
FD - 15.14 DK - 11.36

Andrew Benintendi FD 3900 DK 4000
Opponent - BAL (Chris Tillman) Park - BOS
FD - 13.15 DK - 10.02
The only reason I haven't mentioned more Red Sox to this point is that you can only play so many of them, and so much of their value is concentrated in the outfield. Sure, you can go Hanley, or Nunez, or Devers, but none are on the same level as any of these three options. Let's get the match-up out of the way. Against righties, Chris Tillman posted a .400 wOBA. Against lefties, a .429. Tillman is horrid against both sides of the plate and has a big issue with the HR ball. Benintendi is obviously the lefty here and a solid cash game option if you can't pay all the way up. If you can, I love both Martinez and Betts in all formats. The Red Sox hold the highest run total on the night and should be paid attention to at just about every position. I personally like Martinez the most, but will have about equal shares of him and Mookie, with Benintendi sprinkled in.
Avisail Garcia FD 3100 DK 3600
Opponent - MIN (Hughes) Park - MIN
FD - 8.8 DK - 6.79

Nick Delmonico FD 2500 DK 3700
Opponent - MIN (Hughes) Park - MIN
FD - 7.93 DK - 6.01
We have ignored the White Sox up to this point, but that's just because they are absolutely horrible. You can play Yoan Moncada and Jose Abreu here in all formats. Phil Hughes is worse than terrible and I have no idea why he's still in the major leagues. In 2017, he allowed a .457 wOBA to lefties and a .323 to righties. He wasn't much better the season before. Avisail Garcia is a guy you want to play against lefties, but a .356 wOBA and 16 homers is great against righties as well. Delmonico is young and going to hit 20+ homers against righties in most years. Both of these guys are in play in all formats and I'll make sure I have exposure to the atrocious Phil Hughes. Good luck tonight and feel free to comment below with any questions! Thanks a lot!
GRAB A FREE TRIAL OF OUR PROJECTION SYSTEM, AND CHECK OUT DFSR PRO!
FREE EBOOK
SECRETS TO CRUSHING DAILY FANTASY FOOTBALL!
DON'T SET ANOTHER LINEUP BEFORE YOU READ THIS BOOK.