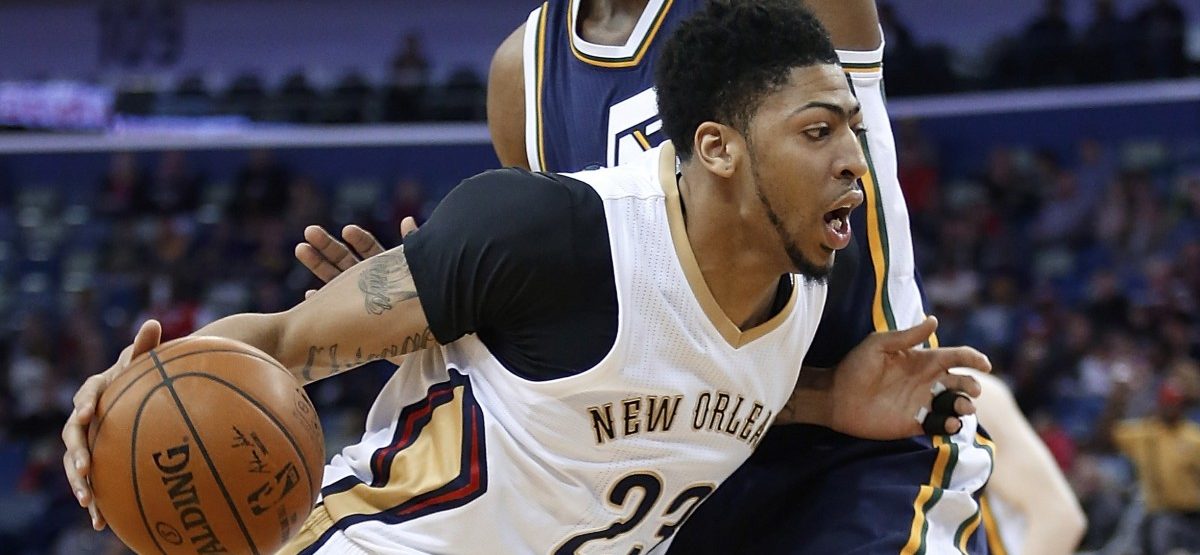 Daily Fantasy NBA Playoff Picks for FanDuel and DraftKings - Round 1 4/14/18
The regular season is in the books and now the real basketball begins. After (somewhat) slogging our way to the finish with tanking teams and resting starters, the NBA gets new life as the playoffs get underway. Let's take a look at some of Satruday's first-round matchups.
Now's your chance to get DFSR PRO, which will give you access to our NBA and MLB optimizerz and our new player lab! Get started for free by clicking the button below.
First time with NBA or MLB? Be sure to read our free MLB Ebooks on building lineups, general strategy and more. We've got you completely covered.
San Antonio Spurs at Golden State Warriors
In the first game of the day, the Kawhi Leonard-less Spurs take on the Stephen Curry-less Warriors. It's an interesting spot for both teams. The Warriors went 4-3 over their last seven games (the timeline of when Kevin Durant came back to playing full minutes) and have looked vulnerable (relatively speaking) without Curry. That being said, they are eight-point favorite at home against the Spurs who went 4-5 over their last nine and scraped their way into the playoffs by one game.
On paper, for DFS purposes, this isn't a great matchup for Golden State considering San Antonio played the second-slowest pace in the league (97.2) and had the fourth-best defensive efficiency. Even though the Warriors are favorites, the 108.5 implied points is low for them considering how their top dogs are priced. We should see big minutes out of Kevin Durant (FD 10900 DK 10700), Klay Thompson (FD 6500 DK 6200), Draymond Green (FD 7000 DK 7400) and likely Quinn Cook (FD 6400 DK 5800). Of that group, Green appears the best value. I still like the minute's upside on Cook for his price and he's been able to find looks in this offense as a pseudo-Curry replacement. It will also be interesting to see how much they run Andre Iguodala off the bench as his role tends to increase come playoff time.
The Spurs, outside of LaMarcus Aldridge (FD 10200 DK 9700) can be tough to get a handle on minutes wise. Popovich plays matchups as much as anyone in the league and they'll likely come out starting Aldridge at the five. He should see minutes pushing towards 40 and has had some success against the Warriors this season. After him, we are rolling the dice on the other starters. Patty Mills (FD 4800 DK 4500) will see minutes at times but needs to knock down the three with regularity to be in any way fantasy viable. The rest of the starters are an uninspiring fantasy bunch.
Washington Wizards at Toronto Raptors
For this first slate, the Raptors guards are significantly underpriced on FanDuel. Kyle Lowry at $6800 and DeMar DeRozan at $7000 look like pricing mistakes plain and simple. After a few weeks of the Raptors on autopilot, because their playoff fate was all but sealed, the two guards weren't asked to do much from a minutes' perspective. That should shift in this game especially if (but not limited to) Fred VanVleet needs to sit out. Both Lowry and DeRozan should shoulder much of the scoring burden for the Raptors and on FanDuel almost no one else with their pedigrees or minutes upside is in this price tier. They make it somewhat easy to get away from some of the big money plays on the slate.
We can also keep an eye on Jonas Valanciunas (FD 6200 DK 5500) and Serge Ibaka (FD 5900 DK 5100) pushing minutes especially if the Raptors are able to get out and establish early leads. They are eight-point favorites against a moderately banged up Wizards' squad.
The Wizards draw a tough matchup against the fifth-best defensive efficiency team in the league. That being said, it's easy to envision a scenario in which John Wall and Bradley Beal (FD $7900 DK $7000) play huge minutes (up and over 40 at least). There's no reason to save them now and the Wizards have never been exactly shy about running their two stars to death.
The biggest injury news to keep an eye on for this slate is the status of Otto Porter. I'm not so interested in him as much as if Kelly Oubre (FD 4400 DK 4900) draws the start in his stead. If Porter is out, Oubre would likely become the highest-owned play on this four-game slate.
Miami Heat at Philadelphia 76ers
Ooh, baby, the 76ers have quickly become one of (if not, the) best story in the NBA this season. From a non-playoff, year (or two) away "process" building team, they defied all expectations and finished third in the East. Even without Joel Embiid down the stretch, they finished the season on a 16-game winning streak thanks to a versatile team led by Ben Simmons (FD 10000 DK 9400). It's been amazing to watch and now they enter the first round as a seven-point favorite against the Heat. Simmons averaged 15 points, nine rebounds, nine assists and two steals since Embiid went down on March 28th. It stands to reason he'll play huge minutes in this series with the 76ers playing at least game one without their big man.
Robert Covington's late-season fantasy surge has his price at the breaking point on both sites. But Dario Saric (FD 5700, DK 6400) is looking like a bargain on both sites. We have him seeing a 14% usage bump with Embiid off the court.
Finally, keep an eye on J.J. Redick's status for this game. If he sits, Marco Belinelli (FD 5400 DK 4700) would become one of the slate's best value plays.
Miami remains something of a mystery when it comes to their rotations and honestly, that might not change for this series. Coach Spo' will mix and match rotations as he sees fit. In recent meetings, Hassan Whiteside(FD 7000 DK 7200) saw big minutes, but that was when Philly had Embiid on the court, so I'm not sure recent games are a good comp for what they will do on Saturday. That being said, if he touches high-20's minutes then Whiteside is one of the best dollar-for-dollar values on the slate. He's especially intriguing on FanDuel where we have real questions at the center position.
Of all their guys, I'm most confident in Josh Richardson (FD 5800 DK 5900) playing major minutes. He's versatile, awesome on defense and can even take over secondary ball-handling duties when necessary. He needs every single minute to hit value, but his lower mid-tier pricing could help round out lineups on this slate. The rest of the bigger wings (James Johnson, Kelly Olynyk, and Justise Winslow) have big upside if they see the minutes, but rate out as GPP plays.
New Orleans Pelicans at Portland Trailblazers
And finally, the Pelicans enter the playoffs making lemonade out of lemons with the DeMarcus Cousins injury. Anthony Davis (FD 12500 DK 11300) has been nothing short of an MVP-caliber player in that time. Since Cousins went down on January 26th, Davis averaged 29 points, 11 rebounds, three blocks and two steals a game. These numbers are obviously beyond elite and the reason he's the most expensive player on the slate. It will be tough to fit his salary considering how few "cheap" options we have on either site, but no other player has his upside.
It stands the reason the Pelicans will shorten their rotations and most likely run Jrue Holiday (FD 8700 DK 7900) up and over 40 minutes per game in this series. He too is expensive but has a minutes' floor as high as anyone going on Saturday. Nikola Mirotic (FD 7700 DK 6900) should remain in the starting lineup and has become a high-volume shooter in the short term, averaging 16 looks per game over his last seven and knocking down more than 40% of his threes. E'Twaun Moore (FD 5000 DK 4600) could be a reasonable "punt" play if he sees minutes in the mid 30's.
The Blazers will likely push Damian Lillard (FD 9800 DK 9200) and C.J. McCollum (FD 7000 DK 6800) to the max here and it's the perfect spot to roster them. New Orleans finished as the fastest-paced team in the league (102.7) and the possession volume alone boosts the Portlands guards' expectations. McCollum is one of the best values on the slate and makes for another way to middle-out lineups rather than spending up. Both Lillard and McCollum's core competencies are scoring which can make for volatile fantasy performances if the shots aren't falling. But considering how much of the offense they control, I'm not worried about them hitting their implied floors in this matchup.
GRAB A FREE TRIAL OF OUR PROJECTION SYSTEM, AND CHECK OUT DFSR PRO!
image sources
JAZZ-PELICANS: (AP Foto/Tyler Kaufman)