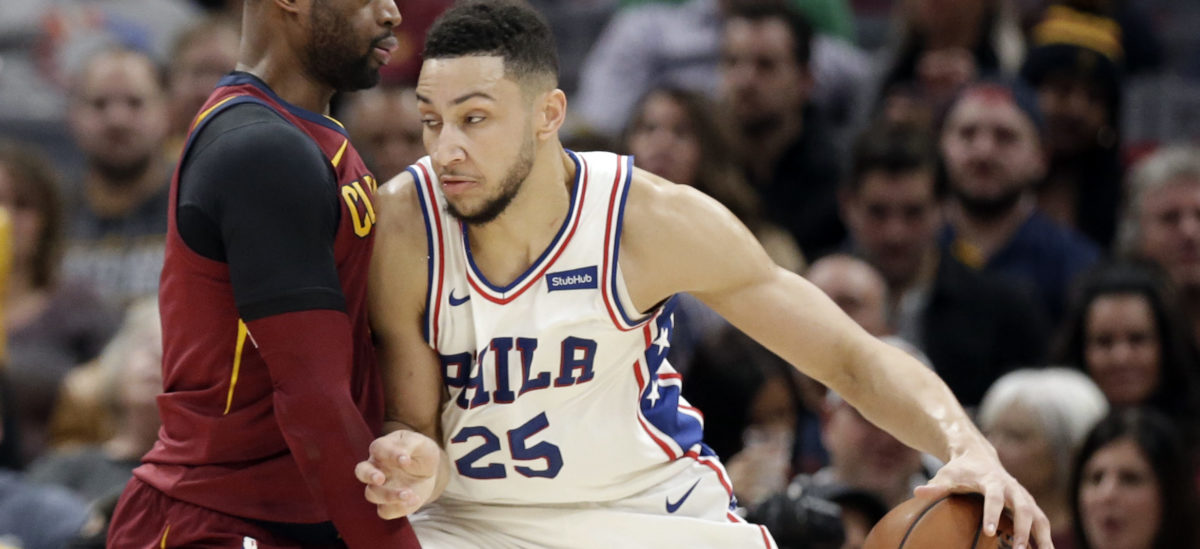 Daily Fantasy NBA Playoff Picks for FanDuel and DraftKings - Round 1 4/16/18
After a wild weekend of playoff basketball including overtimes, blowouts, the Cavs down a game, and more, Monday brings us just two games on the evening. But there's plenty of reasons to like this smaller slate.
Now's your chance to get DFSR PRO, which will give you access to our NBA and MLB optimizerz and our new player lab! Get started for free by clicking the button below.
First time with NBA or MLB? Be sure to read our free MLB Ebooks on building lineups, general strategy and more. We've got you completely covered.
San Antonio Spurs at Golden State Warriors
The Warriors blew the doors off the Spurs on Saturday, winning by 21 in a game that was never really in doubt. They came out like a force on the defensive end, with the Spurs only mustering 17 first-quarter points (buoyed by a last second three-point heave by Ginobili to even get it to that measly number). No starter for either squad was pressed at all making for an interesting look at Game 2. Sure, these are the Spurs and they always have tricks up their sleeves (presumably) but the Warriors looked in complete control in the first game.
Kevin Durant (FD 11800 DK 54.7) took the Spurs to task with 24 points, eight rebounds and seven assist in *only* 32 minutes. He was a chalk play on Saturday and it stands to reason he'll be right back near the top of ownership again on Monday considering the short slate.
Andre Iguodala (FD 4800 DK 23.88) drew the surprise start at point guard in a move surely hidden until game time so as not to give Pop time to prepare. He only played 23 minutes and was fine enough from a value perspective, though falling a little short on his prices. In a close game, it's easy to think he pushes to 30 minutes, and could still be something of a value.
The big fantasy story was JaVale McGee (FD 4500 DK 13.65) who also drew the start, played 16 minutes and completely dominated with 15 points, four rebounds and two blocks while at near minimum salaries. He'll stick in the starting lineup for Game 2 as he was effective against LaMarcus Aldridge in the post.
The Spurs were a complete mess on both sides of the ball. They couldn't get anything going on offense, struggling for even moderately good looks and never getting into any kind of flow. Rudy Gay (FD 5800 DK 24.95) started the second half start for Kyle Anderson and that move could stick for Game 2. Gay was a nice source of fantasy value on the relatively cheap, finishing with 15 points and six rebounds. Without too much of a price hike, he could be one of the more popular plays on the slate even if still coming off the bench to start the game.

Miami Heat at Philadelphia 76ers
Well, if we weren't already sure, Saturday seemed to hammer it home with stark clarity. The Sixers are very much for real. They wiped the floor with the Miami Heat, drubbing them by 27 and putting up 130 points in "the process". Ben Simmons (FD 10500 DK 55.17) was once again the engine, finishing with 17 points, 14 assists, and nine rebounds. He got into the lane over and over, exploiting just about every defensive switch the Heat threw his way.
The Sixers went very small, starting the second half with Ersan Ilyasova (FD 7300 DK 27.79) at the five and daring the Heat to keep Whiteside on the court. The gamble paid off and Ersan torched the Heat with 17 points and 14 rebounds. I expect the change to stick for game two, or at least for him to continue pushing towards and over 30 minutes. Marco Belinelli (FD 5900 DK 23.27) also caught fire from beyond the arc (4-7) and went 9-17from the field. Look, Philly isn't going to keep shooting 64% from three, the scoring was something of an outlier. But it's nice to be able to project these smaller rotations at heavy minutes.
Meanwhile, the aforementioned Hassan Whiteside (FD 6800 DK 26.29) was a massive disappointment and it's hard to see a path for him staying on the court in this series. That left a lot of minutes for Kelly Olynyk (FD 6400 DK 30.94) and Justise Winslow (FD 5300 DK 22.99) with Tyler Johnson also getting burned off some of his run. We've been down this path before with the Heat. Just when you think you have an idea of their plan, some other guy plays a ton. But Olynyk is especially intriguing at his prices and does match up well with the rotations Philly will likely run going forward.
I'm also still fine playing Goran Dragic (FD 6300 DK 32.96). He ran cold from the field, but his minutes at least seem moderately secure. On a two-game slate with very few point guard options, he appears a "safer" cash play.
The power forward spot on the Rockets is pretty interesting here because it's not totally clear to me where the minutes and production (such as it is) from this position go. PJ Tucker has gotten some extra minutes, but it's not clear that the production will follow. He still makes a high impact big tournament option on minutes alone, though.
GRAB A FREE TRIAL OF OUR PROJECTION SYSTEM, AND CHECK OUT DFSR PRO!