Basketball Lineups Daily Fantasy
Expert Advice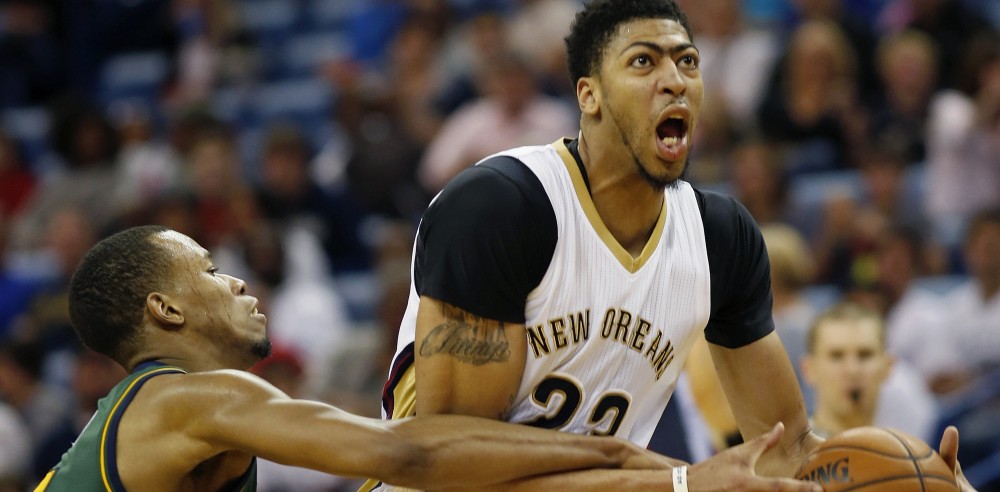 Daily Fantasy NBA Playoff Picks for FanDuel and DraftKings - Round 1 4/17/18
Tax Day got you down? No worries, the NBA has a three-game slate of playoff action to take your mind off it. There's plenty to like about Tuesday's games with some value on both sites and starters running tons of minutes for some squads.
Now's your chance to get DFSR PRO, which will give you access to our NBA and MLB optimizer and our new player lab! Get started for free by clicking the button below.
First time with NBA or MLB? Be sure to read our free MLB Ebooks on building lineups, general strategy and more. We've got you completely covered.
Washington Wizards at Toronto Raptors
Raptors lead series 1-0
Toronto exorcised a partial bit of their playoff demons by winning Game 1 over the Wizards 114-106 on Saturday. They got over those initial game jitters that have plagued them in the past and took a lead in the series.
Kyle Lowry (FD 7300 DK 7200) and DeMar DeRozan (FD 7400 DK 7400) remain criminally underpriced on FanDuel. They were ultra-chalky plays on Saturday (both hovering around 90% ownership in cash games) and will likely be right in the same range again on Tuesday. Lowry was the better of the two, 11 points, nine assists, and three rebounds as he failed to hit value. The 38 minutes were encouraging, but he lacked usage, getting up only nine shots in that time. DeRozan struggled some from the field in his 35 minutes, going 6-17 and finishing with only 17 points. Those performances aside, I still think we are getting significant value on their prices and both stand to play high 30's minutes again.
Serge Ibaka (FD 6100 DK 5600) was excellent in his 33 minutes, finishing with a team-high 43.9 FanDuel points on a 23/16 line. He ran ridiculously hot from the field at 8-11 shooting (3-4 from three) and I don't think we can pencil him in for this kind of contribution again, but the minutes were encouraging for sure. He's not a must-play at his prices, but power forward is often a thin position on FanDuel.
No other Toronto player rated out as a viable fantasy option other than Delon Wright and I think his minutes trend down to earth in Game 2 with Fred VanVleet likely to return.
Meanwhile, the Wizards were rather predictable in how they deployed their rotations. Namely, the starters played a ton. John Wall (FD 9800 DK 9100) finished with 23 points and 15 assists while also struggling from the field on 6-20 shooting. He remains a solid play again even at a crowded point guard position. I prefer the DraftKings price, but he could see higher ownership on FanDuel because you have to roster two.
Marcin Gortat (FD 4300 DK 4800) is the best center value play on the slate. He played a crazy-high (for him) 29 minutes and that even included early foul trouble that burned off some of his early run. The 12 points and six assists seem like the floor for this amount of minutes and I have no problem using him as salary relief on FanDuel.
And finally, I want to trust the minutes on Markieff Morris (FD 6000 DK 5300) and yet we've seen time and time again the dude get into foul trouble or miss too many defensive rotations (with the minutes getting dusted). But he was one of the best plays of the first day of games with 22 points, 11 rebounds and six assists. This performance and little movement on his price will likely land him as one of the higher-owned plays on Tuesday.
Milwaukee Bucks at Boston Celtics
Celtics lead series 1-0
No sooner had Terry Rozier crossed Eric Bledsoe over into oblivion and buried a three, than Khris Middleton came back to hit a wild buzzer-beater sending the game into overtime. It took the extra frame to get either team into double-digit scoring in a game that was generally a slog until the final few minutes of regulation. But we did learn quite a bit about how the teams were going to use their rotations. Namely, the Celtics are going to play their starters (minus Baynes) major minutes. Even for a rather low-scoring game we saw some of the best fantasy value come from these two teams.
Al Horford (FD 8000 DK 7300) went to the moon on his best fantasy game of the season putting up 24 points, 12 rebounds, four assists, three blocks and two steals while dealing with Giannis on the defensive end. It was an incredible two-way performance and he rates again as one of the best DraftKings plays on the board. He should continue seeing close to 40 minutes in regulation.
Jayson Tatum (FD 7200 DK 6300) and Jaylen Brown (FD 6400 DK 6000) also played 40 minutes plus in regulation and their tenacity on both ends of the floor gives them higher fantasy floors relative to their respective pricing. Tatum was the better of the two with 19 points, 10 rebounds, and four assists. Expect higher ownership on him at a thinner small forward position.
It's tough to choose who to spend the big money on with this slate between Giannis Antetokounmpo (FD 11200 DK 10600) and Anthony Davis (who we'll get to shortly). I think I'll lean Davis but it's close considering the savings on Giannis. He played 41 minutes in regulation and they ran the offense through him on nearly every possession. He ended up fouling out in overtime on a questionable call but showed that even with a slower pace of play he could put up value at his salaries. He finished with 70.1 FanDuel points and suffice to say he'll log major minutes again. They played him at the five down the stretch in a move that seemed to be working late.
Khris Middleton (FD 8400 DK 7400) might have the highest minutes' floor of any player going in the playoffs. He played 42 in regulation and the DraftKings price is very tempting considering the Game 1 returns. Guys like Middleton and Horford make it a bit easier to fade the big money guys on DK.
Also, if John Henson (FD 5500 DK 4600) minutes were for real, then he is a solid power forward value on both sites.
New Orleans Pelicans at Portland Trailblazers
Pelicans lead series 1-0
The Pelicans stole a game from the Blazers on the road in Game 1, thanks to Anthony Davis (FD 12700 DK 11400) continuing his tour-de-force through the NBA since DeMarcus Cousins went down. He dominated both ends of the floor, scoring 35 points, ripping down 14 rebounds and also throwing in six combined blocks and steals. It's difficult facing the prospect of fading him in cash games on these short slates. The Blazers don't really have a defensive answer for him (few if any teams do) and his minutes are as secure as they come. Even against a slower/ defensively sound team like Portland, Davis has such crazy upside because he contributes across the stat line and on FanDuel gets such a boost from the defensive stats.
New Orleans was able to hide Rajon Rondo (FD 6400 DK 7100) on defense enough to keep him out there for high 30's minutes. It's a departure from what they did during the regular season when Rondo would have to spend time on the bench because he's such a defensive liability. But hiding him on Turner at times was enough to help him finish with 17 assists. He's still a candidate to lose run if Portland figures out more ways to expose him (and they likely will).
Portland only put up 36 first-half points with Damian Lillard (FD 9800 DK 9300) and C.J. McCollum (FD 7100 DK 6700) both struggling to get anything going early. They both picked it up in the second half, but it wasn't enough for either to come close to sniffing value. I don't expect a repeat performance from that point of view and consider both elite cash game options. The Pelicans still aren't a great defense and do play fast. Dame and CJ both ran cold relative to their season field goal percentages (though they were each fine from three). Expect a bounce-back game and McCollum's DK price is very much a value.
And finally, Evan Turner (FD 4400 DK 4100) is as close as you'll get to a punt play on these playoff slates. 30 minutes at the FanDuel minimum was easy value and we went 5x+ in fantasy scoring.
GRAB A FREE TRIAL OF OUR PROJECTION SYSTEM, AND CHECK OUT DFSR PRO!
FREE EBOOK
SECRETS TO CRUSHING DAILY FANTASY FOOTBALL!
DON'T SET ANOTHER LINEUP BEFORE YOU READ THIS BOOK.