Basketball Picks Daily Fantasy
Expert Advice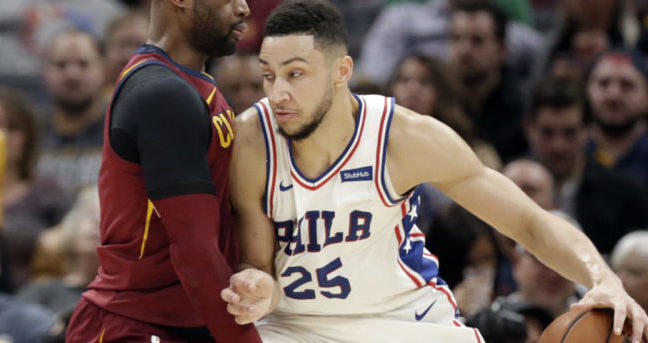 Daily Fantasy NBA Playoff Picks for FanDuel and DraftKings - Round 1 4/19/18
Now's your chance to get DFSR PRO, which will give you access to our NBA and MLB optimizer and our new player lab! Get started for free by clicking the button below.
First time with NBA or MLB? Be sure to read our free MLB Ebooks on building lineups, general strategy and more. We've got you completely covered.
Philadelphia 76ers at the Miami Heat
Series tied 1-1
Miami came back with a vengeance in game two on the back of a surprise break-out from Dwyane Wade ($4,400 FD, $5,600 DK). Wade cited the taunts of Kevin Hart as his motivation for this vintage performance, but what should we project for him going forward? Will he really put up 16 shots a game on ~25 minutes? Either way, I think you'll see him as a chalk play on FanDuel where the price is unreasonably low.
After Wade, we saw James Johnson ($5,400 FD, $5,700 DK) stay out there for 37 minutes to cover Ben Simmons, and we saw him put up ~7x points per dollar on these prices. Josh Richardson ($5,800 FD, $5,500 DK) was his usual solid self as well. The rest of the team? It's sort of a mystery.
Kelly Olynyk ($5,600 FD, $6,100 DK) was great on his 33 minutes after being excellent on 31 minutes in game 1, and he should be a cash game staple for the rest of the playoffs on these prices as well. The real question for Miami is the guard play. Will they really play Dragic and Johnson a combined 39 minutes again? If it ain't broke, don't fix it? I'm not sure, but neither seem like worthwhile risks given Miami's game 2 success.
As for Philly, you really only saw great performances from Ben Simmons ($10,000 FD, $10,200 DK) and Dario Saric ($5,700 FD, $6,600 DK), and both of them look like excellent cash game plays tonight as well. Our system is down on Covington and Ilyasova on a match-up basis, but I'm actually pretty bullish on JJ Redick ($5,600 FD, $5,200 DK). He was out there for 36 minutes and missed too many open looks to finish 1-7 from deep. If he hits his fair share of those he's paying these prices handily.
Portland Trail Blazers at the New Orleans Pelicans
Pelicans lead the series 2-0
Rajon Rondo (FD $6400 DK $7400)
Anthony Davis (FD $12700 DK $10900)
Nikola Mirotic (FD $8000 DK $7000)
It ain't the big three we anticipated at the beginning of the Pelicans' season, but who are we to complain? These three are all threats for 40+ minutes a game, and all look like phenomenal plays as we roll into game 3. I was a little unsure to what lengths the Pelicans would go to shorten their rotations come playoff time, but I've been pleasantly surprised in their performances for DFS and real life purposes.
Let's talk a little bit about Jrue Holiday (FD $8300 DK $7900) as well. He's been excellent through two games, but this is mostly on the back of a dramatic increase in usage over his regular season stats. If his true rotation is the 39 minutes we've seen so far, we'd expect about 17 shots per game if you went by his regular season usage. He's averaged 22 shots per game. I would guess that the truth here lies somewhere between the 2, but the combination of the higher price and the relatively tough match-up has me at least a little bit concerned.
The Portland side of things gets quite a bit hairier. It's business as usual for C.J. McCollum (FD $7100 DK $6700) and Damian Lillard (FD $9600 DK $8900), who are playing increased minutes with increased usage in the same way you'd expect for the two major offensive threats on a team against one of the worst defenses in the playoffs. For McCollum the performance has followed. For Lillard.... yikes. He scored 22 fantasy points thanks to a 1-7 day from three and seven turnovers, and was a major contributor to the Trail Blazers' woes. He shot 6-23 from the field in game one as well. So what's the story? Is he choking? Unlucky? Somewhere in-between? I still think he's a good value here, and even if you don't want him for cash games you have to think about him for big tournaments.
After Lillard and McCollum it just gets messy. Al-Farouq Aminu (FD $4800 DK $5300) saw an increased role in game 2, and was generally excellent on his current prices. He's one of the few defensive answers they have to Davis and Mirotic's ability to stretch the floor, and I expect similar things from him in game three. I frankly don't know what to make of the small forward and center positions, though. Nurkic saw his minutes decrease to 15 minutes in game 2, and looks completely unplayable. Evan Turner gave way to the returning Maurice Harkless (FD $3600 DK $4200), who played 25 minutes on near minimum prices. I can't say with any certainty that that trend will continue, but if it does he's an excellent play in all formats here.
Golden State Warriors at the San Antonio Spurs
Warriors lead the series 2-0
The Dubs followed up a 21 point win with a 15 point win, and are looking like the one playoff team that's going to make us worry about blowouts and minutes risk. Kevin Durant (FD $10900 DK $10300) Klay Thompson (FD $6500 DK $6800) were both excellent on their prices in their last match-up, and I don't see any reason for that to change here. Without Kawhi Leonard the Spurs simply have no answer for Durant's length, and Klay Thompson is just a flat out value on these prices regardless of who guards him if he's going to be out there for 37+ minutes. Andre Iguodala (FD $4000 DK $4800) only got 27 minutes as the starter, but was still more than adequate on these prices. The real questions here surround Draymond Green (FD $7000 DK $7500). He contributed across the board in game 1, but disappeared completely in game 2. Overall it just looks like a shooting blip to me, and with Iggy out there instead of Cook it stands to reason that the general plan is to run the offense through Draymond once again. I like all four of these guys for cash game purposes.
As for the Spurs, it seems like the only real constant is... Rudy Gay (FD $5500 DK $5100)? Uhh, okay. Gay went back out there for 37 minutes, relegating Kyle Anderson to just 10 minutes of back-up action. It seems like Pop like's Gay's athleticism on both ends, and is willing to live with his tunnel-vision style offense if it means someone can contribute offensively. He'll be hugely owned in cash games at these prices.
LaMarcus Aldridge (FD $10000 DK $9400) took a big step forward in game two, and while he has to be a big part of the equation if the Spurs are going to do anything here, he honestly looks a bit overpriced for cash game purposes. Like I'd always rather play Ben Simmons at these prices and position. Still, I think he's a big upside target for tournaments.
It's also noteworthy that Patty Mills (FD $4800 DK $4300) got 16 shots up in the air last game. On paper Mills should benefit from an up-tempo pace against the Warriors, but it hasn't typically played out that way for him when he enters the starting lineup. Considering he got just 5 shots off in the first game, it's hard to recommend him in anything other than a big tournament.
After those guys? It's anybody's guess. The Spurs look to be in desperation mode to me, and that's not a great recipe for double-up lineups. Still, there has to be upside here if the minutes are that questionable, so feel free to stack this game if all you're chasing is the highest possible score (while accepting some considerable downside risk).
GRAB A FREE TRIAL OF OUR PROJECTION SYSTEM, AND CHECK OUT DFSR PRO!
FREE EBOOK
SECRETS TO CRUSHING DAILY FANTASY FOOTBALL!
DON'T SET ANOTHER LINEUP BEFORE YOU READ THIS BOOK.