Baseball Picks Daily Fantasy
Expert Advice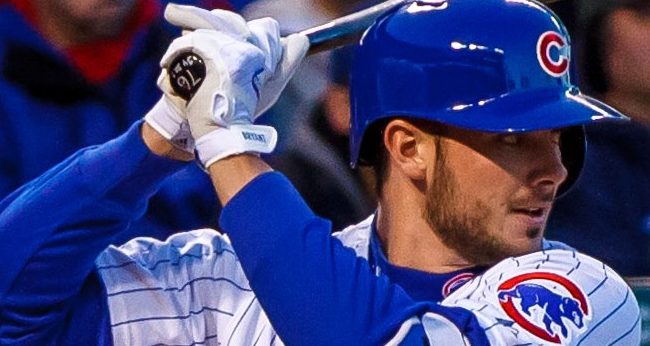 Daily Fantasy MLB Picks for FanDuel and DraftKings - 4/30/18
Now's your chance to get DFSR PRO, which will give you access to our MLB optimizer and our new player lab! Get started for free by clicking the button below.
First time with MLB? Be sure to read our free MLB Ebooks on building lineups, general strategy and more. We've got you completely covered.
Pitcher
Jake Arrieta FD 8800 DK 10900
Opponent - MIA (Dan Straily) Park - MIA
FD - 36.02 DK - 18.74
Welcome to Monday baseball! We have 10 games on the slate and a whole lot to decipher. We also have an early game, where you'll want to play Trevor Bauer against the Rangers. On this main slate, Jake Arrieta is the top option. He gets to face off with the Miami Marlins, which is one of the first things we look at every singe day. On the season, the Marlins rank dead last against righties with a pitiful .264 team wOBA. For reference, the Giants, who were dead last in 2017, held a .298 wOBA against righties. This Marlins team is historically bad and should be targeted as much as possible. They basically just rely on Justin Bour connecting on a fastball or Castro and Dietrich figuring something out. Arrieta isn't the same pitcher he once was, but he's been damn good recently. Over the last three games, he's gone 20.2 innings while striking out 13 and giving up 3 ER. His wOBA against is sitting at .220 against both sides of the plate and his strikeouts should come back to around 8-10 K/9. His price is fair on both sites and it's hard to find a reason to avoid him. Arrieta is my favorite pitcher on the slate and will be locked into the majority of my lineups.
Jeff Samardzija FD 7900 DK 8700
Opponent - SD (Eric Lauer) Park - SF
FD - 37.19 DK - 19.74
If you're not a fan of Jake Arrieta or think he's too volatile for how popular he will be, there is merit in pivoting to Jeff Samardzija. He has one of the better match-ups in the league with the Padres, who rank 26th against righties with a .291 wOBA. They just don't have much pop at all. Wil Myers is back out again and it's now Christian Villanueva in the 3 hole. It only gets worse after that. Samardzija is truly a weird pitcher and sometimes you just get a bad product. If he's on, you can easily see 7 innings and 7 strikeouts here with an easy win. The price is fair on both sites and he allows you to pay up for a few Cubbies and Red Sox. I definitely prefer Arrieta if I can find the funds to fit him, but the "Shark" Samardzija will be in a few of my lineups across both sites.
Strongly consider Eduardo Rodriguez. He's a big -230 favorite against the Royals in Fenway and is posting more than a strikeout an inning over the last two seasons. The walks remain a concern, but he's a solid arm coming on the cheaper side of things considering the K's and the win expectation.
First Base/Catcher

Buster Posey FD 2800 DK 3700
Opponent - SD (Eric Lauer) Park - SF
FD - 10.5 DK - 8.04
There's a general lack of attention paid towards Buster Posey at this point in his career, but I guess it's just because the world is used to the production. That and he plays in San Francisco, where it's pretty tough to get the bats going. Posey is still sporting his .410 wOBA against lefties, however, and is the best hitting catcher in baseball against southpaws. Tonight, the Giants face off with Eric Lauer, who's struggled in the minors and isn't expected to be very good. He gave up six runs in three innings in his first start, though that was in Coors Field. Vegas has the Giants projected for well over four runs and Buster Posey is an excellent DraftKings value.

Joey Votto FD 4100 DK 4600
Opponent - MIL (Jhoulys Chacin) Park - CIN
FD - 12.69 DK - 9.47
Moving on to first base, Joey Votto is the top raw option on the slate. The Reds, as a team, are one of our favorite offenses and Votto is the team's key cog. They're facing off against Jhoulys Chacin, who's always struggled against lefties, but has to an extreme level recently. Since the start of 2017, he's allowed a .342 wOBA and 14 home runs in 90 innings of work. He now moves into one of the friendlier ballparks in all of baseball and is expected to mightily struggle. Votto has held a .430+ wOBA in each of the past few years and has plenty of power at home. He's one of the top bats on the entire slate and is a guy I'll do my best to jam into every cash game.
Jesus Aguilar FD 2800 DK 3100
Opponent - CIN (Brandon Finnegan) Park - CIN
FD - 10.77 DK - 8.13
Jesus Aguilar is one of the top platoon hitters in all of the league. Against righties, he's rather useless. Against lefties, he's a power machine that can spread it to all fields. In 2017, Aguilar sported a .372 wOBA against left-handed pitching and boasted 16 total homers on the year. Tonight, he moves into Great American Ballpark and faces off with Brandon Finnegan. Finnegan has allowed righties to hit him to the tune of a .327 wOBA with pretty ugly peripherals. Aguilar is always going to come in pretty cheap and he deserves attention every time against a bad lefty.
Second Base

Javier Baez FD 4200 DK 4700
Opponent - COL (Kyle Freeland) Park - CHC
FD - 10.11 DK - 7.72
Javy Baez is having an electric season and looks to be finally putting everything together at the plate. He's still getting fall-to-the-ground hacks with two and three balls, but he's staying patient with two strikes and has worked a .292 average. He has seven homers and three stolen bases while not playing every day to start the season. Baez has also been better against lefties throughout his entire career, posting a .378 wOBA vs them in 2017. The Cubbies face off with Kyle Freeland, who's young and inexperienced. In his rookie 2017 season, Freeland sported a .334 wOBA against righties that moved to a .378 on the road. The Cubs are expected to put up some runs tonight and are one of my favorite teams to stack. Baez is always volatile, but also one of the leading candidates to park one in the Wrigley bleachers. He's also moved, at times, to second in the order which is great helping his plate appearance expectation.

Scooter Gennett FD 3500 DK 3600
Opponent - MIL (Jhoulys Chacin) Park - CIN
FD - 9.78 DK - 7.5
If an expensive and volatile Javier Baez doesn't do the trick, I get it. Here we have a phenomenal pivot that's not only cheaper but just as safe. He doesn't have the same upside as Baez (I'm aware he hit four homers in one game. That's not telling of his upside vs Baez in a future game), but will be hitting behind some studs and facing off with Jhoulys Chacin who's allowed a .342 wOBA to lefties and has severe HR issues. Love or hate Scooter Gennett, he's electric against righties in Great American Ballpark. In 350+ 2017 innings, Gennett sported a .380 wOBA against right-handlers. That number jumped to .396 in this ballpark. He's a great mid-range option in both formats and deserves plenty of attention at a pretty lackluster overall position.
Shortstop

Addison Russell FD 2400 DK 3300
Opponent - COL (Kyle Freeland) Park - CHC
FD - 9.78 DK - 7.4
To be brutally honest, shortstop is an ugly position. We have 10 games, so there will be some decent options by default, but nothing that really stands out. We'll start out with the Chicago Cubs and Addison Russell, who we just touched on with Baez. To keep you refreshed, Freeland has posted a .378 wOBA to opposing right-handers on the road. Addison Russell isn't the best hitter around, but he's held a competent .346 wOBA against righties and hit 12 homers in '17. This is less about the individual match-up than it is about a team we love and a guy that's going to be smack dab in the middle of it all. Add that with one of the weaker positions on the board and you have yourself an elite play in all formats. The price is fair across the board and he'll be in plenty of my lineups.
Eduardo Nunez FD 3000 DK 3500
Opponent - KC (Jason Hammel) Park - BOS
FD - 11.62 DK - 9.07
We haven't touched on the Red Sox yet, but we're about to hit them pretty hard at the next few positions. With shortstop being so ugly, I can understand not liking Addison Russell and wanting to go elsewhere. If you prefer the Red Sox match-up over the Cubs, Eduardo Nunez is a solid option in both formats. They're facing off with Jason Hammel, who has allowed a .330 wOBA to both sides of the plate. Nunez is actually better against righties and he sported a .355 wOBA against them in 2017. He hits better in Fenway Park and is fairly priced on both sites. The Red Sox are projected well over four runs tonight and Nunez will be hitting right after the heart of the order, giving him a guaranteed RBI opportunity or two. If you like the Red Sox over the Cubs, Nunez is a better option for you.
Third Base

Kris Bryant FD 4200 DK 4900
Opponent - COL (Kyle Freeland) Park - CHC
FD - 13.47 DK - 10.08
We touched on Javy Baez and Addison Russell already for the Cubs, but we all know where the real fun lies against the lefties. Kris Bryant is one of the best hitters in all of baseball and certainly one of the best on tonight's slate. We've already touched on Kyle Freeland, a lefty who's allowed a .378 wOBA to righties away from home. Wrigley Field is a hostile environment and the Cubs have been swinging a hot bat as of late. Bryant has always posted a .375+ wOBA against lefties and has plastered them to be gun this season at a current .524 wOBA. He excels in Wrigley and makes for a top play at the position in all formats. If you want to get crazy, Arenado is a monster against lefties in the same game but sees a much tougher match-up with Jon Lester. I'll personally have a lot of Kris Bryant and this next guy we're about to touch on.

Rafael Devers FD 3700 DK 4200
Opponent - KC (Jason Hammel) Park - BOS
FD - 12.01 DK - 9.19
If you're not a fan of Kris Bryant or just don't have the funds to pay for him, Rafael Devers is an excellent pivot. The Red Sox get to face off with Jason Hammel, who's been bad against both sides of the plate dating back to 2016. He's now allowing a .330 wOBA to both sides of the plate and has had HR issues for the past few seasons. Devers on the other hand is one of the more promising youngster bats in the game. He's posted a .334 combined wOBA and prefers playing in Fenway Park. I much prefer Kris Bryant if you can afford him, but Devers is a solid pivot in all formats for an affordable tag.
Outfield

Ryan Braun FD 3300 DK 4500
Opponent - CIN (Brandon Finnegan) Park - CIN
FD - 13.53 DK - 10.28


Lorenzo Cain FD 3900 DK 4600
Opponent - CIN (Brandon Finnegan) Park - CIN
FD - 13.1 DK - 10.16
Lorenzo Cain and Ryan Braun are both guys you want to target against lefties. You can throw Hernan Perez into the mix here as well, but Yelich will often find the start even against a lefty. The Brew Crew are facing Brandon Finnegan, who's a subpar lefty that's allowed a .327 wOBA to lefties. He hasn't shown any improvement and these Brewers are a massive park upgrade to Great American Ballpark. Cain and Braun both posted .340+ wOBA's against southpaws in 2017 and Braun got up to a .358. They aren't cheap, but neither are too expensive and both can be played in all formats. I prefer Braun just slightly, but both of these guys are in play across the board. Let's move on and find some legitimate value to finish things off.

Mookie Betts FD 4900 DK 5700
Opponent - KC (Jason Hammel) Park - BOS
FD - 15.42 DK - 11.75

Andrew Benintendi FD 4000 DK 4400
Opponent - KC (Jason Hammel) Park - BOS
FD - 12.96 DK - 9.87


J.D. Martinez FD 4100 DK 5100
Opponent - KC (Jason Hammel) Park - BOS
FD - 15.31 DK - 11.49
Whether the Brewers fit your mold or not, you'll need to go elsewhere. These 3 Boston Red Sox are all in play and I couldn't narrow it down to just two. Betts was out of the lineup Sunday, so make sure he's in there and plug him in. We touched on the Red Sox with Rafael Devers at 3B and Nunez at 2B but haven't been on them a ton. They get to face off with Jason Hammel, who posted a .330 wOBA against both sides of the plate in 2017. Benintendi holds the lowest wOBA between the three at .344 against righties and Betts and Martinez are both well over .370. Jason Hammel has shown reverse splits for the last couple years and is the last guy to ever be scared of. I personally like Martinez the most with Betts and Benintendi following, though all three are in play in the right spot.
Albert Almora Jr. FD 2900 DK 3400
Opponent - COL (Kyle Freeland) Park - CHC
FD - 10.66 DK - 8.28
We'll close things out with another Chicago Cubbie. I don't think I've overwhelmed, but I've made it clear that they are one of the top offenses on the slate. Opposed from Baez, Russell, and Bryant, who we looked at, Contreras and Rizzo are also in play. Kyle Freeland is not a good pitcher and these Cubs bats can put it together in a hurry. Whichever Cubs end up in the OF are in play, but Almora is an obvious value option. He held a .386 wOBA against lefties in 2017 and has followed it up in '18 with a monstrous .508. Almora has power and speed upside and his price is far too depressed across the board. He will likely be in the top of the order against a lefty and could pay off his entire salary once by just getting on-base. Good luck tonight and feel free to comment down below with any questions or thoughts!
GRAB A FREE TRIAL OF OUR PROJECTION SYSTEM, AND CHECK OUT DFSR PRO!
FREE EBOOK
SECRETS TO CRUSHING DAILY FANTASY FOOTBALL!
DON'T SET ANOTHER LINEUP BEFORE YOU READ THIS BOOK.