Baseball Picks Daily Fantasy
Expert Advice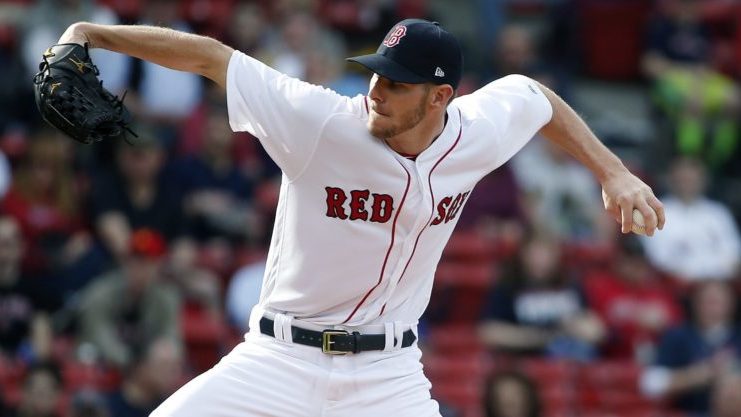 Daily Fantasy MLB Picks for FanDuel and DraftKings - 5/1/18
Welcome back baseball fans. The calendar has flipped to the month of May and hopefully, that means the temperature will start to rise(crossing my fingers). Tonight we have nearly a full main slate with 14 games which includes a very large selection of ace pitchers to choose from. Let's dig in and take a look at some of the top options for each position and be sure to check out of GPP stacks/pitchers article which will be out late morning.
Now's your chance to get DFSR PRO, which will give you access to our MLB optimizer and our new player lab! Get started for free by clicking the button below.
First time with MLB? Be sure to read our free MLB Ebooks on building lineups, general strategy and more. We've got you completely covered.
Pitcher

Chris Sale FD 11200 DK 12400
Opponent - KC (Jake Junis) Park - BOS
FD - 47.73 DK - 26.75
There are a ton of good pitching options tonight but looking at the early raw points projections, there are two options that are miles ahead of the others. I will start with Chris Sale who is slightly cheaper on both sites and also the biggest favorite(-300) by quite a bit as well. He has struggled slightly over his last two starts giving up three earned runs in each and struck out just four Jays in his last start but it doesn't scare me away at all as he is an elite pitcher with big-time upside striking out 11.57 batter per nine this season with a 15.4% swinging strike rate. The matchup jumps off the page as well as the Royals sits at the bottom of the league in almost every offensive category overall(.302 wOBA/86 wRC+/.123 ISO) and while they strike out at a league-low 15.4% against right-handed pitching, they have been terrible against southpaws striking out at a 25.4% rate.  All things considered, Sale is a safe play in all formats on Tuesday night.

Max Scherzer FD 11500 DK 12700
Opponent - PIT (Chad Kuhl) Park - WSH
FD - 47.05 DK - 26.22
Next up we have Mad Max who has been arguably the best pitcher in baseball this season with a 1.62 ERA/2.82 xFIP and striking out 10 or more batters in four of his six starts, he sits with an elite 13.15 K/9 rate and 18.2% swinging strike rate. The matchup may not be as good as Sale's but the Pirates have been much better vs. left-handed pitchers this season(.363 wOBA/131 wRC+) than against righties(.313 wOBA/99 wRC+) and they have also been struggling over the last 14 days sitting 26th in wOBA(.398), 25th in wRC+(88) and have been striking out at a 2.2% rate. The Nationals are -240 favorites at home tonight and if you are worried at all about Sale, Scherzer makes an elite option in all formats and with a full slate on tap, there is also a scenario where you could play both together in GPP's on DraftKings and get away with it as it leaves you with an average of $3,100 per player for the rest of your lineup.
Michael Wacha FD 6600 DK 8000
Opponent - CHW (James Shields) Park - STL
FD - 29.46 DK - 14.8
If you are going to play either of the above options on DraftKings tonight you are going to need a value option to pair them with if you are wanting to get a couple high-profile bats in your lineup. Enter Michael Wacha who I am never thrilled about rostering but tonight I am going to make an exception as he has a few things going his way. First of all, he has been terrific lately going at least six innings in each of his last two starts striking out 11 and allowing just one earned run in each. He has also been better at home allowing just four earned runs over 15.2 innings and while that is a small sample size, he was also much better at home last season as well. The Cardinals open as huge -230 favorites facing a White Sox team that has cooled off since the start of the season and rank mid-pack in almost all offensive categories over the last 14 days. I don't love the pick but there are limited mid-range options in as good of a spot as Wacha so I am willing to take the risk tonight.
First Base/Catcher
Hanley Ramirez FD 4000 DK 4300
Opponent - KC (Jake Junis) Park - BOS
FD - 11.74 DK - 8.87
With all the high-end pitchers tonight, I am going to take a bit of a discount to start the first base position and roll with Hanley Ramirez. He has been a huge contributor to the Red Sox early success on offense as he entered Monday night with a .326/.400/.467 slash line and while he sits with just three home runs, he has already picked up 17 runs batted in and 18 runs scored. Hanley has also been slightly more effective against right-handed pitchers with a .394 wOBA and 144 wRC+ and that is terrific news as he faces a weak one tonight. Jakob Junis started off the season allowing zero earned runs through two starts but has since given up 12 in his last three starts and it all blew up last game as he allowed the White Sox to club five home runs before he exited. The Red Sox have one of the highest implied run totals on the slate making Hanley a top pick at first base in all formats.

Logan Morrison FD 2400 DK 3100
Opponent - TOR (Marco Estrada) Park - MIN
FD - 11.52 DK - 8.64
If you are looking to load up with multiple pitchers on DraftKings or completely punt the first base position on FanDuel, take a close look at Logan Morrison. He struggled early on with his new team with hits in just three of his first 12 games but has started to come on lately with hits in seven of his last nine games including a double and two home runs. We know he has the power in his bast as he is coming off a huge breakout season where he blasted 38 long balls and gets a great matchup to add to his totals tonight vs. Marco Estrada who has given up seven home runs on the season with a 6.00 ERA and 5.18 xFIP. He can be known to shut down lefties with his changeup but the price is right to take the risk with LoMo tonight.
Catcher to Consider: Austin Hedges(SD)
Second Base

Cesar Hernandez FD 3600 DK 4300
Opponent - MIA (Jarlin Garcia) Park - MIA
FD - 12.06 DK - 9.41
Looking at the projection system, the Phillies currently sit with the highest implied run total of any team tonight so we better get some exposure. Hernandez is off to another solid start for the Phillies hitting .284 and while he doesn't have much power in his bat he is getting on base at a .415 clip at the moment and has already scored 19 runs going into Monday night. He has also been better against southpaws this season with a .439 wOBA and 182 wRC+ and will face Jarlin Garcia who is overdue for some regression. He has given up just one earned run through three starts(0.53 ERA) but has an xFIP(4.83) over four runs higher and is working with a very unsustainable .098 BABIP suggesting he may be a bit on the lucky side so far, especially considering he has given up over 30% hard contact. Will the Phillies be the team to bring him back to Earth? I am willing to roster Cesar and his teammates to find out.

Robinson Cano FD 4300 DK 3900
Opponent - OAK (Andrew Triggs) Park - SEA
FD - 10.11 DK - 7.73
While I prefer Cesar Hernandez on FanDuel at a $600 discount, it is Robinson Cano with the value on DraftKings as his price continues to hover under $4K. He has been consistent all season with a .313 average and .422 on-base percentage and comes into tonight with hits in 10 of his last 13 games including three doubles, his first three home runs of the season, and 10 RBI. Tonight, he will face Andrew Triggs who is 2-0 on the season but has been inconsistent walking 3.5 batters per nine and sits with a 4.70 ERA/4.04 xFIP while giving up just over 34% hard contact. The best part is the Mariners are one of the lower projected scoring teams on the slate which could leave Cano lower owned making him an excellent target in GPP formats as well as cash games.
Also Consider: Matt Carpenter(STL) in GPP formats
Shortstop

Paul DeJong FD 4100 DK 4400
Opponent - CHW (James Shields) Park - STL
FD - 10.97 DK - 8.36
Happy James Shields day, one of the favorite holidays of a daily fantasy baseball player. Shields has only given up one long ball on the season but make no mistake he has been pretty bad giving up 19 earned runs in his first five starts and sits with a 6.14 ERA and equally terrible 6.04 xFIP and has walked(17) more batters than he has struck out(15). Paul DeJong is right at the top of my list of targets for the Cards tonight who have the second-highest implied run total as he has been terrific to start his second major league season. He has flashed the same power he showed last season with seven home runs early and has shown reverse splits struggling against southpaws(.236 wOBA/46 wRC+) while destroying right-handed pitching(.399 wOBA/157 wRC+). He is safe in all formats.

Marcus Semien FD 3900 DK 4000
Opponent - SEA (Felix Hernandez) Park - SEA
FD - 9.62 DK - 7.33
The Athletics have been a Top 5 offensive team over the first month of the season when looking at wOBA(.347), wRC+(119) and Top 10 when looking at Slugging %(.456) and ISO(.191). One player who has played a big role in the team's success is Marcus Semien who currently sits third overall in runs scored with 24 and comes into tonight with hits in seven of his last eight games including five multi-hit efforts. He will face Felix Hernandez who appears to be on his last legs in the big leagues as his fastball velocity continues to drop(89 mph) resulting in fewer strikeouts(7.16 K/9) and more hard contact(31.6%). He sits with a 4.96 ERA/4.68 xFIP on the season and has given up at least one home run in four of his last five starts.
Also Consider: Adeiny Hechavarria(TB) vs. a southpaw
Third Base

Travis Shaw FD 3700 DK 4300
Opponent - CIN (Homer Bailey) Park - CIN
FD - 11.25 DK - 8.48
It's almost like there is a full moon tonight because it is not only James Shields day but also Homer Bailey day. The big difference between the two despite them both being pretty terrible at this point in their careers is that Bailey lives up to his name. He has given up multiple home runs in back to back starts and has given up six total on the season for a 13% HR/FB rate while giving up 42.5% hard contact. This is going to make the Brewers a very popular team to target tonight and one name I am looking at closely is Travis Shaw. He is not the face of consistency with a low .252 average but he has a ton of pop in his bat with five home runs and like most left-handed batters destroys right-handed pitching with .408 wOBA/158 wRC+/.292 ISO on the season.
Yangervis Solarte FD 3400 DK 3600
Opponent - MIN (Kyle Gibson) Park - MIN
FD - 9.75 DK - 7.45
Solarte came over in a trade from the Padres in the offseason and much like Shaw he isn't going to provide consistency but has power and with Josh Donaldson, Randal Grichuk, and Troy Tulowitzki on the DL Solarte has played a big role in the cleanup spot. He came into this season with 10 or more home runs in each of his first four seasons in the big leagues and is well on his way once again as he has seven already with 14 RBI and 17 runs scored. The matchup doesn't jump off the page but Gibson has been walking a ton of batters this season(4.67 BB/9) which should give Solarte plenty of opportunity to drive in runs and best of all, he comes at a discounted price.
Also Consider: Matt Duffy(TB)
Outfield

Ryan Braun FD 3200 DK 4300
Opponent - CIN (Homer Bailey) Park - CIN
FD - 12.59 DK - 9.57


Christian Yelich FD 3500 DK 4400
Opponent - CIN (Homer Bailey) Park - CIN
FD - 12.29 DK - 9.37


Lorenzo Cain FD 3900 DK 4500
Opponent - CIN (Homer Bailey) Park - CIN
FD - 11.6 DK - 9
The Brewers haven't lived up to expectations so far this season considering the lineup they have put together but all that could change tonight. Like I mentioned with Shaw, they get an elite matchup vs. "Homer" Bailey who has given up five home runs in his last three starts and 42.5% hard contact on the season. If you are playing cash games and only want to roster a couple of the Brewers I suggest gravitating to the top of the lineup and that starts with Lorenzo Cain who has been hitting leadoff. He is having an excellent start to the season with his new team slashing .290/.405/.480 with 18 runs scored and eight stolen bases. Also new to the squad in 2018 is Christian Yelich and while he isn't having the same success early on, he is still getting on base at a .350 clip. Then if you are wanting to add some power, turn to Ryan Bruan who hits right behind these two in the three-hole. He had a down season with just 17 home runs in 2017 but has already hit five this year and is on pace for another 20+ home run season which would be his ninth of his career.

Tommy Pham FD 4100 DK 4900
Opponent - CHW (James Shields) Park - STL
FD - 13.72 DK - 10.42
Pham's price is getting up there with the big boys but it is justified once you start digging into his numbers and early season success. He spent right around 10 years bouncing back and forth between the minor leagues and big leagues before finally getting a real shot last season and he didn't disappoint hitting over .300 with 23 home runs, 73 RBI, 95 runs scored, and also added speed with 25 stolen bases. So far this season, he has picked up right where he left off as he is currently slashing .341/.453/.511 with three long balls, 10 RBI, and 22 runs scored. He has been more patient at the plate bring the walks up(13.4% to 17%) and the strikeouts down(22.1% to 18.9%) resulting in many more opportunities to score runs. Once the rest of his team, specifically Matt Carpenter, get the bats going the Cardinals offense should take off.
Kevin Pillar FD 3500 DK 3600
Opponent - MIN (Kyle Gibson) Park - MIN
FD - 8.71 DK - 6.79
Dipping down into the value range at the outfield position we find another Blue Jay in Kevin Pillar. With all the injuries, he has moved up to fifth in the lineup which presents a ton value and it helps that he has been very consistent lately. He comes into tonight with hits in five straight and seven of his last eight games and for the season he is slashing .305/.351/.552 with 14 RBI and 20 runs scored and has been a key to the Jays early success without Josh Donaldson, Troy Tulowitzki, and now Randal Grichuk. The price is right where we can use him in all formats.
GRAB A FREE TRIAL OF OUR PROJECTION SYSTEM, AND CHECK OUT DFSR PRO!
FREE EBOOK
SECRETS TO CRUSHING DAILY FANTASY FOOTBALL!
DON'T SET ANOTHER LINEUP BEFORE YOU READ THIS BOOK.