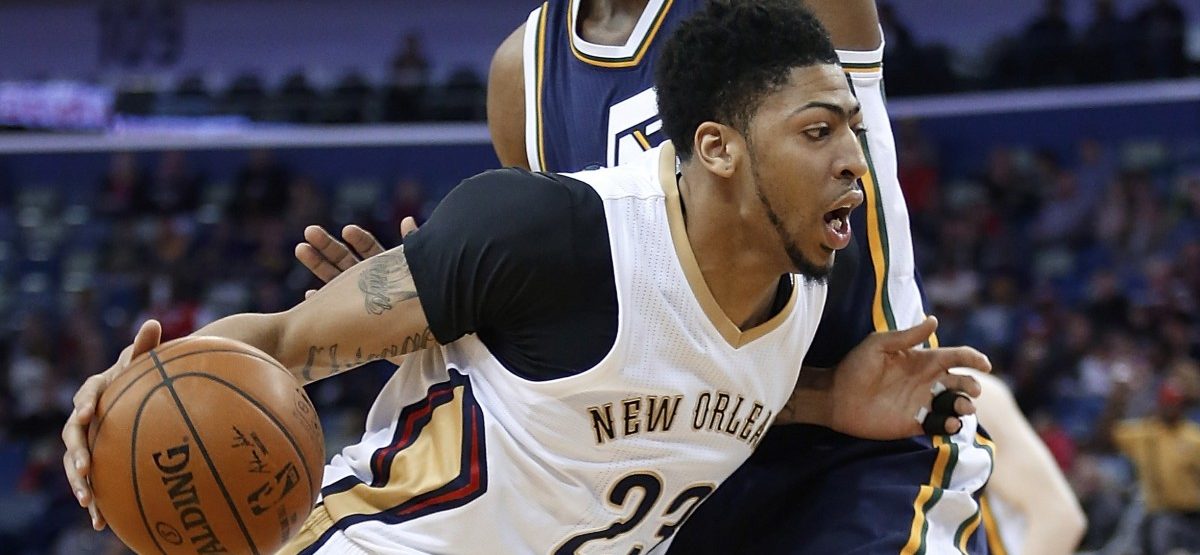 Daily Fantasy NBA Playoff Picks for FanDuel and DraftKings - Round 2 5/4/18
The playoffs roll right along with two games on Friday evening. The Rockets will look to take back home-court advantage on the road in Utah while the Pelicans try to keep their playoff hopes alive at home against the Warriors.
Now's your chance to get DFSR PRO, which will give you access to our NBA and MLB optimizer and our new player lab! Get started for free by clicking the button below.
First time with NBA or MLB? Be sure to read our free MLB Ebooks on building lineups, general strategy and more. We've got you completely covered.
Golden State Warriors at New Orleans Pelicans
Warriors lead series 2-0
Hand it to the Pelicans, at least they hung in Game 2. The Warriors pulled off the 121-116 win, but New Orleans kept the game close down the stretch. The big news from the game was the return of Stephen Curry (FD 9700 DK 8700). In a surprise move, he came off the bench but still finished with 27 points on 8-15 shooting (5-10 from three) and showed no signs of any rust. He'll move back into the starting lineup on Friday and remains an excellent DraftKings value if you think the minutes are set somewhere in the low 30's. The Pelicans have struggled with perimeter defense all season long and not much has changed in this series (against a team who will punish that weakness over and over).
The rest of the Warriors do take something of a fantasy hit with Curry back on the court. The prices adjusted some for this series, though not entirely considering Curry's presence does lower the implied usage across the team compared to their first-round matchup against the Spurs. Kevin Durant (FD 10600 DK 9300) has an intriguing DraftKings price and it will be interesting to see if we can fit him into lineups with some of the other plays on Friday. Durant still got up 23 shots in Game 2 and finishes with 29 points, seven assists, and six rebounds. Similarly, Draymond Green (FD 9000 DK 8200) finished with an excellent line, closing in on a triple-double, with his biggest upside being the number of minutes he stands to see going forward. He was the only Warrior to get more than 40 minutes of run.
We are in an interesting spot with the Pelicans. Almost to a man, they are the best dollar-for-dollar values on the slate. The starters almost all crested to 40 minutes in Game 2 because the game stayed close. Therein lies the run with New Orleans. Blowout is always a risk when playing the Warriors, but Vegas has this game set with them *only* 4.5 point underdogs at home. Anthony Davis (FD 12900 DK 10700) and Jrue Holiday (FD 9000 DK 7600) each played nearly the whole game on Wednesday with 43 and 47! minutes respectively. If the game stays close, and these are the minute expectations, then it's tough to fade either at their current price points. Both are near locks on DraftKings where the prices seem way too low (Holiday especially).
Honestly, the rest of the starters in Rajon Rondo (FD 7500 DK 7300), Nikola Mirotic (FD 7200 DK 6200) and even E'Twaun Moore (FD 4500 DK 4100) are in play here. Not to get all cop-out with the picks, but the vast majority of fantasy value stems from this game and we will want to load it up whenever possible. The Pelicans' starters also all pushed up to 40 minutes and the prices have barely moved. Here's to hoping they can keep the game close.
Houston Rockets at Utah Jazz
Series tied 1-1
The Jazz pulled off a (very) surprising Game 2 victory in Houston, stealing home-court advantage from the Rockets and making me even more excited for how these playoffs are playing out. Teams in the NBA are just increasingly evenly-matched when we get to this point and the in-game coaching adjustments really shine a light on how much this thing is a chess match.
Joe Ingles (FD 6700 DK 5700) was the story for Utah, piling on a career-high 27 points. I'd caution about rolling him back out there in your lineups today because he's (very) unlikely to replicate the 10-13 shooting from the field. Utah spread the rest of the love around without any of the starters really hitting their fantasy value. Royce O'Neale (FD 5200 DK 3500) drew the start for the Ricky Rubio and I don't mind the former's DraftKings' price (FanDuel is a bridge too far considering he only played 27 minutes). The other Jazz value came off the bench in the form of Jae Crowder (FD 5000 DK 4700) and Alec Burks (FD 4000 DK 4200). I'm not particularly high on either considering both ran hot from the field and are unlikely to sustain that kind of scoring going forward.
Meanwhile, the Rockets continue to draw the worst defensive matchup in basketball. They struggled from three in Game 2 (27%) and if I'm paying top fantasy dollar, I think I'm more focused on the Warriors-Pelicans game. I'd rather play Anthony Davis than James Harden (FD 12500 DK 10800) at around the same price points. Chris Paul (FD 8800 DK 7400) is interesting on DraftKings, but I think I prefer Holiday in the same tier.
I can get Clint Capela (FD 8900 DK 6700) on DraftKings. He has been fantasy viable even with a tough matchup against Rudy Gobert down low. I'd put him as a cash game play there. It's hard to trust the rest of the Rockets' role guys in this matchup. So much of the offense is controlled by the three players mentioned above.
GRAB A FREE TRIAL OF OUR PROJECTION SYSTEM, AND CHECK OUT DFSR PRO!
image sources
JAZZ-PELICANS: (AP Foto/Tyler Kaufman)