Baseball Picks Daily Fantasy
Expert Advice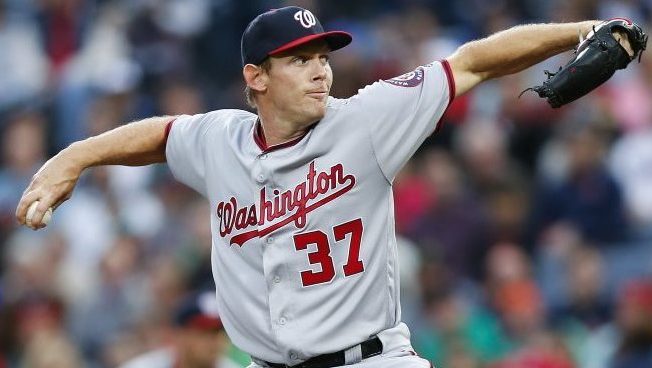 Daily Fantasy MLB Picks for FanDuel and DraftKings - 5/7/18
Monday in the majors has a short, seven-game slate for us. We've got teams heading into some big time power parks, higher run lines, bum arms and the possibility of a lot of runs going up on the board. But we've also got one ace pitchers and some interesting mid-tier arms taking the bump.
Now's your chance to get DFSR PRO, which will give you access to our MLB optimizer and our new player lab! Get started for free by clicking the button below.
First time with MLB? Be sure to read our free MLB Ebooks on building lineups, general strategy and more. We've got you completely covered.
Pitcher

Stephen Strasburg FD 10000 DK 13600
Opponent - SD (Tyson Ross) Park - SD
FD - 42.52 DK - 23.46
For all intents and purposes, Strasburg is turning in a repeat performance to his 2017 campaign and is basically in line with his career averages. The guy is 10.5 K/9 on lock and walking right about two per nine. He's just one of the best pitchers in the game and makes for a rather easy cash game call on this short slate of games. The FanDuel price is something of a joke. He's a -160 favorite against a Padres' team ranked third to last in wOBA against righty pitching with a 28% K rate. It's also a pitcher's park in San Diego and we have the Padres for only 3.1 implied runs (the lowest on the day). All of it lines up for Strasburg to likely be the chalk on Monday.
Kyle Hendricks FD 7900 DK 9600
Opponent - MIA (Jarlin Garcia) Park - CHC
FD - 35.56 DK - 18.31
Kendricks is merely an average pitcher (maybe slightly above) who walks into an excellent matchup on Monday. The Cubs are -240 favorites (the highest of any team on the slate) against the Marlins who rank dead last in wOBA against righties on the season. It's easy to see why considering they jettisoned almost all discernible talents over the off-season. Kendricks' sub 4.00 xFIP and 3:1 K:BB ratio mean he can often limit mistakes and he is averaging more than six innings per start. He's likely the chalkier SP2 on the slate for DraftKings considering the price and matchup. The tricks part of Wrigley Field is managing the winds, but the gusts are only about 5MPH today and look to be blowing in. Hendricks doesn't light the world on fire, but this matchup should mitigate some of the risk.
Jeff Samardzija FD 6900 DK 8400
Opponent - PHI (Zach Eflin) Park - PHI
FD - 30.23 DK - 15.83
The Shark has been more of a guppy to start this season and his numbers look downright awful. He's walking everyone (10 free passes in 13 innings) and sporting an xFIP in the mid 5's. I'm looking at him today merely as a GPP upside play if he can start to right the ship a little bit. The Phillies strike out a ton against righties (27%) and have only been middle of the pack in terms of wOBA. Samardzija is anything but safe considering the early season returns but I do think he has upside at these prices. On such a short slate we should be fine taking some chances and Shark was able to dial up some bigger strikeout games last season.
First Base/Catcher
Victor Martinez FD 2600 DK 3200
Opponent - TEX (Matt Moore) Park - TEX
FD - 10.17 DK - 7.81

James McCann FD 2400 DK 3300
Opponent - TEX (Matt Moore) Park - TEX
FD - 9.64 DK - 7.42

John Hicks FD 2600 DK 3500
Opponent - TEX (Matt Moore) Park - TEX
FD - 9.24 DK - 7.16
This isn't exactly the most exciting group of guys to kick off the offense with, but the Tigers are in an interesting spot today. They get a major park upgrade going to Globe Life Park in Arlington and face off against one of the worst pitchers going on this short slate (or any slate really). Matt Moore K's less than six batters per nine, walks close to four and over his last 200 innings has an xFIP in the low 5's. He stinks. All three of these Tigers are in play at their lower tier salaries. V-Mart doesn't have much / any power left, but he never strikes out (9.6% this season) and has been basically platoon neutral for his career. He should hit cleanup which moves up his plate appearance expectation just a bit.
Meanwhile, McCann and Hicks have more in the power department though their respective K rates do add a bit more variance to the table. Hicks is rocking a .900 OPS on the short season though it's worth noting he's been a reverse platoon splits guy for his career. McCann though has crushed southpaws to the tune of a .910 OPS and 143 wRC+ over the last five seasons. All three of these guys make solid cash/ GPP plays and are in a good spot for Monday.
Strongly consider playing up for Joey Votto even in the lefty-lefty matchup against Conlon. Votto still walks more than he strikes out (15% to 14%) and though better against righties for his career, has managed a .900 OPS against southpaws.
Second Base

Matt Carpenter FD 3400 DK 3600
Opponent - MIN (Fernando Romero) Park - STL
FD - 11.48 DK - 8.57
Carpenter is really struggling to start this season with only a .633 OPS. One of his main issues is the .200 BABIP, more than a hundred points lower than his career average number (though it's worth mentioning it has been lower the last couple of seasons with the shift). But there's still a lot of bad luck in his batting profile this season. He's still walking at an elite 18% rate and his hard contact rate is right in line with his career numbers. This is all to say, I think we are buying lowing on early season run bad. Fernando Romero has struggled with control at times in the minors and that can be an issue with a guy like Carpenter. The latter strikes me as an excellent, high floor cash game play in this matchup.

Brian Dozier FD 3800 DK 4700
Opponent - STL (John Gant) Park - STL
FD - 10.93 DK - 8.23
There are a number of second basemen in good spots and I do think it's a position we will want to spend on considering some of the talent. It was a tough choice here between Dozier, Asdrubal Cabrera and even Jose Altuve who are all in plus matchups. I am a little surprised the Twins' run line isn't a bit higher today against John Gant who's now two full seasons removed from a K/9 rate (that was inflated because of his bullpen work). He isn't a pitcher we want to avoid by any means and I like that Dozier is coming cheaper than the other two guys I mentioned. Dozier's struggled with some BABIP issues in his own right this season, leading to a moderate price decline and this is the worse side of his platoon splits. But I'm down for the leadoff slot and think we see the run time tick up over the course of the day.
Obviously consider the aforementioned Jose Altuve and Asdrubal Cabrera. Both are in great spots against Brett Anderson and Homer Bailey respectively.
Shortstop
Ehire Adrianza FD 2300 DK 2400
Opponent - STL (John Gant) Park - STL
FD - 7.34 DK - 5.67

Jose Iglesias FD 2100 DK 2600
Opponent - TEX (Matt Moore) Park - TEX
FD - 8.69 DK - 6.83

Scott Kingery FD 2400 DK 3200
Opponent - SF (Jeff Samardzija) Park - PHI
FD - 9.1 DK - 6.85
At the time of this post let it be known that I have almost no interest in paying anything like real dollars at the shortstop position. If rostering Strasburg we will have to save somewhere (or multiple somewheres) and shortstop is definitely one of those spots to punt. There's great positional scarcity here even on the largest of slates and today's limited player pool have us with very few price efficient options. I'm grouping all three of these guys together because they are A: cheap, B: cheap and C: cheap.
Iglesias hit second in the order yesterday, but I suspect that's a one-day thing and he returns to the 8-9 hole when lineups are released. There aren't a ton of superlatives here for the guy other than he's playing against Matt Moore in a hitter's park.
Adrianza should slot into the 6-7 slot of the Twins' lineup against John Gant. Adrianza, like Iglesias, isn't much of a hitter with a mid .600's career OPS. It's pretty grim, but just not hitting at the bottom of the lineup is a plus in his favor.
Kingly has flashed at least a modicum of power with two home runs on the short season and some pop in the minors. He's the best hitter of the bunch, but has the worst matchup of the three against Samardzija. We will have to wait for some of these batting orders to shake out but I just feel like spending down is the way to go at shortstop even if the options look rather uninspiring.
Consider Jose Peraza on DraftKings if he's hitting in the leadoff slot against the lefty. He's obviously more expensive than the group above, but that would be an advantageous spot on the better side of his platoon splits with a great hitter's park to boot.
Third Base

Kris Bryant FD 4200 DK 5300
Opponent - MIA (Jarlin Garcia) Park - CHC
FD - 12.51 DK - 9.36
Kris Bryant against a lefty in the low-$4K range on FanDuel? Yes please. Bryant continues to obliterate lefty pitching and for his career has a .967 OPS and .407 wOBA in that split. He's actually striking out less this season than his career average numbers though the walks have ticked down just a bit as well. I love this spot for him and he's nearly a must-play for me in cash on FanDuel. It's closer on DraftKings where the pricing is much more aggressive. He should slot into either the second or third spot in the order (the Cubs have messed around a lot with lineup position this season) but it doesn't matter too much for our model because of the FD pricing. Expect to see him as one of the higher-owned big money plays on that site today.
Alex Blandino FD 2500 DK 2900
Opponent - NYM (P.J. Conlon) Park - CIN
FD - 8.93 DK - 6.8
This is a spot to spend down and save a little if Blandino can find his way into the two hole for the Reds. Mets' starter PJ Conlon is making his major league debut after an uninspiring minor league where he only struck out seven batters per nine over about 300 innings. If you can't miss bats in the minors, suffice to say it doesn't get any easier in the majors. Blandino's biggest plus would be hitting higher in the order. He doesn't have much pop, but did show patience in the minors where he walked about 13% of the time. If that continues to translate at the major league level he'll have value just by getting on base in front of Joey Votto. Wait on the Reds' lineup, but if Blandino is hitting second then happily fire him up in this matchup.
Strongly consider Eugenio Suarez in the platoon matchup against the lefty, though Suarez is getting a little pricey.
Outfield
Nicholas Castellanos FD 3800 DK 4400
Opponent - TEX (Matt Moore) Park - TEX
FD - 13.08 DK - 10
With Miggy out of the lineup, we should see Castellanos in the three hole. He sat out Sunday because of the flu, so of course monitor that situation (it's encouraging that he was available to pinch hit if need be) but if he's playing then this makes for an excellent spot. He's murdering lefties this season and has a mid .800's OPS and .351 wOBA for his career in that split. Castellanos has the advantage of a plus platoon and a great hitter's park in Arlington. I like his mid-tier pricing and he'd be a part of any Tigers' stack as long as he was in the lineup. I think you can also consider Leonys Martin and Jeimer Candelario right along with him if they are hitting 1-2 against Moore. This is all to say, consider all of the Tigers at their price points today.
Jay Bruce FD 3100 DK 3800
Opponent - CIN (Homer Bailey) Park - CIN
FD - 12.25 DK - 9.2


Michael Conforto FD 3100 DK 3400
Opponent - CIN (Homer Bailey) Park - CIN
FD - 11.98 DK - 8.98

Brandon Nimmo FD 2700 DK 3400
Opponent - CIN (Homer Bailey) Park - CIN
FD - 10.05 DK - 7.65
We haven't spent too much time on the Mets today, though they are in just about as good a spot as exists in DFS. They get a major park upgrade going to Great American Ballpark (one of the best hitter's parks in all of baseball) against a pitcher who appears professionally committed to giving up the long ball. Homer Bailey is getting torched this season allowing almost two home runs per nine, striking out less than six batters and rocking an xFIP in the low 5's. He's just bad and the Mets lefties here could put a hurting on him. That being said, these Mets have struggled mightily in the power department. Bruce and Conforto have a combined three home runs in over 220 total plate appearances. It's led to significant price drops and you would think something has to give. Both of their hard contact rates are down rather steeply though one has to still assume there's significant regression coming in their power numbers. I'll take that gamble today because of the park and matchup. Vegas still likes the Mets for right around five runs and here's the hoping these two slot into the middle of the order. Nimmo is in play if he's hitting in the leadoff slot, though I still think we are getting better value on the Mets' power bats.
GRAB A FREE TRIAL OF OUR PROJECTION SYSTEM, AND CHECK OUT DFSR PRO!
FREE EBOOK
SECRETS TO CRUSHING DAILY FANTASY FOOTBALL!
DON'T SET ANOTHER LINEUP BEFORE YOU READ THIS BOOK.