Golf Daily Fantasy
Expert Advice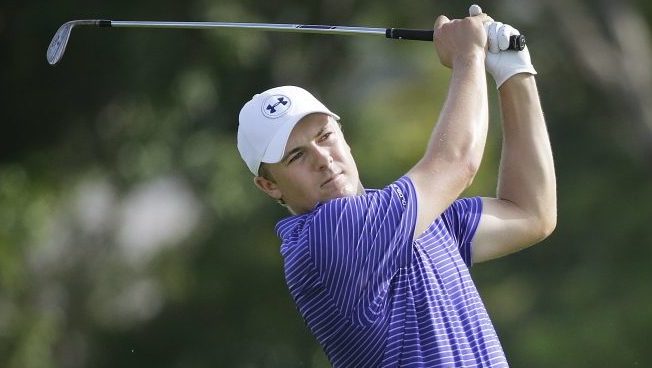 Daily Fantasy PGA Picks for DraftKings & FanDuel - AT&T Byron Nelson
DFSR is proud to bring you, Chris Durell. He'll be bringing weekly PGA picks, analysis, and breakdowns to help you cash on DraftKings and FanDuel. As every week in DFS PGA changes with the course setup, field of players and weather, Chris will be providing a range of different picks for cash games as well as upside plays for tournaments. If you have any questions leading up to lineup lock you can reach him a variety of ways. Leave your question/comment below in the comments section, find him in the DFSR Chat room or hit him up on Twitter(@Jager_Bombs9). Chris is also providing his DFS PGA Weekly cheatsheet where he provides stats, course history, current form, fantasy points, and much more. Grab your copy today and edge out the competition.

AT&T Byron Nelson
Welcome back golf fans. After a week where we were treated with a loaded field including 49 of the World's Top 50 golfers, we get a much less exciting field this week with just two of the World's Top 10(Spieth, Matsuyama) and seven of the World's Top 50 golfers. Scheduling plays a big part in this, in my opinion, as it is two weeks until the Memorial and one month until the 118th U.S. Open. One of the other factors could be that this year's Byron Nelson will be hosted by a new course(to the event) that is completely different from the TPC Four Seasons course that has been used for the event since 1995.
The course being used this week is Trinity Forest Golf Club in Dallas, Texas and was built on a former landfill. It has a lot of ties to a European style golf course as it is a Links course(outside the inland location) with tall native grasses with dramatic Euro style bunkering and very undulated greens. With no real protection from trees, the wind is also a huge factor here at Trinity Forest and it appears, at least early on, that it will most definitely be a factor this week. The fairways are very wide which takes driving accuracy out of the equation which does help the long drivers to a degree but the course will likely play fast creating a ton of role resulting in it playing a little shorter than the posted distance. For a great overview of the course and some of the key holes, be sure to head over to the Trinity Forest Golf Club homepage. With no data on course history whatsoever, we are going to be guessing on final score, what players do well here, what stats are essential in the model which is going to make this week very fun despite the lesser field of players. Let's now take a look at the course scorecard, some of my key stats, adn then some of my top picks looking at current form and my stats model.
The Course
Trinity Forest Golf Club - Dallas, TX
Par 71 - 7,380 Yards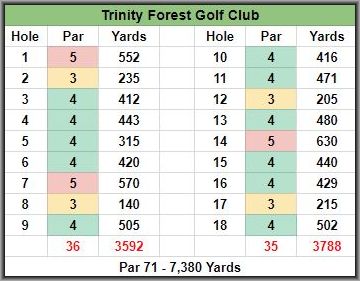 **Click image above to see a hole by hole breakdown from PGATour.com**
Top Stats in the Model
Strokes Gained: Approach with emphasis on Proximity(50%)
Birdie or Better %(25%)
Sand Save %(15%)
Par 4 Scoring(10%)
One little note before jumping into the article. I use multiple sources for my research to help determine key stats starting with Fantasy National Golf Club and their elite set of tools from course history, hole composition, past performance and much, much more. I also combine it with some of the information on Future of Fantasy including correlated courses and most importantly the quotes from players section to help determine what it takes to win here(key stats). When breaking down ownership and trying to come up with popularity, I love the tools over at FanShareSports as they break down every piece of information on articles and social media mentions to provide us with Tag COunts, Sentiment Ratings, Subject Tags, Salary Differential week to week and much more.
Top Current Form Targets
Jimmy Walker
World Golf Ranking (#56)
Vegas Odds (22/1)
Draftkings ($9,500)
FanDuel ($11,300)

After a battle with Lyme Disease in 2017, Jimmy Walker has made his way back to full health in 2018. Despite some early-season struggles in finding his game and dropping to #92 in the World after the Arnold Palmer Invitational, he has started to trend in a big way and with back to back Top 5 finishes he has made it up to #56 in the Official World Golf Rankings. He is currently #2 in my overall model with that form plus his stats as he sits 12th in Strokes Gained: Approach, 29th in Par 4 Scoring, 23rd in Sand Saves, and 11th in BIrdie or Better %. Looking at his current stat ranks over the last 24 rounds(via FNGC), he ranks 2nd in Strokes Gained: Short Game, 18th in Strokes Gained: Approach, 8th in Strokes Gained: Putting, and 3rd in Strokes Gained: Par 4. He is 6th and 7th in salary on the sites and in consideration for a roster spot in all formats.
Charles Howell III
World Golf Ranking (#59)
Vegas Odds (40/1)
Draftkings ($8,700)
FanDuel ($10,700)
Another staple in my overall model this week is Chucky Three Sticks. It starts with the form where he leads all golfers in average finish over his last five events. He has finished Top 25 in four of his last five events and overall this season has made 15 of 17 cuts with 10 Top 25 finishes. He is a much better cash game play than GPP, however, as he ranks down in 38th when looking at DraftKings points over those last five events which really caps the upside. Looking at my stats model, he ranks 3rd overall with ranks of 11th in Strokes Gained: Approach, 9th in Par 4 Scoring, 32nd in Birdie or Better %, and 13th in Sand Save %. He is also a slightly better value on DraftKings where he is 13th in salary vs. 10th on FanDuel.
Corey Conners
World Golf Ranking (#437)
Vegas Odds (160/1)
Draftkings ($7,200)
FanDuel ($8,600)
It has been an up and down rookie season for the young Canadian and while he has yet to record a Top 10, he has made the cut in 13 of 16 stroke play events. I realize he has only made three of his last five cuts and ranks 38th on my sheet in form but looking at his current stats form(last 24 rounds via FNGC), he stands out in a few areas. he is 32nd in DraftKings scoring, 12th in Strokes Gained: Ball Striking, 13th in Strokes Gained: Approach, and 25th in overall Proximity and first in Proximity from 200+ yards. I won't be using him in cash games but feel he has upside in this weak field and offers some salary relief making it possible to roster Spieth with another upper-tier player.

Who the Stats Like
Jordan Spieth
World Golf Ranking (#3)
Vegas Odds (5.5/1)
Draftkings ($11,900)
FanDuel ($12,900)

It was quite a roller coaster ride if you rostered Spieth last week as he started out with a round one 75 and looked to be in danger of missing the cut for the fourth straight year at The PLAYERS. He then responded with 68 to make the cut on the number and then fired a tremendous 65 on Saturday to put himself a decent position to pick up at least a Top 10 finish. After a fairly quiet final round, he blew up on the final hole recording a snowman which left him with a T41 but for fantasy, he ended up tied for 22nd in DraftKings scoring. The biggest issue is the putting as he finished outside the Top 60 and is ranked outside the Top 100 when looking at the last 24 rounds in the field. I still feel putting can come and go at any time so without that weighted in my model, Jordan ranks #1 this week with ranks of 3rd in Strokes Gained: Approach, 5th in Proximity, 1st in Par 4 Scoring and Birdie or Better %. No reason to play him in cash but I will once again have my fair share in GPP formats and pray he can start making some putts. He also happens to be a member here at Trinity Forest and this is also the home course of his instructor Cameron McCormick.
Marc Leishman
World Golf Ranking (#16)
Vegas Odds (28/1)
Draftkings ($9,100)
FanDuel ($11,200)
After a missed cut at the RBC Heritage and T63 at the PLAYERS last week, Marc Leishman is in a nice bounce-back spot this week. He plays well in the wind, ranks best on Bermuda greens when it comes to putting(both via FNGC), and he ranks Top 10 in my stats model highlighted by ranks of 6th in Strokes Gained: Approach, 2nd in Par 4 Scoring, 2nd in Birdie or Better % and while he is 41st in overall Proximity, he is Top 5 in Proximity from 125-150, 150-175, and 200+ yards. Using the Fantasy National Gold Club tools, he ranks 10th in DraftKings scoring, 8th in SG: T2G, 7th in SG: APP and 4th in SG: ATG in the last 24 rounds. With a sub $10K price tag on DraftKings this week, I will be using him in all formats.
Scott Piercy
World Golf Ranking (#155)
Vegas Odds (50/1)
Draftkings ($8,400)
FanDuel ($9,600)
The final player I will be looking at here from a stats perspective is Scott Piercy. Looking at his profile on FNGC, he is an excellent wind player and like Leishman ranks Top 10 in my overall stats model. He ranks 1st in Strokes Gained: Approach, 10th in Proximity, 5th in Par 4 Scoring, and 15th in Birdie or Better %. One concern is the struggles from the sand but as long as he keeps nailing greens, he shouldn't have to worry about that too much. The other concern is the putting as he has lost strokes in that area in eight straight and 10 of his last 12 events. For that reason, he is also a GPP only play this week.
Tournament Update Thread
**Weather Update**
Chris Durell has been playing Daily Fantasy Sports for five years and fantasy in general for more than a decade. He is an active player in college football, NFL, MLB, NASCAR, NHL and of course PGA. He lives in Saskatchewan, Canada with his wife and two daughters. You can follow him on Twitter at @Jager_Bombs9 for advice, strategy, answers to any PGA questions and how he copes with the winters up north.
image sources
Singapore SMBC Open Golf: (AP Photo/Wong Maye-E)
FREE EBOOK
SECRETS TO CRUSHING DAILY FANTASY FOOTBALL!
DON'T SET ANOTHER LINEUP BEFORE YOU READ THIS BOOK.