Baseball Picks Daily Fantasy
Expert Advice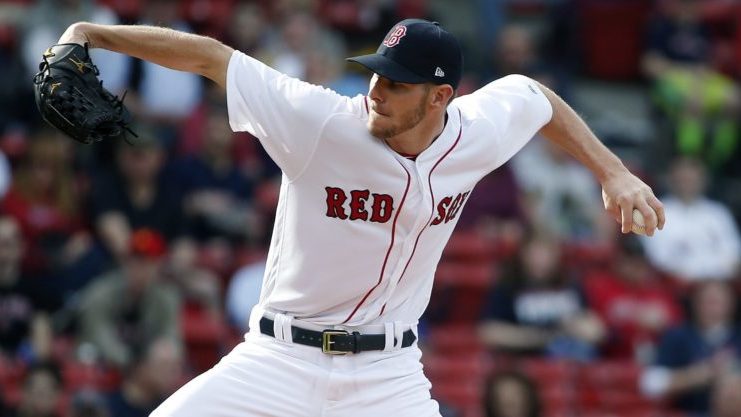 Daily Fantasy MLB Picks for FanDuel and DraftKings - 5/16/18
We've got a huge Wednesday of baseball action coming at you with the games starting in the noon EST hour and running all the way through the evening. It's going to be a full day with big name arms and bats all in good spots.
Now's your chance to get DFSR PRO, which will give you access to our MLB optimizer and our new player lab! Get started for free by clicking the button below.
First time with MLB? Be sure to read our free MLB Ebooks on building lineups, general strategy and more. We've got you completely covered.
Pitcher
Early
Jameson Taillon FD 8000 DK 7600
Opponent - CHW (Hector Santiago) Park - PIT
FD - 33.56 DK - 17.6
Taillon's numbers look awfully weird this season considering he's had two complete blowup starts where he failed to get through two and four innings respectively and then left last game early with a finger cut. That's had him average less than five innings a start though I think there's enough wonkiness built in to believe this is still a good spot for the young righty. The White Sox strike out 24% of the time against righties this season and have some big swing and miss guys in the middle of their lineup. They are, of course, more imposing getting Yoan Moncada back in the leadoff role, but I still really like the matchup and park here for Taillon. No early line on this game, but I suspect he's at least a -140 favorite with the White Sox coming in at less than four implied runs.
J.A. Happ FD 8600 DK 9300
Opponent - NYM (Zack Wheeler) Park - NYM
FD - 34.32 DK - 17.84
Happy caught some of the regression bug over his last two games after starting the season striking out batters at a much higher rate than anything else he'd done in his career. In his first 36 innings, he struck out 50 batters. Over his last nine innings (two starts) he's put down only six. I suspect the truth lies somewhere in between. This is the perfect matchup to catch those numbers back up to what he was doing to start the season. The Mets strike out the third-most (26.8%) of the time against lefties and are without Todd Frazier in the middle of the lineup. Happ isn't an overwhelming favorite (-124 on the road) but it helps that he gets to roll through the pitcher slot because the game is in the National League. He doesn't cost an arm and a leg and I love this as a bounce-back spot for the Blue Jay lefty.
Main

Chris Sale FD 11400 DK 11800
Opponent - OAK (Trevor Cahill) Park - BOS
FD - 44.41 DK - 25.04
It isn't an easy call between Sale, Scherzer, and Verlander on the evening slate of games. I'm nudging it towards Sale for a couple of reasons. He gets a slightly better-implied run line with an 8.5 over/under and the Red Sox as -250 favorites. That's significantly more implied win shares than Verlander's -140 against the Angels or Scherzer's -165 against the Yankees. Sale's maintained the same elite strikeout rate we saw in his first year in Boston, K-ing 12.1 per nine and putting up 7:1 K: BB ratio. The A's come in slightly below average against lefties this season with a .320 wOBA while striking out the 12th-most in the league at a 23% K rate. He and Verlander are right around the same price, but I'll take Sale's matchup and money lines as the tiebreakers.

Walker Buehler FD 9500 DK 8500
Opponent - MIA (Caleb Smith) Park - MIA
FD - 35.73 DK - 19.47
Since being called up on April 23rd, Buehler has flashed every bit of the upside promised from the Dodgers' top prospect. In 22 innings, he's struck out 27 and walked only seven, flashing a 31% K rate and a 2.54 xFIP. He's opening at -175 road favorite against a Marlins' team ranked dead last in baseball with a .272 wOBA against righties. There are *only* five games on the evening slate with actually a few aces going. Buehler makes for a fantastic SP2 option considering the price savings you get pivot off of Sale and/or Verlander. With a 7.5 over/under the Marlins are projected for only 3.2 runs (the same as Oakland against Sale). With Buehler, you are getting a live arm firmly in the middle pricing tier.
First Base/Catcher
Early


Wilmer Flores FD 2500 DK 3000
Opponent - TOR (J.A. Happ) Park - NYM
FD - 10.06 DK - 7.71

Devin Mesoraco FD 2100 DK 2600
Opponent - TOR (J.A. Happ) Park - ARI
FD - 8.79 DK - 6.61
For both the early and evening slates I think we have a chance to stack the catcher and first base when available (i.e. it's not as pressing on FanDuel where catcher often take a backseat.) The Mets will face off against lefty J.A. Happ who's struggled to get anything in the way of strikeout stuff going in his last couple of starts after starting off the year on fire. And yes, I know I wrote him up earlier as a play against the Mets. Sometimes that's the DFS rub. Both Flores and Mesoraco are on the better sides of their splits against the lefties. Flores owns a high .700's OPS against lefties over the last two seasons even though he's running a .257 BABIP. He's tough for lefties to strikeout (15%) and is a candidate to make a lot of contact in this matchup.
Though he's struggled in the short term, Mesoraco owns a career .342 wOBA and 114 wRC+ against lefties and has flashed power upside in the past. The move to the Mets in the trade for Matt Harvey has solidified his playing time and he should hit around the sixth hole on Wednesday (assuming the day-night quick turnaround doesn't land him on the bench).
Strongly consider Francisco Cervelli if he's hitting in the leadoff spot again for the Pirates against the lefty. CJ Cron also has some nice value if he sticks in the two slot in the lineups.
Main

Anthony Rizzo FD 4500 DK 4800
Opponent - ATL (Brandon McCarthy) Park - ATL
FD - 12.94 DK - 9.65

Willson Contreras FD 3400 DK 4300
Opponent - ATL (Brandon McCarthy) Park - ATL
FD - 11.46 DK - 8.68
The Cubs are in a solid spot against Brandon McCarthy who is very much the definition of an average major league arm. He's no gas can, but this short evening slate already has Sale, Scherzer, and Verlander (to name just a few) who we want to avoid. That severely limits the offensive options and the Cubs have an implied run line over five (the highest on the slate). Contreras has been solid against righties over the last couple of seasons with an even ..833 OPS and 118 wRC+. Rizzo, on the other hand, is one of the toughest outs in the game in this platoon. He's walked more than he's struck out (13% to 12%) over the last season plus and is rocking a .374 wOBA. He's pricey on a night where paying up for pitching is likely the way to go. But these guys make a middle of the order stack worth paying up for.
Consider Paul Goldschmidt who is still coming way too cheap on FanDuel in the high $3K range. I know he's struggled this season, but this is still a firm buying opportunity.
Second Base

Brian Dozier FD 3700 DK 4400
Opponent - STL (Miles Mikolas) Park - STL
FD - 12.03 DK - 9.05
Second base is a tough one on the early slate, but seeing as how we aren't likely to pay up for pitching here, spending on a guy like Dozier makes sense. Miles Mikolas has enjoyed a nice start to the season for the Cardinals, but the guy still strikes out less than seven batters per nine and allows a lot of contact. Dozier's price is down across the industry and he still strikes me as a deal hitting from the leadoff position. His OBP is down from last season, though some of that stems from BABIP issues this early in the year. I'm fine playing his power/ speed combination and as the OBP climbs so will the stolen bases.
Main

Eduardo Nunez FD 2800 DK 3400
Opponent - OAK (Trevor Cahill) Park - BOS
FD - 11.07 DK - 8.64
I'm a little skeptical of how high we have some of the Red Sox projections against Trevor Cahill. They seem to be all trending a little high against a guy who's basically been lights out this season. But like I said, second base is very tough all around and I'm fine trying to grab a little savings when possible. Nunez represents a way to get out of the position cheap on a team Vegas projects to put up runs. He can swipe a bag (if he can just get on base) and hits just below the heart of one of the better lineups in baseball. He's struggling this season, but this position does require some tough choices.
Note: on DraftKings you aren't in tough as a spot with guys like Kike Hernandez and Logan Forsythe coming in with multi-position eligibility. But like I said, on FanDuel it's tough.
Shortstop
Early

Jedd Gyorko FD 2600 DK 4200
Opponent - MIN (Lance Lynn) Park - MIN
FD - 0.14 DK - 0.1


Paul DeJong FD 3500 DK 3900
Opponent - MIN (Lance Lynn) Park - MIN
FD - 10.23 DK - 7.8
Both are reasonably priced on FanDuel where they, coincidentally, both qualify at shortstop. It's generally a pretty thin position on that site where we have no multi-position flexibility. You're going to notice a Cardinals' theme from here on out on the early slate of games so I don't need to go nuts with all of the explanations why. I'm really not advocating playing either on DraftKings where I think they are both a little pricey especially considering neither will hit right in the heart of the order. But FD puts us in a bind with some of the options.
Consider Scott Kingery coming as a complete punt play against Miguel Castro.
Main

Chris Taylor FD 3600 DK 3900
Opponent - MIA (Caleb Smith) Park - MIA
FD - 11 DK - 8.48
You are also likely noticing a Dodger theme for these picks and we'll get to some more of them later on down the line. Taylor, along with a lot of other Dodgers, is struggling this season sitting on only a low .700s OPS. But he's running 50 points off his career average BABIP and almost all of his underlying numbers look the same as his breakout 2017 season. The hard contact rate is still very much there (32%) and he has hit five home runs. Over the last two seasons, he has a .800 OPS against lefties and a 116 wRC+. The early season run bad has us buying a little bit low on DraftKings considering he's still slotted into the leadoff spot in the lineup.
Strongly consider Addison Russell
Third Base
Early


Matt Carpenter FD 3000 DK 3700
Opponent - MIN (Lance Lynn) Park - MIN
FD - 12.55 DK - 9.37
Lance Lynn isn't having any trouble striking batters out this season. He's also having no trouble walking everyone he doesn't strike out. That's going to make for an interesting matchup against Matt Carpenter who will strike out (21% over the last season plus against righties) but also can take a free pass (17.5% in that same time frame). Overall, the Cardinals look to be in a good spot against Lynn who's allowing a 41% hard contact rate this season and is getting beaten up by the long ball. The Cardinals are implied for over five runs on the day, one of the highest on the early slate of games.
Consider Travis Shaw
Main


Anthony Rendon FD 3700 DK 3800
Opponent - NYY (CC Sabathia) Park - WSH
FD - 11.58 DK - 8.73
C.C. Sabathia actually projects as one of the weaker arms on this evening slate of games, which is kind of saying something about the arms shape up here. Rendon projects to hit third in the lineup against the lefty and puts him in an amazing spot on the (much) better side of his platoon split. In his last 147 plate appearances, Rendon owns a 1.089 OPS and nut-so .449 wOBA against lefties. He's walking 16% of the time while only striking out 14%. Simply put, he's one of the better hitters in the league against southpaws and is especially a deal on DraftKings.
The aforementioned Kike Hernandez and Logan Forsythe are both third basemen on FanDuel where they are coming on the cheap.
Outfield
Early


Tommy Pham FD 3900 DK 5000
Opponent - MIN (Lance Lynn) Park - MIN
FD - 12.8 DK - 9.72


Marcell Ozuna FD 2900 DK 3700
Opponent - MIN (Lance Lynn) Park - MIN
FD - 12.32 DK - 9.35
Like we said with Matt Carpenter, the Cardinals are in one of the better matchups for the early afternoon slate of games. Lance Lynn just doesn't offer much in the way of strikeout resistance with Pham and Ozuna offering solid stacking options against the righty. Simply put, Pham has been awesome over the last two seasons. He's continuing his breakout 2017 campaign with an even more impressive follow-up. So far he has a .984 OPS and .233 ISO. He's the rare, power-speed combo with seven home runs and stolen bases already this year. The .432 OBP is one of the highest you'll see. He's trending toward superstar numbers.
Meanwhile has struggled in his move from Miami to St. Louis. All numbers are way down but I do think we are going to see some regression to his career means in the near future. His hard contact rate is up and the HR/FB ratio is way down. This could point to getting significantly unlucky on the offensive end. I'd be more concerned if we were seeing a lot of ground balls, or a huge spike in strikeouts, but that hasn't been the case. I'm going to continue buying low when I know a lot of other folks have jumped off the wagon.
Jose Osuna FD 2600 DK 3000
Opponent - CHW (Hector Santiago) Park - PIT
FD - 10.29 DK - 7.89
I'm assuming he hits second in the order again like he did on Sunday when the Pirates last faced a lefty. This is the much better side of Osuna's split and he owns a .800 OPS over his last 114 plate appearances against southpaws. He is tough to strike out (14%) and is coming very cheap on both sites. He makes for a better play on DraftKings where his $3K salary represents a fantastic punt opportunity if hitting high in the order. Oh, and Hector Santiago is complete and utter garbage. So Osuna has that going for him as well.
Rajai Davis is a near must cash game play on the early slate hitting leadoff against the lefty Ryan Carpenter.
Strongly consider stacking Gregor Blanco and Andrew McCutchen on DraftKings where they are coming very cheap against Matt Harvey.
Main


Matt Kemp FD 3400 DK 3800
Opponent - MIA (Caleb Smith) Park - MIA
FD - 10.61 DK - 8.07

Yasiel Puig FD 2500 DK 3300
Opponent - MIA (Caleb Smith) Park - MIA
FD - 10.35 DK - 7.85
These two are coming relatively cheap against Caleb Smith who has struggled with his control at times. Smith owns an elite 12 K's per nine but has also walked four batters per nine. He's not a terrible arm and has been better over his last few starts. On a full slate of games, I don't think these would be the hitters to target, but like I've sad over and over, the evening slate is short and chock full of awesome arms. Kemp's been solid against lefties over the last couple of seasons with an OPS touching up toward .800. Puig, meanwhile, has been horrible but there's a lot of bad luck in there. He has a .206 BABIP in 184 plate appearances against lefties and is actually walking more than he's striking out. I don't mind taking them both on the cheaper side of things for the shorter evening slate of games.
Consider Andrew Benintendi
GRAB A FREE TRIAL OF OUR PROJECTION SYSTEM, AND CHECK OUT DFSR PRO!
FREE EBOOK
SECRETS TO CRUSHING DAILY FANTASY FOOTBALL!
DON'T SET ANOTHER LINEUP BEFORE YOU READ THIS BOOK.