Baseball Picks Daily Fantasy
Expert Advice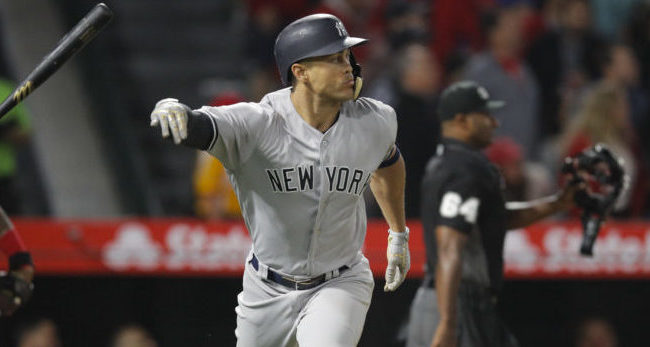 Daily Fantasy MLB Picks for FanDuel and DraftKings - 5/21/18
Monday in majors hits us with a nine-game slate. Pitching isn't going to cost all that much even for some of the better arms so there should be plenty of opportunities to pay up for some bigger bats. Let's take a look at some of the day's better values.
Now's your chance to get DFSR PRO, which will give you access to our MLB optimizer and our new player lab! Get started for free by clicking the button below.
First time with MLB? Be sure to read our free MLB Ebooks on building lineups, general strategy and more. We've got you completely covered.
Pitcher

Gio Gonzalez FD 8800 DK 11900
Opponent - SD (Robbie Erlin) Park - WSH
FD - 35.61 DK - 18.25
Gio enters this game striking out the most batters he's ever put down in his career. He's K-ing almost ten batters per nine on the season, up from a career 8.8 K/9 average. The 25% K% is also up over his career number, though he's given back some of the strikeout gains by also spiking a 4.17 per nine walk rate. Don't be fooled completely by the 2.36 ERA with the xFIP more than a run higher. But he still enters this game as a big -180 favorite against the Padres who rank in the bottom third of the league against lefties on the season. Their team .304 wOBA ranks 22nd against lefties and they strike out the sixth-most at 26%. Gonzalez is very cheap on FanDuel but the DraftKings price is a little closer. There I'd probably defer to the two guys below, but he's still firmly in the discussion.

Jose Berrios FD 8400 DK 8500
Opponent - DET (Blaine Hardy) Park - MIN
FD - 35.42 DK - 18.47
At this point, we basically know what we're getting with Berrios. He's a guy who'll strike out just a bit south of a batter per nine and as long as he's limiting the walks, won't get himself into all that much trouble. He's actually lowered his xFIP into the mid-threes (down more than a run off his career average) and has gone six or more innings in two of his last three starts. The Tigers are a light-hitting bunch with a team .308 wOBA against righties on the season. They're also without Miguel Cabrera in the middle of the lineup. Berrios comes in with the best Vegas odds on the slate with the Twins a big -200 favorite. He's a solid play on both sites, but especially on DraftKings where you're buying him on a nice discount in this matchup.

Walker Buehler FD 9500 DK 9300
Opponent - COL (German Marquez) Park - LAD
FD - 36.66 DK - 19.99
Buehler is probably the best pure-talent arm on the entire slate. As a top prospect in the Dodgers' organization, he hasn't disappointed since being called up a month ago. In his first five career starts he's averaging almost five a half innings, striking out more than 11 batters per nine and sports an elite 2.70 xFIP. These numbers are pretty incredible for such a young arm and you have to love the matchup against the Rockies. Without even adjusting for their massive home park advantage, Colorado still ranks 27th in OPS against righties and strike out at a 24% clip. Buehler probably has the most upside of any pitcher on the slate and the Dodgers are -180 favorites at home against Colorado. It will be interesting to see ownership numbers on these three pitchers considering they are all in the same price range on FanDuel.
First Base/Catcher

Paul Goldschmidt FD 3600 DK 4200
Opponent - MIL (Chase Anderson) Park - MIL
FD - 11.91 DK - 8.91
Goldschmidt is really struggling this season. His OPS isn't even cracking the .700 mark and he's striking out more than at any other time in his career (31%). Some of that could be him pressing with his early season struggles. He's been massively unlucky in terms of BABIP where his .289 rate sits about 60 points lower than his career average. That's a big factor in what's driving down his performance and rate stats. We are also now buying him at near-extreme lows. On FanDuel he's almost never fallen into this price tier considering the dude's been one of the league's best hitters over the last six or seven seasons. We should see some regression with the balls put in play and I do believe the strikeout numbers will tick down as well.

Jose Abreu FD 3900 DK 4400
Opponent - BAL (Andrew Cashner) Park - CHW
FD - 12.35 DK - 9.42
We've got a lot potential runs going up in this game with the over/under set at 9.5 and the runs coming in pretty evenly from both teams. Abreu has had a lot of success in his righty platoon split over the last couple of seasons. In his last 650 plate appearances against righties he has a .367 wOBA and .877 OPS. Andrew Cashner has some strikeout stuff but is also walking everyone (close to five batters per nine) with a 4.84 xFIP. U.S. Cellular Field ranked fifth-best in terms of righty power in 2017 and this is a good hitters' park for the righty at home.
Mitch Garver FD 2200 DK 3100
Opponent - DET (Blaine Hardy) Park - MIN
FD - 10.21 DK - 7.73
I don't think I'll go there on FanDuel mostly because we just don't need to roster a catcher there, but on DraftKings he makes for a nice way to get out of the position a little cheaper. He's actually been better against righties over his short career, making for a reverse platoon situation. But I'm trusting this will even itself out some over the long term. Garver could hit in or around the middle of the order against the lefty Hardy and at his price points that's lineup order (and subsequent plate appearance expectation) is almost good enough on its own.
Second Base

Brian Dozier FD 3600 DK 3900
Opponent - DET (Blaine Hardy) Park - MIN
FD - 14.56 DK - 10.96
The Twins come into Monday's games with the second-most implied runs on that slate at 5.31 and with good reason. They'll face Blaine Hardy who's numbers don't look all that good, made worse by the fact that most of them have come out of the bullpen. Dozier should be in the leadoff spot and this is a platoon split he crushes. Over the last two seasons, he's sporting a 1K OPS with a .417 wOBA against lefties. He walks an elite 12% of the time and Hardy has struggled to keep the ball in the zone for the first 160 innings of his career. Dozier's 2018 numbers don't look great but he's also struggled with BABIP dips. The hard contact rate is down which is a concern, but I'm fine buying him in this matchup.

Jonathan Schoop FD 3200 DK 3800
Opponent - CHW (Hector Santiago) Park - CHW
FD - 10.98 DK - 8.39
Over the last two seasons, Schoop has been one of the best in the league at hitting lefty pitching. He's tuned up southpaws with a .924 OPS and 144wRC+. He's struggled with some injury issues this season and the numbers haven't really materialized (.680 OPS looks dreadful). You would think something is bound to give in this matchup against Hector Santiago. The *veteran* lefty has a 6.02 xFIP thanks, in part, to a 5.29 BB/9 rate on the season. Schoop is coming crazy cheap on DraftKings considering he'll likely be in the cleanup slot in a great matchup. Like I said with Abreu, U.S. Cellular is a nice spot for righty power and I have no problem looking past some of Schoop's early-season struggles.
Consider Chase Utley on the cheap if he can find his way towards the top of the order.
Shortstop

Didi Gregorius FD 4000 DK 3900
Opponent - TEX (Bartolo Colon) Park - TEX
FD - 12.92 DK - 9.95
The Monday shortstop pick'uns are awfully thin (not too different than most days honestly) and we may be incentivized to spend up at the position. Didi doesn't come cheap but after the day off on Sunday, should slot right back into the three-hole in the Yankee order. Being sandwiched between Aaron Judge and Giancarlo Stanton has its advantages (metaphorically speaking) and Gregorius has a career-high .858 OPS on the season. He's well on his way to shattering his career-best in home runs with 10 in his first 179 plate appearances. The 12% walk rate also shows signs of a shift in his approach considering that's more than double his previous best. It's all good news with the Yankee shortstop and New York comes into this game with the most implied runs on the slate.

Trea Turner FD 4100 DK 4800
Opponent - SD (Robbie Erlin) Park - WSH
FD - 12.31 DK - 9.6
Like I said with Gregorius, considering the positional scarcity at shortstop, I think we will almost definitely pay up here. Pitching doesn't cost an arm and a leg so fitting some of these salaries won't require much, if any, finagling. Turner's 14% walk rate is nearly double his career rate and it's helped him to a .370 on-base percentage. Though he gets the lefty Robbie Erlin here, Turner has actually been a reverse splits guy over the last season plus. He's been pretty bad against southpaws, but some of that is thanks to a lower BABIP. He strikes out less against lefties and I do think we will see some regression in his lefty platoon.
Consider Ehire Adrianza if you want to go cheap at shortstop.
Third Base

Anthony Rendon FD 3800 DK 3800
Opponent - SD (Robbie Erlin) Park - WSH
FD - 12.38 DK - 9.33
You have to love Rendon in this spot, especially on DraftKings at a sub $4K price tag. Over the last two seasons, Rendon has been one of the very best in the league hitting against lefties. He actually ranks 10th overall in wOBA with a .446 number. His 1.084 OPS is an elite number and dude walks more than he strikes out in the split. These are eye-popping numbers and though Robbie Erlin has had some strikeout success this season, it's worth noting that most of it has come out of the bullpen. Starting is a whole different ballgame and this guy is about an average pitcher and isn't an arm we need avoid. Vegas has the Nationals at around 4.6 implied runs, slightly above average for the slate, but the top of their lineup is where most of the damage is done.

Matt Carpenter FD 3300 DK 3400
Opponent - KC (Ian Kennedy) Park - STL
FD - 12.54 DK - 9.36
The Cardinals are one of only three teams on Monday with an implied run line over five. They'll face off against Ian Kennedy who has some strikeout stuff at close to a batter an inning, but mitigates that some by walking more than three batters per nine. Carpenter is getting crushed by BABIP issues this season with his .230 number almost a hundred points lower than his career average. Some of this is because of the shifts defenses put on him, but it doesn't tell the whole story. He still maintains a 43% hard contact rate (higher than last season) and walks at a 16% clip. The strikeouts are up some this season which, like Goldschmidt, could come from him pressing. I'll take him in the lower middle tier of pricing in this game especially considering how many implied runs the Cardinals are looking at.
Consider an ultra cheap Martin Prado if you want to punt the position. He's near the minimum on both sites.
Outfield

Aaron Judge FD 5000 DK 5500
Opponent - TEX (Bartolo Colon) Park - TEX
FD - 16.22 DK - 12


Giancarlo Stanton FD 5100 DK 5100
Opponent - TEX (Bartolo Colon) Park - TEX
FD - 16.01 DK - 11.83


Brett Gardner FD 2800 DK 4100
Opponent - TEX (Bartolo Colon) Park - TEX
FD - 12.43 DK - 9.51
We haven't talked all that much about the Yankees considering how many runs they could be looking at in this matchup against Bartolo Colon. One of the Bronx Bombers' biggest issues is just how often they go down on strikes. That expectation is greatly diminished against an arm (and body) like Colon's. The big Ranger righty strikes out less than six batters per nine and barely walks anyone. That leads to a lot of contact. This season it's meant a lot of ground balls (50%) and a lower xFIP, but these Yankees are a different breed of hitters. I'm not so worried about the salaries mostly because pitching is coming so cheap on the day. Of the three, from a points-per-dollar standpoint, Gardner is the best cash-game play. There's been almost no power to speak of from the lefty leadoff hitter, but the 3% HR/FB ratio has to begin ticking up considering the batted ball profile is nearly identical to last season. There should be some home runs coming for the guy.
Meanwhile, Stanton and Judge are who they are. Massive righties who Colon will struggle to get balls passed. That can be death considering their respective profiles. There's a reason the Yankees are sitting at 5.45 implied runs on the day. Globe Life Park is one of the better hitter's parks in the league and as we get into the warmer months, the heat only helps the balls fly out. Again, Judge and Stanton are expensive and I suppose you could run into a cash crunch on the small slate, but they do seem worth paying up for if you can.

Joc Pederson FD 2600 DK 3500
Opponent - COL (German Marquez) Park - LAD
FD - 10.94 DK - 8.14
Pederson makes for a nice way to save in the outfield if you're looking for some salary flexibility. With all of the Dodgers' injuries this season, he's finding himself near (or at) the top of the order against righties. He can take a walk (13% this season) and has shown power in the past. Patience is the key against German Marquez who is walking more than four batters per nine this season. Make sure Joc is hitting either first or second in the order before using him in cash games, but if so he's coming awfully cheap on both sites.
Other outfield considerations:
If you are playing Matt Carpenter, considering stacking Marcell Ozuna along with him on the cheap on FanDuel and DraftKings. Ozuna is struggling this season, but some of it is BABIP related and the price is nearly in the basement.
I sometimes like buying Robbie Grossman against lefties. Over his last 177 plate appearances against southpaws, Grossman is actually walking more than striking out. The OPS isn't amazing but he's essentially free for a guy with so much patience in that platoon.
GRAB A FREE TRIAL OF OUR PROJECTION SYSTEM, AND CHECK OUT DFSR PRO!
FREE EBOOK
SECRETS TO CRUSHING DAILY FANTASY FOOTBALL!
DON'T SET ANOTHER LINEUP BEFORE YOU READ THIS BOOK.