Baseball Picks Daily Fantasy
Expert Advice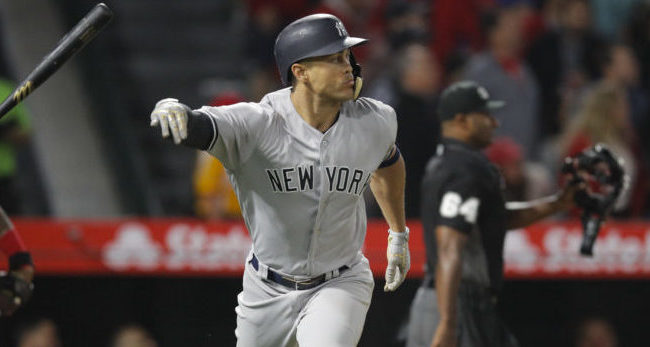 Daily Fantasy MLB Picks for FanDuel and DraftKings - 6/3/18
A full Sunday slate of MLB DFS, and we're here with the answers you need. And today? You might just need them. We might just need them. There are no real star pitchers to speak of, and reasonable pitchers going in Coors means that we don't have a lot of excellent big money bats to help us capitalize on the savings at pitcher. Let's dive in and see if we can make sense of it all.
Now's your chance to get DFSR PRO, which will give you access to our MLB optimizer and our new player lab! Get started for free by clicking the button below.
First time with MLB? Be sure to read our free MLB Ebooks on building lineups, general strategy and more. We've got you completely covered.
Pitcher
Jon Lester FD 8000 DK 10400
Opponent - NYM (Steven Matz) Park - NYM
FD - 32.06 DK - 16.62
Did I mention that pitching is sort of a problem today? Because it is. Let's start with the good stuff: the match-up. The Mets rank dead last in the entire major leagues this season with a truly dismal .268 wOBA against left handed pitching - a solid .024 points below the second to last place Marlins. They also strike out in 26.8% of their plate appearances against lefties, which ranks just .2% behind the White Sox for worst in the majors. This is truly a dream match-up for a lefty. But what about the specific lefty we're bringing to the match-up? Things get a little less rosy. Lester has been worse in every considerable meaningful category this season. His 2.71 ERA looks like mostly a function of running hot with runners on base and some BABIP luck, and xFIP has him as more of a league average pitcher. Still, without a lot of payoffs at the pitcher position, Lester might just be the guy we want in a lineup with a lot of star level offensive bats.

Charlie Morton FD 9900 DK 10400
Opponent - BOS (Rick Porcello) Park - HOU
FD - 39.17 DK - 20.93
So here's our one major payoff option. Are you not entertained? It's no offense to Morton. He's been a real feel-good story this season, putting together 11.3 Ks per 9 and an eye popping 2.77 xFIP. It's just... playing him against the Red Sox? It feels pretty bad. As bad as the Mets have been against lefties, the Sox have been that good against righties. They have a league best .352 wOBA against right handers, and strike out at the second lowest rate. We saw Cole put together a reasonable performance against them recently, but is this really where we want to be for cash games? Morton isn't that expensive, but he's also not the same pitcher Cole is. At this point I think I'd rather sweat the worse pitcher in the far better match-up and leave this one to my big tournament lineups, where Morton's high K upside seems a little more worth it.

Luis Castillo FD 7800 DK 6800
Opponent - SD (Tyson Ross) Park - SD
FD - 31.77 DK - 16.87
So on FanDuel I won't bother, but on DraftKings you're going to need more than one pitcher. Yes, we've been down this road with Castillo before to admittedly mixed results. Yes, the 5.34 ERA trails the xFIP because Castillo's control seems to fail him at the worst possible times. And still - $6,800 for a guy that strikes out nearly a batter per inning? We at least have to listen. The match-up certainly sweetens the deal as well. The Padres are almost the Mets of the league against right handed pitchers, striking out at the second highest rate in the league while maintaining the league's 3rd worst K rate. Let's also not forget that this guy was truly electric in 15 starts last season, putting up almost 10 Ks per 9. I'd guess Castillo will have high cash game ownership on DK tonight.
First Base/Catcher
Yasmani Grandal FD 3400 DK 4500
Opponent - COL (Chad Bettis) Park - COL
FD - 12.88 DK - 9.59

Cody Bellinger FD 3400 DK 4600
Opponent - COL (Chad Bettis) Park - COL
FD - 15.51 DK - 11.59
So you're going to see a lot of Coors guys any time we are spending a max of $10k at pitching, and the sweeter part of the deal right now looks like grabbing the Dodgers against Chad Bettis. If you're not familiar with Chad Bettis' work, now is probably a good time to start. For the last two years he has a sub six K/9, and this season he's issuing more than three walks per nine innings. As you can imagine, those aren't the peripherals you're looking for in a guy who is pitching in the scariest pitchers' park in the majors. Both Grandal and Bellinger look under-priced to me here, particularly since you're going to get Bellinger on by far the better side of his platoon. For both Grandal and Bellinger, dramatically reducing the risk of their striking out is huge. I love both in any format.
Greg Bird FD 3200 DK 4100
Opponent - BAL (Alex Cobb) Park - BAL
FD - 13.85 DK - 10.32
If you decide you want to go away from the Dodgers for whatever reason, I think it's pretty reasonable to consider Greg Bird. Yes, the downside risk will be very real for a guy with a career .314 OBP (and even worse than that in the last two seasons), but the 25 year old Yankee has shown enough power with his .249 ISO that he seems worth the risk for big tournaments. Like I said with Grandal and Bellinger, Bird looks a heck of a lot better against someone like Cobb who quite simply never strikes anyone out. His 4.89 K/9 would be the second worst in the majors, but the guy can't stay on the mound long enough to have enough innings to qualify. Bird has been batting third against Yankees, and should have plate-appearances aplenty here. This is exactly the time to take someone like Bird, whose price is discounted largely due to his strikeout risk.
Second Base

DJ LeMahieu FD 3000 DK 4500
Opponent - LAD (Alex Wood) Park - COL
FD - 12.19 DK - 9.52
Alex Wood doesn't really come to mind when we think about pitchers we'd like to target, but stepping into Coors moves that needle for all but the very best in the world. Wood has been solid again this season, but his command-based approach has never translated for him in Coors. Through 22 innings pitched in Colorado he has a 1.82 WHIP and an 8.18 ERA. LeMahieu, meanwhile, should draw the leadoff spot against a lefty here, and getting these reduced prices for a guy with an .830 OPS this season and a career OPS .063 points higher against lefties looks like an incredible deal.

Ian Kinsler FD 2700 DK 3500
Opponent - TEX (Doug Fister) Park - LAA
FD - 10.78 DK - 8.23
Speaking of leadoff men, what about Ian Kinsler? He's drawing the top spot against both lefties and righties right now, and has the chance to face a pretty darned bad righty in Doug Fister today. After a season where his strike outs jumped to more than 8 per 9 innings, Fister is back to his old ones, striking out just a hair over six batters per nine innings while walking almost three. He's giving up a lot of hard contact, including 1.47 HR/9, and looks every bit the washed up pitch-to-contact guy. Kinsler, meanwhile, is having his own age-fueled struggles, but a lot of that is reflected in the price. Batting ahead of Mike Trout in a match-up like this is almost worth $2,700 on FanDuel before you even know who the batter is, and while I will likely just play LeMahieu, Kinsler makes for an interesting pivot.
Also considered: Jonathan Villar.
Shortstop
Chris Taylor FD 3700 DK 4400
Opponent - COL (Chad Bettis) Park - COL
FD - 13.22 DK - 10.19

Trevor Story FD 4300 DK 4600
Opponent - LAD (Alex Wood) Park - COL
FD - 13.5 DK - 10.16
More Coors guys you say? Sure. Why not? Story has been batting clean-up against left handed pitchers, and he's got a 1.100 OPS against lefties this season as compared to his .647 number against righties. Taylor is another lead-off man value play with strike out issues that should be mitigated by a good match-up. He's not in a favorable platoon spot, but he's actually been almost exactly platoon neutral for his career (.766 OPS vs. LHP and .765 OPS vs. RHP and nearly identical K numbers as well), so I'm not going to shy away from rolling him here if that's how the money breaks. Still, something in me says we're in for a huge Trevor Story game here.

Didi Gregorius FD 3900 DK 4300
Opponent - BAL (Alex Cobb) Park - BAL
FD - 12.59 DK - 9.69
Speaking of guys in excellent platoon spots, what about our pal Didi? You're going to have the money to spend, and the Yankees are against arguably the worst pitcher on the whole slate (and one of the worst that routinely starts as well). Gregorius' OPS is almost .200 points better against righties this season, and more importantly for upside purposes, 31 of his 36 home runs in the last two seasons have come against northpaws. Cobb also happens to be getting owned by left handed batters in a way I'm frankly not sure I've seen before, allowing an eye popping 1.107 OPS to lefties this year. A righty killer against a guy who turns every left handed batter into Barry Bonds? Sign me up.
Third Base
Jake Lamb FD 3200 DK 4200
Opponent - MIA (Dan Straily) Park - ARI
FD - 11.42 DK - 8.54
This is the first position where I feel like I have to go a little deeper today. Lamb should be batting third today in a fantastic spot against Dan Straily. The once promising right hander has just been awful this year, walking 5 batters per 9 innings and striking out less than 7. His ERA is under four thanks to an absurdly lucky .225 BABIP allowed, but you can't count on that to continue. Lamb, meanwhile, is a classic platoon guy, with a career .850 OPS against right handed pitching and a comical .580 OPS against lefties. You're in some danger of the Marlins bringing in a LOOGY to shut him down late in the game, but Goldschmidt's presence in the lineup as a lefty killer makes that less attractive. I'm a big Lamb fan today.

Anthony Rendon FD 3800 DK 4100
Opponent - ATL (Anibal Sanchez) Park - ATL
FD - 12.11 DK - 9.13
A high floor option with a pretty solid match-up. Things keep heading in the wrong direction for Sanchez, whose 4 walks per 9 innings this season have greatly restricted his ability to stay in games, and the patient Rendon (an 11% walk rate this year) should provide consistently solid value in the middle of this Washington lineup.

Travis Shaw FD 4000 DK 4700
Opponent - CHW (Dylan Covey) Park - CHW
FD - 11.98 DK - 9.03
Shaw isn't the type of guy you might normally think of when you're dreaming on big money pay-offs, but I can think of a pretty convincing case to roll him out today. First of all, he won't be springing immediately to mind for most players today, giving you considerably big tournament upside on his ownership alone. The power is certainly there, as he's followed up 2017's 31 home run season with 13 home runs and a .500+ slugging percentage as well. But really, playing any Brewers is a bet against Dylan Covey's potential improvement this season. We regularly farmed Covey for DFS production during his 5.54 xFIP 2017, but he's improved his K rate and his BB rate and this season he looks merely bad instead of impossibly bad. There's some statistical noise there, though. Through 17 innings he hasn't allowed a single home run, for instance, a year after allowing 2.57 home runs per 9 innings. I don't think Shaw is a sure thing to outperform the above guys, but I am interested in chasing the upside I think.
Outfield

Giancarlo Stanton FD 4500 DK 5100
Opponent - BAL (Alex Cobb) Park - BAL
FD - 16.47 DK - 12.17


Brett Gardner FD 3300 DK 4500
Opponent - BAL (Alex Cobb) Park - BAL
FD - 12.78 DK - 9.78
There are a number of excellent ways to spend up at the outfield position tonight, but my personal favorite has to be the Yankees. Our system sees Judge as a little bit over-priced, but that won't stop me from including him in a stack with Stanton and Gardner, both of whom look like excellent values. Gardner gets the platoon bump from facing a righty, and all three of them will get the understandable bump that comes from facing one of the worst arms in baseball. Expect huge ownership for all three of these guys on a night where spending up at pitching isn't an option.
Justin Upton FD 3400 DK 4600
Opponent - TEX (Doug Fister) Park - LAA
FD - 12.45 DK - 9.33


Ryan Braun FD 3200 DK 4200
Opponent - CHW (Dylan Covey) Park - CHW
FD - 13.4 DK - 10.18
Well these guys aren't technically a stack, but I pair them together as the not-as-good-as-they-used-to-be righties in bad platoon spots against terrible pitchers. Most of what drives this pair is their price and their position in the batting order. Yes, their best days are well behind them at this point, but as we've seen time and again with aging stars they can still put stats up against the weaker arms in the league. I think both are fine cash game filler and even have a little bit of upside if you decide you're spending up at some other position.

Khris Davis FD 3500 DK 5000
Opponent - KC (Jake Junis) Park - KC
FD - 12.48 DK - 9.31
Here's a value play of a different style that I wanted to highlight to end the article. Davis is a guy whose best days are not behind him, whose season line is held back only by an unsustainably horrible .258 BABIP. The power is still elite, and the bad luck has him at a too cheap price on FanDuel right now. Junis has been better than expected this season, but he's still rocking a below league average 4.19 xFIP and has added to last year's poor HR/9 figure, elevating it to 1.6. Davis (and the A's in general) looks like a well off the beaten path upside play while the rest of the field chases the Yankees and the Coors game.
GRAB A FREE TRIAL OF OUR PROJECTION SYSTEM, AND CHECK OUT DFSR PRO!
FREE EBOOK
SECRETS TO CRUSHING DAILY FANTASY FOOTBALL!
DON'T SET ANOTHER LINEUP BEFORE YOU READ THIS BOOK.