featured Daily Fantasy
Expert Advice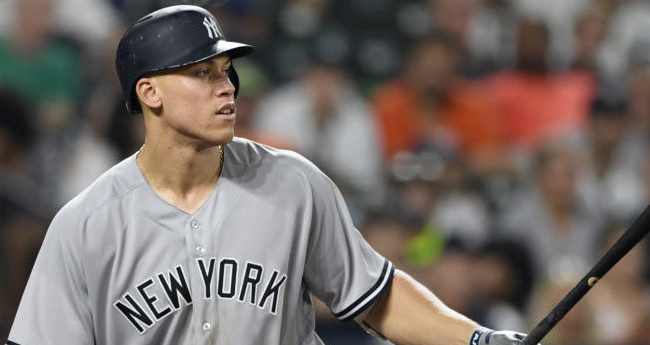 Daily Fantasy MLB Picks for FanDuel and DraftKings - 6/4/18
Now's your chance to get DFSR PRO, which will give you access to our MLB optimizer and our new player lab! Get started for free by clicking the button below.
First time with MLB? Be sure to read our free MLB Ebooks on building lineups, general strategy and more. We've got you completely covered.
Pitcher
Domingo German FD 6600 DK 8700
Opponent - DET (Drew VerHagen) Park - DET
FD - 30.65 DK - 15.81
This is one of the smallest baseball slates you'll ever see with only four games on the evening schedule. That reduces (significantly) the number of decisions we'll have to make and also likely means there will be quite a bit of lineup overlap. With Luis Severino pitching the first leg of the Yankees-Tigers doubleheader, we also take the best arm of the day off of the main slate of games.
That leaves with Domingo German taking the mound in the second game. German has been solid since entering the starting rotation four games ago. In his four starts, he's averaging more than five innings and more than a strikeout an inning. The Tigers are a bottom-third offense against righty pitching this season with a .307 team wOBA in that split. They don't strike out a ton (21% of the time) which could lower German's high-end K upside. He opens as a -200 favorite, easily placing him with the highest win expectancy on the small slate.
Julio Teheran FD 7600 DK 9800
Opponent - SD (Clayton Richard) Park - SD
FD - 33.54 DK - 16.95
Another year and another Padres team that just can't hit at all. They've been this way for as long as I can remember and it doesn't aim to change anytime soon. They enter Monday ranked 28th in the league against righty pitching with a team .285 wOBA and strike out at the third-highest rate in the league (26%). The Padres only have 3.84 implied runs going into this game which also helps booster Teheran's case. The park is an ideal pitcher's paradise and the price on the Atlanta righty is on the cheaper side. The issue is Teheran has been pretty damn bad this season. His xFIP is up near 5.00 and he's walking almost 1.5 more batters per nine than his career averages. With so few options, I'm fine buying on the matchup and park above all else.

Clayton Richard FD 7200 DK 6200
Opponent - ATL (Julio Teheran) Park - SD
FD - 30.27 DK - 14.71
Again, this is a day with few options and we need to take what we can get. Richard is coming so much cheaper the Teheran on DraftKings that possibly playing him at SP2 could be the right move. Like Teheran, he isn't all that good, but is actually a slight -115 favorite against Atlanta with a crazy low 7.5 over/under. The Braves have been very good against lefty pitching this season (first in the league in team .wOBA) but are without Acuna and feature three lefties in the first four slots in the lineup now (Inciarte, Freeman, Markakis). It's mostly the price I'm looking at for Richard who gets the confines of pitcher-friendly Petco.
First Base/Catcher
Greg Bird FD 3400 DK 4000
Opponent - DET (Mike Fiers) Park - DET
FD - 14.3 DK - 10.65
Look, you are going to see a lot of Yankees on this list today. There's really no other way around it. On the evening slate of games, their 5.9 implied runs is a full run higher than the next closest team. So if you see a lot of guys in pinstripes here then just understand the context. Bird has recently moved into the third spot in the lineup, sandwiched between Aaron Judge and Giancarlo Stanton. That, in and of itself, has major ramifications just because of the run scoring and run creating expectation. Because of early-season injuries, he's only seen 27 plate appearances, but he has big-time power upside with 21 home runs in his first 375 trips to the plate. We'll get into the case against Mike Fiers as we get into more of the Yankee bats, but you'll see there are a number of reasons to stack Yankees on Monday.

Jefry Marte FD 2200 DK 3400
Opponent - KC (Danny Duffy) Park - LAA
FD - 10.62 DK - 8.04
You are also going to see a bunch of Angels in this write-up. They have the second-most implied runs and we also get the advantage of getting some of them cheap in plus platoon matchups. Marie fits and the bill for sure considering he often slots into around the 6-7 hole when lefties are on the mound. His numbers against southpaws over the last two seasons don't look all that great (only a .700 OPS) but some of that has been due to an incredibly-low .218 BABIP. He's still walking close to 10% of the time against lefties and that's a good thing against Danny Duffy who's been a whole lot of brutal this season. Dude's walking more than four batters per nine and striking out less than eight leading to an xFIP over 5.00. Last start aside, it's been almost all bad for the lefty.
At catcher consider Martin Maldonado if he's in the lineup against the lefty. Also, Buster Posey is coming cheap on both sites. He's only $2800 on FanDuel and $4000 on DraftKings which are both palatable considering it won't take much to spend for pitching on the main slate.
Second Base

Ian Kinsler FD 2800 DK 3900
Opponent - KC (Danny Duffy) Park - LAA
FD - 11.78 DK - 8.99
Kinsler has moved back into the leadoff spot for the Angels after hitting near the bottom of the order for about a month plus. He's been better against lefties over the course of his career and in the last two seasons has a .794 OPS in that split. He's very difficult for lefties to strike out with only a 10% K rate in his last 200 plate appearances against southpaws. He's also struggled mightily with BABIP issues over the last two seasons. The career number is around .280 but for 2017-2018 it's more like .240. One would think there should be some regression on that number. With Danny Duffy's profile, you have to assume there's a great deal of either A: contact or B: free passes coming for Kinsler out of the leadoff spot.
Jose Pirela FD 3000 DK 3400
Opponent - ATL (Julio Teheran) Park - SD
FD - 8.21 DK - 6.35
To be clear, I think Kinsler is, far and away, the best play at second base and Pirela here is only meant as a filler or GPP pivot. I'd also strongly consider Gleyber Torres if he's not hitting in the ninth hole. Pirela doesn't have a fantastic park here, but he's been fine against righties over the last couple of seasons with a .750 OPS and .324 wOBA. At his prices (especially on DraftKings) we can get away with these kind of numbers and the matchup against Teheran isn't exactly scary considering the latter's walk rate. Pirela has yet to hit a home run in his first 248 plate appearances even though the hard contact rate is up a couple of percent over last season.
Shortstop

Didi Gregorius FD 4300 DK 4300
Opponent - DET (Mike Fiers) Park - DET
FD - 12.99 DK - 10.01
Didi's putting together the best power season of his career but has recently moved from the three spot in the lineup to the sixth hole thanks to Greg Bird coming back and providing a lefty power bat between Judge and Stanton. But even a little lower in the lineup, Gregorius has the highest raw point projection of any shortstop on this slate and it's particularly close. He's much better against righty pitching with a .847 OPS over his last 580 plate appearances in that split. He's tough to strikeout at only 12.4% and has an impressive 120 wRC+. The price is steep on FanDuel but shortstop has such positional scarcity that I think you have to eat the cost and play him here even if it means sacrificing the chance to play another Yankee bat somewhere else.
Nick Ahmed FD 2400 DK 3200
Opponent - SF (Derek Holland) Park - SF
FD - 9.38 DK - 7.26
There's some case to pivot away from Didi and go a little cheaper if Ahmed hits in the second spot in the lineup against Derek Holland. That was the case on Saturday against Caleb Smith and could be in the cards again for Monday. But pay attention, because the Diamondbacks do like to play lineup shenanigans from time to time. Simply put, Ahmed's been awesome against lefties. Over the last two seasons (114 plate appearances) he's putting up an elite .981 OPS and .410 wOBA. Some of it is BABIP and Hr/FB% fueled for sure with those numbers higher than his career averages. But you can't totally lockbox your way into this kind of output. The park is bad in San Francisco, but Derek Holland is a well below average arm with a 7.5 K/9 rate and an xFIP climbing towards 5.00. Again, keep an eye out for the Diamondbacks' lineup and if Ahmed is at the top of the order then he makes a great punt play.
Third Base

Mike Moustakas FD 4100 DK 4300
Opponent - LAA (Nick Tropeano) Park - LAA
FD - 9.46 DK - 7.19
Third base is just horrible on this short slate. Honestly, shortstop is better and that's really saying something about just how few options we have at the hot corner. Moustakas is the best hitter of the group today and that means having to pay up for him. But like I've said before, the pitching is coming so cheap that paying up for bats isn't going to be all that much of an issue. After a breakout, 38 home run 2017 campaign, he's followed it up with 12 dingers in his first 247 plate appearances this season. He doesn't take all that many walks, but the 15% strikeout rate means he's also putting a lot of balls in play. Nick Tropeano's numbers aren't anything to write home about (assuming people actually do write home at all) with only a 20% K rate and a 4.63 xFIP (nearly a full run higher than the ERA). Moose's biggest issue really is that the rest of his team stinks and the Royals struggle mightily to put up any real offense.
Johan Camargo FD 2700 DK 3300
Opponent - SD (Clayton Richard) Park - SD
FD - 7.11 DK - 5.56
Woof, see what I mean about this position? It's terrible and we are really pulling from the bottom of the value barrel here. Camargo doesn't make me want to full-on puke though so I suppose that's saying something. He's put together a solid first half of the season with a .795 OPS and five home runs in his first 127 plate appearances. That's already a career high in the power department and with some Braves' injuries, he's moved up a couple of spots in the lineup. As a switch-hitter, he's been significantly better hitting from the right side against lefties where he owns a .942 OPS and .383 wOBA over the last two seasons. Some of that is thanks to a BABIP closing in on .400, but this is clearly the side of the plate he'd rather hit from. The Braves aren't expected for many runs in this game which is driving down his projection, but I don't mind him as a punt play type at a weaker position.
Consider Miguel Andjuar but considering I'm capped on the amount of Yankees I can play, he'll probably be on the outside looking in for cash games.
Outfield

Aaron Judge FD 5200 DK 5800
Opponent - DET (Mike Fiers) Park - DET
FD - 17.22 DK - 12.74


Giancarlo Stanton FD 4900 DK 5100
Opponent - DET (Mike Fiers) Park - DET
FD - 17 DK - 12.56


Brett Gardner FD 3300 DK 4700
Opponent - DET (Mike Fiers) Park - DET
FD - 13.19 DK - 10.09
Sick of Yankees yet? Don't be because we've finally gotten to the big payoffs. Even with the cheaper pitching, it might be something of a stretch to consider rostering all three of these guys on the slate, but man it's going to be tough fading any of them. Mike Fiers has struggled to strike anyone out this season, with less than a six K/9 rate. That could be complete and utter death against the top of this Yankees' lineup that features two of the best power hitters in the game. Judge is showing that the 2017 wasn't anything close to a fluke. He already has 16 home runs on the season. He's off the 52 home run pace from last season, but not by much. The 1.000 OPS is elite and it's worth noting that over the last two seasons only Mike Trout has a better OPS against righty pitching. Judge has just been that good. It's just nuts. He's cheaper than Trout on both sites and is the top bat to pay up for without a doubt.
Meanwhile, Stanton hasn't had quite the season in New York that we would have expected. Compared to last season, the strikeouts are up while the walks and home runs are both down. It's hard to point to one specific area of concern seeing as how the hard contact rate is actually up. But he's still an elite power bat and against a guy like Fiers, he greatly reduces the strikeout expectation. That's really the story because obviously, the righty-righty platoon split is the worse of the two for Giancarlo though he's been fine enough over the last couple of seasons.
And finally, Gardner is still just sitting at a great price on FanDuel. After suffering a near power outage for much of the first couple months of the season, Gardner has three home runs in his last six games. He's never going to be a big bopper and his main value is just getting on base in front of the heart of the Yankee lineup. He's walking at a 13% clip (up over the last few seasons) with an awesome .364 OBP. He's the cash game OF play on FanDuel at that price though I do think it might be a little of a reach on DraftKings.
Justin Upton FD 3500 DK 4000
Opponent - KC (Danny Duffy) Park - LAA
FD - 12.81 DK - 9.6
Over the last couple of seasons, this guy has been a straight lefty killer with a .989 OPS, .412 wOBA and 162 wRC+ in that split. He'll definitely strikeout (24% of the time) but takes walks and has just put up so much power against southpaws. The Angels, across the board, are in a good spot against Danny Duffy, but I do think we are buying somewhat low on Upton here considering the platoon matchup. He has only 42 plate appearances against lefties on the season and the price is driven down because of his struggles against righty arms. If you are overextended on Yankees, he makes for a solid cash game pivot even as a one off if you aren't enamored with the rest of the Angels.
GRAB A FREE TRIAL OF OUR PROJECTION SYSTEM, AND CHECK OUT DFSR PRO!
image sources
Yankees Orioles Baseball: (AP Photo/Nick Wass)
FREE EBOOK
SECRETS TO CRUSHING DAILY FANTASY FOOTBALL!
DON'T SET ANOTHER LINEUP BEFORE YOU READ THIS BOOK.