Baseball Picks Daily Fantasy
Expert Advice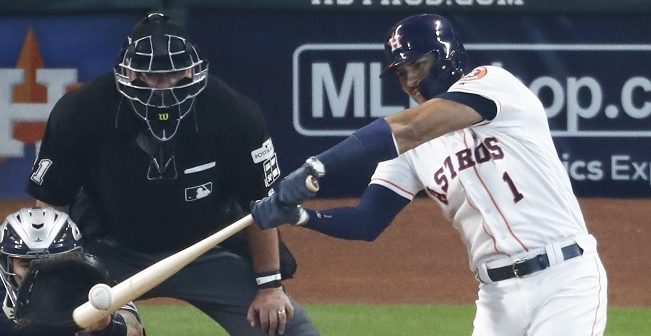 Daily Fantasy MLB Picks for FanDuel and DraftKings - 6/6/18
Wednesday in baseball gives us a double slate of MLB action with a few early afternoon games and a bunch of evening matchups. There's a lot to like about these slates with some pitchers coming on the cheaper side of things in good matchups and plenty of gas cans to target.
Now's your chance to get DFSR PRO, which will give you access to our MLB optimizer and our new player lab! Get started for free by clicking the button below.
First time with MLB? Be sure to read our free MLB Ebooks on building lineups, general strategy and more. We've got you completely covered.
Pitcher
Early


Zack Wheeler FD 7100 DK 7700
Opponent - BAL (Dylan Bundy) Park - NYM
FD - 31.3 DK - 16.21
Baltimore against the Mets is as close as the early slate gets to a "pitcher's duel" with Wheeler facing off against Dylan Bundy. Our system slightly favors Wheeler in this matchup. Despite the 5.14 ERA, the 3.94 xFIP is more than a run lower thanks to some LOB% run bad combined with a BABIP-against higher than his career averages. Wheeler is striking out about 23% of batters, good for more than a K an inning and gets to face an Orioles' team ranked 27th in wOBA against righty pitching this season. They strike out about 25% of the time in this split and the bottom of the order is truly dreadful. Wheeler is a slight -117 opening favorite and I wouldn't be surprised to see this climb a bit during the day.
Tanner Roark FD 8000 DK 8300
Opponent - TB (Undecided) Park - WSH
FD - 33.96 DK - 17.3
At the time of this writing, there was no opening line on the Washington-Tampa Bay game most likely because the latter hadn't announced a starting pitcher. I expect the Nationals to be somewhat heavy favorites once that line hits and Roark could end up looking like a much better play than Wheeler if the win expectancy is significantly higher. Assuming the lineup is about the same as the one we saw against Scherzer on Tuesday, it strikes out about 10% more than league average in their righty splits. This is a pretty big number all things considered especially because on average Roark isn't a huge swing and miss guy. But if we can bump that number some (he's at about 7.5 K's per nine) then we're looking at a cash game play for sure. Almost no matter which way you go you won't be spending much on arms for the early slate.
Strongly consider Dylan Bundy against the Mets. He has as much strikeout upside of anyone on this short slate.
Main

Shohei Ohtani FD 8600 DK 11100
Opponent - KC (Ian Kennedy) Park - KC
FD - 43.23 DK - 23.62
We have a few mispriced pitchers on FanDuel for Wednesday and Ohtani is one of them. While the DraftKings price at least makes one think for a second, we have no such issue on FanDuel. Ohtani's been excellent in his young major league career, striking out more than 31% of the batters he's faced (good for more than 11 K's per nine). He does walk more than three batters per nine, an issue that's led to him averaging only a little more than 5.5 innings per start. Not being able to go long into games can curb a pitcher's upside. But he's locked into a good matchup against a weak-hitting Royals' team that ranks 23rd in wOBA against righty pitching. They only strike out 17.7% of the time in this split, the lowest in the league. That could effect Ohtani's top-end strikeout numbers. But he's an overwhelming -260 favorite and is a solid cash game play all around.
Jack Flaherty FD 7800 DK 10200
Opponent - MIA (Wei-Yin Chen) Park - STL
FD - 36.78 DK - 18.94
Flaherty was definitely a legit prospect when he was called up this season (46th on FanGraph's preseason prospect list) but I think what he's done in the majors so far has even defied some of his higher expectations. He's striking out more batters than at any other time of his minor league career except for his brief AAA stint this season before being called up. He isn't quite as good as the 2.62 ERA would suggest with the xFIP about a run higher, but this is still a guy who's a well above average major league arm facing one of the worst offenses in the league. They rank second to last in team wOBA against righties and will likely finish the season dead last once some of the Diamondback bats wake up a little. Miami K's 24% of the time in this split and Flaherty is a big-time -195 opening line favorite. He's getting a little pricey on DraftKings, but the FanDuel price is a total joke.

Jon Gray FD 7300 DK 7500
Opponent - CIN (Sal Romano) Park - CIN
FD - 31.91 DK - 16.56
It's sometimes easy to forget about Gray because he spends half of his season pitching in Coors where you're hard-pressed to consider rostering the guy. But he's been downright excellent this season and actually even better at home. He's sitting at a career-best 26.2% K rate, good for more than 10 strikeouts per nine and he's cut his walks down off the career averages. The 3.07 xFIP is also the lowest number of his career and again, it's lower at home than on the road. Pitching in Cincinnati isn't exactly lined up to help pitchers, it's one of the better power parks in the league, but Gray's strikeout upside is almost unparalleled among pitchers in these price tiers. He's a slight road favorite against a below average Reds' team ranked 22nd in wOBA against righty pitching this season.
First Base/Catcher
Early

Chris Davis FD 2100 DK 2800
Opponent - NYM (Zack Wheeler) Park - NYM
FD - 9.03 DK - 6.69
Ok, on the one hand, he's been pretty damn terrible this season. And on the other hand, well honestly there really hasn't been another hand. He's stunk. We are now left to figure out what happens for "Crush" going forward. The numbers are abysmal all around even though we had so much hope when he started the season hitting leadoff for the O's. He's coming at the minimums now and I do think there's reason to believe he won't be *this* bad going forward. The Hr/FB rate is about half of what he's done the rest of his career, a number that should climb over a larger sample size. The BABIP is low because of the defensive shifts against him, but even accounting for that he's still running a bit bad on the contact he does make. I'm definitely wary of the increased ground ball rate because that's a sign things are going south for a power bat, but I'm convinced there are still home runs left for this guy. On a big slate of games, I wouldn't even consider him, but this short slate has us making tougher choices.
At catcher, good luck because this position is terrible on DraftKings for the early slate. Yan Gomes is in play simply because he's on the Indians who have a good offense.
Main

Greg Bird FD 3600 DK 4100
Opponent - TOR (Sam Gaviglio) Park - TOR
FD - 13.1 DK - 9.76
He's still just way too cheap on FanDuel and honestly is a little mispriced on DraftKings as well considering his new spot in the order. Bird is now firmly entrenched between Aaron Judge and Giancarlo Stanton in the lineup as the Yankees work to break up their two big righty bats. Bird's a worthy talent though clearly below the upside of the two superstars. He's striking out at a crazy clip so far this season and the walks are down, but we are only talking about 32 plate appearances. I think we'll see him round into the patient, 10% walk rate guy he's shown over his first 400 plate appearances. This isn't a fantastic matchup considering Gaviglio has been a solid arm this season, but the righty-lefty matchup favors Bird and the stadium plays well for lefty power.
At catcher, consider Mitch Garver if he's in the lineup against Hector Santiago who is a little piece of terrible. Also, Yadier Molina has a great matchup against Wei-Yin Chen.
Second Base
Early


Joey Wendle FD 2500 DK 3200
Opponent - WSH (Tanner Roark) Park - WSH
FD - 8.38 DK - 6.53
Ok, he's not very good. So that's something of a problem. But we are working with a very short slate of early games and we've got to play the hand we're dealt. It helps that Wendle hits higher up in the order (usually in the three spot) and facing righties is his *strong* suit. He owns a respectable (though not outstanding) .743 OPS over the last 164 plate appearances against righties with an above average 103 wRC+. Because we have only three games and basically five pitchers who are at least average or better the pickings get somewhat slim on the offensive side of things. I do like the savings we are getting on Wendle compared to say Asdrubal Cabrera who also hits higher in the order. It's close on the two and the raw points may win out on the latter. But Wendle is a fine play against Roark who doesn't have tremendous K upside.
Consider Asdrubal Cabrera
Main


Ian Kinsler FD 2900 DK 3500
Opponent - KC (Ian Kennedy) Park - LAA
FD - 11.15 DK - 8.51
Even though he's back to full-time leadoff hitting for the Angels, Kinsler's price hasn't fully caught up to the opportunity. Now, admittedly some of this is his fault considering the numbers are way down this year. He's only at a .627 OPS thanks in some part to a paltry .211 BABIP. But the batted ball profile doesn't look all that troubling and I do suspect we are in for some regression on the overall numbers. Remember also, that in terms of fantasy production there is really no better spot in the league better than hitting in front of Mike Trout. Ian Kennedy isn't as bad at the 6.08 ERA would suggest, but he's merely an average arm and the Angels have one of the better-implied run lines on the evening slate.
You should also strongly consider Brian Dozier against Hector Santiago who is one of the worst arms going on the entire slate. This is Dozier's much better split and he's in a good spot. The price is getting up there though and there is a point at which he's getting a little expensive.
Shortstop
Early


Francisco Lindor FD 4700 DK 5200
Opponent - MIL (Chase Anderson) Park - CLE
FD - 13.06 DK - 10
As you'll see with this pick, and the guys for the evening slate, paying up at shortstop is going to be the way to go. It's just such a thin position when it comes to overall offensive talent and there are only a few bats worth paying up for on a night-to-night basis. The other alternative is just a full on punt job for a loser hitting at the bottom of the order. It's kind of all or nothing with this position. So we get Lindor who is actually enjoying the best season of his major league career. He's sitting at a .944 OPS and his 14 home runs have him on pace to eclipse his career-best 33 from last season. He's not at risk of really striking out in this matchup against Anderson who has a paltry 15.6% K rate on the season. The Indians could definitely put a hurt on here.
Main


Carlos Correa FD 3900 DK 4900
Opponent - SEA (Wade LeBlanc) Park - HOU
FD - 12.95 DK - 9.75


Marcus Semien FD 3300 DK 3900
Opponent - TEX (Bartolo Colon) Park - TEX
FD - 13.12 DK - 10.01
Because pitching is coming on the cheaper side for the main slate of games, I think we can consider paying something like top dollar for either of these guys. Semien should be in the leadoff or two hole against Colon who has put up interesting numbers this season. The guy isn't striking anyone out but isn't walking anyone either. He's basically living off of a .228 BABIP and that isn't really sustainable with his makeup. Semien's been just about league average over the last couple of seasons against righty pitching and the price on DraftKings is especially attractive considering the A's open the slate at right around 5.9 implied runs. That's the highest number on the day and for good reason. The park is great for power in the warmer summer months and it sure looks like Colon still isn't all that good.
Meanwhile, Correa gets to face a lefty, the much better side of his platoon splits. Over the last two seasons, the young shortstop has been one of the very best in the league against lefties. He's putting up the 20th best wOBA at .422 (167 plate appearances) to go with a .999 OPS and 172 wRC+. Even with the Astros implied for a full run lower than the A's Correa still makes for an excellent play because of the damage he does to southpaws.
Third Base
Early

Todd Frazier FD 3000 DK 3800
Opponent - BAL (Dylan Bundy) Park - NYM
FD - 10.24 DK - 7.66
Frazier reentered the lineup on Tuesday after missing about a month of action due to a hamstring issue. I don't mind his makeup for cash games on a smaller slate considering he's been hovering around a 15% walk rate over the last two seasons and has actually been serviceable against righties so we aren't going to get crushed by a reverse platoon split in the matchup. Buddy has struggled with control at times this season and that's good news for a guy like Frazier who's taken a much more patient approach over the last couple of seasons. He's coming at a very cheap price on DraftKings and firmly in the lower middle tier on FanDuel. The position is rather thin and again, I'm looking for a higher floor type of play.
Main


Miguel Sano FD 3600 DK 4100
Opponent - CHW (Hector Santiago) Park - MIN
FD - 13.94 DK - 10.35
I alluded to it with Mitch Garver and Brian Dozier but I really can't understate just how good a spot the Twins are in on Wednesday against Hector Santiago. The latter owns an abhorrent 5.84 xFIP this season even though he's had the stat luxury of pitching a bunch of innings out of the bullpen. He's been one of the worst pitchers in the league to consistently be able to take the mound for a major league team. He walks everything in sight and allows home runs like there's some incentive clause in his contract that gives him bonuses for balls leaving the stadium. Sano crushes lefties to the tune of a .887 OPS over his last 150 plate appearances with an elite 13% walk rate and .369 wOBA. He's not all that expensive considering dude's hitting in the middle of the order and should rake this matchup.
Luis Valbuena FD 2400 DK 3300
Opponent - KC (Ian Kennedy) Park - LAA
FD - 9.99 DK - 7.46
With Ohtani taking the mound and Albert Pujols out for the rest of the week, Valbuena moves up in the lineup and increases his plate appearance expectation at a lower cost. It's a good time to buy considering he could be in the five hole against Kennedy with the Angels at somewhere around five implied runs. He's above average against righty pitching and takes enough walks (10% against righties over his last 500 plate appearances) that I think he's got a rather safe floor for cash games. Again, this is a price play plain and simple.
Outfield
Early

Brandon Nimmo FD 3300 DK 4400
Opponent - BAL (Dylan Bundy) Park - NYM
FD - 9.79 DK - 7.43


Michael Conforto FD 2900 DK 3800
Opponent - BAL (Dylan Bundy) Park - NYM
FD - 10.72 DK - 8.04

Jay Bruce FD 2500 DK 3300
Opponent - BAL (Dylan Bundy) Park - NYM
FD - 10.25 DK - 7.72
If I'm looking to stack on outfield on the early slate of games, this is the one. We are getting three guys who represent almost all of what the Mets bring to the table offensively (which admittedly this season, hasn't been much). Nimmo is putting together an elite season with a .980 OPS. He's been good across every piece of the stat line with power (seven home runs), speed (six steals) and patience (15% walk rate). The guy's been one of the very best fantasy guys on the season and is only hampered by the rest of the team kind of stinking.
Conforto has been something of a three true outcome hitter this season with a 26% K rate, 15% walk rate and seven home runs in 197 plate appearances. The on-base percentage is solid at .360 but the slugging percentage is struggling because other than home runs, he's doing little else. I still think he's a well above average hitter coming at a major discount.
And finally, Jay Bruce is getting crushed on his HR/FB ratio which is about half of his career averages. It's a major reason his price is dipping down into the basement considering the ISO has been cut in half year-over-year. I'm buying on all three of these guys going forward.
Main


Tommy Pham FD 3500 DK 4600
Opponent - MIA (Wei-Yin Chen) Park - STL
FD - 12.92 DK - 9.72


Marcell Ozuna FD 3500 DK 3800
Opponent - MIA (Wei-Yin Chen) Park - STL
FD - 12.78 DK - 9.7

Dexter Fowler FD 2900 DK 3300
Opponent - MIA (Wei-Yin Chen) Park - STL
FD - 12.51 DK - 9.47
It's kind of amazing we've gone this whole article basically without mentioning the Cardinals in an awesome matchup against Wei-Yin Chen. Chen's been one of the worst pitchers in the league since coming back from injury. In seven starts (where he's lasted only 31 total innings) he owns a 5.78 xFIP while striking out less than seven batters per nine and walking more than 4.5. Those are the kind of numbers that shorten your career (if you play for anyone but the Marlins). Tommy Pham has been one of the best in the league over the last couple of seasons against lefty pitching with a .958 OPS and .404 wOBA. Few other hitters in the game put up these kinds of numbers and he combines the raw power with stolen base upside (eight so far on the season).
Meanwhile, Ozuna is starting to turn things around after a dreadful start to the season. I'm going to go ahead and pat our system on the back for sticking with the guy as it recognized that much of his struggle was due to bad luck. He's hit home runs in two of his last three games and has hit safely in nine of his last twelve. Over his last 200 plate appearances, he has a .807 OPS against lefties with an 11% walk rate and .346 wOBA. I still think we are buying low on Ozuna especially on DraftKings.
And finally, we get Fowler who is most definitely having a season to forget. The .590 OPS is just beyond terrible and the main reason he's been relegated to near the bottom of the lineup. But the .197 BABIP is the very definition of run bad and the fact that he's a fast switch-hitter means that number is due for some big-time regression. My only concern is his soft contact rate climbing year-over-year but even with that as a factor I still think the guy is running incredibly bad. He's been much better over his career against lefties and buying him near the minimums is a place I want to be in this matchup.
GRAB A FREE TRIAL OF OUR PROJECTION SYSTEM, AND CHECK OUT DFSR PRO!
FREE EBOOK
SECRETS TO CRUSHING DAILY FANTASY FOOTBALL!
DON'T SET ANOTHER LINEUP BEFORE YOU READ THIS BOOK.