Baseball Picks Daily Fantasy
Expert Advice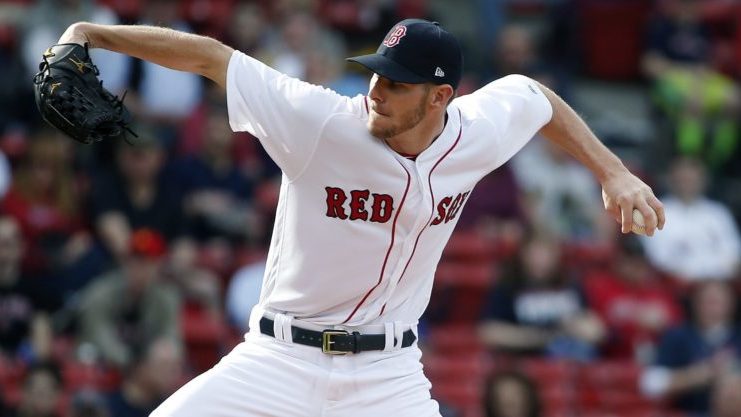 Daily Fantasy MLB Picks for FanDuel and DraftKings - 6/13/18
It's a full day of Wednesday baseball action coming your way for FanDuel and DraftKings with plenty of good arms, bats in high-expectation spots and games starting at noon eastern.
Now's your chance to get DFSR PRO, which will give you access to our MLB optimizer and our new player lab! Get started for free by clicking the button below.
First time with MLB? Be sure to read our free MLB Ebooks on building lineups, general strategy and more. We've got you completely covered.
Pitcher
Early


Chris Sale FD 11300 DK 13500
Opponent - BAL (Andrew Cashner) Park - BAL
FD - 45.84 DK - 25.92
Simply put, he's still way too cheap on FanDuel. At under $12K there really isn't much of a decision there for a guy with Sale's numbers. He's been masterful again this season with more than 12 strikeouts per nine, a little north of two walks and a 2.77 xFIP. He's basically just running bad on wins which I suppose is what's keeping the FanDuel price on the lower end for him. It's a closer decision I suppose on DraftKings, though he's so much better than the rest of the field that I think for cash games you pay up and just try to find the savings elsewhere. He gets a dream matchup against the Orioles who rank second to last in wOBA against lefties this season and strike out about 23% of the time. The Orioles do feature a lot of righty bats down the lineup, but man have they been bad this season. Sale enters the game as a huge -225 road favorite with the Orioles in the low 3's of implied runs. He's a pretty easy decision for the early slate.
Strongly consider Garrett Richards in that SP2 slot on DraftKings for the early slate. He's been wild for sure, but the strikeouts are there and he's going in a good pitcher's park against the Mariners.
Main


Trevor Bauer FD 10200 DK 11500
Opponent - CHW (Dylan Covey) Park - CHW
FD - 40.67 DK - 21.77
Bauer has made strides basically every year since being brought up in 2014 and this season he's putting up his best numbers yet. He's worked up to a 30% K% while keeping the walks relatively in check at 8%. His 3.15 xFIP is nearly a run lower than his career average and I suppose some of this season's spike in strikeouts can be attributed to Bauer suddenly finding an effective slider. That pitch has opponents chasing out of the zone much more with the O-swing% up to a career-high 33%. Wednesday Bauer gets the strikeout happy White Sox who go down swinging about 25% of the time against righties this season. He's a -170 road favorite against a bottom third offense and it's tough to get away from Bauer's strikeout upside at these prices. The decision, I suppose is a little closer on DraftKings because there are some other decent arms priced a few tiers below. But he's definitely the best talent going on the evening slate of games.
Luke Weaver FD 6700 DK 7700
Opponent - SD (Eric Lauer) Park - STL
FD - 33.04 DK - 17.54
What do we make of Luke Weaver this season? After a 2017 campaign that saw him striking out close to 11 batters per nine in 10 starts (plus three relief appearances), he's dropped down to less than eight batters per nine this year while also increasing the walks. He's not getting unlucky at all and the only real difference is a minor increase in throwing the cut fastball while going away some from the four-seamer. So we are left with considering him today against the Padres who are just about as bad as it gets on offense. They rank 28th in the league in team wOBA against righty pitching with a 26% K rate. Weaver is a monster -200 home favorite and I expect him to be highly owned on DraftKings at the sub $8K number. I suppose there's even a case to roster him on FanDuel and load up on bats. That's how good the matchup is with San Diego. But again, I am concerned with the drop-off in his numbers and I'm not fully convinced they bounce back.
You obviously have to strongly consider Gerrit Cole. He's a big-time favorite against the A's and has been excellent this season. The issue now, at least on DraftKings is he's extremely expensive at over $13K. On FanDuel, it's much easier to fit his salary and he may end up being the cash pitcher to target if the bats come in line.
Strongly consider Andrew Suarez in the SP2 slot if you think Weaver isn't the answer. And finally, Nick Pivetta also has big strikeout potential against the Rockies.
First Base/Catcher
Early

Jesus Aguilar FD 3100 DK 4200
Opponent - CHC (Mike Montgomery) Park - MIL
FD - 10.18 DK - 7.68
Aguilar should be in the third or fourth slot in the lineup on the early slate against the lefty Mike Montgomery. The former is one of the better hitters in the league against lefty pitching. Over the last two seasons, he's put up a .922 OPS and .387 wOBA against southpaws. Strikeouts are a bit of an issue for the big righty, but that's mitigated significantly by Montgomery who rarely gets any swings and misses. In fact, the latter has only a 14% K rate despite pitching a majority of his innings out of the bullpen. That's a garbage number and Aguilar is a favorite to make contact here. The park plays to righty power and the Brewers are coming in with a little more than 4.5 implied runs on the day.
At catcher, consider Wilson Ramos against the lefty Happ. It's a bad matchup, but Ramos is awesome in this split.
Main


Joey Votto FD 4300 DK 4600
Opponent - KC (Jason Hammel) Park - KC
FD - 13.47 DK - 10.05
We've got another high-total game in Kansas City on Wednesday with Tyler Mahle against Jason Hammel. Votto gets to take on the latter who's striking out only six batters per nine with an xFIP creeping toward 5.00. Votto's numbers are for sure down this season mostly with the power numbers falling off a cliff in the early part of the year. His batted ball numbers suggest this will turn around and the 11% Hr/FB ratio is the lowest of his career even though the hard contact rate is better than last season. He's still walking more than he's striking out (an insanely rare feat). I'm buying all around on Votto and even though he isn't exactly cheap, this is just the kind of cash game spot to expect either A: solid contact, or B: points in the form of free passes.
Strongly consider Yuli Gurriel if he's in the middle of the lineup against the righty Paul Blackburn.
Mitch Garver FD 2100 DK 2700
Opponent - DET (Matthew Boyd) Park - DET
FD - 8.67 DK - 6.57
At catcher, Garver makes for a very cheap way to get out of the position on DraftKings. I'm not considering playing him on FanDuel where you simply don't need to because of the UTIL position. But on DK he's a near-punt play against one of the worst lefty arms in baseball. Matthew Boyd isn't nearly as good as the 3.20 ERA would suggest with the 5.01 xFIP telling the real story. Look, Garver isn't much of a hitter, but he should slot into the lineup right around the seven hole and the Twins are expected to put up runs in this matchup. I don't want to spend much at the position considering the overall lack of options and am happy to just run out a cheap bat against a bad arm.
Second Base
Early

Ben Zobrist FD 3000 DK 4200
Opponent - MIL (Jhoulys Chacin) Park - MIL
FD - 11.11 DK - 8.43
The Cubs switch their lineup around a great deal, so beyond Kris Bryant and Anthony Rizzo, it's sometimes a little tough to know who is going to occupy the first and second slots in the lineup. Zobrist has moved in and out of there this year (but we've also seen Jason Heyward, Albert Almora, and even Javier Baez hitting in this spot). But after hitting five on Tuesday, I'm going to assume Zobrist is there or higher for the day game on Wednesday. He's a higher floor guy because he walks as much as he strikes out (12.7% each) and is putting together a solid .814 OPS season. He's been much better against righties over the last two seasons with a .770 OPS. Chacin is such a low K arm who walks more than 3.5 per nine that one would have to assume Zobrist puts up points in this matchup.
Main


Brian Dozier FD 4100 DK 4100
Opponent - DET (Matthew Boyd) Park - DET
FD - 12.52 DK - 9.46
This was something of a tough call for me between Dozier and Whit Merrifield, but the platoon splits win out for him on the former. Dozier's numbers are down across the board for sure this year and a big reason is that he's running bad on BABIP against lefties. Even with this year's downturn against southpaws, he's rocking a .398 wOBA and 151 wRC+ in that split over his last 222 plate appearances. He bumps his walk rate to 12% and the K's come down when he faces lefties. Plus, like I said with the Mitch Garver writeup, Matthew Boyd is just trash for a major league arm. Dozier is a little pricey on FanDuel, but I really like the price on DraftKings. Considering some of his BABIP issues, I do very much think we are still buying low on him there.
I touched on him a second ago, but very strongly consider Whit Merrifield who has moved back into the leadoff role for the Royals and gets a nice matchup against Mahle.
Shortstop
Early

Orlando Arcia FD 2100 DK 2800
Opponent - CHC (Mike Montgomery) Park - MIL
FD - 8.27 DK - 6.43
Shortstop sucks on the early slate so we will take what we can get and try to get out of the position on the cheap. Arcia is stuck at the bottom of the lineup with no real chance to move up the chain. I don't have an overwhelming case to make for Arcia here besides the fact that you need to play a shortstop to make a legal lineup on both sites and he's basically free all around. And like we've seen with some of the other Brewers, he has one of the better matchups on the early slate of games. You can also consider Addison Russell for a little bit more against Chacin, but honestly, there's really not a whole lot to like at the position with these few games.
Main


Carlos Correa FD 3900 DK 4500
Opponent - OAK (Paul Blackburn) Park - OAK
FD - 12.68 DK - 9.55
The price came up from the ridiculous $2700 tag on FanDuel and he's likely still a little low considering the positional scarcity at shortstop we encounter on an almost nightly basis. Correa returned from a non-DL extended absence on Tuesday night and is still putting together a good season even if the numbers aren't quite at his 2017 levels. He's looking at an OPS higher than .800 with ten home runs on the season. He's hit righties fine enough and in his last 565 plate appearances in that split has a .867 OPS and .364 wOBA. He'll take a walk (10% of the time) and whenever you hit in the middle of the Astros' order you have solid run expectations.
Alcides Escobar FD 2400 DK 2700
Opponent - CIN (Tyler Mahle) Park - KC
FD - 8.89 DK - 7.05
There's definitely a case to punt away the position if Escobar slots back in the two spot for the Royals (though he moved down some on Tuesday, this team's tough to figure because they aren't all that good). For the life of me, I'll never understand what would go through the Royals' brass heads to make a case for hitting this guy so high in the lineup. But alas, I'm not the coach and here we are. Anytime a guy this cheap at shortstop is hitting this high in the lineup we basically need to consider him on the plate appearance expectation alone.
Third Base
Early


Kris Bryant FD 4300 DK 4700
Opponent - MIL (Jhoulys Chacin) Park - MIL
FD - 13.47 DK - 10.08
Rostering Sale on the early slate means you'll struggle to fit much in the way of expensive bats. But you should get out of shortstop on the cheap and there are a few lower tier outfielders to consider. It makes sense to try and pay up for Bryant in this matchup considering how much better he is than the rest of the field at third base. He's much better against lefties but is no slouch against righty pitching either with an OPS closing in on .900 over his last 725 plate appearances, a 12.4% walk rate, .380 wOBA and 135 wRC+. Some power issues this season are keeping his overall prices down across the board but the matchup against Chacin is perfect considering the latter is low on K's and high on walks. Bryant is one guy to possibly "force" into cash games considering his upside and ability to save at other positions.
Keep an eye on the Red Sox lineup against whoever the Rangers start in the place of Andrew Cashner. Rafael Devers is still coming cheaper on DraftKings.
Main


Miguel Sano FD 3400 DK 3900
Opponent - DET (Matthew Boyd) Park - DET
FD - 11.99 DK - 8.91
Well, something has to give in this matchup. On the one hand, we have Boyd who we've already outlined as a gas can of the highest order. But then we have Sano who, to say he's "struggling" would be a major, major understatement. He's spent some time on the DL, but also is striking out at a ridiculous 46% rate this season with an OPS under .700. He only has 33 plate appearances against lefties, which represents the much better side of his platoon splits (.877 OPS over his last 155 plate appearances, including the nightmare that is this season). I want to say he's going to start pulling things together simply because he really can't continue to be this bad (can he?). And for all of his struggles, we aren't exactly buying him on the super cheap. The DraftKings' price is a little more palatable, but he isn't exactly a bargain on FanDuel. There's some chance he's still playing hurt which could explain some of the strikeout issues, though the batted ball profile is in line with previous seasons. I'm going to pull the trigger here and understand that there's a lot of K downside even against a guy like Boyd who struggles to strike out anyone.
Strongly consider Justin Turner instead of Sano. If you are concerned Sano is "broken" and believe me, there's a case to be made that's the issue then Turner represents a much safer play in about the same price range.
Outfield
Early


Mookie Betts FD 5000 DK 5900
Opponent - BAL (TBD) Park - BAL
FD - 14.95 DK - 11.29


J.D. Martinez FD 4800 DK 5500
Opponent - BAL (TBD) Park - BAL
FD - 14.2 DK - 10.65

Andrew Benintendi FD 4900 DK 5600
Opponent - BAL (TBD) Park - BAL
FD - 12.23 DK - 9.25
Look, I get that it doesn't take much of a system to put these names out there as plays and their prices don't necessarily make it easy or flexible in other parts of the lineup. But outfield on the early slate is incredibly thin and even more so on DraftKings with only three games on the slate. Because the pitching is so solid, there's a chance we pay for Sale, totally punt the SP2 and stack the Red Sox in cash. Andrew Cashner was scheduled to pitch but landed on the DL late on Tuesday. That's going to leave a spot start for an Orioles' team that already has one of the worst rotations in the majors to begin with. Betts sat on Tuesday but should be back in the leadoff spot for Wednesday and these guys will likely hit 1-2-3 in the order. You, of course, won't be able to fit them all but playing at least one should be in the works because of how thin the position is overall.
Main


Scott Schebler FD 3400 DK 4300
Opponent - KC (Jason Hammel) Park - KC
FD - 12.19 DK - 9.22
Schebler, for the time being, is the leadoff man in Cincinnati. The Reds have moved a number of guys in and out of this role over the course of the season and the power lefty is getting his chance now. He's been able to cut down the strikeouts this year and raise the OBP, though a lot of that has come in the form of an improved BABIP rate. The walks are actually down from last season. So is the power, considering he's off his 30 home run pace from last season. But he gets a solid matchup against Jason Hammel and the prices on FanDuel and DraftKings really haven't caught up with his new increase in plate appearance expectation. There's no guarantee he stays the leadoff man for even the short term, but we should buy while he's in the slot.

Rhys Hoskins FD 3400 DK 4000
Opponent - COL (Tyler Anderson) Park - PHI
FD - 11.97 DK - 8.92

Aaron Altherr FD 2400 DK 3200
Opponent - COL (Tyler Anderson) Park - PHI
FD - 10.21 DK - 7.73
The Phillies have a rather front-loaded top of the lineup which is where most of their scoring comes from on a nightly basis. Hoskins is the clear star, hitting in the two-hole and mashing lefty pitching over his first two seasons in the majors. It's only been 118 plate appearances in that split, but he's got a .941 OPS and is walking a completely ridiculous 24% of the time. That works nicely against Tyler Anderson who's struggling to find his control this year. The lefty has 9% BB% while striking out fewer batters than a year ago. Playing in Philly isn't like Coors of course, but it does still work as an above average power park to all fields.
Meanwhile, Altherr should be around the middle of the lineup against the lefty. He hit fifth against Suter on Saturday. He's had some BABIP issues this year with the .247 number sitting about 50 points lower than his career average. But he hits lefties well, walking around 14% of the time, with a 107 wRC+. We are buying very low on both sites in this matchup and the Phillies are implied for over 4.5 runs. I suspect he will be a chalkier play as long as the Phillies' lineup shakes out the way we project.
GRAB A FREE TRIAL OF OUR PROJECTION SYSTEM, AND CHECK OUT DFSR PRO!
FREE EBOOK
SECRETS TO CRUSHING DAILY FANTASY FOOTBALL!
DON'T SET ANOTHER LINEUP BEFORE YOU READ THIS BOOK.