Baseball Picks Daily Fantasy
Expert Advice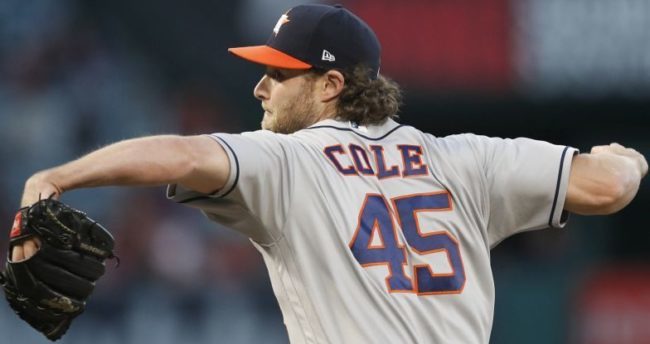 Daily Fantasy MLB Picks for FanDuel and DraftKings - 6/29/18
We've got some big time Friday MLB action with some peaking starters taking the mound, other complete gas cans and a whole slew of offenses in solid spots across the league.
Now's your chance to get DFSR PRO, which will give you access to our MLB optimizer and our new player lab! Get started for free by clicking the button below.
First time with MLB? Be sure to read our free MLB Ebooks on building lineups, general strategy and more. We've got you completely covered.
Pitcher

Gerrit Cole FD 11500 DK 13000
Opponent - TB (Wilmer Font) Park - TB
FD - 46.73 DK - 25.24
After starting the season in, basically, a lights-out fashion, Cole has moderately cooled off over the last three games. Whether it was the four earned runs in the games against the A's and the Rays, the paltry five innings against the Royals, or the 10 walks in his last 18 innings he hasn't really hit value at these prices in his last few outings. But there are still signs we are buying at a fine price on Cole. He struck out eight Royals while only allowing one earned run in his last outing. And the season-long strikeout numbers are among the best in the league. This is still an ace-level pitcher we are talking about, against one of the light-hitting offenses in baseball. The Rays come in with less than three implied runs (2.94 at open) and the ballpark really helps Cole as it limits power all around. I still think he's something of a deal even on a bigger slate of games, though I suppose the last few outings at least have me a little wary.

Trevor Bauer FD 12000 DK 13300
Opponent - OAK (Paul Blackburn) Park - OAK
FD - 44.81 DK - 24.22
He and Cole's starting pitcher schedules have lined up in lockstep over the last couple of weeks so it always seems like we are going back and forth between to the two when making lineups. Bauer's been every bit an ace this season, continuing a career arc that's seen steady (remarkable) gains over the last three seasons. He's now striking out 32% of batters (career 24% average) with a career-low 3.03 xFIP. The big change over the last couple of years has been the steadier reliance on the curveball, leading to a dramatic increase in his O-Swing% (per FanGraphs). He's not quite as high a favorite as Cole (-165) and the A's come in with a higher implied run line (3.46) but he's still about as strong a cash game option as the latter. This will again be a close call between the two. Because of park and matchup, I prefer Cole, but it's very close.

Patrick Corbin FD 9600 DK 11900
Opponent - SF (Andrew Suarez) Park - ARI
FD - 38.79 DK - 20.44
Speaking of guys who've spiked their K rates this season, Corbin has made an epic jump into the elite level of strikeout pitchers. After a career of 8.3 K's per nine, he's putting down 11.61 batters this season. As I wrote last time he pitched, a lot of this comes from an almost complete overhaul in his approach. He's down to throwing the fastball 19% of the time (30% career average) while ticking up the sinker and bringing a curveball completely out of nowhere. I'd say it's working. He's actually running bad on ERA (3.24) compared to xFIP (2.61) because of some LOB issues. But I do think he just settles into the low 3's when all is said and done. The Giants are a middling offense against lefties and strike out about 22% of the time in that split.
First Base/Catcher

Justin Smoak FD 2900 DK 3600
Opponent - DET (Francisco Liriano) Park - TOR
FD - 11.67 DK - 8.73


Kendrys Morales FD 2800 DK 3500
Opponent - DET (Francisco Liriano) Park - TOR
FD - 11.67 DK - 8.83
Though Smoak sat out last time the Blue Jays faced a lefty, I do think we are buying low on both of these 1B/DH guys in this matchup. Smoak's numbers are down this season thanks to a (concerning) dip in hard contact rate from last year. But his walks are up in that time period. He's been much better against lefties over the last couple of seasons with a .900 OPS and .386 wOBA. He drastically cuts down the K's against southpaws and is patient with a 12% walk rate. That's good news against a guy like Liriano who's about as wild as it gets. He's once again walking close to five batters per nine with the strikeouts falling for the third consecutive season.
Meanwhile, this is a good split for Morales as well who's lost some more of the power this year, but has a .886 OPS in his last 212 plate appearances against southpaws. The Blue Jays have messed around with their lineups over the short term moving guys around trying to find a fit. So we have to make some assumptions with the picks going up this early. But I suspect these two are planted in the middle of the lineup in this matchup.

Jose Abreu FD 3300 DK 4300
Opponent - TEX (Yovani Gallardo) Park - TEX
FD - 12.38 DK - 9.45
It's only taken him a little more than 12 innings this season, but Yovani Gallardo is maintaining as one of the very worst pitchers in the league. He's struck out only 6.4 batters per nine while walking just as many leading to an atrocious 6.25 xFIP (12.08 ERA). There's a reason the White Sox come in with such a high implied run line (4.85) and it's almost all Gallardo. Abreu has been much better than average against righty pitching over the last couple of seasons with a .839 OPS and 122 wRC+. He has power in this split and is planted firmly in the middle price tier.
At catcher, strongly consider Russell Martin coming very cheap on both sites. If he's sitting in the sixth spot then he's easily my play on both sites. If you are trying to fully punt away the position consider playing Martin Maldonado or Mike Zunino.
Second Base

Ian Kinsler FD 3100 DK 3800
Opponent - BAL (David Hess) Park - BAL
FD - 11.91 DK - 9.09
There are some bad pitchers going on Friday, having outlined two of them above in Liriano and Gallardo. David Hess wants to throw his name in the ring for this group. Dude has spent his last 41 major league innings striking out only 13% of batters while walking close to 10%. For the uninitiated, these are bordering on "trainwreck" status. His 5.85 xFIP ranks among the worst in the league leading to the Angels having the second-highest implied run line on Friday (5.5). Kinsler started the season by barely getting off the starting block, but has picked it up every month since with June rounding back more toward the guy the Angels wanted as their leadoff hitter. He's never been a big OBP guy, but the power is coming around and really his biggest plus is getting to hit in front of Mike Trout. Almost anyone is a value in that spot at these prices. A backhanded compliment, I know.

Yoan Moncada FD 3300 DK 4500
Opponent - TEX (Yovani Gallardo) Park - TEX
FD - 11.42 DK - 8.58
Moncada is a disaster when it comes to the strikeout rate and it's driving down some of his fantasy value on this season. When you go down on strikes 35% of the time, you need to do great things in every single other opportunity to stay relevant. Moncada is just getting by in that regard and why he's still something of a value play. He still has 10 home runs and eight stolen bases on the season with 36 runs scored. I'd like the see the walk rate climb back to last season's 13%. This year it's down to 9%. But he gets Gallardo on the mound opposite and if there's anyone to reduce K expectation and increase walk expectation it's the Ranger's righty.
Shortstop
Elvis Andrus FD 3500 DK 4000
Opponent - CHW (Dylan Covey) Park - TEX
FD - 12.56 DK - 9.77
Will the real Dylan Covey please stand up? After being pretty terrible in 2017, Covey had an acceptable start to the season which did start to turn heads. But then my man returned right back to last year's ineptitude with nine walks over his last nine innings while allowing eight earned runs. It's a big part of the reason the Rangers have the highest implied run line on the day at 5.64. Andrus is slotted into the two hole for the Rangers and makes for one of the few shortstops in the league with this kind of plate appearance expectation. Considering his current prices, and the Rangers' run expectation, we are looking at something of a bargain here with the positional scarcity. He's above average against righties so we aren't worried about the reverse platoon split. He's got a .798 OPS and 108 wRC+ over the last two seasons against righties. As long as the Vegas odds stay in this range then I think Andrus is the easy play at shortstop in cash games on FanDuel.

Kike Hernandez FD 2900 DK 3500
Opponent - COL (Tyler Anderson) Park - LAD
FD - 10.09 DK - 7.64
I do think things are rather cut and dry at shortstop with Andrus for cash games. But looking for some pivots could land you on Hernandez if he's hitting at-or-near the top of the order against the lefty Tyler Anderson. Hernandez has actually been one of the better hitters in the league over the short term against lefties with a .898 OPS, .374 wOBA and 136 wRC+ over his last 287 plate appearances in that split. These numbers rank right up there and it's why he's a strict platoon guy at this point. The price has come up from the bargain basement numbers we were getting only a couple of weeks ago, but he still has room for upward growth considering just how good he is in this split and how the Dodgers limit him against righties. Anderson is a platoon neutral pitcher for his career so we aren't worried about a distinct disadvantage here.
Third Base
Adrian Beltre FD 3500 DK 4100
Opponent - CHW (Dylan Covey) Park - TEX
FD - 11.83 DK - 9.1
The nice thing about Dylan Covey is that he's been bad against both lefties and righties over his career, but actually worse against the latter. It makes for another reason to play some of these Rangers on Friday. Unbelievably, Beltre is in his age 39 season and is still hitting cleanup with plenty of production. In fact, his hard contact rate is even up this season compared to the last two. For sure there are signs of decline with the 19% strikeout rate way up over his career numbers and the OPS trending down. One issue is the Hr/FB rate which is way off the last couple of years but actually could regress because of the batted ball profile. I still just like his slot in the lineup, success against righties and mid-tier pricing against a weaker arm.
Luis Valbuena FD 2600 DK 3400
Opponent - BAL (David Hess) Park - BAL
FD - 11.02 DK - 8.23
Since Shohei Ohtani moved to the DL and the Angels shifting the bottom of their lineup rather fluidly, Valbuena has found himself firmly in the fifth hole in the lineup. It started off well with two home runs on 6/21. But since then he's three for his last twenty without much production to speak of. He's been basically all or nothing this season with a 33% K rate and nine home runs. He hasn't done much else beyond those two things. and the price is on the rise because his ownership rates are climbing because of the newfound opportunity. I still think there are gains to be made from rostering him at these prices in this matchup, though it's getting a little closer compared to what it was only a week ago.
Outfield

Shin-Soo Choo FD 3800 DK 5200
Opponent - CHW (Dylan Covey) Park - TEX
FD - 12.88 DK - 9.75

Nomar Mazara FD 3300 DK 4600
Opponent - CHW (Dylan Covey) Park - TEX
FD - 12.31 DK - 9.36


Joey Gallo FD 2800 DK 4100
Opponent - CHW (Dylan Covey) Park - TEX
FD - 12.24 DK - 8.98
We saved some of the best Rangers for last on Friday. I've always been such a Shin-Soo Choo believer and he's really putting it all together this season. He's enjoying one of his best campaigns yet with a .878 OPS thanks to a .396 OBP and 14 home runs on the year. The power is on pace to well eclipse his career highs in home runs. The price on DraftKings is getting a bit out of hand but he's still something of a deal on FanDuel because he's locked into the leadoff spot and just has such a great matchup against Covey. Choo is obviously better against righties and Globe Life Park plays as such a fantastic power pad especially at this time of year.
Much like Choo, Mazara is enjoying a career season (albeit he has fewer seasons to compare to) with a .811 OPS thanks in large part to 14 home runs in his first 330 plate appearances. This would put him on pace for his best home run season by about 20%. He's locked into the third slot in the Rangers' lineup behind Choo and Andrus making for such a good stacking opportunity.
And finally, we have Joey Gallo, he of the same amount of singles as home runs for his career (66 each). Dude is such a crazy new world order guy and at this point you kind of know what you are getting. He's going to strike out a ton (36%), walk every so often (12%) and hit some home runs. It isn't always cash game viable because the variance in this profile is off the charts. But it's why he's cheaper than the other two and makes for such a great tournament play.

Tommy Pham FD 3000 DK 4300
Opponent - ATL (Julio Teheran) Park - STL
FD - 12.49 DK - 9.4
After coming out of the gate of fire to start the season, Pham has really stumbled for the last couple of months. It's been a real slog for the guy who seems to be running bad all around. The BABIP is in the basement in that time period. It's a real shame because it's one of the reasons the rate stats are just plummetting. He's coming very cheap for a top of the order hitter with his skill set and I do think we are going to see some regression coming considering the 45% hard contact rate is the highest of his career. He still very much profiles as one of the best power/speed guys in the game and has been excellent against righties over the last couple of seasons. Take the time to buy low now friends.
Strongly consider Randall Grichuk and Teoscar Hernandez if they are hitting one-two against the lefty
GRAB A FREE TRIAL OF OUR PROJECTION SYSTEM, AND CHECK OUT DFSR PRO!
FREE EBOOK
SECRETS TO CRUSHING DAILY FANTASY FOOTBALL!
DON'T SET ANOTHER LINEUP BEFORE YOU READ THIS BOOK.