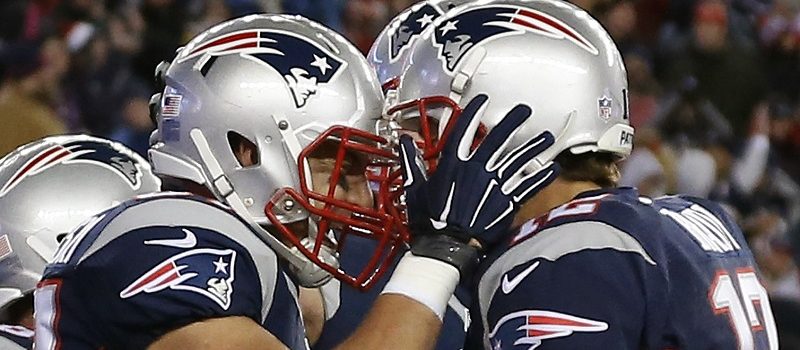 2018 NFL Fantasy Preview - Team Target Redistribution 7/13/18
When it comes to fantasy football, you likely fall into one of two categories. Either you've been going HAM since the Super Bowl following every single piece of off-season news, the Draft and working out value scenarios in your head OR you are just starting to do some cursory research now because you got the reminder email that your friends' league is deciding on a draft date soon. It's tough to exist in the middle ground.
Today we are going to look at some of the off-season moves by examining teams that lost the biggest target shares because of personnel changes. These are teams that, theoretically, have made room for new faces to take over the receiving duties and possibly hit on some value.
This is a free preview os DFSR premium content coming this fall under our PRO package.
Now's your chance to get DFSR PRO, which will give you access to our MLB and NFL optimizer as well as our new player lab! Get started for free by clicking the button below.
Dallas Cowboys
Lost
Dez Bryant (132)
Jason Witten (82)
Kept
Terrence Williams (77)
Cole Beasley (63)
Added
Allen Hurns - from JAX (56)
Deonte Thompson - from BUF/CHI (68)
Tavon Austin - from LA (22)
A Poo-Poo Platter of Tight Ends
Things got really weird, real fast in Dallas with the Cowboys releasing Dez Bryant back in April making him a free agent. That, coupled with Jason Witten's retirement, move 214 targets off the board in 2018. It stands to reason that A: they'll pass a bit less because a full season of Ezekiel Elliott probably means Dallas runs a bit more and B: someone is going to step up in a big way.
It's tough to get consensus, right now, on how the Cowboys' depth chart will shake out. Different *Depth Chart* sites are all over the board meaning it's likely anyone's guess right now. If we had to take the depth chart closest to the consensus we are likely looking at Allen Hurns and Terrance Williams at the primary wideouts with some combination of Beasley and Austin lining up in the slot.
Hurns averaged 5.6 targets per game for the Jaguars last season and it stands to reason the upgrade from Blake Bortles to Dak Prescott could improve on the 69% conversion percentage. Prescott, even with a step back after his rookie campaign completed 63% of his passes while Bortles was around 60% in 2017.
Hurns' last two seasons were injury-shortened though in 2015 he put up a 64/ 1,031/ 10 season on 104 targets. the industry, as a whole, sees Hurns as the big winner, going on average 8.11 in drafts. The only other Cowboy receiver in the top 200 was Michael Gallup
Dez accounted for 50% of Dallas' red zone targets so there's end zone work up for grabs as well.
It's reasonable to assume a slight bump in targets for Terrance Williams, though considering he played all 16 games last year and had the second-most WR snaps, I don't think a huge jump is in the works. Sure, Dez soaks up a lot of usage but translating a big percentage of it to Williams in a somewhat similar situation isn't likely in the cards.
It remains to be seen how Dem Boys use Tavon Austin and the tight end situation is a true unknown. Right now they seem to be leaning toward a committee approach with the preseason flushing out some of the talent if it exists.
Miami Dolphins
Lost
Jarvis Landry (161)
Julius Thomas (62)
Kept
Devante Parker (96 in 13 games)
Kenny Stills (105)
Added
Danny Amendola - from NE (87)
Mike Gesicki - rookie (NA)
Considering he ranked 3rd (T) in the NFL with 161 targets in 2017, it's not huge news that Landry's absence from the Dolphins' receiving corps represents the single biggest shift in target redistribution we'll see going into 2018. Combine it with a modest 62 targets gone from Julius Thomas and we for sure have some work to do here.
Landry took 62% of his WR lineups out of the slot, a role that Danny Amendola will almost definitely inherit. It's not a complete given and I don't think Amendola sees the double-digit targets per game Landry saw in 2017, but this could be a somewhat binary redistribution considering most of the other contextual factors remain in place (Tannehill back under center, RBBC coming your way, same coaching staff, etc).
Meanwhile, the other winner is Devante Parker who has the highest ADP of any Dolphins' WR at 9.05. Parker ranked second in targets per game for Miami in 2017 at 7.4 and is the team's primary downfield threat. He averaged 11.75 yards per reception and should see a modest uptick in usage with a healthy Tannehill and some more passes to go around. If he crept towards double-digit targets per game I wouldn't be shocked.
It's also worth noting that the Landry-Thomas combination accounted for about 50% of the Dolphins' Red Zone usage in 2017. They combined for 12 total touchdowns, so just about everyone on the Dolphins' can expect some year-over-year touchdown increase.
New England Patriots
Lost
Brandin Cooks (114)
Danny Amendola (61)
Dion Lewis (36)
Martellus Bennett (44)
Julian Edelman (suspended first four games)
Kept
Chris Hogan (59 - in only nine games)
James White RB (72)
Rob Gronkowski (105)
Added
Jordan Matthews - from BUF (36)
Sony Michel
Cordarelle Patterson - from OAK, though he's mostly here to return kicks (42)
The first two teams we looked at have Dak Prescott and Ryan Tannehill under center. Here we get Tom Brady and his complete dominance through the air. The four guys listed above represented 255 total Tom Brady targets and there's a lot to like about the guys left/coming in for the Patriots. The obvious winner is Chris Hogan who, when healthy, had the third-highest per game target average on the team behind Cooks and Gronk. He was getting solid Red Zone usage for the Pats, representing 24% of their overall Red Zone target share and still ranked among the best in per game Red Zone usage in the league. Given a full run of games, it isn't crazy to think he would have been top 10 in the league with looks inside the 20. And considering how much the Patriots throw inside the twenty, he could be among the wide receiver touchdown leaders this season.
It's tough to imagine a massive bump for Gronkowski here. He played 14 of the 16 games last season and the Patriots have always been careful with his workload as they prepare for the inevitable playoff run. That being said, he's still a beast and should see similar production with a possible net bump if he can stay on the field for all 16 games (nowhere close to a sure thing).
After the two returning guys, it's a bit up in the air on how the rest of the targets are redistributed. Julian Edelman is suspended for the first four games, leaving an even bigger hole in the receiving corps to start the season. Jordan Matthews was garbage last season with the Bills, though I'm not sure how much we can learn from that considering their quarterback play and scheme. He should start the season lining up on the left side in Cooks' place, though it's worth noting that he lined up primarily in the slot in 2017. Ultimately, who the Patriots' start in the slot could determine a big part of their target share considering the loss of Amendola and Edelman completely frees up that spot where Brady often likes to turn.
And finally, the Patriots drafted Sony Michel in the first round which has to mean something, right? Dion Lewis wasn't targeted all the much out of the backfield in 2017 (that was more James White and Rex Burkhead per game) but he was a pass-catcher in college and could soak up some of those backfield targets.
Baltimore Ravens
Lost
Mike Wallace - 92
Benjamin Watson - 79
Jeremy Maclin - 72
Added
Michael Crabtree - from OAK (101)
Willie Snead (16)
John Brown (69)
Kept
Nick Boyle
Moving from a team helmed by Tom Brady to one with Joe Flacco under center doesn't draw many comparisons, but Baltimore is another squad that moved out a lot of targets in the offseason. They are essentially turning over the entire pass-catching corps with Michael Crabtree as the biggest contract addition. Crabtree isn't a 1-1 comparison with Michael Wallace in the sense that the former lined up primarily in the slot with the Raiders in 2017 while the latter went basically 2:1 right side: left side for the Ravens. I do think we see more of Crabtree on the outside, but it's worth noting that this hasn't been his role in previous seasons. I'm tempted to say he's the overwhelming favorite for the majority of the targets, but I'm not fully convinced. He's also moving from a team, in the Raiders, that threw 61% of the time to Baltimore who only threw 56% of the time. Sure, there are still a lot of targets to go around, but is it conceivable that Crabtree sees more usage than he did last season? I'm not convinced.
Willie Snead became something of the odd man out in New Orleans last season, starting the year injured and then never really working his way back into the WR rotation. We could see something of a bounce-back more in line with his 2016 campaign where he had 104 targets and a 72/895/4 line. It's bullish to expect that because that was with Drew Brees on a team that threw 64% of the time. But if he's the regular down wide out then seeing something like Maclin's 72 targets isn't out of the question at all. Heading into Week 1, Snead could provide some cheap WR value from a team that will have a new look all around.
image sources
Rob Gronkowski, Tom Brady: AP images