Baseball Picks Daily Fantasy
Expert Advice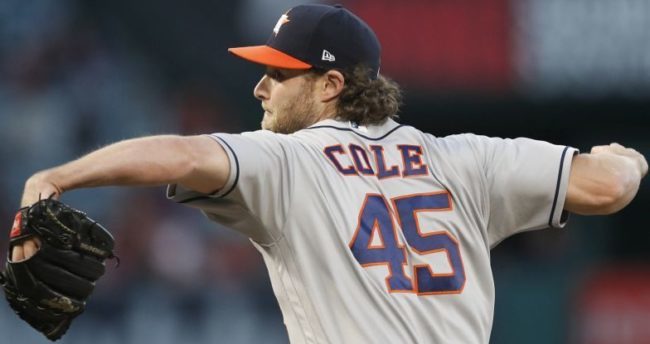 Daily Fantasy MLB Picks for FanDuel and DraftKings - 7/14/18
Saturday before the All-Star break gives us a full day of baseball with a six-game main slate following an afternoon full of action. Let's break down the top plays of the day to see who we need to consider when building lineups.
Now's your chance to get DFSR PRO, which will give you access to our MLB optimizer and our new player lab! Get started for free by clicking the button below.
First time with MLB? Be sure to read our free MLB Ebooks on building lineups, general strategy and more. We've got you completely covered.
Pitcher
Early/Afternoon


Gerrit Cole FD 11200 DK 12000
Opponent - DET (Michael Fulmer) Park - HOU
FD - 49.1 DK - 26.66
Gerrit Cole is heading into the All-Star break on pace for the most impressive season yet of his still young career. His first season in Houston sees Cole sporting a top ten xFIP, with a ridiculous 12.40 K/9. Only Chris Sale can boast better. If he continues on his current track, he will post career-best numbers in ERA, xFIP, K/9, and win percentage. He'll look to close out the first half with a win at home against the Tigers. Detroit has been abysmal offensively this year, and are even worse looking at the split with a bottom five team wOBA against RHP. Houston is the biggest favorite of the day with an opening line of -250. Cole will cost a sizeable chunk of salary, but on the early slate, he is easily the surest thing going.
Jack Flaherty FD 7200 DK 8000
Opponent - CIN (Luis Castillo) Park - STL
FD - 33.06 DK - 16.93
In the SP2 slot on DraftKings, or just for some pitching value if you're looking to go wild with the bats, we can look to Jack Flaherty. Flaherty only has 18 starts under his belt, so we don't have a ton to go on with the young right-hander, but what we have seen has been quite exciting. Flaherty is posting a 3.44 xFIP right on pace with his 3.34 ERA and is striking out over ten batters per nine through his first thirteen starts of the year; both numbers marked improvements from his limited showing in 2017. The matchup against the Reds is far from a slam dunk, they possess a .321 wOBA against Right handers this season, good enough for a top ten ranking while striking out 21.2% of the time against the split. The Cards are -143 favorites, so we can hope for the win, but expect the Reds to put some runs on the board in the process. Still, for the price, I think it's a chance worth taking and we can ride with Flaherty with minimal risk.
Main

Mike Clevinger FD 9500 DK 8800
Opponent - NYY (CC Sabathia) Park - CLE
FD - 32.55 DK - 16.53
Yikes! That sums up my reaction to pitching on the main slate. It comes down to three names. You can go with Kershaw, who is still working his way back, though he did manage to go six deep in each of his last two outings. So if you feel comfortable with the salary commitment then have at it. You could go with Kyle Hendricks, who dazzled the Giants his last time out, but before that has been entirely unreliable. So, I'm settling on Mike Clevinger, who has the unenviable task of facing the Yankees. Despite that, some factors are playing in Clevinger's favor here so bear with me. Despite having the second-best wOBA in baseball, the Yankees strikeout at a top ten clip, 23.4% of the time against the split. Not to mention Clevinger has a top five offense backing him up as well against C.C Sabathia, which has Vegas marking the tribe as minor -110 favorites for the win. It's just an ugly pitching slate, and Clevinger comes to us at a price that allows for some Coors bats as well. I don't love targeting the Yanks, but all things considered, it may be the best plan of attack.
First Base/Catcher
Early/Afternoon


Jose Abreu FD 2800 DK 3800
Opponent - KC (Danny Duffy) Park - CHW
FD - 11.04 DK - 8.47
Jose Abreu started out the season on a tear but has really cooled off since. He's posting a .136 wOBA through the first two weeks of July, but that has led to a significant reduction in pricing, especially on FanDuel where he's nearing the minimum. Despite the recent struggles, we find him today going up against the left-hander Danny Duffy, a split that Abreu holds a .384 career wOBA against. Duffy meanwhile has struggled all season long, with a 5.05 xFIP, and a K/BB ratio below 2.0. We know Abreu is better than his recent game logs may suggest, so now is the time to get in while the price is nice and low.
Evan Gattis FD 2700 DK 4200
Opponent - DET (Michael Fulmer) Park - HOU
FD - 10.18 DK - 7.69
Evan Gattis took the night off last night to clear his head after a 0-16 stretch in his last four games. Provided he's back in the lineup tonight he's an excellent play against Michael Fulmer. Fulmer has hit a wall here in his third season with an ERA and xFIP both over 4.00, walking over three batters per nine, and allowing a hard hit rate of 39%. Despite the recent struggles Gattis is still slashing .242/.301/.488, and his 18 home runs lead all catchers. While I prefer the significant discount on FanDuel, I'll likely use Gattis more on DraftKings where a catcher is required.
Main


Anthony Rizzo FD 3500 DK 4300
Opponent - SD (Luis Perdomo) Park - SD
FD - 12.68 DK - 9.46
It's been a bumpy ride in 2018 for Anthony Rizzo. He opened the season with a .219 wOBA through the first month before getting hot in May and June. July has been cold once again for the Cubs first baseman. On the season he is still sitting with a solid .315 wOBA, and he sees a strong matchup tonight against right-hander Luis Perdomo. For his career, Rizzo has a .371 wOBA against the split. Perdomo meanwhile is just terrible, with a 5.25 xFIP, an ERA over 7.00, and nearly as many walks as strikeouts through just six starts thanks to a shoulder issue and some time in the minors. Rizzo is due for a return to form and tonight is the perfect time for it to begin.

Buster Posey FD 2800 DK 3800
Opponent - OAK (Brett Anderson) Park - SF
FD - 11.27 DK - 8.63
The bay series continues today with the Giants hosting the Athletics in AT&T Park. Oakland will send Brett Anderson to the hill today for his sixth start of the year. Anderson, who has made just 133 starts over a decade of major league appearances is posting an xFIP over 4.00 for the third straight season, with a 1.38 K/BB ratio and 1.33 HR/9 surrendered. While the days of Buster Posey priced as a top tiered catcher are a thing of the past, he's still got a career .400 wOBA against southpaws with a .220 ISO and .947 OPS. At his current price point, he's an absolute bargain in the matchup, and the Giants cleanup hitter is a top play at the position on the main slate.
Second Base
Early/Afternoon


Jose Altuve FD 4000 DK 4600
Opponent - DET (Michael Fulmer) Park - HOU
FD - 12.57 DK - 9.72
As I mentioned earlier, Michael Fulmer just has not had a good first half of the season. Between control issues, BABIP trouble, and a hard contact rate 25% higher than his career average, not much has gone right for the Tigers right-hander. This is where we want to lock in Jose Altuve. Arguably one of the top second basemen in the game, Altuve is posting a .378 wOBA and slashing .333/.398/.476 this year with a .874 OPS while walking nearly as much as he strikes out. Altuve comes into the day on a 10 game hit streak with two multi-hit efforts, two home runs, a double, and seven runs scored. Altuve is the top raw point play at the position in our MLB projection system and is a top option in all formats.

Cesar Hernandez FD 3200 DK 4200
Opponent - MIA (Trevor Richards) Park - MIA
FD - 9.66 DK - 7.54
Cesar Hernandez has been quite the boom or bust player in recent weeks. Since the start of July, Hernandez has gone hitless seven times but is 11 for 21 in the other five games. The Phillies' second baseman is sitting on a .337 wOBA with 14 stolen bases and an elite 14.4% BB rate. As long as he's in the leadoff spot, Hernandez is a tremendous upside play with the rookie Trevor Richards on the bump.
Main


Jonathan Schoop FD 3000 DK 3900
Opponent - TEX (Martin Perez) Park - BAL
FD - 11.2 DK - 8.55
The Orioles are projected for 5.1 runs tonight, which is the highest opening run line outside of Coors on the main slate. They continue their weekend series against the Rangers who will send Martin Perez to the mound. Perez has been on the shelf since late April with an elbow injury. Prior to being shut down, Perez labored through his first five starts with a 6.12 xFIP, an ERA approaching 10.00, and nearly three home runs allowed per nine. While he looked sharp in his rehab starts, how it translates to his return to the bigs where he has a career 4.60 ERA remains to be seen. Jonathan Schoop hitting in the heart of the Orioles order is an excellent target against the southpaw in his return. With a .322 wOBA and .754 OPS against the split, Schoop is projecting as the top points per dollar play at the position tonight and is my favorite at the position on the shorter evening set of games.
Shortstop
Early/Afternoon


Trea Turner FD 3600 DK 4500
Opponent - NYM (Zack Wheeler) Park - NYM
FD - 12.02 DK - 9.37
The Nationals went lefty-heavy against Noah Syndergaard last night, giving Trea Turner the night off. That didn't work out too well, so hopefully, Turner, who holds a .360 career wOBA against RHP, will be back in the lineup today against Zack Wheeler. Turner had just one hit in his last 21 at-bats, so the day of rest could have been a blessing. Despite the recent struggles the shortstop still holds a .330 wOBA, with an OPS over .750, and 22 stolen bases. Zack Wheeler meanwhile has an xFIP over 4.00 for the second straight season, and has been taken for three runs or better in three of his last six starts. It's a little risky for the price, especially on DraftKings, but there really isn't a whole lot to love about the position this afternoon.
Main


Manny Machado FD 4200 DK 5100
Opponent - TEX (Martin Perez) Park - BAL
FD - 13.56 DK - 10.3
Despite how terrible the Orioles have been this season, Manny Machado has been an absolute beast. He's tied with Francisco Lindor for the top wOBA at the position (.397), and he's ranked top five in just about every meaningful category there is. Machado is showing a remarkable improvement in his plate discipline this year, reducing his strikeouts by 4% while walking over 3% more, while the power numbers are up as well. His 23 home runs have him on pace to shatter his previous career high of 37, while his .257 ISO leaves little doubt he'll make it happen. With Martin Perez on the mound making his first start since April, it could be a big day for Machado, who I love in all formats.
Third Base
Early/Afternoon


Matt Carpenter FD 3500 DK 4900
Opponent - CIN (Luis Castillo) Park - STL
FD - 12.3 DK - 9.18
Despite coming out the gate quietly to start the season, Matt Carpenter has been on a tear this year. His .377 wOBA is fifth best among qualified third basemen, as is his .886 OPS. He's walking at an elite 14.8% rate and is on pace to shatter the 28 home runs he knocked back in 2015 as a career best. Carpenter is at his best with a RHP on the mound and that's just what we get today with Luis Castillo, who has allowed three runs or better in seven of his last eight starts, including seven home runs surrendered in that stretch. With the Coors game on the evening set, Carpenter is one of my favorite ways to spend up in the afternoon.
Main

Tim Beckham FD 2500 DK 3400
Opponent - TEX (Martin Perez) Park - BAL
FD - 10.68 DK - 8.23
Beckham missed much of the season on the DL after surgery for a groin injury. In his first few games back he hit in the bottom of the order, but the Orioles wasted little time bumping him up to the leadoff spot. As I noted earlier, the Orioles are projected for the highest run line outside of Coors tonight and hitting leadoff for the highest projected offense, while bargain-priced, we have to give strong consideration to Beckham in spite of his .234 wOBA. Especially with the recently reactivated Martin Perez on the mound.
Outfield
Early/Afternoon


Rhys Hoskins FD 3400 DK 4500
Opponent - MIA (Trevor Richards) Park - MIA
FD - 11.53 DK - 8.6
It's hard to believe Rhys Hoskins doesn't even have a full major league season under his belt. With 32 home runs in 133 games and .380 wOBA, Hoskins is showing that there is a lot to look forward to as he continues in his career. He's heading into the break with a .358 wOBA and a 13.7% walk rate, ranked top ten among outfielders. It'll be rookie against rookie today as Hoskins faces Trevor Richards, making his thirteenth career start. Richards is backing up a 5.24 ERA with a 4.71 xFIP, and though he's striking out nearly a batter per inning, he's been hurt with the free passes, walking 4.61 batters per nine. The matchup is favorable, and I'll be sure to have Hoskins in all formats given the reasonable pricing.

Juan Soto FD 3600 DK 4200
Opponent - NYM (Zack Wheeler) Park - NYM
FD - 11.99 DK - 9.08
Like Hoskins, Juan Soto is another rookie making a strong name for himself early on. Soto has nine home runs in his first 48 games, and a .407 wOBA to go along with a .952 OPS. He's doing everything right, walking 15.7% of the time, and slashing .307/.416/.536. Today he faces Zack Wheeler who has had a hard time with left-handed hitters throughout his career, with a .341 wOBA against the split. He's underpriced across the industry and is a top play in all formats.

Tommy Pham FD 3000 DK 4200
Opponent - CIN (Luis Castillo) Park - STL
FD - 12.91 DK - 9.71
I'm not going to lie to you; I'm having a hard time justifying telling you to play Tommy Pham given just how bad he has been at the dish as of late. Pham opened the season strong, posting a .417 wOBA in April before dropping nearly .200 points off that number in June. While his early July numbers suggest some regression, it's still been a very hit or miss play. The hits seem to come in multiples at a time, and with an 11% walk rate, 13 home runs, and nine steals, Pham does just enough to justify the price even when he isn't able to put the bat on the ball. Maybe a few plate appearances against Castillo with his 37% hard-hit rate and 1.65 HR/9 surrendered while walking over three batters per nine is just what Pham needs to shake things up. Sure, it's risky, but we succeed at daily fantasy baseball when we take those risks at the right time.
Main


Shin-Soo Choo FD 3300 DK 5000
Opponent - BAL (Yefrey Ramirez) Park - BAL
FD - 11.91 DK - 8.97
We've looked at several players in this game from the Baltimore side, but the Rangers project for nearly as many runs and warrant consideration as well, against Yefrey Ramirez making his fourth career start. Early on Ramirez has a 4.37 xFIP with rather pedestrian numbers across the board. Shin-Soo Choo meanwhile is having a breakout year in 2018 posting the best wOBA since his 2013 season in Cincinnati, and is well on pace to crush the career-high 22 home run mark he posted three times throughout his fourteen big league seasons. Choo is at his best with a righty on the hill, and we could be looking at yet another strong performance from Choo who has been on base in 49 straight games. The DraftKings price is starting to get out of hand, but FanDuel practically makes him a must play with their pricing.

Andrew McCutchen FD 3200 DK 3800
Opponent - OAK (Brett Anderson) Park - SF
FD - 11.28 DK - 8.51
Andrew McCutchen is making a positive impact in his first season on the west coast. The first year Giant is posting a .333 wOBA while slashing .261/.346/.414. He's had base hits in five of his last six contests heading into last night's series opener against the Athletics, with two multi-hit efforts. With nine home runs and seven stolen bases, Cutch has some sneaky upside to consider him for tournaments while his consistency makes him a strong cash game play against the southpaw, a split he holds an elite .407 career wOBA against.

Aaron Judge FD 4300 DK 5100
Opponent - CLE (Mike Clevinger) Park - CLE
FD - 14.26 DK - 10.55
We will close out today with the Judge. I wrote up Mike Clevinger in the pitcher's write-up and said how I hated targeting the Yankees offense, well, this is a big reason why. Clevinger has to deal with this guy. Aaron Judge has the fourth best wOBA among qualified outfielders while being tied with Mike Trout for second at the position with 25 home runs. Although he strikes out over 30% of the time, he's walking at a remarkable 16.1% rate and is at his best with an RHP on the hill. Against righties, Judge holds a career .415 wOBA with 80% of his home runs coming against the split. We've got some choices to make on this evening set, and they aren't going to be easy ones. Clevinger is a top arm, but Judge holds the highest raw point projection among position players on the day.
Thanks, everyone for stopping by and reading, and as always best of luck out there today. Feel free to drop any questions or comments below and keep an eye out for the pitchers/stacks article coming a little later. Cheers!
GRAB A FREE TRIAL OF OUR PROJECTION SYSTEM, AND CHECK OUT DFSR PRO!
FREE EBOOK
SECRETS TO CRUSHING DAILY FANTASY FOOTBALL!
DON'T SET ANOTHER LINEUP BEFORE YOU READ THIS BOOK.