Baseball Picks Daily Fantasy
Expert Advice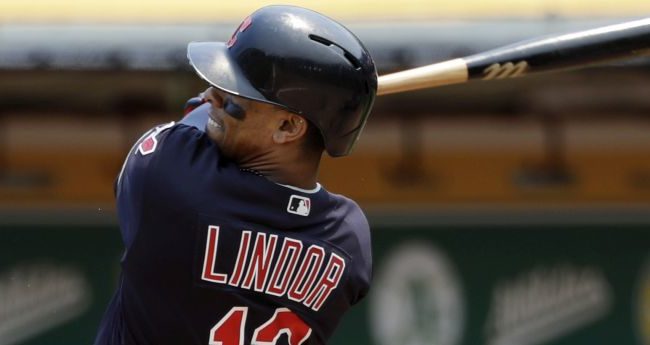 Daily Fantasy MLB Picks for FanDuel and DraftKings - 7/21/18
The league has blessed us with a full day of major league action. For the purposes of this article, we will focus primarily on the eleven game main slate starting at 7:05 EST. Is it safe to lock Clayton Kershaw yet? How many Indians are too many? Join me as we answer these questions and more. On to the picks!
Now's your chance to get DFSR PRO, which will give you access to our MLB optimizer and our new player lab! Get started for free by clicking the button below.
First time with MLB? Be sure to read our free MLB Ebooks on building lineups, general strategy and more. We've got you completely covered.
Pitcher

Clayton Kershaw FD 10700 DK 11900
Opponent - MIL (Chase Anderson) Park - MIL
FD - 38.12 DK - 21.47
After last night's questionable crop of arms, Saturday night presents us with somewhat of an increase in quality with our starting pitchers. We'll start out by saying that it seems we are safe to run with Clayton Kershaw once again. After missing time with a back injury, one of the best in the game is finally starting to look like his old self. He's thrown at least six innings in his last three starts, nearly going seven deep Sunday against the Angels. He struck out eight in that game, his largest total since 4/15. It wasn't a perfect outing for Clayton. He allowed three earned runs on ten baserunners, including four walks, very un-Kershaw-like. It was still a positive step forward and certainly bodes well for today's matchup against the Brewers. Milwaukee is an average offense, ranked fifteenth overall in wOBA, but they drop all the way down to twenty-fourth against lefties. They also strikeout at 24.4% of the time, though that number drops to 21% in the split, so the upside could be limited unless Kershaw finds himself in the zone. Still, with the Dodgers as -175 opening favorites I'll take Kershaw for about $1500 less than what we would normally expect to pay for him in cash games, and may very well throw him in some tournaments just for fun.

Vince Velasquez FD 8300 DK 7800
Opponent - SD (Luis Perdomo) Park - PHI
FD - 37.28 DK - 19.76
Not only do we have some better arms to consider today, but we're also getting them in prime matchups. Vince Velasquez, for example, will take the hill for the Phillies against the Padres in south Philadelphia. Even though I just watched them put up a four-spot on Jake Arietta in the first inning of Friday night's game, San Diego is just awful. They've got the lowest team wOBA in the game, and are ranked in the bottom five in home runs, OPS, and runs scored. The one thing they excel at is striking out, which they do a league-leading 25.5% of the time. Velasquez has been up and down this season and was placed on the DL last month after taking a hit to the elbow, but he was lights out in his first game back throwing six strong against the Mets, holding them scoreless on just three baserunners allowed. He only managed three K's, but that was rather uncharacteristic of a guy with a career 9.89 K/9 and a career-high 10.52 this season. If he gets the strikeouts back on pace tonight, and this is the team to do so against, he's a fantastic upside play in a game that sees Philadelphia as -181 favorites.
Zack Godley FD 8700 DK 8400
Opponent - COL (Kyle Freeland) Park - ARI
FD - 34.64 DK - 17.99
Like Velasquez, Zack Godley has imploded at times this season, but more often than not he's dominated. In his last ten games he has held opponents to two runs or less eight times while allowing seven runs the other two times. Tonight he draws the Rockies out of their home park. On the road, Colorado is a bottom ten offense, sporting a .299 wOBA, and 85 wRC+. Against right-handers they're average at best, striking out 23% of the time with a .317 wOBA. Godley meanwhile, in spite of a 4.08 xFIP already has a career-best 11 wins in 20 starts and is striking out batters at an impressive 9.23 per nine. There's a little more risk here, as Arizona opens as just -129 favorites, but Godley's got just as much upside as anyone on the hill today.
On the early slate, both Marcus Stroman and Sonny Gray are projecting about the same raw point totals. Stroman is significantly cheaper on FanDuel, whereas just a couple hundred dollars separate the pair on DraftKings. Both are facing bottom five offenses that strikeout at a top ten clip. Both are fine on FanDuel, and paired up they leave plenty of room for bats on DraftKings.
First Base/Catcher

Carlos Santana FD 2900 DK 3700
Opponent - SD (Luis Perdomo) Park - PHI
FD - 11.33 DK - 8.45
The Phillies project for five runs tonight, one of the higher totals against Luis Perdomo and the Padres. We'll look at a few different options from the Philly line up begining at first base with Carlos Santana. Santana homered last night in the first game of the series, which was a welcome sight considering he went into the break cold with just six base hits in July. Santana comes out of the break with a .328 wOBA, .747 OPS, and a remarkable 18.2 BB%, his best since his rookie cmpaign. If you go with Kershaw on the hill, you're going to want some value in the sticks, and some of these Phillies batters provide the value and upside we need.
Yonder Alonso FD 2900 DK 4200
Opponent - TEX (Bartolo Colon) Park - TEX
FD - 12.35 DK - 9.32
Once again, the Indians project for the highest run total of the night, and once again, we will see a lot of them here in this article. Down in Arlington for the weekend, the tribe will face Bartolo Colon tonight, and Vegas likes them to put up 5.9 runs which lead the team with the next highest projection by a mile. Our first Indian is Yonder Alonzo. Hitting in the heart of the order, Alonso gives us a way to get our Cleveland fix without breaking the bank particularly on FanDuel where he's practically free. Even on DraftKings, I like him in cash games against Colon who has been pitching since the stone age. Though Alonso's numbers are down a bit from last season, they're still on pace with his career totals and he's going to give that career-best 28 home runs hit last year a run for the money. We want Alonso with a righty on the mound, and even more so with this particular righty.
In addition to Alonso, if stacking Indians consider Yan Gomes behind the plate as another value play.
Joe Mauer FD 2800 DK 3900
Opponent - KC (Jake Junis) Park - KC
FD - 11.18 DK - 8.57
The Twins continue their weekend stay in Kansas City tonight against Jake Junis and the Royals. In 33 starts spread out over the last two seasons, Junis has proven to be quite the targetable pitcher with a 4.66 career xFIP, 39.4% hard-hit rate, and nearly two home runs surrendered per nine innings pitched. He's expected to struggle tonight against the Twins, who will lead off with Joe Mauer. Mauer, who has a .728 OPS with a .323 wOBA doesn't provide a ton of upside. He doesn't steal bases and has just three home runs on the season. What he does bring to the table, however, is consistency. Reaching base safely in 10 of his last 11 games, Mauer is walking nearly as much as he strikes out, and getting on base 36% of the time this season. He doesn't bring the upside of Santana or Alonso, but as a value play in cash games, Mauer is about as safe a play as you'll find.
Tucker Barnhart FD 2400 DK 3100
Opponent - PIT (Nick Kingham) Park - CIN
FD - 9.23 DK - 7.11
On DraftKings, where we have to have a catcher, consider Tucker Barnhart against Nick Kingham and the Pirates in Great American Ballpark. After spending a significant part of the season hitting second, Barnhart fell to the bottom of the order earlier this month. He was back in the two hole again last night, and in the top of the order, he's a complete bargain against Kingham who has allowed nine earned runs, and six home runs in his last three starts. Even batting sixth or seventh Barnhart is a strong consideration, but in the top of the order he pushes must play territory.
Early slate consider first base: Tyler Austin (NYY)
Early slate consider catcher: Russell Martin (TOR)
Second Base

Cesar Hernandez FD 3100 DK 4300
Opponent - SD (Luis Perdomo) Park - PHI
FD - 10.64 DK - 8.3
Our next stop in Philly comes at second base with leadoff man Cesar Hernandez. Cesar is having a breakout year, now in his sixth season. The .339 wOBA is well above his career number, he's walking at a career-best 14.4%, nearly 4% more than his career average, and he took eight home runs into the All-Star break, one shy of his career mark of nine set last year. He's also on pace for about 26 stolen bases shattering his previous best of 19. Hernandez is proving to be an all-around threat and is a superb upside play and an excellent option in all formats against Perdomo, with his 5.04 xFIP and 11.5 BB%. Consider Cesar in all formats tonight.
Jason Kipnis FD 3000 DK 4100
Opponent - TEX (Bartolo Colon) Park - TEX
FD - 10.61 DK - 8.1
Don't let the .298 wOBA fool you. After a weak start to the season Jason Kipnis is back in form. Kipnis opened the campaign with a .228 wOBA in the first month but has risen that number significantly with each passing month, posting a .400 through the start of July. With significant splits against RHP, Kipnis is a tremendous play today against Bartolo Colon. Throughout his career Colon has struggled more against the left side of the plate. Even with the rising numbers, Kipnis still struggles with consistency, so I'll reserve him more for my Indians stacks, and stick with Cesar in cash.
Early slate consider: Neil Walker (NYY)
Shortstop

Trea Turner FD 3600 DK 4100
Opponent - ATL (Sean Newcomb) Park - WSH
FD - 12.25 DK - 9.56
This pure and simply, is a price play. Just two weeks ago Trea Turner was commanding about $1K more across the industry. Turner hit a three-game skid about that time, which likely contributed to the drop in price, but since then he has reached base six times in seven games with two walks, a double, and most recently a home run last night in the series opener against the Braves. It was Turner's eleventh of the season, which when considered along with his 22 stolen bases (fourth-most in baseball) means Turner is just too cheap to pass up given the upside. Now in his second season, Sean Newcomb is showing us he is exactly what his 4.43 xFIP says he is, and with his control issues (12.2 career BB%) Turner should have little trouble finding his way on base once again today making him a strong play in all formats.

Francisco Lindor FD 4400 DK 5500
Opponent - TEX (Bartolo Colon) Park - TEX
FD - 14.83 DK - 11.36
Up to this point, we've looked at the Indians from the bottom two-thirds of the order trying to get some value out of the best matchup on the night. I don't think we need to go completely cheap in our Cleveland stack though given all the value bats on tonight's slate, so let's look at splurging at shortstop with Francisco Lindor leading things off. Lindor's .392 wOBA, and .929 OPS are second to Manny Machado among qualified shortstops. He edges Machado out in home runs with 25, thanks in part to his .271 ISO. The switch-hitting Lindor prefers the lefties, but with a .352 career wOBA against RHP, I think we can overlook that fact here. Consider Lindor in all formats.
Early slate consider: Didi Gregorius (NYY)
Third Base

Eduardo Escobar FD 3300 DK 4000
Opponent - KC (Jake Junis) Park - KC
FD - 12.52 DK - 9.6
With Miguel Sano's struggles this season, leading to his eventual demotion to the minors, Eduardo has taken full advantage and is having a breakout season. His .350 wOBA is not only a career best; it's .041 points above his average mark. He's on pace to set career marks in ISO, OPS, OBP, and slugging, and his 14 home runs are well on pace to crush his previous best of 21 set last year. The switch-hitter is at his best with an RHP on the hill, and he gets that tonight as the Royals counter with Jake Junis. In the split Escobar carries a .373 wOBA with his OPS .200 points higher than with a lefty throwing. Escobar projects as one of the top projections in raw points, and points per dollar in our MLB projection system, and is a fine play in all formats.

Colin Moran FD 2600 DK 3700
Opponent - CIN (Anthony DeSclafani) Park - CIN
FD - 9.66 DK - 7.35
Colin Moran has bounced around the Pirates lineup quite a bit this season most recently in the heart of the order. If the lefty finds himself batting cleanup or even fifth against RHP Anthony DeSclafani, then he is a strong play at near minimum pricing. The former Astro is slashing .264/.337/.404 this year for the Pirates with hits in five of his last seven starts (including a 3 for 3 performance as of this writing on Friday night). DeSclafani has struggled with the split, allowing a wOBA against more than .050 points higher to left-handed hitters in his career. Keep an eye out for the lineups, and the higher in the order Moran is, the more valuable he becomes.
Strongly consider: Anthony Rendon (WAS)
Early slate consider: Yangervis Solarte (TOR)
Outfield

Rhys Hoskins FD 3300 DK 4200
Opponent - SD (Luis Perdomo) Park - PHI
FD - 12.7 DK - 9.46
One last look at the Phillies with outfielder Rhys Hoskins. Hoskins has been an absolute stud since his call-up just under a year ago. With a .378 wOBA, .255/.375/.514 slash line, and an OPS just under .900 Hoskins is showing there is plenty of excitement to come from the twenty-five-year-old. He sees an excellent matchup tonight against Luis Perdomo, who has always been bad but is taking bad to a whole new level this season. Since being called back up earlier this month, Perdomo has allowed 13 earned runs in 17 IP through three starts. Much like his teammates, we looked at earlier, Hoskins is fairly priced with plenty of upside potential and is an excellent option in all formats. He'll be in all of my lineups tonight.

Michael Brantley FD 3900 DK 5200
Opponent - TEX (Bartolo Colon) Park - TEX
FD - 13.95 DK - 10.69
For our last look at the Indians, we will stay in the top of the order, and top pricing tier with Michael Brantley. After a couple of injury-shortened seasons giving us off character results, the 2018 All-Star is experiencing a resurgence this year. His .363 wOBA is at it's highest point since he hit .368 in 2015 and his 12 home runs are on pace to top the 20 he hit in 2014. He could be a problem for Colon whose 41.9% hard-hit rate is the highest of his career, while the 1.86 HR/9 he is allowing is the worst since 2009. Brantley is a core piece to a Cleveland stack, and also works as a standalone cash play if you have the funds to spend up.
Steven Souza Jr. FD 2400 DK 3200
Opponent - COL (Kyle Freeland) Park - ARI
FD - 10.01 DK - 7.54
It's been an injury-riddled first year in Arizona for Souza, but after returning from a pectoral strain earlier this month, Souza has looked promising for the DBacks with base hits in six of the eight games he has started. Locked in the heart of the order, Souza gets a favorable matchup today against the southpaw Kyle Freeland. Freeland is showing slightly better results here in his second season in the bigs but is still posting an xFIP north of 4.00, and unlike many pitchers that call Coors Field home, he has performed worse on the road than at home. If you're looking for a cheap way out of the outfield, Souza is an excellent cash game value play.
Steven Duggar FD 2300 DK 3300
Opponent - OAK (Trevor Cahill) Park - OAK
FD - 8.69 DK - 6.69
Another excellent value play in the outfield is Steven Duggar. Duggar comes to us in the lowest pricing tier, hitting leadoff for the Giants. Now, we have an insufficient sample to work with looking at Duggar, as he made his major league debut less than two weeks ago, but what we have seen has been quite impressive. Duggar has base hits in all but one of his first seven major league appearances, including three multi-hit efforts. Five of his first nine hits have been doubles, and he's scored six runs while driving in another four. It'll be rookie against Vet tonight as the Athletics send Trevor Cahill to the mound. Though he has almost even splits, Cahill has been slightly kinder the left-handed batters throughout his ten major league seasons. Even if you don't need the value, take it regardless. Lock in Duggar and spend up elsewhere.
Early slate consider: Curtis Granderson (TOR), Randal Grichuk (TOR), Marcell Ozuna (STL), Ben Zobrist (CHC)
Another Saturday full of picks comes to a close. Thank you, friends, for visiting and reading. Best of luck out there tonight as always, and don't forget to check back a little later for the pitchers/stacks article. Cheers!
GRAB A FREE TRIAL OF OUR PROJECTION SYSTEM, AND CHECK OUT DFSR PRO!
FREE EBOOK
SECRETS TO CRUSHING DAILY FANTASY FOOTBALL!
DON'T SET ANOTHER LINEUP BEFORE YOU READ THIS BOOK.