Baseball Picks Daily Fantasy
Expert Advice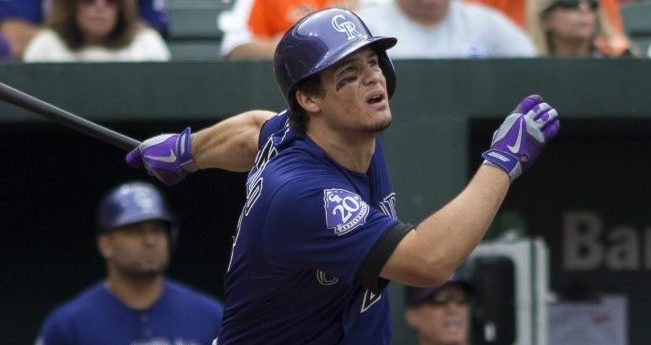 Daily Fantasy MLB Picks for FanDuel and DraftKings - 8/5/18
Now's your chance to get DFSR PRO, which will give you access to our MLB optimizer and our new player lab! Get started for free by clicking the button below.
First time with MLB? Be sure to read our free MLB Ebooks on building lineups, general strategy and more. We've got you completely covered.
Pitcher
Aaron Nola FD 9900 DK 12400
Opponent - MIA (Wei-Yin Chen) Park - PHI
FD - 42.3 DK - 22.71


Gerrit Cole FD 11100 DK 12600
Opponent - LAD (Walker Buehler) Park - LAD
FD - 39.8 DK - 21.35
The high profile pitching debate for the day! But is it really that much of a debate? Both Nola and Cole have taken huge and notable strides this season, with Cole boosting his K-rate to a stratospheric 12.34 K/9 and Nola becoming a slightly better version of Gerrit Cole from last season. So if the prices are similar, won't we just jam Cole here? Our system doesn't think it's quite that easy. In spite of Cole being objectively better this season, their respective match-ups throws everything out of wack. On one hand you have Nola, who is a -240 favorite in a game with a 7.5 total against Wei-Yin Chen and Miami. On the other hand you have Cole, who is basically in a pick 'em against Buehler and the Dodgers. The Marlins have the third worst wOBA against righties in the majors, and the Dodgers have the second best. The Marlins have a top 10 K% against righties, and the Dodgers are basically league average. The match-up is so decidedly in Nola's favor here that I think I can just go his way on FanDuel. On DraftKings it's closer since the prices are nearly identical, but for now I'll hedge and call Cole the better big tournament play and Nola the cash game fave.

Robbie Ray FD 8200 DK 8200
Opponent - SF (Derek Holland) Park - ARI
FD - 35.91 DK - 19.6
Speaking of good tournament options, is Robbie Ray ever out of that discussion? You simply don't find many 26 year olds who have sustained nearly an 11 K/9 over the course of the first 558 innings of their career, and Ray is actually up near 12 K/9 this season. The issue for Ray will always be the walks, of course - his 4.50 BB/9 is truly dismal - but getting a guy with upside equal to the top guys at 60% of the price on DK has to have you thinking. A better question is probably whether you can stomach the variance in cash games on DK as well. In spite of adding a bunch of good (and old) right handed bats this season the Giants still own the 11th worst wOBA against left handed pitching. Ray also happens to be a -182 favorite against Derek Holland here. Ray has gone 5 1/3 innings or more in each of his last 4 starts, but he has a lot of disappearing acts on his resume as well. I think deciding whether to play him in double ups mostly comes down to your appetite for variance.
Trevor Cahill FD 7100 DK 7400
Opponent - DET (Francisco Liriano) Park - OAK
FD - 33.67 DK - 16.95
Another option for the pitcher 2 slot on DK, and arguably a safer one. Cahill has averaged almost 6 innings per start this season, has a respectable 8.48 K/9, and walks 1.7 fewer batters per 9 innings that Robbie Ray. And he's $800 cheaper on DraftKings! He's also a -225 favorite to Ray's -180. He also has arguably a softer match-up here in spite of being in an AL game. The Tigers own the 2nd worst wOBA against righties in the entire majors, and the very worst in the AL. I know Cahill hasn't been as hot as he was earlier this season, but you still shouldn't be shocked to see significant cash game ownership on him.
First Base/Catcher
Willson Contreras FD 3200 DK 4500
Opponent - SD (Joey Lucchesi) Park - CHC
FD - 12.21 DK - 9.25
A reasonable catcher option, you guys! Yes, Joey Lucchesi has been good on the road so far this season, but getting him out of the comfort of San Diego is never good for young Padres pitchers. Contreras is in the middle of another solid season, posting a .820+ OPS while batting 5th against left handed pitching. We won't have a line until we know what the weather looks like here, but if there's a gun to your head and you have to play a catcher you could do a heck of a lot worse.

Paul Goldschmidt FD 4100 DK 5200
Opponent - SF (Derek Holland) Park - ARI
FD - 13.16 DK - 9.83
And here's a big money first base payoff for you. Goldschmidt is back to his old ones this season, ripping a 1.009 OPS against left handers with 8 homers in his 145 plate appearances against them. Holland is experiencing something of a renaissance this season, but a heck of a lot of that is fueled by an excellent home line. On the road he has a 4.84 xFIP and just a 2:1 K:BB ratio. One has to think Holland will be overmatched here, and Goldschmidt is subsequently an excellent option for big tournaments or cash games alike.
Also considered: Cheaper options like Joe Mauer and Logan Morrison.
Second Base

DJ LeMahieu FD 2900 DK 4300
Opponent - MIL (Wade Miley) Park - MIL
FD - 10.92 DK - 8.53
I'm not usually a fan of jamming Rockies on the road, but if I can grab them against a pitcher like Wade Miley you can bet I'm listening. With LeMahieu we only get halfway to his sweet spot. He's got a .370 wOBA against lefties this year (excellent) but a .308 wOBA on the road (bad). But again, we are going to need to address Wade Miley. His 1.53 ERA is laughably fueled by an unsustainable .233 BABIP and a truly impossible 0 home runs allowed through 29 innings. His 5.22 K/9 and 4.60 BB/9 tell the real tale, and his 4.84 xFIP betrays him as one of the worst pitchers on the slate. I love a right handed hitting Rockies stack tonight.

Cesar Hernandez FD 3100 DK 4100
Opponent - MIA (Wei-Yin Chen) Park - PHI
FD - 10.55 DK - 8.23
We've sort of got a pile of reasonable second base options, for a change. Hernandez will almost certainly be batting leadoff against the left handed Chen, and on FanDuel he's way too cheap for that opportunity. His .368 OBP this season demonstrates his high floor, and while it's not a dreamy upside play, he will finish the season with something like 10 homers and 20 steals. And then there's Chen. If he managed to pitch enough innings per start to qualify his 5.15 xFIP would be one of the three worst in all of the majors, and his lack of knock out stuff means a guy like Hernandez should be on early and often. Great high floor play.
Also considered: Javier Baez, if you're an upside chaser. Lucchesi isn't exactly a doormat of a lefty, but the best hitting 2B in the league shouldn't be too dissuaded. Baez leads all second basemen with 23 homers and a .378 wOBA, and if you get some favorable wind it's impossible to consider him anything but the highest upside second bagger on the slate.
Shortstop

Marcus Semien FD 3000 DK 4400
Opponent - DET (Francisco Liriano) Park - OAK
FD - 12.01 DK - 9.22
DFSR's favorite shortstop, Marcus Semien! Okay, so maybe our system has a sweet spot for many people's least favorite shortstop. But if you squint here you can kind of see it, right? His .734 OPS against lefties is respectable, he should be leading off (hello, opportunity!) and he's up against Francisco Liriano. Calling the Tigers' lefty erratic would be generous. His 5.15 BB/9 would be the very worst in the majors, but again, when you're walking that many players you just aren't going to be on the mound enough to qualify. I think Semien's solid approach means he can put together a plenty high floor for cash games here.
Nick Ahmed FD 3000 DK 4600
Opponent - SF (Derek Holland) Park - ARI
FD - 10.15 DK - 7.86
Another platoon based cash game play, Ahmed is mostly playable if he finds himself in the two hole against Holland here. His .450 SLG on the season is already respectable out of the shortstop spot, but his .845 OPS against lefties is simply excellent at these price points if he bats second and has that level of opportunity. I've given you the case against Holland already, and while Ahmed is not the most patient of hitters I still think you weather his downside for the potential upside he brings to the table. I think I'd still prefer Semien for cash games though.
Also considered: Jose Peraza.
Third Base

Nolan Arenado FD 4200 DK 5400
Opponent - MIL (Wade Miley) Park - MIL
FD - 13.8 DK - 10.4
If you're considering running LeMahieu against Miley, you're obviously running Arenado alongside him. We've written this countless times this season, but Arenado is capable of being historically great against left handed pitching. While it's true that he has a downright Bondsian 1.589 OPS against lefties at home, you'll still take his Hall of Fame level 1.189 OPS against lefties on the road. And that's lefties of all stripes. Facing one one of the very worst lefties in the majors in Miley obviously sweetens the deal considerably. I'll take Arenado in all formats.

Miguel Sano FD 2800 DK 4100
Opponent - KC (Danny Duffy) Park - MIN
FD - 11.83 DK - 8.8
If you just want a little taste of some non-Arenado upside, why not Miguel Sano? Okay, one reason is his 40% K rate. You got me there. Sano is an absurd K risk that makes him basically unplayable for cash games even at these low prices, but that inconsistency tends to scare people off him even for big tournaments. With 18 homers in 365 career PA against lefties, he can pack a punch in the right match-up. And Danny Duffy? He may be just that. Duffy's 4.13 BB/9 reflect how little control he has over the ball, and one mistake up in the zone can find itself in the seats. I still can't imagine running him for cash games, but I'm definitely down if I need to catch lightning in a bottle.
Also considered: Adrian Beltre as a part of a high value Texas stack.
Outfield

Shin-Soo Choo FD 3300 DK 5100
Opponent - BAL (Yefrey Ramirez) Park - TEX
FD - 13.75 DK - 10.35


Joey Gallo FD 3200 DK 4900
Opponent - BAL (Yefrey Ramirez) Park - TEX
FD - 12.99 DK - 9.53
I mentioned a Texas stack earlier, but let's start thinking about it in earnest. Gallo is sort of like Sano on steroids (too soon?) when it comes to facing righties, with a batting average below .200 but 18 homers in 303 plate appearances against them. Choo is more of a universal play since he'll likely be batting leadoff and packing his usual patient approach. We haven't delved into Yefry Ramirez much just yet, but the young Orioles righty is a marquee target for our big tournament purposes. He's giving up piles of home runs (1.62 per 9 innings), having difficulty staying in games, and generally looking every bit the part of a guy who was called up just a hair too early. He's got a lot of potential, but there is absolutely blow-up potential here.

Bryce Harper FD 4600 DK 5500
Opponent - CIN (Luis Castillo) Park - WSH
FD - 14.45 DK - 10.76
Outfield is actually pretty shallow today, which is why I'm at least considering spending up for a big money play in Harper. His price has ticked back up now that his BABIP issues are starting to come out in the wash, but you are probably still getting him at a slight discount on FD here. His .253 BABIP is at least .060 points off of what we should expect from a guy with his pedigree and tendency to just mash the ball, and with a lot of good value options elsewhere I'm definitely looking at him here. Castillo is a fine pitcher, but the man has given up home runs on 17% of his fly balls through his young career, meaning he's a ripe target for big tournaments. I'm totally fine with Harper assuming you don't do something crazy like fade Arenado in order to fit him in.
Mark Trumbo FD 3000 DK 4000
Opponent - TEX (Martin Perez) Park - TEX
FD - 11.56 DK - 8.76
If we want to lean back toward Baltimore, we actually have a pretty solid opportunity here as well. It's just too bad the Orioles are generally awful. Trumbo, though, could be a reasonable one off even if you are scared of the rest of the O's. He's a hair better against lefties for his career, and Martin Perez is just not very good. Like others on this list he'd be in contention for worst xFIP in the majors (5.20) if he managed to stay on the field long enough to qualify, but his 6.50 ERA makes that an impossibility. Trumbo is a reasonable play in any format, but I mostly wanted to highlight him here so you would be aware of the Orioles as an off-beat stack in general.
Curtis Granderson FD 3000 DK 3900
Opponent - SEA (Mike Leake) Park - SEA
FD - 10.13 DK - 7.58
Just highlighting Granderson for the same reason I highlighted Trumbo - the Jays have an out of this world match-up against Mike Leake. Granderson is unfortunately a candidate to get pulled late in games because of how bad he is against lefties, but there's a chance Seattle doesn't play games if they are just down by a million after Leake gets slapped around. Leake is a vision of beauty when it comes to stacking against him for big tournaments. His 5.44 K/9 is batting-practice-pitcher-esque, and his low walk total means our boys in blue will get a lot of chances to put balls in play. Guys like Granderson go way up in value when you make strikeouts so unlikely, so I think you could even consider him for cash game play. Either way though, don't sleep on the Jays for big tourneys.
GRAB A FREE TRIAL OF OUR PROJECTION SYSTEM, AND CHECK OUT DFSR PRO!
image sources
Nolan Arenado: By Keith Allison (Flickr: Nolan Arenado) [CC BY-SA 2.0 (http://creativecommons.org/licenses/by-sa/2.0)], via Wikimedia Commons
FREE EBOOK
SECRETS TO CRUSHING DAILY FANTASY FOOTBALL!
DON'T SET ANOTHER LINEUP BEFORE YOU READ THIS BOOK.