Baseball Picks Daily Fantasy
Expert Advice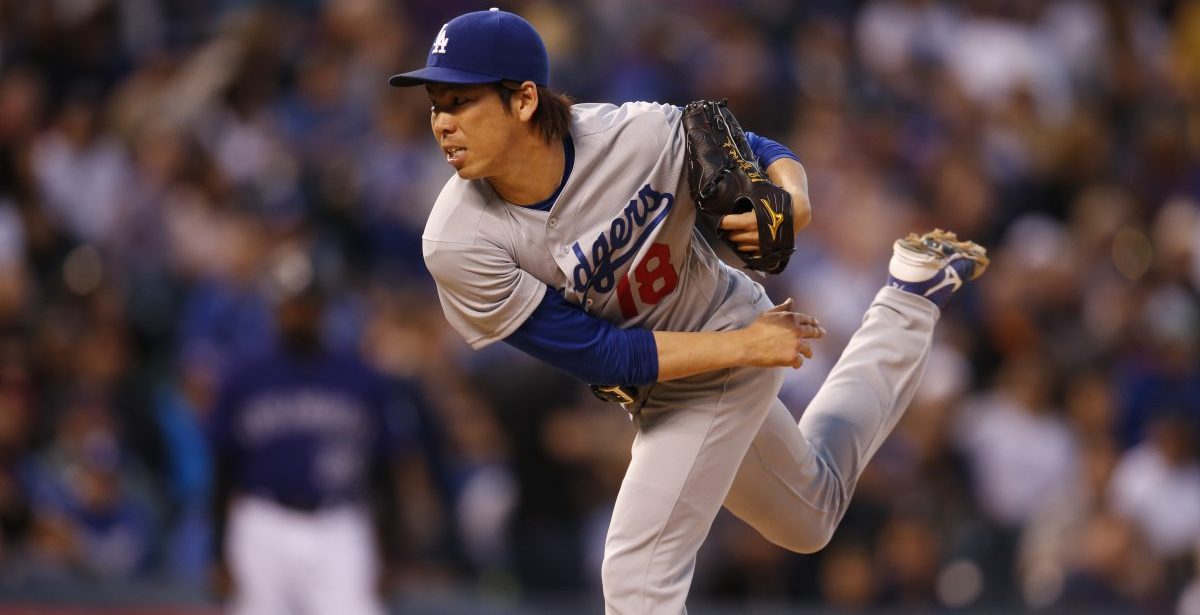 Daily Fantasy MLB Pitchers and Stacks for FanDuel and DraftKings - 8/4/18
We already highlighted James Paxton, Corey Kluber, and Jose Berrios in our Saturday 8/4/18 picks article. We also highlighted the Nationals and Twins as a popular game stacks at their respective team price points. Here we will look at some other (possible GPP) considerations.
Now's your chance to get DFSR PRO, which will give you access to our MLB optimizer and our new player lab! Get started for free by clicking the button below.
First time with MLB? Be sure to read our free MLB Ebooks on building lineups, general strategy and more. We've got you completely covered.
Pitchers

Kenta Maeda FD 8600 DK 8300
Opponent - HOU (Lance McCullers Jr.) Park - LAD
FD - 34.25 DK - 18.52
In the picks article, I gave you three top-tier pitchers, which can make things difficult on DraftKings, so while both of these guys I'm giving you here are geared more towards GPP's, you can use them in cash as your SP2 on DraftKings as well. Kenta Maeda, admittedly comes with a bit of risk, he's hosting the Astros in L.A., and we don't usually like to target Houston in cash games. Both teams are projecting for extremely low run lines though, and the Dodgers are slight favorites opening at -116. It's looking clear and warm tonight in Lalaland, with a light wind blowing out to center. While Astros are a top-five offense in the league, they are without two powerhouse bats in the form of Correa and Altuve; they're also in an NL park which strips the bat away from the DH and puts it in Lance McCullers hands. Maeda has been outright dominant through this season with a 3.38 xFIP, 10.89 K/9, 0.82 HR/9, and 1.24 WHIP. He hit a bit of a rough patch lately struggling against the Phillies and Brewers, and his hard hit rate is concerning, especially with the Astros in town. The price is quite appealing across the industry though, and he's an appealing SP2 with room for upside on FanDuel as well.

Zach Eflin FD 8300 DK 8000
Opponent - MIA (Jose Urena) Park - PHI
FD - 34.3 DK - 17.23
The Phillies will send Zach Eflin to the hill tonight against the visiting Marlins. Eflin isn't nearly as dominant as Maeda, with a 4.05 xFIP, but he has a remarkable 28.1% hard-hit rate that serves him well in Citizens Bank Park contributing to his 1.17 HR/9. He's striking out just under a batter per inning, but the key to this play is the matchup against Miami. The Marlins for lack of a better term, stink. They strikeout 23% of the time in the split, with a bottom five .300 team wOBA. It's going to be a nice night in South Philadelphia, clear and warm, with a light breeze blowing from left to right. For the price, I'd be willing to take a flier on Eflin in cash on FanDuel, if I need the money for bats. Most likely, however, I'll keep him restricted to tournaments, and spend up in my cash games.
Stacks
Baltimore Orioles vs. Mike Minor (TEX)


Jonathan Villar FD 2400 DK 3900
Opponent - TEX (Mike Minor) Park - TEX
FD - 9.76 DK - 7.52

Tim Beckham FD 3100 DK 3900
Opponent - TEX (Mike Minor) Park - TEX
FD - 10.05 DK - 7.75


Adam Jones FD 3000 DK 4000
Opponent - TEX (Mike Minor) Park - TEX
FD - 10.18 DK - 7.83

Mark Trumbo FD 3000 DK 3900
Opponent - TEX (Mike Minor) Park - TEX
FD - 10.9 DK - 8.26
The Orioles/Rangers game is one I like from both sides. I went into detail on Shin-Soo Choo and Adrian Beltre on the Rangers side in the picks article, and they can help lay the framework for a Rangers stack against Dylan Bundy. I think we can also, however, look to the opposing bench, and consider the Orioles for a low cost, high upside stack against Mike Minor as well.
This game has one of the highest run lines of the night projecting for just under eleven, with Texas favored for the win. While the Orioles have struggled offensively all season and traded away two of their top bats, there is still a lot to like about the current Baltimore lineup in this matchup. Minor, now in his thirties, is posting a career-high 4.58 xFIP, with a hard-hit rate over 40%, up 13% from last season. He's surrendered seven long balls in his previous five starts with an ERA of 5.04 in that time.
Jonathan Villar, recently acquired from the Brewers is back from the DL and now hitting leadoff for Baltimore. For near minimum across the industry, he projects as one of the top points per dollar options at second base, and I could just as well have added him in our cash game picks. Setting the table for Baltimore makes him a priority in our stack. Tim Beckham, who slid over to shortstop from third with the departure of Manny Machado continues to hit in the top of the order while putting up solid stat lines, paying tremendous returns from a fantasy perspective. Adam Jones, who has been on base in 14 of his last 15 games, is slashing .282/.312/.426 this season, while with Machado out of town, Trumbo becomes the top hitter in the Baltimore offense, occupying the cleanup spot with 13 home runs, and a .320 wOBA. He holds a career .332 wOBA, and .779 OPS against the split.
The Orioles lineup comes stacked with plenty of right-handed options to attack Minor who has struggled with a .342 wOBA allowed against the split this season, and this top of the order approach is quite affordable, commanding just an average of $2875 on FanDuel and $3925 on DraftKings.
Oakland Athletics vs. Jordan Zimmermann (DET)


Jed Lowrie FD 3400 DK 4200
Opponent - DET (Jordan Zimmermann) Park - OAK
FD - 10.02 DK - 7.67


Khris Davis FD 4400 DK 5300
Opponent - DET (Jordan Zimmermann) Park - OAK
FD - 12.56 DK - 9.38


Matt Olson FD 3500 DK 4200
Opponent - DET (Jordan Zimmermann) Park - OAK
FD - 11.01 DK - 8.19

Stephen Piscotty FD 2600 DK 3600
Opponent - DET (Jordan Zimmermann) Park - OAK
FD - 9.02 DK - 6.88
Our next stack will cost you a bit more but isn't quite as risky. Unlike the Orioles, the Athletics haven't traded away their best player, and have been one of the best offenses in the game all season long with a combined .324 team wOBA, seventh best in the majors. They've been one of the top scoring teams since the break, with 81 runs scored and 21 home runs. Today they go against a struggling Jordan Zimmermann of the Tigers.
While Zimmermann has improved on his numbers from last season, a 4.03 xFIP and 4.44 ERA are still quite targetable from a daily fantasy perspective, and his hard hit rate sits at nearly 35%. He's given up 13 earned runs in his last three starts, including two home runs in each, lasting only three innings against the Indians his last time out.
Our system likes a heart of the order approach here, so that's where I'm looking. We'll hit Zimm from both sides. On the left, we have switch-hitting Jed Lowrie and Matt Olson. Zimm has been more generous to the left side of the dish in his career, with a .319 wOBA allowed, and a 4.00 xFIP. Lowrie is hitting with a .367 wOBA against the split this season, and an OPS over .850. Olson sits not far off with a .351 wOBA. He's managed to make his way on base eleven times in just his last five games, including four doubles.
From the right side, Zimmermann has fared slightly better with a .304 wOBA allowed in his career, but we can't talk stacking A's and not mention right-hander Khris Davis, who has been one of the top hitting outfielders this season with a .362 wOBA and 29 home runs. Stephen Piscotty, another right-handed bat, has nearly even splits, with a wOBA of .330, and .764 OPS in the reverse platoon, while providing some value to balance out the cost of his pricier teammates. It's been a rough run for Zimmermann, especially on the road where his ERA sits over 5.00, and the A's implied run line of 5.0 is one of the higher ones on the main slate. They'll cost you a bit more than the Baltimore stack above but could pay off handsomely given the matchup.
Thanks for reading, and good luck tonight. Cheers!
GRAB A FREE TRIAL OF OUR PROJECTION SYSTEM, AND CHECK OUT DFSR PRO!
GET OUR FREE EBOOK ON DAILY FANTASY MLB and NBA BY CLICKING HERE!
FREE EBOOK
SECRETS TO CRUSHING DAILY FANTASY FOOTBALL!
DON'T SET ANOTHER LINEUP BEFORE YOU READ THIS BOOK.