Golf Daily Fantasy
Expert Advice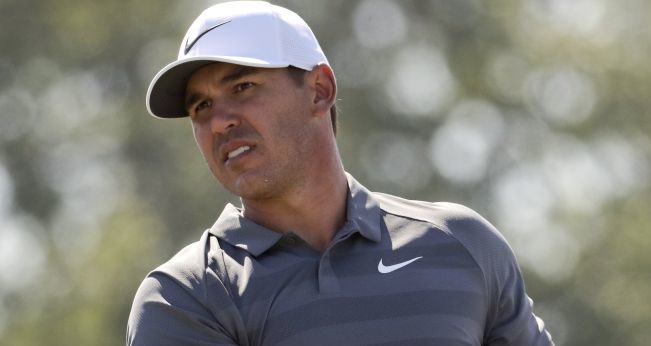 Daily Fantasy PGA Picks for DraftKings & FanDuel - 100th PGA Championship
DFSR is proud to bring you, Chris Durell. He'll be bringing weekly PGA picks, analysis, and breakdowns to help you cash on DraftKings and FanDuel. As every week in DFS PGA changes with the course setup, field of players and weather, Chris will be providing a range of different picks for cash games as well as upside plays for tournaments. If you have any questions to lineup lock you can reach him a variety of ways. Leave your question/comment below in the comments section, find him in the DFSR Chat room or hit him up on Twitter(@Jager_Bombs9). Chris is also providing his DFS PGA Weekly cheatsheet where he provides stats, course history, current form, fantasy points, and much more. Grab your copy today and edge out the competition.

100th PGA Championship
Welcome back golf fans. We have reached the final major of the season as the top players and club professionals will tee it up at the 100th PGA Championship this week. This is another major championship that rotates courses and this year it will be played at Bellerive Country Club in St. Louis, Missouri. The club itself dates back to 1897 and saw a relocation in 1955 and was originally designed by Robert Trent Jones Sr. but the notable thing for researching this week is that it was fully renovated in 2005 by Rees Jones. If you click the course picture below you can check out a flyover video of the course to give you an excellent perspective of the design and what it will take to win here at Bellerive.
The first thing to note when looking at the scorecard is that the course is very long and two of the member Par 5's(Hole #4 and Hole #10) have been converted to long Par 4's which makes the course a Par 70 this week. Despite the course being long, it doesn't necessarily mean we are going to target only bombers as the course is very strategically set up. It starts with well-placed bunkers in landing zones that will make the longer hitters think twice about going for broke off the tee and the fairways also narrow dramatically the farther down you go. You will also notice when watching the flyover video that 12 of the holes are doglegs left which calls for a right to left ball flight(draw) for right-handed hitters and a left to right ball flight(fade) for left-handed hitters. The greens are very large with different levels(quadrants) which will also put a ton of emphasis on not just Strokes Gained: Approach but also Proximity. Club selection will also be huge on the approach shots as some of the greens are large and wide but very shallow. Hitting the green on the wrong level or area will produce some very long putts with a ton of three-putt potential. Bunkers also protect these greens so I will also be looking at sand save % when analyzing Strokes Gained: Around the Green/Scrambling.
As you can you tell, this course will test players in every area of their game so building a specific model is very tough. What I will be doing is picking out four or five areas that I think will be the most important for not only a high finish but also for fantasy success. I will also be running multiple models this weeka nd comparing them and looking for players who show up near the top in all of them. Let's get started!
The Course
Bellerive Country Club - St. Louis, MO
Par 70 - 7,324 Yards
Greens - Bentgrass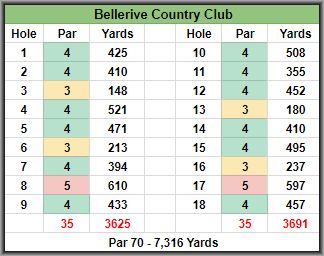 **Click the pic above to see a hole by hole flyover from PGA.com on YouTube**
Hole Composition(via FNGC)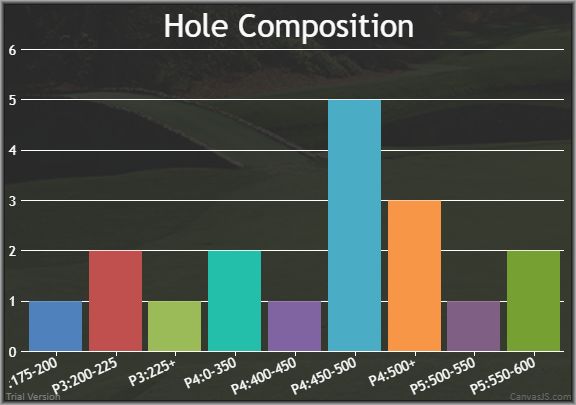 Top Stats in the Model
Strokes Gained: Off with Emphasis on Accuracy
Strokes Gained: Approach with Emphasis on Proximity
Par 4 Scoring
Birdie or Better %
Strokes Gained: Around the Green with Emphasis on Sand Save %
One little note before jumping into the article. I use multiple sources for my research to help determine key stats starting with Fantasy National Golf Club and their elite set of tools from course history, hole composition, past performance and much, much more. I also combine it with some of the information on Future of Fantasy including correlated courses and most importantly the quotes from players section to help determine what it takes to win here(key stats). When breaking down ownership and trying to come up with popularity, I love the tools over at FanShareSports as they break down every piece of information on articles and social media mentions to provide us with Tag Counts, Sentiment Ratings, Subject Tags, Salary Differential week to week and much more.
Top Tier Targets
Dustin Johnson
World Golf Ranking (#1)
Vegas Odds (8/1)
Draftkings ($11,400)
FanDuel ($12,600)
There are so many viable golfers to hitch your wagon to in the top tier this week but with the soft pricing on DraftKings, it is nearly impossible to avoid the World #1, Dustin Johnson. Outside of the missed cut at the OPEN Championship at Carnoustie, he hasn't missed a cut on Tour since the U.S. Open last year and has four wins in that time including two in his last four starts and for fantasy, he tops the charts with an average of 95.9 DraftKings points per race over his last five events. He also crushes the stats model ranking 1st in SG: Off the Tee, 1st in SG: Ball Striking, 2nd in overall proximity, 1st in Par 4 scoring, and 1st in Birdie or Better %. Pricing aside, he is at the top of my list this week but I do like him a little more on DraftKings where the pricing is softer.
Brooks Koepka
World Golf Ranking (#4)
Vegas Odds (20/1)
Draftkings ($9,600)
FanDuel ($11,600)
Much like last week with Justin Thomas, I feel Brooks Koepka is slightly underpriced compared to his talent and #5 ranking in the world. He has finished Top 15 at the PGA Championship in four straight years and was won back to back U.S. Opens and going back to March 2017, he has only missed one cut in 26 events. After a less than inspiring T39 at the OPEN at Carnoustie and missed cut at the RBC Canadian Open he bounced back with a T5 at the Bridgestone. What stands out the most about that T5 is that he led the field in Strokes Gained: Tee to Green(10.713 Gained) last week but lost over two strokes putting. If he can get the putter back on track this week, I feel he will have an excellent chance to grab his second major championship of the season and always has a ton of upside for fantasy. He is a player I will have exposure to in all formats.
Justin Rose
World Golf Ranking (#3)
Vegas Odds (22/1)
Draftkings ($9,400)
FanDuel ($11,900)
Both guys above are currently projected to be #1 and #2 in ownership in the top tier and if you are looking to make a GPP pivot consider Justin Rose this week. He withdrew last week because of a back injury but said he would be ready for the PGA Championship this week and I will be taking his word for it. The good news is that he comes in with red-hot form having finished Top 10 in five straight events including a win at the Fort Worth Invitational. He has also been money at the majors this season with a T12 at the Masters, T10 a the U.S. Open, and T2 at the OPEN in his last start. That form combined with a very high rank in the stats model(3rd overall) has him as the #1 golfer on my sheet this week. Be sure to check for updates prior to tee off but provided he is healthy I think we get him in or around 10% ownership which will be close to the lowest in the tier.
Mid-Range Targets
Tony Finau
World Golf Ranking (#29)
Vegas Odds (40/1)
Draftkings ($8,100)
FanDuel ($10,600)

Tony Finau seems like a bit of a steal on DraftKings this week considering he has already finished Top 10 at the other three major championships this season. He is also coming off a T10 at the WGC Bridgestone and looking at the Last 24 rounds data(via Fantasy National), Finau ranks high in almost every area. He is 5th in SG: Total, 16th in SG: Ball Striking and most importantly is 7th in DraftKings scoring. He is Top 10 in my overall model this week and will be a golfer I will have tons of exposure to in all formats on both sites.

Alex Noren
World Golf Ranking (#13)
Vegas Odds (45/1)
Draftkings ($8,600)
FanDuel ($9,900)
I talked about the right to left ball flight in the preview above and Noren has talked about several times about a draw being his natural ball flight. That is not the only thing that stands out this week and while he hasn't yet found the same success on the PGA Tour as he has on the European Tour(10 wins) he is getting closer to that first win on American soil. He missed back to back cuts at the Masters and Wells Fargo but has since made seven straight cuts worldwide including a win at the Open de France and has picked up a Top 25 finish at the PLAYERS, U.S. Open, and OPEN Championship. He is a world class player and is ready to break through again and comes at a value price on both sites.
Joaquin Niemann
World Golf Ranking (#163)
Vegas Odds (75/1)
Draftkings ($7,600)
FanDuel ($9,200)
I have been high on Niemann since turning pro and he has not let me down making a huge jump from 1527th in the world to 163rd going into this week. He missed a couple cuts early on(Wells Fargo, Byron Nelson) but has been on fire since having made four straight and six of his last seven with three Top 10's and five Top 25 finishes. While he is still a few rounds short of qualifying for stats ranks on the PGA Tour, he stands out all over the place. Looking at the last 24 rounds data(via FNGC), he ranks 8th in SG: Total, 7th in SG: Off the Tee, 2nd in SG: Approach, and 3rd in SG: Par 4 scoring. I don't expect a breakout win from Niemann this week but can easily see Top 10 upside which would easily crush value at these prices, especially on DraftKings.

Value Targets
Zach Johnson
World Golf Ranking (#50)
Vegas Odds (70/1)
Draftkings ($7,500)
FanDuel ($9,800)

It feels like every week I am writing about ZJ and for good reason as he just makes cuts over and over. He is having a very consistent season having missed just one cut in 19 stroke-play events with 13 Top 25 finishes. He has been very clutch lately as well coming into this week with five straight Top 20's dating back to the U.S. Open. Like Noren, ZJ favors the draw ball flight which should help out here with all the doglegs to the left. Looking at my stats model on my sheet, he ranks 20th overall and what stands out the most is the 8th rank in SG: Around the Green, 6th in overall proximity, and 12th in Par 4 scoring. He is a  lock for me in cash games on DraftKings at this price and I will also have some exposure for GPP formats as he helps us get to multiple top-tier golfers in our lineups.
Gary Woodland
World Golf Ranking (#44)
Vegas Odds (140/1)
Draftkings ($7,000)
FanDuel ($8,900)
It hasn't been his best season as he went through a tough two-month stretch where he missed four straight cuts in stroke-play events but has really been trending up lately. He comes into this week having made six straight cuts on Tour including back to back Top 25 finishes at the RBC Canadian Open and WGC Bridgestone last week. The short game is always a concern for Woodland but the ball striking has most definitely been there as he ranks 10th in the field in that area over the last 24 rounds overall. I won't be using him in cash games this week but with the upside he brings to the table, he is just too cheap on DraftKings and makes an excellent addition to stars and scrubs lineups.
Tournament Update Thread
**Weather Update(click pic below to link to WeatherFinder site for current weather update**
Chris Durell has been playing Daily Fantasy Sports for five years and fantasy in general for more than a decade. He is an active player in college football, NFL, MLB, NASCAR, NHL and of course PGA. He lives in Saskatchewan, Canada with his wife and two daughters. You can follow him on Twitter at @Jager_Bombs9 for advice, strategy, answers to any PGA questions and how he copes with the winters up north.
FREE EBOOK
SECRETS TO CRUSHING DAILY FANTASY FOOTBALL!
DON'T SET ANOTHER LINEUP BEFORE YOU READ THIS BOOK.