Baseball Picks Daily Fantasy
Expert Advice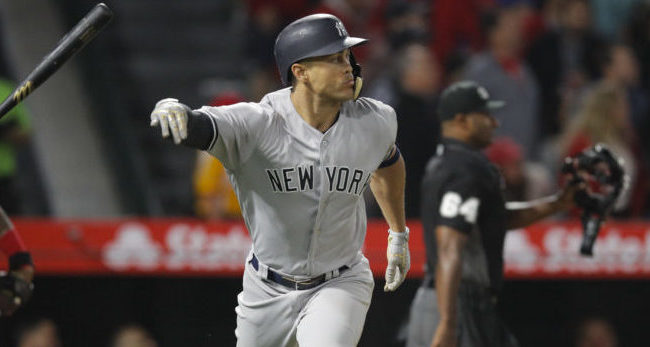 Daily Fantasy MLB Picks for FanDuel and DraftKings - 8/9/18
Now's your chance to get DFSR PRO, which will give you access to our MLB optimizer and our new player lab! Get started for free by clicking the button below.
First time with MLB? Be sure to read our free MLB Ebooks on building lineups, general strategy and more. We've got you completely covered.
Pitcher
Early Slate
Corey Kluber FD 11200 DK 10900
Opponent - MIN (Jose Berrios) Park - CLE
FD - 41.3 DK - 22.64
The overall options are limited on this early three-game slate today but one name stands out above the rest. While Kluber has seen his upside come back down to Earth after an outlier of a season in 2017(11.71 K/9), he has been just as good when looking at his other numbers. He is walking just over one batter per nine and sits with a fantastic 2.63 ERA that is backed up by a 3.20 xFIP and is still striking out 8.53 batters per nine and is coming off one of his best starts of the season where he tossed a three-hit complete game shutout against the Angels. He will now face a Twins team that has been near the bottom in runs scored in the second half and is striking out just under 24% of the time. Kluber is my top pitcher on the early slate and safe in all formats.
Also Consdier: Gio Gonzalez(WSH)
Main Slate

Justin Verlander FD 11800 DK 12400
Opponent - SEA (James Paxton) Park - HOU
FD - 41.84 DK - 22.64
The main slate gives us a pitchers duel and they are the most expensive options on both slates. It is a pretty easy choice for me in cash games to pay up for Justin Verlander who is second to only the injured Chris Sale in the American League with an elite 2.19 ERA on the season backed up by a 3.21 xFIP. Like his teammate Gerrit Cole, he is operating at a career-high when looking strikeout rates(33.7%) which is also backed up by an elite 13.8% swinging strike rate. The Astros are -150 favorites tonight which I thought would be higher considering the Mariners have been one of the worst teams in baseball so far in the second half having scored just 60 runs(28th) with a .293 wOBA and 87 wRC+. Don't overthink it. Pat up for Verlander tonight.
Also consider Ross Stripling(LAD) as a contrarian choice if the word is there will be no pitch count. It is a very tough matchup in Coors but the Rockies have struggled recently scoring just seven total runs in their last three-game series at home. 
First Base/Catcher
Early Slate
Eric Hosmer FD 3000 DK 4200
Opponent - MIL (Junior Guerra) Park - MIL
FD - 9.84 DK - 7.51
Hosmer took the money and went from a bad hitters park to a worse one and while he started the season off cold, he has been better to start the second half. He went into Wednesday night with hits in 13 of his last 15 games pushing his average up a bit to .253 on the season. The power upside is definitely down this season with just 10 home runs but he gets a boost tonight on the road in Milwaukee and faces a pitcher in Junior Guerra who is walking over 3.5 batters per nine and has given up home runs in four straight games and a 40% hard contact rate to left-handed bats. The price is right on this small slate to consider Hosmer a play in all formats.
Also Consider: Jesus Aguilar(MIL) as a GPP option at 1B or Tyler Flowers(ATL) at catcher
Main Slate
Steve Pearce FD 3500 DK 4300
Opponent - TOR (Ryan Borucki) Park - TOR
FD - 11.49 DK - 8.7
There is no real superstar bat at the first base position tonight making the decision pretty simple. Any time Steve Pearce faces a left-handed pitcher he immediately enters the conversation as he absolutely crushes in that split with a .451 wOBA, 189 wRC+, 1.068 OPS and .294 ISO. That is a lot of stats but the bottom line is that he is a stud. Don't get me wrong, Ryan Borucki has been good in his rookie season with a 2.30 ERA but is definitely due for some regression with an xFIP(4.28) that is a full two runs higher. All things considered, Pearce is the top play at the position and "safe" in all formats.
Also consider Elias Diaz(PIT) at catcher who rakes against lefties with a .421 wOBA, 167 wRC+ and .987 OPS
Second Base
Early Slate

Daniel Murphy FD 3500 DK 4200
Opponent - ATL (Anibal Sanchez) Park - WSH
FD - 10.64 DK - 8.15
The Nationals have been red hot in the second half scoring the second most runs and sit #1 in implied runs on today's early three-game slate. Murphy missed the teams first 63 games this season due to off-season knee surgery and understandably struggled in the first half hitting just .253 over the course of 28 games. The second half has been another story as he is getting back to his 2017 form hitting .321 in 16 games pushing his season average up to .280 and also sits with a .331 on-base percentage. He is currently hitting down in the order but if the hot hitting continues I could see a move up which would only boost his overall value in DFS. As it stands now, his price is still in a good spot where we can consider him in all formats, especially on this small slate.
Also Consider: Ozzie Albies(ATL)
Main Slate

Brian Dozier FD 4100 DK 5500
Opponent - COL (Tyler Anderson) Park - SF
FD - 10.66 DK - 8.05
On the main slate, I will turn to a DFSR regular in Brian Dozier. He was traded to the Dodgers at the deadline and has found new life as he went into Wednesday night with hits in four of his five starts with three doubles and two home runs. Overall, he isn't the most consistent hitter but gets a terrific matchup in the best hitters park in the game in his best split as he crushes lefties for his career. Given the overall lack of options at the position tonight, I am inclined to pay up for Dozier in all formats and find value elsewhere.
Also consider Devon Travis(TOR) if you are looking to spend down as he has been hitting near the top of the lineup and has hits in five of his last six games
Shortstop
Early Slate
Freddy Galvis FD 2600 DK 3200
Opponent - MIL (Junior Guerra) Park - MIL
FD - 7.25 DK - 5.65
The shortstop position is very thin if you are trying to avoid spending way up for Lindor or Turner. One player I will consider punting with to help get to Kluber and other top bats at other positions is Freddy Galvis. He is cheap for a reason hitting just .234 on the season and has been better against lefties but gets a park upgrade in Milwaukee and faces a struggling pitcher in Junior Guerra who has given up 15 earned runs over his last four starts and has also given up a 41% hard contact on the season.
Also consider Orlando Arcia(MIL) if you need even more salary relief today
Main Slate
Jordy Mercer FD 2500 DK 3400
Opponent - SF (Andrew Suarez) Park - SF
FD - 7.17 DK - 5.53
If we are spending up at pitcher and for some Coors bats tonight we will definitely have to find some value and shortstop is a great position to do so. Tonight, I will be turning to Jordy Mercer of the Pirates who comes very cheap on both sites and while he doesn't necessarily stand out in any one area he does have a splits advantage tonight in a plus matchup. He sits with a .326 wOBA and 104 wRC+ against lefties for the season and faces a struggling pitcher in Andrew Suarez who has hit a rookie wall and has given up 19 earned runs in his last four starts with just 15 strikeouts and seven walks. All things considered, Mercer is a nice salary relief option in cash games or GPP formats.
Also consider Elvis Andrus(TEX) who hits third in the hottest lineup in baseball since the All-Star break against a pitcher coming off the DL
Third Base
Early Slate

Mike Moustakas FD 3400 DK 4200
Opponent - SD (Robbie Erlin) Park - MIL
FD - 10.52 DK - 7.99
The Brewers make a great place to start looking for bats on the early slate as they trail only the Nationals in implied runs. Mike Moustakas came over in a trade at the deadline and has been decent with hits in seven of his first 10 games and started to break out of his power slump with home runs in two straight games going into Wednesday night's action. He is a switch hitter who has shown a little more power from the left side of the plate but overall has shown pretty even splits from a safety standpoint the last couple years. As long as he remains near the top of the order he makes an excellent target in all formats on both sites.
Also Consider: Johan Camargo(ATL)
Main Slate

Justin Turner FD 3900 DK 4700
Opponent - COL (Tyler Anderson) Park - COL
FD - 13.45 DK - 10.2
The Dodgers picked up Manny Machado and Brian Dozier at the trade deadline to bolster their middle of the order and that only boosts the value of Turner. It has been a down season for him as injuries have limited him to just 55 games but he is starting to come around since his last stint on the DL with hits in three straight and four of his last five games. More good news as the price isn't overly inflated as the Dodgers head into Coors Field and Turner gets his best split by far as he crushes lefties to the tune of a .408 wOBA, 161 wRC+, and .930 OPS on the season and had even better numbers in 2017. With some of the other values available it won't be too difficult if you want to fit him in cash lineups as the floor and ceiling are both high tonight.
Also consider: Matt Duffy(TB)
Outfield
Early Slate

Lorenzo Cain FD 3200 DK 4700
Opponent - SD (Robbie Erlin) Park - MIL
FD - 12.68 DK - 9.84
The Brewers currently sit slightly behind the Nationals in implied runs on the early slate and leading the way for them in raw points projections is Lorenzo Cain. He doesn't provide a ton of upside with just eight home runs and has double-digits in just two of his six full major seasons but what he does provide is a very high floor. In his first season with the Brewers, he is hitting .295 with an elite .390 on-base percentage and adds speed on the base paths with 19 steals and has scored 56 runs as well. The other thing that pops off the page in this matchup vs. lefty Robbie Erlin is that he crushes in this split with a .436 wOBA< 174 wRC+, and .218 ISO against southpaws. The price is getting up there on DraftKings making him close to a GPP only play but on FanDuel in the low $3K range, he is safe to roster in all formats.
Main Slate

Brett Gardner FD 3400 DK 4400
Opponent - TEX (Ariel Jurado) Park - NYY
FD - 12.93 DK - 9.89


Giancarlo Stanton FD 4700 DK 5100
Opponent - TEX (Ariel Jurado) Park - NYY
FD - 16.44 DK - 12.21

Aaron Hicks FD 3800 DK 4800
Opponent - TEX (Ariel Jurado) Park - NYY
FD - 13.31 DK - 10
The Yankees are in a terrific spot tonight at home vs. the Rangers and rookie starter, Ariel Jurado. He was moved up directly from AA this season and what was most troubling is that he hasn't struck out more than 5.5 per nine over his last two season at that level and it has translated to the big leagues as he has just seven K's through his first 15.2 innings but has walked five and allowed seven earned runs for a 4.02 ERA and 5.11 xFIP. He now has to go into Yankee Stadium and face one of the top offenses in baseball even without Aaron Judge. I will start with Brett Gardner who hasn't been great this season with a .245 average but walks 11.5% of the time and sits with a .339 OBP from the leadoff spot and as a result, has scored 69 runs to this point. Aaron Hicks has bounced around the lineup but will most likely fall into the cleanup spot tonight and while his average(.248) hasn't impressed anyone, he has gotten on base(.359 OBP) and provided some power with 19 home runs. Stanton has been the most consistent out of these three hitters and with a very productive July(.323/.360/.515), has pushed his average up to .279 on the season and he has endless power upside with 27 home runs on the season.
Also Consider: Mallex Smith(TB) if leading off again, Enrique Hernandez(LAD), Starling Marte(PIT)
GRAB A FREE TRIAL OF OUR PROJECTION SYSTEM, AND CHECK OUT DFSR PRO!
FREE EBOOK
SECRETS TO CRUSHING DAILY FANTASY FOOTBALL!
DON'T SET ANOTHER LINEUP BEFORE YOU READ THIS BOOK.