Baseball Picks Daily Fantasy
Expert Advice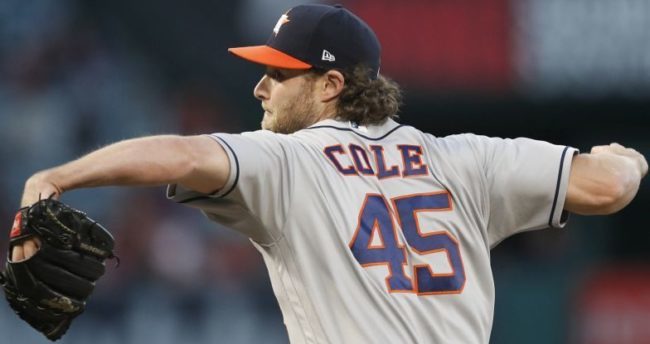 Daily Fantasy MLB Picks for FanDuel and DraftKings - 8/10/18
TGIFB - Thank God it's Friday Baseball! Like what I did there? I added a letter to the famous saying. Genius. Friday's MLB action brings with it a full slate of games and some intriguing matchups. Let's break down some of the plays and try to parse out the value.
Now's your chance to get DFSR PRO, which will give you access to our MLB optimizer and our new player lab! Get started for free by clicking the button below.
First time with MLB? Be sure to read our free MLB Ebooks on building lineups, general strategy and more. We've got you completely covered.
Pitcher

Gerrit Cole FD 10500 DK 12500
Opponent - SEA (Mike Leake) Park - SEA
FD - 42 DK - 22.44
We've been saying it basically all season long, but Cole is still coming way too cheap (especially on FanDuel) for the newfound strikeout upside he possesses since coming over from the Pirates. He has the second-best K/9 numbers (12.42 per nine) in the majors after Chris Sale with the sixth-best xFIP among qualified pitchers at 3.04. Even with the Astros beat up on the offensive end (Springer, Correa, and Altuve are all on the DL) Houston still comes in as the highest opening money line favorite of that day at -230. Most of that falls on Cole who is easily the best arm of the slate. He'll face a Mariners team ranked 17th in the league against righties this season, though it should be mentioned that, as a group, they don't strike out all that often (20%). Regardless, at these prices on a big slate, I think Cole is easily the cash game play on both sites.

Nathan Eovaldi FD 8700 DK 9700
Opponent - BAL (Dylan Bundy) Park - BAL
FD - 32.3 DK - 17.08
I think we can call Nathan Eovaldi's first start in a Red Sox uniform an overwhelming success. He went eight shutout innings against the Yankees, allowing only three hits, striking out four and surrendering only one walk. He doesn't profile as a big strikeout arm, but he's been ultra-efficient this season with a 6.9:1 K:BB rate, allowing only nine walks in 72 innings. The Orioles are a bottom-feeding offense this season and traded away Machado and Schoop at the deadline. They're now trotting out a group that very much looks like a bunch of has-beens and never-will-bes. Eovaldi and the Sox are -175 road favorites in Camden Yards with the Orioles hovering around 3.8 implied runs at open. He's coming very cheap on FanDuel which becomes interesting if you want to stack big bats. I very much prefer the upside of Cole, but Eovaldi does make things interesting because of the pricing.

Zach Eflin FD 8500 DK 8500
Opponent - SD (Jacob Nix) Park - SD
FD - 34.78 DK - 17.6
In his second season, Eflin has dramatically improved on his strikeout numbers going from a 12% K% in 2017 to 22% this season. He's paired that with solid control, walking less than two batters per nine good for a 4.3:1 K:BB ratio. As far as his Friday opponent, well it's just another season of the Padres trotting out a total garbage offense. They rank second to last in the league against righties with a team .285 wOBA and strikeout 25.8% of the time, good for most in the league. They stink up and down the lineup, making Eflin a pretty safe play all things considered. The deal only sweetens getting to pitch in Petco which suppresses power all around. I'm actually a little surprised the Phillies are only a -128 opening favorite in this matchup considering the Padres are trotting out rookie Jacob Nix. I wouldn't be shocked to see that line climb over the course of the day on the Phillies' side.
Very strongly consider rostering Freddy Peralta in GPPs. Also strongly consider Shane Bieber as a decent K guy with a low walk rate.
First Base/Catcher

Joey Votto FD 3600 DK 4100
Opponent - ARI (Clay Buchholz) Park - CIN
FD - 12.4 DK - 9.27
There's a lot to like about this game from a fantasy perspective and I just as easily could have written up Paul Goldschmidt in this spot. But I'll take the slight discount we are getting on Votto here because of some issues with his 2018 power. He's sitting at nine home runs on the season (down from 36 last season) because the Hr/FB ratio dropped from 20% to 9% season-over-season. This is despite his hard contact rate going up (FWIW, flyballs are down). Votto still walks more than he strikes out (18% to 15%) and I don't mind the matchup against Buchholz who isn't as good as the sub-3 ERA would suggest (3.98 xFIP).

Yuli Gurriel FD 2500 DK 3900
Opponent - SEA (Mike Leake) Park - HOU
FD - 10.36 DK - 7.95
Like I said with Cole's writeup, the Astros are beat up right now but that's making for some nice value plays in their lineup because of the increased plate appearance expectation for the guys still standing. Gurriel isn't having the best season, posting significantly less power than 2017 thanks to a reduced Hr/FB ratio even though the hard contact rate is relatively in line with last season's numbers. He's actually been better against righties for his career, working a reverse platoon split to a .798 OPS and .338 wOBA against righty pitching. The Astros take on Mike Leake on Wednesday. He carries in a mid-range xFIP (4.26) but strikes out less than six batters per nine. Gurriel is still coming fairly cheap for a middle-of-order bat and the Astros come in right around 4.5 implied runs.
I also don't mind going very cheap at first with punt plays like Logan Morrison or Ji-Man Choi.
At catcher on DraftKings, consider going very cheap with guys like Michael Perez against Marco Estrada, or Tucker Barnhart against Clay Buchholz.
Second Base

Scooter Gennett FD 3200 DK 4400
Opponent - ARI (Clay Buchholz) Park - CIN
FD - 11.41 DK - 8.7
Second base is a very thin position on Friday's slate and you may end up just punting away the position completely. That would possibly make sense because of the scarcity at second. But Gennett makes a lot of sense in this price tier. He's following up a fantastic 2017 campaign with a repeat performance this year. He has an .856 OPS and 17 home runs in 460 plate appearances and has actually reduced his strikeouts. Great American Ballpark plays as good as anywhere not named Coors for power and the Reds come in with an implied run line in the high 4's. Gennett is significantly better against righty pitching for his career with a .909 OPS and .383 wOBA in that split over his last 700+ plate appearances. Those numbers and this park have him coming too cheap on FanDuel in the lower $3K range.

Jeff McNeil FD 3000 DK 3500
Opponent - MIA (Jose Urena) Park - MIA
FD - 9.24 DK - 7.13
Despite a lower Mets' implied run line on Friday, it still looks like McNeil is coming too cheap, especially on DraftKings. The Mets' rookie posted solid minor league numbers and early on has translated the patience (and some power) to the major league level. In his first 50 plate appearances, he has two home runs and a .313/.400/.500 triple slash line with a very impressive 10% walk rate. Even in a small sample size, it stands to reason as a lefty bat that he'll rate out better against righty pitching. Jose Urena is an average arm with a low 4's xFIP and sub 8 K/9 strikeout rate. What drags down McNeil's overall projection is just that he's cursed playing with the Mets who struggle to put up runs on any given night against really any arm.
If he's in the lineup, consider Brock Holt against Dylan Bundy even if the former is hitting lower in the order.
Shortstop

Jorge Polanco FD 2500 DK 3700
Opponent - DET (Jordan Zimmermann) Park - DET
FD - 10.25 DK - 7.93
As has been the case many times since he was reinstated from a PED suspension, the case for Polanco is wrapped almost entirely up in where the Twins choose to hit him in the lineup. They have him in the three spot right now after sending Eduardo Escobar and Brian Dozier off at the trade deadline. A middle of the order shortstop coming near the minimum on FanDuel and very cheap on DraftKings is going to be in play more times than not. Even though Jordan Zimmermann has posted some later career improvement in his strikeout numbers (I'm not totally sold), getting Polanco here at these prices feels worth it. He doesn't have a lot of power, but does get on base 35% of the time and over his career hasn't struggled much with the strikeouts. Despite Zimmermann's numbers this season, the Twins come in at 4.6 implied runs, more than enough to start considering the top of their order bats coming cheap almost across the board.

Alex Bregman FD 3800 DK 4500
Opponent - SEA (Mike Leake) Park - HOU
FD - 11.35 DK - 8.64
Bregman is one of the last Astros' power bats left standing after they've been decimated by injuries at the top of their order. But he remains in the second spot and is putting up the best numbers of his career. In his third season, Bregman has a .895 OPS thanks to a greatly improved walk rate (12% on the season) and the most home runs of his career (22 in 125 fewer plate appearances than last year). Mike Leake has actually been significantly worse against righty bats this season with a .346 wOBA and 40% hard contact allowed. Bregman is much better against lefties for his career, so this is something of a downgrade in the reverse split, but he's serviceable (.814 OPS) in that platoon.
Third Base
Jedd Gyorko FD 2800 DK 3900
Opponent - KC (Burch Smith) Park - KC
FD - 10.61 DK - 8.02
Gyorko should hit in the fifth spot for the Cardinals on Friday, which provides a solid opportunity against Burch Smith. Smith is among the worst pitchers on the slate with a walk rate close to five batters per nine and a high 4's xFIP. The Cardinals' third baseman is serviceable against righties over the last couple of season with a low .700's OPS. But he's really helped by hitting higher in the order and he'll face Burch Smith who owns a high 4's xFIP despite pitching a ton of innings out of the bullpen.
Todd Frazier FD 2700 DK 3700
Opponent - MIA (Jose Urena) Park - MIA
FD - 9.41 DK - 7.04
He falls into something of the same problem we saw with McNeil in that the spot is good for Frazier but the rest of the offense definitely stinks. Frazier has been above average against righty pitching over the last couple of seasons with a low .700s OPS and 101 wRC+. Those numbers don't jump off the page, but the salaries won't break the bank either for a middle of the order bat against Urena. Even for a traditionally low BABIP guy, the numbers are unlucky on the season with a .230 number (career .269) despite a career-best 42% hard contact rate. There are a lot of weaker positions on Friday, but third might be the weakest of them all. Paying down on guys in plus matchups is going to be the way to go.
Consider paying up for Matt Carpenter 
Outfield

Giancarlo Stanton FD 4900 DK 5100
Opponent - TEX (Mike Minor) Park - NYY
FD - 13.81 DK - 10.26

Aaron Hicks FD 3900 DK 4700
Opponent - TEX (Mike Minor) Park - NYY
FD - 11.97 DK - 8.99
Anytime "Giancarlo Stanton against a lefty" pops up on a given day you basically have to perk up and take notice. The Yankees open Friday with the highest implied run line of the slate (including the Coors' game) at 5.5 runs against Mike Minor. The latter has a lower, sub 8 K per nine strikeout rate and below average 4.44 xFIP on the season. He's also been much worse against righties, allowing a .783 OPS to that split on the season. It could be a real problem against Stanton who is only behind Nolan Arenado against lefty pitching over the last two seasons. In his last 277 plate appearances in that split, Stanton has an unreal 1.167 OPS, .469 wOBA, and 198 ISO. These numbers are beyond elite and he isn't really priced out of contention all things considered. If there's a bat to break the bank on for Friday, it's Stanton.
Meanwhile, Hicks is no slouch against lefties either. The switch-hitter will likely hit leadoff on Friday and brings in a .908 OPS and .382 wOBA against southpaws over the last two seasons. His price is up in the short term, but with good reason. He's moved up in the order with Aaron Judge out and has already put up career bests in home runs (20) and RBIs (59). This is such a great spot to stack the 1-2 bats in the Yankees' lineup.
Josh Reddick FD 2700 DK 4100
Opponent - SEA (Mike Leake) Park - HOU
FD - 10.02 DK - 7.67
For the depleted Astros, Reddick will likely hit fifth in the lineup and could be highly owned on Friday's slate on FanDuel coming in the sub-$3K tier. Reddick's OPS is down season over season despite hitting about the same amount of home runs (12) in 200 fewer plate appearances and sporting a better walk rate than last year. The BABIP is down about 70 points, which isn't helping things while the hard contact rate is actually up a couple of points. I think things still point to him being a solid cash game play in this lineup against Leake. The latter is better against lefty bats, but Reddick's price and slot in the lineup start to trump some of the reverse platoon split concerns.
Very strongly consider Nick Castellanos against Ervin Santana. He runs into something of the issue I laid out with Jeff McNeil. Namely, while Castellanos is a very good bat, the rest of his team is garbage. He makes for a one-off play on Friday.
Also strongly consider Eddie Rosario coming cheaper on FanDuel.
GRAB A FREE TRIAL OF OUR PROJECTION SYSTEM, AND CHECK OUT DFSR PRO!
FREE EBOOK
SECRETS TO CRUSHING DAILY FANTASY FOOTBALL!
DON'T SET ANOTHER LINEUP BEFORE YOU READ THIS BOOK.